The Mad Hatter would be grinning like the Cheshire Cat. For the tea party is back on. The Grocer can reveal tea value sales are back in growth after five consecutive years of decline.
In fact, tea is the only hot beverage sub sector in value growth, up 3.5% on volumes that have dipped 1.1%. That's a gain of £21.9m. Coffee is down 0.3% to £1,137.6m on volumes down 1.4%, and hot chocolate, malted drinks and cocoa have lost £15.2m combined [Kantar Worldpanel 52 w/e 21 May 2017].
Tea's growth isn't all down to rising commodity costs being passed on to shoppers as a result of sterling's weakness after the Brexit vote either. Drinkers are trading up to a pricier cuppa. Why? Who's driving this? Who's losing out? And what can the rest of the sector learn from tea's renaissance?
Manufacturers are cooking up the sort of weird and wonderful concoctions the Mad Hatter would be proud to serve up. Everything from marigold petals and lavender to lychee and shatavi (a type of asparagus said to bring women a hundred husbands in its native India) are finding their way into the nation's cuppas. Speciality, green, fruit and herbal teas are booming; combined sales have surged 6.8% to £196.7m on volumes up 2.8% in the past year, while black tea has grown 2.2% to £445m on volumes down 1.6%.
So black tea's growth is inflationary. That this time a year ago black tea was the fastest declining major hot beverage following another 12 months of deflation makes it clear just how much things have changed since the June 2016 Brexit vote.

That's not the only factor pushing up the average price paid for a cuppa, however. Green, fruit and herbal teas carry an average price roughly four times higher than black, [IRI 52 w/e 15 July 2017]. The percentage of households buying green tea has gone from 15.8% to 20.5% in just three years [Kantar].

"Tea has seen some big developments in the last year," says Tetley's director of customer & shopper marketing Peter Dries. "The arrival of teas with extra benefits is striking a chord with shoppers looking for something healthy and different and this is leading to a high level of repeat sales as well as bringing in new consumers to tea."

Playing the health and functionality card has been crucial to green, fruit and herbal tea's growth. Tetley Supers is the best performing of the top ten green, fruit & herbal brands, with value sales up 22.1%. It's hoped the launch of vitamin D-enriched Sunshine Tea (see p60) will sustain growth. Overall, the brand has seen sales surge 4.3% on volumes that have remained flat, with its green, fruit and herbal blends contributing most to Tetley's £3.9m growth. That's the greatest overall gain of any tea brand (see p52).
Range reviews
It's therefore little wonder that all the major retailers are dedicating more space to such products and axing black tea SKUs. In August, Tesco overhauled its hot drinks range with 16 delistings and 33 new listings for on-trend infusions and flavoured teas. Pukka was the biggest winner with 11 new lines added, including its Ginseng Matcha green tea and Blackcurrant Beauty, while PG Tips and Typhoo both lost shelf space (between them they've lost £10m in sales, says IRI).
"Tesco's recent major range event saw the fruit and herbal category and Pukka in particular as the major winner, more than doubling our shelf space," says Pukka's head of tea marketing Sarah Cook."This increased visibility is great for not only Pukka but the category as a whole."

As with elsewhere in grocery, simplification of ranges has been a key aim of the retailers' range reviews. Black tea lines with little to distinguish themselves from the competition have been obvious targets, but speciality teas haven't been immune. The nation's biggest tea brand, PG Tips, has lost 20 listings in Tesco in the last year - its green, fruit and herbal infusions were first to go, followed by its 100g English Breakfast tea bags and 100g Earl Grey tea bags in the latest range review.

Unilever claims Tesco's move is "part of business as usual" and is now focusing on its new premium speciality tea brand Pure Leaf, launched in March. The ethically sourced single-origin black and green long leaf tea comes bagged and loose and is blended with herbs and fruit pieces in flavours including black tea with vanilla & marigold petals, and 'gunpowder' green tea and chai.

"Each variant has unique features, flavours and characteristics that are representative of its origin, which include India, Kenya, Indonesia and Sri Lanka," says Unilever's senior brand manager for Pure Leaf Laura Salmon. "The tea is displayed in transparent packaging that's simple, straightforward and allows the quality of the ingredients to come through. The range has been designed for tea lovers and expertly crafted by tea makers."
Tea goes posh
The move is significant for a number of reasons: the brand is reminiscent of Tata's super premium Tea Pigs brand with ethics, sustainability and quality crucial to its marketing; it's a clear attempt to foster the sort of connoisseurship that's driven the premiumisation of the coffee market over the past decade; and by trumpeting the tea's provenance and single origin status, Pure Leaf is clearly taking a leaf out of coffee shop culture's book.
Unilever is supporting the launch with a £3m online media campaign from September to November encouraging shoppers to trade up to Pure Leaf, which comes with an rsp of £3.99 for 16 bags - or 24p per cup - compared with standard PG Tips at 2p per cup.

Pure Leaf isn't the only brand splashing out on trying to convince drinkers its infusions are worth paying more for. With sales of its green, fruit and herbal teas in decline - value sales are down 8.8% to £6.3m on volumes down 10.3% [IRI], Twinings is also going after more adventurous shoppers with the January launch of 'Selection' variety packs. The mixed packs come in boxes of 20 individually foil-wrapped bags containing four different types of tea and selections include Steamed Greens, Gingers and Mints (rsp: £2.69/20 bags). Twinings says the new range offers tea drinkers 'exciting infusions' with a 'pleasurable burst of scent and flavour with every cup'.

You don't have to look farther than your nearest high street to find the inspiration for brands' efforts to push tea to the posher end of the spectrum: coffee shops are increasingly focusing on tea to attract more people through their doors. "Coffee shops are fighting back, with mainstream Costa introducing speciality teas, pots and precision 'tea timers' in their new stores to compete with the precision and ritual of coffee," says Kate Waddell, global insight & innovation director at design and innovation consultancy Dragon Rouge, pointing to the Teavana range of iced and hot teas Starbucks rolled out in summer 2016 .

Of course, tea has been steeped in ritual for millennia, making it a clear opportunity for coffee shops looking to diversify and increase the theatre within their doors. "Coffee shops provide a level of theatre and mystique that just cannot be achieved at home - even with the best equipment," says Richard Ford, director of new business at Sherlock Studio. "There's a certain je ne sais quoi about an expert partially hidden behind a machine with jets of steam shooting out."
Coffee shop culture
The ongoing growth of coffee pods and premiumisation of tea is proof that coffee shop culture is continuing to cross over from the nation's high streets into our homes. This is a golden opportunity for coffee shop brands that want to make moves in the supers. Caffè Nero is the latest coffee shop chain to follow in the footsteps of Starbucks and Costa and move into fmcg sales with the launch of its coffee in Ocado in May. Nero's House Blend Classic (rsp: £4.25/250g) is available through Ocado; the move is a first in the company's 20-year history.

"We're likely to see the trend of coffee shop-branded products appearing on supermarket shelves accelerate," says Chris Paxton, MD at insight & strategy consultancy The Leading Edge. "Coffee shop retailers benefit from the more emotional perceptions they create through their retail experiences. For example, if you have a Starbucks Americano in your lounge it will not only taste like it does in the shop but it will also feel more special and indulgent as it will remind you of being in a Starbucks coffee shop. This emotional reaction to the brand halos from its benefits, which ladder through from the brand positioning, proposition and purpose. Straight-to-shelf coffee manufacturers like Nescafé will struggle to compete with this."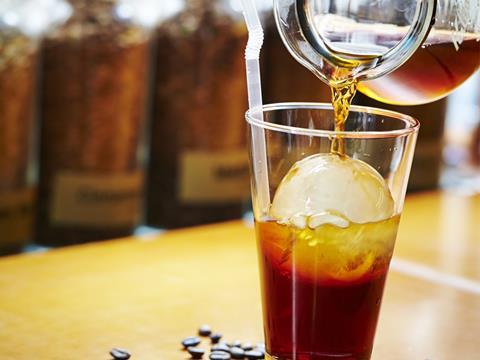 Can cold brew perk up the coffee market?
As the number of coffee shops in the UK grows and the take-home market stalls, does cold brew have what it takes to turn things around in grocery? Sales are up 80% in America in the last 12 months, according to research from agency StudyLogic.
"The UK cold brew market is fragmented, and we've seen a lot of smaller players enter recently," says Jim Watson, beverage analyst at market analyst Rabobank. "It's only a matter of time before one of them launches the product that completely revolutionises the sector and catapults it into a mainstream category."
In August cold brew coffee startup Cool Cold Brew announced it had beaten its £100,000 crowdfunding target to bring its four-strong range to the market, and the brand is now in talks with Sainsbury's and Selfridges with a view to listings.
Already in on the act, Starbucks upped its game with the February launch of Nitro Cold Brew, its existing cold brew coffee, launched in 2016, now infused with nitrogen. The coffee 'cascades from the tap with a velvety and creamy texture'. The format is currently in 100 cafés.
"Originally cold brew coffee would have only been found in independent coffee specialists, but now with the likes of Starbucks offering cold brew it is surely only a matter of time until we start to see this being brought into grocery," says Kantar Worldpanel analyst Amelia Hewitt. "It is also possible that the trend will translate into tea. We saw Starbucks launch its Teavana iced tea range in the UK last summer, and Teapigs and Twinings are already communicating that their teas can be served iced."
Kate Waddell, global insight and innovation director at marketing agency Dragon Rouge, says the cold brew trend could be boosted by the likes of Instagram and Facebook: "There's a creep of cold brew into the vernacular, fuelled by the cool factor of posting one's coffee tipple on social media."
And they are struggling. Sales of total coffee are down 0.3% in value to £113.7m, on volumes down 1.4%, driven by instant, where value has slipped 11.3% [Kantar]. Nescafé, the country's biggest instant brand, has seen value dip 0.6% -a loss of £2.3m at the tills - on volumes that fell 4.6% [IRI]. Carte Noire has suffered the biggest loss in instant coffee with sales falling by more than a third (£12.4m), after it was withdrawn from the market on competition grounds following the Mondelez/JDE merger.

Lavazza, which already owns the UK rights for Carte Noire roast & ground coffee and will take over the instant lines from JDE next year, has enjoyed the greatest percentage gain in instant coffee of the year, with the Prontissimo! line it launched in late 2014 almost doubling in value to £5.2m. Selling at £31.23 a kilo (versus the market average of £19.32), the line's growth is proof that instant coffee is continuing to premiumise.
Coffee pods
Coffee pods' ongoing growth, albeit at a slower rate than in previous years, also suggests that coffee shop culture is continuing to influence at-home consumption. "The popularity of out-of-home coffee shops has led manufacturers to innovate within coffee for in-home consumption," says Kantar Worldpanel analyst Amelia Hewitt. "Pods are the second-fastest growing coffee format (after To Go) as consumers continue to demand barista-quality coffee in home."

And their appeal is easy to see. Those consumers demanding barista-quality coffee at home have high expectations when it comes to quality, and despite costing a premium compared with coffee in bags or tins, pods represent value for money when compared with a similar drink in a coffee shop.

"Consumers are embracing single-serve coffee capsules in their droves, with 15.2% of households buying into this format in the last year," says Ben Newbury, senior brand manager at Taylors of Harrogate, which launched into pods in 2015 and has just added three new lines to its range (see p55). "Their appeal is clear to see; with a few pushes of a button consumers can be confident of a high quality, great tasting beverage."

Pods are also making their mark in own label. Total own-label hot drinks sales are up 5.6% in value, on volumes up 4%, while branded value sales fell 1% and volumes are down 4.3% [Kantar]. Pods have played a significant role in own label's success, with value sales up 651.6% from £334K to £2.5m, on volumes up 639.1% [IRI]. Own label's growth is partly being driven by the discounters.

Aldi has boosted its hot beverage sales by 10.8% [Kantar] - and pods have been a key driver of this. The discounter launched into Nespresso-compatible coffee pods for the first time in January with a three-strong range - Alcafé Espresso, Alcafé Lungo and Alcafé Ristretto - and in May Which? awarded the Ristretto line its prestigious Best Buy accolade. At just 18p per pod, Aldi's pods offering is a fraction of the price of a Nespresso alternative (31p per pod) and significantly less than own-label offerings from M&S (30p per pod) and Sainsbury's (25p per pod).
Own label
"Own label drives growth in hot beverages, a trend that's likely to continue during this time of uncertainty following the Brexit vote and general election," says Kantar's Hewitt. "Another driver of own label success is the strong performance of Aldi, with the second fastest growth of all retailers."

Dualit has been supplying private label coffee capsules since 2014 and says sales of its own-label supply are up 33% year on year. "The capsule category has grown immensely - the category is saturated with new capsule brands and more supermarkets are launching own label Nespresso-compatible capsules," says Dualit marketing executive Rina Yadev.
Taylors of Harrogate has also gone for what it calls a 'ground-up overhaul' of its single-origin coffee range, which has seen ranges renamed and redesigned, to respond to the threat posed by own label. "The range headed into supermarkets in February and is performing well with sales over £800k and building well," says Taylors' Newbury. "Taylors, like other major brands, faces ever-increasing challenges from retailers focusing on their own-label offerings. We know that to thrive we need to stand out and communicate the value of our products boldly and clearly."

Still, big brands hold a lot of sway in this market. Starbucks launched its own range of espresso capsules in 2016 and the range is now available in Starbucks stores, online and in selected supermarkets. "We've had great feedback since the launch of our espresso capsules," says Simon Redfern, VP for communications at Starbucks Europe. "The UK is one of the most competitive espresso markets so we're continually innovating."

With own label making such inroads into the market, pods' biggest player Tassimo and Nescafé's Dolce Gusto have signed up to Amazon's Dash button programme, a wifi connected device enabling shoppers to reorder their product at the touch of a button. Shoppers simply stick the button on or near their coffee machine and when they're running low they can hit the button and stock is automatically replenished via Amazon. Nescafé offered free samples when it became one of 65 brands included in the service, although the buttons are essentially free, they cost £4.99 each at the outset but the cost is refunded from the first purchase.

The boom in pods hasn't been without controversy, however. In February 2016 the German city of Hamburg banned the use of coffee pods in all state-run building in a bid to reduce waste, sparking a slew of reports in the UK highlighting the low recycling rates of Nespresso's aluminium pods. In April, Nespresso announced the launch of a pilot scheme in the London borough of Kensington & Chelsea allowing Nespresso Club members to recycle used pods through the local council's household recycling scheme.
The environment
Environmental concerns are of growing importance in the sector. Dualit was one of the first companies to launch fully recyclable single-origin compostable capsules, and added two new-look Nespresso-compatible compostable capsules in August. The pods are made using corn starch, a plant-based, renewable resource, which means they can be disposed of in food waste collection schemes for industrial composting.

"We predict compostable capsules to be the next big innovation for Nespresso-compatible capsules and looking at our sales there is a clear traction for environmentally-friendly pods," says Dualit's Yadev. "These pods target an ethically aware consumer audience who may not have purchased Nespresso compatible pods previously."

Some suggest concerns over environmental sustainability could cut short the growth 'to go' coffee formats have seen in the past year. Led by Nescafé Azera's Coffee To Go instant coffee cups, this format is up 182.8% to £5.2m. Granted, this is still only 0.5% of total coffee sales but the growth of the format (disposable cups with lids containing a single portion of instant coffee and milk powder) is still significant.


"Consumers are clearly fans of this relatively new format, however questions about sustainability have been raised in the press which may lead manufacturers to think about more eco-friendly solutions in the future," says Kantar's Hewitt.

To go's growth also suggests there's still headroom in instant coffee, in spite of the steep decline in regular instant over the past year (see p44). In a bid to attract consumers back to instant, Nescafé Gold Blend is relaunching its entire range from September with a new recipe, new jar, new-look labels and £7m media spend (see p55). NPD includes a coffee shop-inspired salted caramel mocha frothy coffee as a limited edition seasonal variant which is joining the brand's hazelnut latte and white chocolate mocha.

Other instant coffee players are taking cues from tea to drive sales. Flavoured coffee brand Beanies has launched a three-strong functional coffee range with added vitamin D and has won new listings in Holland & Barrett and Poundland in addition to 'highly successful retail activity' in Aldi in 2017.
Then there's Lyons, which uses a format more often associated with tea for its coffee: the bag. And after refreshing its coffee bags range, Lyons says value sales are up 28%. "Lyons coffee bags revolutionise the way consumers enjoy their coffee as they are made with 100% freshly ground coffee, sealed into individually wrapped foil bags, and are extremely convenient," says Nicole Hartnell, brand manager at Lyons Coffee. "To make, simply add freshly boiled water and brew for three to four minutes to taste, like a tea bag."
Lower prices
For all the talk of premiumisation, price is still a crucial factor, of course. In fact, some suggest that certain consumer groups are starting to reject some of the excesses of coffee shop culture and go back to basics. "There is an opportunity to move in the opposite direction," says David Martin, joint MD at retail design consultancy M Worldwide. "See McDonald's and their parody ad poking fun at £10 artisan hipster coffee."

McDonald's advert for its McCafé range of coffee mocks the complicated menus, eye-watering price tags, elaborate pouring techniques and bamboozled customers at hipster coffee shops, driving home the message that McCafé coffee is a simple, honest cup of coffee that won't break the bank. Pret A Manger has also taken a leaf out of McDonald's book and is now offering simple filter coffee for £1.

Likewise, Yorkshire Tea is going in the opposite direction of the likes of Unilever and Tata, which are pushing more premium teas. It is unashamedly sticking to what it does best - standard builder's tea - with the brand's biggest ever marketing campaign positioning Yorkshire Tea as the place 'where everything's done proper'. A trio of new adverts feature famous faces including Michael Parkinson, Olympic triathletes the Brownlee brothers and indie rock band the Kaiser Chiefs in a £7m campaign.

"Since airing in March they've proved hugely popular and a great route to driving our mission to make our belief in properness culturally famous," says Laura Burton senior brand manager at Yorkshire Tea, which over the past year has seen value grow 1.2% on volumes down 6.7%. "Value sales are up 11.3% in the latest 12 weeks."
Hot chocolate
Going back to basics and avoiding the pretentiousness of certain brands makes sense for players like Yorkshire or McDonald's, but embracing coffee shop culture and catering for more sophisticated tastes could pay dividends for brands in the struggling hot chocolate, cocoa and malted drinks sectors.

Value sales of hot chocolate are down 6.6%, on volumes down 6.9%, to £117.6m while malted drinks are the worst performing subcategory with values down 10.6% to £46.3m, on volumes down 13%. Cocoa, the market's smallest sector, has seen value sales fall 7.2% to £18m, on volumes down 4.1% [Kantar]. Tassimo's Cadbury-branded hot chocolate pods are the best performing brand with value sales are up 11.1% to £9.4m, on volumes up 16.8% [IRI] - a performance that's no doubt down to its coffee shop-emulating pod format.


Meanwhile, the likes of Galaxy and Maltesers drinking chocolate are both in value and volume decline, but brand owner Mars remains upbeat. "Instant hot chocolate now accounts for nearly 50% of the hot chocolate market and continues to generate annual sales of £23 million, demonstrating that immediate consumption is becoming more and more popular," says Mars's general manager for chocolate drinks and treats Michelle Frost.

Cadbury is hot chocolate's biggest brand but value sales are down 11% to £42.1m, on volumes down 7.6% [IRI]. "We believe the drinking chocolate category has significant headroom for growth, as currently only one in two households buy hot chocolate, yet it is a highly popular drink in the out-of-home market thanks to the rise of café culture," says Susan Nash, trade communications manager at Mondelez International, which owns Cadbury. In 2016 the brand launched Cadbury Freddo Drinking Chocolate and relaunched its Cadbury Highlights range. "As the leading brand, we're committed to innovation and investment to help drive growth."
Price
With price pressures increasing on manufacturers, NPD will be of increasing importance if drinkers can be convinced to swallow higher prices. "Currency fluctuations, inflation and increasing commodity prices have led hot beverages prices to rise 2.5% on average," says Kantar's Hewitt.

"The impact of these external factors has caused normal tea to see growth after a number of years of decline. Increased financial pressure on manufacturers, and a move away from promotions by retailers, has led to the overall levels of volume sold on deal declining for all hot beverage sectors, further contributing to increased average price."


But with the number of tea brands moving into the green, fruit and herbal sectors increasing, competition is heating up, meaning that prices could come down as players compete for share. "High quality tea needs to be given more recognition and priced according to its proposition," says Wessanen's brand controller for Clipper Teas Adele Ward.

"High volume promotions have proved challenging for tea producers over the years by effectively devaluing the category which has led to it being more commoditised over the years. Retailers' strategies have evolved to reduce promotion participation, which is great to see. It's an exciting time in the tea category, with lots of opportunities for brands and retailers to tap into."

M Worldwide's Martin adds that in-store cafés are an opportunity for brands looking to increase facings. "Brands are becoming less territorial - happy to share space for the greater good of extending dwell time and more compelling experiences," he says. "Brands will continue to be more creative about finding new locations as everyone fights for the prime real estate locations."

So the tea party isn't just back on, it's moving to new venues.