Despite the boom in high-protein snacks, the macronutrient has shown little growth in at-home consumption. So is a key food trend about to end?
Food can be as fickle as fashion. Take fad diets such as Atkins, Dukan or paleo for proof. They all limit or proscribe carbohydrates and encourage greater intake of protein and fats. These diets might have helped many people lose weight, but it's not often you hear about them these days.
Sometimes, food undergoes more significant changes. It takes more than the whims of fashion to explain the decline in sugar consumption or the fact that a third of consumers are cutting down on meat [Waitrose], for example. The damage too much sugar does is writ large on the waistlines of the 63% of British adults deemed overweight or obese by the NHS. And, like it or not, our planet lacks the space and resources needed to feed 7.8 billion people with meat every day.
Another recent trend, of course, is the fortification of everything from pot ready meals to sweets with protein. Since 2016, the amount of protein contained in the food & drink shoppers buy in store or online and bring home has increased by 8.1% [Kantar 52 w/e 14 June 2020 v 19 June 2016].
However, this growth is actually fairly minimal when compared to that of other macronutrients, and has slowed of late. So has the protein boom been overstated? And is Britain finally getting tired of the marketing claims?
The root of the so-called protein boom can be traced back to the aforementioned diets and, more generally, growing interest in health, fitness and exercise in Britain. In 2018, Business Gateway reported gym membership had hit an all-time high, with one in seven Brits regularly working out, swimming or doing other forms of exercise at gyms or health clubs. The fitness movement spawned a new generation of protein evangelists and sports-orientated snacks and drinks.
"The market has exploded along with general awareness of protein's importance"
"Protein is arguably the most important macronutrient humans consume," proclaims Matt Hunt, founder of the Protein Ball Co, who expects his business to grow by 50% in 2021, thanks to booming exports. "High-protein products such as bars and RTDs were once the go-to for body builders and athletes, but the market has exploded in the past few years, along with the general awareness of the importance of protein in the diet."
Moves made by big players such as Weetabix and confectioners Mars and Mondelez, which have both launched high-protein versions of their bestselling chocolate bars, are proof of just how mainstream things have become. "There's no doubt that interest in a high-protein diet continues to increase," says Weetabix Protein brand manager Anna Cheatley, quoting a 2019 report.
"Sixty per cent of consumers say they're adding protein to their diet, and just under a quarter say they purchase high-protein foods and beverages on a monthly basis. The number of people increasing protein is much higher than those following vegan or gluten-free diets, which is why we'll continue to invest in the Weetabix Protein portfolio in the year ahead with more digital campaigns."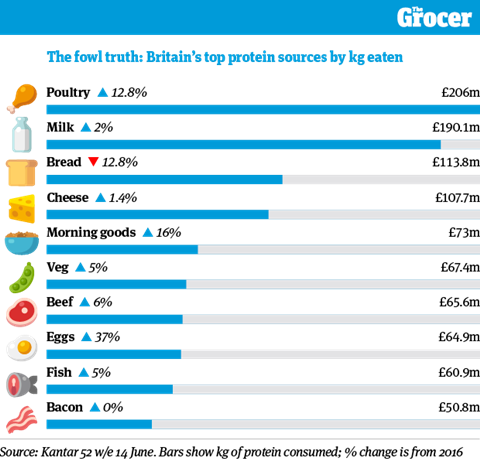 Forget what you've read about Brits dodging meat and flirting with veganism for a moment. We're still a nation or meat eaters.
Take-home sales of poultry products hit 926 million kg in the year to 14 June, up 17% on the same period in 2016. All that chicken, turkey and so on gave us 206 million kg of protein ( a rise of 16%), making poultry Britain's biggest protein source.
Of course, it's no surprise that animal-based products dominate the country's 10 greatest sources of protein, but what might raise eyebrows is the growth they have shown in the past five years. Beef is up 6% and eggs 37%, for example.
As a cheap, lean and versatile meat, poultry has benefited from growing demand for healthier protein sources and the growing adventurousness of home cooks (chicken, after all, is a good carrier of flavour). The uncertainty caused by Brexit and, latterly, Covid-19, has also driven more people to cook at home.
Health credentials
So, protein equals 'healthy' for many. But that's not to say it's a silver bullet. Although Cheatley says protein "has strong links with healthiness in consumer's minds", you can't simply add protein and expect to rake in sales. "While they may try new protein-added products like confectionery, it's more likely they will return to purchasing protein products that offer additional nutritional benefits, such as high fibre and low sugar."
A closer look at the nutritional content of Britain's at-home food and drink consumption bears out the importance of those latter macronutrients. In terms of kilograms consumed, the nation has upped its fibre intake by 9.5%, making it the fastest-growing macronutrient aside from fat. Sugar, meanwhile, has grown by just 3.1%, far below the overall growth in calories consumed.
"They may try protein confectionery but they return to products with added benefits"
What's surprising is that protein content has barely changed. In absolute terms, protein is up 8.1%. But, given that calories are up 8%, the amount of protein contained in our food and drink has grown by just 0.1% points. So protein accounts for 14.6% of the calories consumed at home in the past year, up from 14.5% in 2016. Fat saw a much larger rise, up from 38.4% or 39.1%.
Granted, fat has a natural advantage in these calculations – it contains 9kcal per gram, while protein packs four – and these take-home figures won't include the popular on-the-go protein options. But it still indicates the direction of travel. After all, protein growth slowed in the past year – up 4.8% versus a 5.5% growth in total calories. Essentially, in our homes, we're eating food that's fattier and ever so slightly higher in protein.
That rising fat content is down to a number of factors, and doesn't necessarily mean we're all bingeing on sausage rolls. After all, avocados, nuts, oily fish and other 'superfoods' rich in monounsaturated and polyunsaturated (or 'good') fats have been in growth for years.
Lockdown measures
Still, saturated (or 'bad') fats have seen the strongest growth of the past year. Again, there are a number of reasons for this. More than one in three adults say they are snacking more often as a result of the greater amount of time they've been spending at home since lockdown began in March [Oral Health Foundation]. They're also eating more bacon and sausages, up 13.9% and 17% respectively [Kantar 52 w/e 9 August], and having more 'big nights in'.
That we're all spending more time at home also helps explain why protein content has fallen in the past year. With Britain's gyms shut following the outbreak of Covid-19, sales of protein powders and other sports-specific products such as high-protein flapjacks, bars and milkshakes fell off a cliff. Respective sales of the latter three plunged by 22.5%, 25% and 25.1% in the 12 weeks to 9 August, according to Kantar.
Joe Wicks may have got some of us doing HIIT at home, and Boris Johnson might even have inspired a few to go jogging with his confessions about how his corpulence contributed to his spell in ICU with Covid, but such cardio-based activity is not the priority for most sports nutrition brands. In this market, protein is marketed as the ultimate way of repairing and building muscle after pumping iron, not going for a run.
"Although people have tried to maintain activity, the nature of exercise has changed"
"Although we've seen most consumers try to maintain activity levels during lockdown, the nature of their exercise has changed – this has resulted in certain items struggling," Mike Simon, head of category at Britain's bestselling protein bar Grenade, told us in June. That's bad news for sports nutrition products. "Despite the 'mainstreaming' of the consumer base, sports and exercise is still the second-biggest reason behind the purchase of a protein bar," he adds.
The desire for snacks that are better for you than a chocolate bar or bag of crisps hasn't gone away. But unfortunately for mainstream protein products, most tend to be marketed as quick, satiating bites that are perfect for eating or drinking on the go. And not many of us have been 'on the go' in 2020.
Brands are hopeful this will change, as kids are back at school and the rest of us are tentatively (local lockdowns permitting) getting out more. "While there was a dip in sales at the beginning of Covid, the last 12 weeks have shown signs of recovery with growth at 2% year on year," says Weetabix active nutrition brand manager Zoe Stroud, who looks after the Premier Protein snack bar lineup, quoting Nielsen [52 and 12 w/e 11 July 2020].
"There is still a place in the market for convenient protein products that can be easily eaten, whether at home or on the move," she argues. "Protein bars remain a significant category and in the past few years have become more mainstream and part of the norm – protein and healthy snacking bars have grown by 16% in value and 11% in volume against last year. With almost 50% of consumers eating protein bars, we're confident they will remain a strong part of the sector."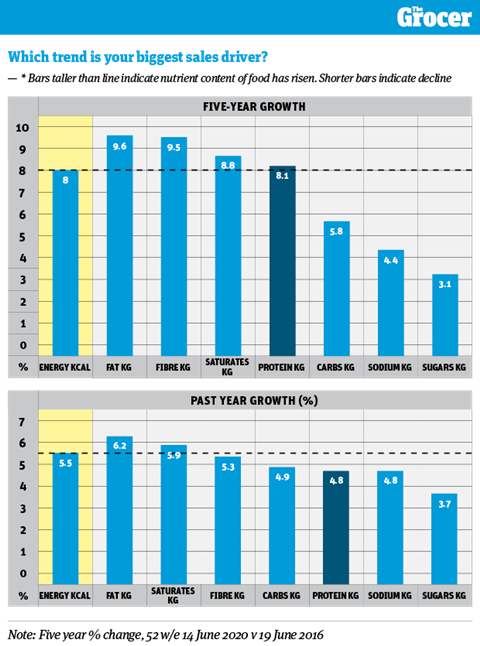 Stand by for some big numbers. The food and drink, excluding booze and soft drinks, brought home by British shoppers in the past year contained more than 47.9 trillion calories. These came from fats, carbs and proteins.
Now for some small numbers. Protein's share of that total has risen by just 0.1 percentage points since 2016. That's in spite of the high-protein diet craze and all the hoopla manufacturers have been making about sticking more of it in their products.
So, the food we eat has got slightly higher in protein. But it's significantly fattier and less sugary. The contribution of fat to calories has risen by 0.7% points and sugar's has fallen by 0.9% points.
Fat, which packs nine calories per gram compared with protein and sugar's four, now accounts for 39.1% of total calories, versus carbohydrates' (including sugar) 46.3% and protein's 14.6%.
As the above graphs (illustrating nutrient % change versus calories) show, only fat content has grown in the past year.
Healthy snacking
There is another beacon of light on the horizon for protein brands: the increasing focus on health. "Households across the UK are continuing to adjust to changing shopping and eating habits, as many still work from home, are on furlough or adjusting to new lockdown measures," says Paul Wiseman, marketing manager at Lactalis Nestlé Chilled Dairy, which launched a range of potted and drinkable high-protein yoghurts in July.
"There was a 110% increase in searches related to 'healthy snacks' during the peak of lockdown," he adds, quoting a Prima study. "When searching for healthier snacks, 76% of people look for protein-rich alternatives [Mintel], supporting the continuously growing protein snacking category."
Peperami brand owner Jack Link's says it's continuing to benefit too, claiming 14% year-on-year growth for the brand in Nielsen data for the year to December. "Consumers are drawn to the brand's protein credentials and will eat these products as a healthy alternative to the usual sugary snacks," says marketing director Laura Trivulzio.
"In addition, consumers are now shifting towards more premium snacks, especially within the meat snacks market, that are nutritious, high in protein and low in calories – from chicken products to beef bars to biltong. Consumers are becoming increasingly savvy when purchasing healthy, high-protein snacks and are aware of products that have additional sugar content."
Not that Cadbury owner Mondelez, which last year launched a higher-protein version of Boost that contains 17g of sugar per bar, is put off by that.
"It is well documented that consumers are taking more responsibility for their personal wellbeing, looking for ways to protect and boost their bodies and minds, but at the same time consumers are increasingly time-poor," says Susan Nash, trade comms manager at Mondelez. "As a result, there is a trend for consumers to be more interested in functional benefits when it comes to snacks."
She points to the launch of two added-protein Cadbury Brunch Bars last autumn – in Peanut Protein and Cranberry & Nuts Protein variants – as particularly on-trend. "Research tells us that two in three cereal bar buyers are interested in protein bars and associate them with energy and broader wellbeing," she says.
Economic downturn
There is a counterpoint to this optimism. Despite what Nash says, many of us may soon be finding that we have more time on our hands. Earlier this month, the Office for National Statistics announced that the national unemployment rate had hit a three-year high of 4.5% in the three months to August, up from 4.1% in the previous quarter. With the furlough scheme ending on 31 October, it seems likely that more will lose their jobs in coming months.
"Priorities are shifting from healthy choices to taste. Indulgent snacks will see an uplift"
And one thing that tends to happen during times of economic hardship is a change in what motivates our food choices. "In recent months, we have seen consumers increasingly looking to treat themselves as snacking has returned to growth," says Kantar analyst Inés Casanovas. "Indulgent categories are likely to benefit as consumers look to treat themselves. Priorities are shifting from healthy choices to taste. Indulgent snacking categories will see an uplift."
Which also suggests peak protein could soon be upon us.
Innovations in protein 2020