Scotch is facing a challenge as the national drink. For distillers are ripping up the rulebook and moving towards gin and rum
If Braveheart were around today, you'd expect him to be a scotch-swilling kind of guy. After all, few things are as emblematic of Scotland as a peaty glass of whisky.

Yet that idea is gradually being watered down. For a new generation of distillers are branching out beyond scotch to put Scottish gin, vodka and even absinthe on the map. A seditious few even want to redefine the national drink, experimenting with raw materials, techniques and serves that fly in the face of convention.

Diageo is one. The world's biggest whisky maker planned to age scotch in tequila barrels and develop low-alcohol flavoured scotch 'infusions'. Then there's BrewDog, whose distilling arm is looking at 'whiskies' that could be ready after just 18 months' maturation.

If they are to redefine whisky, though, they will have a fight on their hands that could rival the war for independence. Diageo's plans were thrown out by the Scotch Whisky Association (SWA) last year.

As for BrewDog's 18-month-old brew, it won't be able to call it whisky, which EU law stipulates must be aged for at least three years. Even if it were aged that long, it likely wouldn't pass as scotch: BrewDog uses what it says is Europe's only temperature-controlled maturation warehouse, not the traditional methods the SWA insists on. Still, it's pretty adamant in its aim. "We want to shake up scotch," says BrewDog Distilling CEO David Gates. "We want to loosen its tie and get rid of all the b*llocks."

This sounds familiar. BrewDog has long based its marketing on such talk - it once called the Portman Group a 'gloomy gaggle of killjoy jobsworths' and accused AB InBev of 'destroying, bastardising and commoditising beer'. But it's not just talk: BrewDog has proven a force to be reckoned with in the booze sector.
"Consumers around the world appreciate that Scotch whisky is highly regulated"
So, can it really bring about a revolution in scotch? Or will the punk brewers face the same fate as William Wallace? And why are so many Scottish distillers breaking away with gin, vodka and other spirits?

For now, scotch is holding its own in sales. The UK is sinking more and more whisky, and scotch accounts for more than three quarters of Scotland's food and drink exports. Those exports have grown an average of 4% every year since the late 1990s, which the SWA says is partly down to the 2009 Scotch Whisky Regulations.

"Consumers around the world appreciate that scotch whisky is highly regulated and therefore know what they are getting when they buy it," says SWA director of strategy & communication Graeme Littlejohn. "There is plenty of scope for innovation within the regulations."


In short, rules are rules. Scotch brands are inclined to agree. "People say these laws are holding back innovation, but I'd argue they're protecting scotch from cr*p innovations that bring short-term gains but ultimately damage the industry," says Atom Brands' head of whisky Sam Simmons. He points to attempts to market scotch 'liqueurs' flavoured with everything from lime to maple syrup.

Essentially, going outside the rules could alienate the millions of loyal scotch fans around the world. Hence the SWA rejection of Diageo's 'fusions'.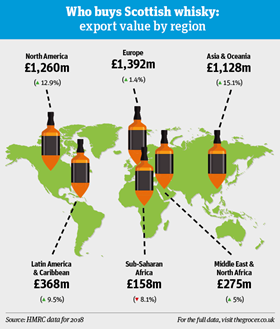 Market share
Still, that the world's biggest whisky producer has lobbied for change suggests there is an issue. Just last week, SWA chairman Peter Gordon warned against complacency over scotch's place as the world's number one whisky, after its share of global whisky sales fell from 26% to 23% from 2003 to 2007.

There are also threats to whisky as a whole. Cheaper blends, in particular, are losing out as younger, fashion-conscious drinkers switch to gin and rum. In the UK, Edrington-Beam Suntory's Famous Grouse (Britain's biggest scotch brand) edged up 1.7% in a spirits sector that grew 8% in value [Nielsen 52 w/e 8 September 2018]. Number two blended scotch brand Bell's saw sales slip 3.8%.

It's partly an image problem. "There are many misconceptions among consumers that scotch should always be served neat and is steeped in custom," says Edrington-Beam Suntory senior whisky specialist David Miles. "The language used is often intimidating to a new drinker. Education is therefore a key factor to begin the inclusion of younger consumers."
"The language used in whisky is often intimidating. Education is a key factor"
Indeed, many believe flavour innovation isn't the only way to address the issue. Scotch's new generation also sees edgier branding as key to attracting this young crowd. "While still respecting its roots, we're dropping the leather chesterfields, libraries and golf clubs that were imposed on scotch," adds Atom Brands' Simmons.

Many of its brands are brazenly subverting those traditional emblems and methods. That Boutique-y Whisky Company is sold in bottles bearing graphic novel-style labels. Then there's Atom's Darkness range of 'massively' sherried whiskies. Such subversion doesn't come cheap. That Boutique-y Whisky Company charges up to £2,275 a bottle and Darkness can fetch more than £80.

Similarly subversive is Compass Box's Affinity, a blend of scotch and calvados that sells for £100 a bottle. Its Stranger & Stranger is pricier at £160 for 70cl. That blend contains a one-year-old spirit, an ingredient the company acknowledges some will see as 'sacrilege'. And the company knows how touchy the whisky crowd can be.

In 2015, a rival reported Compass Box to the SWA for declaring the age and origin of the whiskies used in two blends. The move contravened the rule that only allows the minimum age of the whiskies to be declared in a blend (so a mix of eight and 12-year-old whiskies can only be sold as eight-year-old). The company later withdrew the declaration.

It's this kind of thing BrewDog is looking to dispel. "We need to start with a conversation about the quality of the liquid, not the age," says master distiller Steven Kersley. "Why does it matter if the liquid is 18 months, three years or 18 years old if it tastes great?"
"Why does it matter if the liquid is 18 months, three years or 18 years old if it tastes great?"
Its temperature-controlled warehouse is looking to challenge that long maturation time. And maturation is only one aspect Kersley is challenging. Classic brewing malts, red wine and brewers' yeasts will also have a big impact on flavour, he adds.

But there's no getting away from it: whisky, in its current form, is a time-intensive and costly business. So some are looking ­elsewhere. "Whisky is a huge investment," says Martin Murray, who founded gin and vodka business Dunnet Bay Distillery with wife Claire in 2013. It now has 16 employees and exports Rock Rose Gin as far afield as the US.

"We were determined to be self-funded, so the floor space, insurance and the fact that with whisky you are always looking around to buy barrels meant we would have needed outside investment. We were both gin ­drinkers and loved that we could use ingredients such as rose root from around here. We were also lucky there's been a definite shift to gin."

That's changing how distillers approach gin. In times gone by, it was simply a way of maintaining cashflow while whisky matured. Now gin is becoming a huge source of income in its own right. Indeed, Scotland is also one of the world's biggest gin producers. Around 70% of the gin consumed in the UK comes from Scotland, including Gordon's, Tanqueray and Hendrick's.

"Gin is now standing on its own merit," says Neil Mowat, marketing director of Edinburgh Gin, which is owned by Ian Macleod Distillers. "This is best evidenced by demand for gin now overtaking whisky, up £793m in the last 12 months [IRI/CGA]."
Challenger spirits
Other spirits are gaining ground, too. In May, Glasgow's Wester Spirit Co Spiced Rum was crowned Scotland's best spirit in the 2019 Scotland Food & Drink Excellence Awards. In November, Loch Ness Spirits became the first UK company to win a gold medal at a prestigious absinthe festival in France. Then there's the Scottish Tequila Company, a premium mezcal that picked up a slew of awards last year.

David Smillie, Scottish portfolio ambassador at drinks distributor Maverick Spirits, says "cocktail culture and the quality of our bartenders" are a driving force behind the rise of these spirits. Conversely, that trend could put a dent in scotch sales.

"The problem with scotch is that it's revered too much, especially in Scotland. What's wrong with drinking it with cola or soda or in a cocktail? That is slowly starting to change, thanks to brands like Compass Box and Monkey Shoulder."

Indeed, Compass Box's Transistor blended whisky, developed to be served as a ­boilermaker (beer with a chaser) with BrewDog Punk IPA, recently won a listing with Waitrose. BrewDog's Boilermaker series also features collaborations with Glasgow whisky maker Duncan Taylor and Dutch distiller Zuidam. "Part of the barrier to scotch has been around serve," argues BrewDog's Gates.

"There's so much w**kery around big blinging bottles and the way it should and shouldn't be served. You can drink it any way you like. American and Irish whiskeys have been really successful in marketing different serves while scotch still has that image problem. The energy and irreverence of punk can change that."

With that kind of fighting talk, scotch may have a revolution on its hands.
Scotland's culinary excellence at the SFD Excellence Awards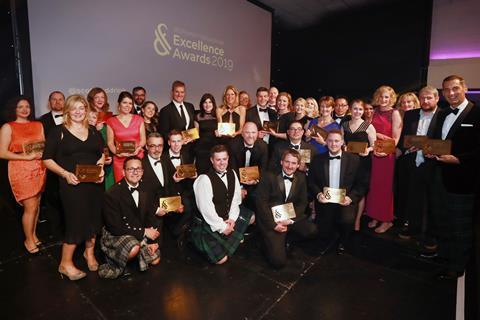 Forget shortbread in twee tartan tins and scotch in crystal decanters. Scotland is broadening its culinary horizons, if the winners of the Scotland Food & Drink (SFD) Excellence Awards, announced last week, are anything to go by.
"We have seen real diversity," SFD chief executive James Withers told The Grocer. "We've had products made with seaweed, kombucha tea and charcuterie as well as the sort of products you'd expect to see. There is increasing awareness of the need for innovation."
Wester Spirit Co Spiced Rum, distilled from molasses in Glasgow, prevailed over scotch and gin entries to grab the gong in the distilling category, while Edinburgh's East Coast Cured came top in the meat category with its Whisky Oak Smoked Nduja (an Italian spiced salami). Graham's the Family Dairy prevailed in the healthy choice category.
That's not to say Scottish producers are abandoning their culinary heritage, of course. Dean's Lizzie McCoo All Butter Shortbread came top in the bakery category, and Loch Fyne Oysters' Kinglas Salmon Fillet was named product of the year.
More than 800 people attended the awards ceremony at the Edinburgh Corn Exchange on 23 May. Among the guests was Scottish First Minister Nicola Sturgeon (pictured below), who presented the Outstanding Contribution Award posthumously to Andrew Fairlie, the head chef of the eponymous restaurant at the Gleneagles Resort in Perthshire, who died of a brain tumour aged 55 in January.
"It was an honour and a privilege to present the award," said Sturgeon. "Andrew Fairlie was one of Scotland's greatest chefs and his passion for Scottish food and drink inspired many people both here and abroad.
"Our food and drink industry is one of Scotland's success stories, so it was fantastic to celebrate the people and businesses who are behind these achievements at the Excellence Awards."
Scotland innovations 2019