Our planet's oceans are filling up with cans and plastic bottles. How are soft drinks manufacturers cleaning up post-pandemic?
Covid-19 has brought more than its fair share of woes. Not least has been its deleterious effect on the environment. How? Well, it's sent consumption of fizzy drinks from single-use cans and plastic bottles through the roof. And it's derailed plans for the UK's biggest-ever initiative to ensure drinks packaging is recycled, the deposit return scheme.
In short, it's been a disaster for the Earth's oceans – where the amount of plastic waste is expected to triple in the next 20 years, according to a paper published last July in the journal Science.
In 2020, shoppers took home 561.7 million more single-use cans of cola, lemonade, fruit carbonates and mixers than they did in 2019, bringing total sales to 2.9 billion cans. More than 710.4 million plastic pop bottles were taken home, a rise of 102.6 million [Kantar 52 w/e 27 December 2020].
That's in spite of NGOs' calls for supermarkets to halve the plastic waste they produce, the bulk of which comes from soft drinks and milk bottles, by 2025.
The boom in single-use formats and the delay to a nationwide DRS until the end of 2024 "at the earliest" seem like an environmental double whammy.
How concerned should the industry be? In what ways has the pandemic reshaped the British soft drinks market and what does the future look like for it?
"The pandemic has disrupted the economy and society in unimaginable ways"
"Lockdown has laid bare our broken waste and recycling system," says Maddy Haughton-Boakes, campaigns manager at CPRE, the countryside charity. "Our research also indicates that the surge in single-use items bought is leading to mountains of litter piling up in our countryside. Where sales of single-use items increase, litter follows."
Adding to environmental groups' dismay is the decision to shelve DRS plans and re-run a 2019 consultation that backed an all-in scheme. "The pandemic has disrupted the economy and society in unimaginable ways," reads this March's review of the government's plans. "With this in mind, we have had to reassess what a realistic timeline for implementation of a DRS looks like, ensuring sufficient time is given for a successful rollout of the scheme. We therefore anticipate that the introduction in England, Wales and Northern Ireland would be in late 2024 at the earliest."
"This is simply unacceptable," said Amy Slack, head of campaigns & policy at Surfers Against Sewage, in response to the delay, which affects England, Wales and Northern Ireland. It would "result in billions of drinks containers polluting the ocean, rivers, streams and parks" she added.
"Our own #GenerationSea blueprint survey shows that 80% of the British public have a greater appreciation of the environment as a result of the pandemic. We can't use Covid-19 as an excuse to further delay progressive policy that will help achieve a green recovery that is critical for the environment and human health. We need an all-in DRS now."
"We have had to reassess what a realistic timeline for implementation of a DRS looks like"
It might be a small consolation, then, that Scotland's DRS is scheduled to be up and running by the beginning of July next year. It will impose a 20p refundable deposit on all drinks containers, regardless of size. However, The Grocer understands some have voiced doubts about how realistic this timetable is.
It's also understood that the British Retail Consortium is only now backing an all-in scheme of the type on the cards for Scotland. Previously, the BRC and supermarket bosses had been pushing for a DRS that would cover only packaging for drinks consumed outside the home.
Deposit return scheme: a rollercoaster of a rollout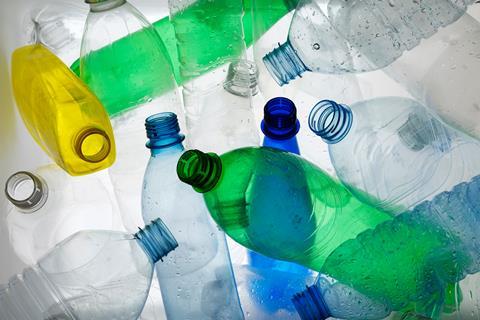 2015: Scheme proposed
Scottish environment secretary Richard Lochhead welcomes a report from not-for-profit organisation Zero Waste Scotland. It outlines benefits of a deposit return scheme in reducing litter, complementing local authority recycling services and building a circular economy for waste packaging.
Lochhead calls on his counterparts in England, Wales and Northern Ireland to consider rollout of a nationwide DRS.
2016: CCEP leak
Behind the scenes, Coca-Cola European Partners is lobbying hard against Scottish plans for a DRS.
A leaked document from March 2016, titled 'Public Policy Risk Matrix & Lobby Focus', identifies the "EU Scheme for Deposit Return" as an issue the soft drinks giant should "fight back" against.
Refill quotas and increased collection quotas are also listed as issues that CCEP ought to strongly oppose.
2017: Opposition u-turn
Coca-Cola performs a u-turn following the 'Risk Matrix & Lobby Focus' leak.
DRS is a "once-in-a-generation' opportunity for Coke to "play a positive role in recovering the cans and bottles that we put on the market" insists CCEP VP Julian Hunt. "That includes the deposit return scheme and also changes to present recovery schemes."
Coke says DRS should be rolled out UK-wide.
2019: 'All-in' pledge
The Scottish government pushes ahead with plans for DRS for all types and sizes of plastic, cans and glass packaging.
UK environment secretary Michael Gove gives his backing for an 'all-in' DRS. Retailers and the BRC back a less comprehensive 'on-the-go' model, claiming an 'all-in' system would cost £1.4bn.
Boris Johnson pledges to introduce an all-in DRS by 2023 in his election manifesto.
2021: Rollout delay
A government review of DRS plans concludes: "We have had to reassess what a realistic timeline for implementation of a DRS looks like, ensuring sufficient time is given for a successful rollout of the scheme. We therefore anticipate that the introduction in England, Wales and Northern Ireland would be in late 2024 at the earliest."
However, Scotland's DRS is still planned to launch on 1 July 2022.
Necessary action
So, when it comes to packaging waste, some details remain fuzzy. But the pandemic's two major impacts are clear. First, it has caused demand for packaging materials to soar as consumption has shifted from out-of-home – which is widely served by larger, more efficient formats – to grocery.
Second, Covid has scuppered efforts to ensure the recycling of those same materials is maximised. And that's a problem.
"The objective to reduce single-use plastic packaging is still a necessity," says a spokeswoman for the Environmental Investigation Agency. "This includes EIA and Greenpeace UK's call to retailers and government to halve single-use plastic packaging by 2025. There is a critical need for a harmonised UK all-in DRS. Government delay as a consequence of the pandemic is not an excuse. Both Germany and the Netherlands expanded their DRS schemes throughout 2020."
That aluminium cans, which are widely held to be a less environmentally damaging solution, saw a sharper rise than plastic bottles doesn't offer reassurance, either.
"Single-use aluminium drink containers do not come without environmental cost"
"Plastic is more difficult to recycle than aluminium and can only be recycled a finite number of times, but the increase in single-use aluminium drink containers is not without environmental cost," says the spokeswoman.
"Aluminium is carbon-intensive to produce, for instance. Encouragement will come in the form of reduced levels of single-use packaging consumption and increased usage of reusable and refillable packaging. Our objective to reduce plastic pollution is not saying substitution to another single-use material is OK."
The good news is the beverage can recycling rate in 2019 was 76%. In 2020, this increased to 82%. In fact, drinks cans are the most recycled aluminium packaging format (and indeed the most recycled beverage container) in the world.
The bad news is that plastic recycling rates remain low. In fact, just 39% of total household plastic packaging waste and 59% of plastic bottles were recycled between April 2019 and March 2020, according to plastics recycling charity Recoup.
With at-home consumption of soft drinks soaring, this clearly needs to change. Overall take-home value sales have spiked by 13% to more than £5.7bn, on units up 7.2% [Kantar]. As with the majority of grocery categories over the past year, growth was largely driven by the closure of on-the-go outlets, pubs and restaurants.
Packaging pivot
When out-of-home outlets were forced to close, some of their carbonates were redirected to grocery.
Some, but not nearly all. Because pubs and fast-food restaurants in particular are heavy users of post-mix syrups. And lockdown caused a collapse in demand for those syrups, which accounted for 56.5% of on-trade volumes pre-pandemic [CGA 52 w/e 31 December 2019].
Given there's little demand for bulk bag-in-box packs of cola syrup in grocery, manufacturers had to plug the holes blown in their sales by filling more cans and bottles for the supermarkets. That clearly requires a lot of packaging: one standard seven-litre pack of syrup makes 42 litres of pop, equivalent to 127 standard cans.
This shift in formats is arguably a mark of the agility manufacturers have shown in the face of huge adversity. It's meant overall soft drinks volumes, including dairy drinks and squash, are up 2.3% across the total market, on-trade and off-trade combined [NielsenIQ and CGA Total Coverage 52 w/e 31 December 2020].
"When the country went into lockdown, shopper behaviour changed overnight," notes Simon Harrison, VP for commercial development at Coca-Cola European Partners GB. "People were largely confined to their homes and were stocking up on supplies in weekly shopping trips. As demand for large PET formats and multipacks of cans grew, we up-weighted production and supply.
"We've had to pedal very hard, think creatively and work collaboratively"
"And as restrictions continue to ease and on-the-go consumption comes back, our sales teams are working closely with retailers to help them structure their ranges and find the right balance of pack formats," he adds.
Like Coke, Pepsi Cola distributor Britvic was forced to make some quick decisions as Covid-19 shut down out-of-home. "We've had to pedal very hard, think creatively and work collaboratively," says MD Paul Graham.
"Some of our production is switchable and some isn't. We can make different-sized bottles of PET from single-serve to deferred formats on the same lines, but you can't just switch post-mix bag-in-box lines to multipack cans. We did some range consolidation and focused on larger PET and larger can multipacks."
Obviously, selling more single-use cans and bottles of pre-mixed pop requires more packaging material and more space in lorries (and more energy) to transport than bulk packages of syrup that's mixed with carbonated water to produce pop at the point where it is dispensed.
Plus, soft drinks makers face a squeeze on supplies on aluminium and cardboard due to increased demand from the brewing industry.
"The take-home beer category has been swallowing up production slots"
"There has been a lot of volatility in the supply chain, but we have managed it well, secured supply and delivered to meet the increased demand," says AG Barr head of marketing Adrian Troy. "The demand for beer at home has been a major factor in this but so has increased demand for multipack cans in soft drinks."
Some of the big players report sourcing difficulties over the past year. Britvic, for example, had problems getting a certain kind of cap from northern Italy. But all claim to have been able to meet demand.
"I work with our key suppliers to make sure we have consistency in forecasting and volume control, which eases out some of those big cost hikes," says Alpesh Mistry, sales director at Lucozade and Ribena owner Suntory Beverage & Food. "We also work closely with our retailers to build longer-term plans end to end."
Clearly, size and buying power matter in times of scarcity. "Behemoths such as Coca-Cola with tin cans and Amazon chewing up cardboard supplies have left independents like us with scraps, or nothing at all," Combie Cryan, co-founder of Round Corner Brewing, told The Grocer in April.
"The end result is that we have to scramble around for supplies, with costs of both – cans and cardboard – up circa 30%. Given that we and many other small breweries rely on these two materials, dominance by major players like that creates huge issues," he said.
Similarly, many smaller soft drinks players also rely on third party operators for canning their drinks. These operators have been flat out since brewers were forced to look for new routes to market following the closure of pubs. "Our biggest challenge has been from the impact of the take-home beer category swallowing up production slots, creating great pressure on the canning industry," says Simon Waterfall, MD of Soda Folk. "Forecasting is key to managing the next six to 12 months."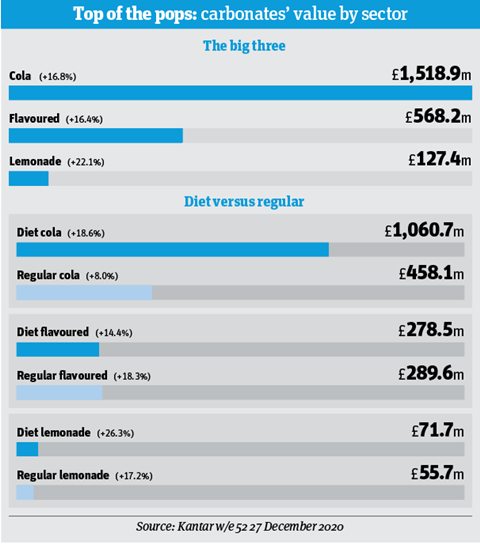 Carbonated soft drinks in grocery are worth £2214.4m across cola, flavours and lemonade, after the three sectors added £321.9m between them.
Volumes grew less rapidly, at 117.5 million extra packs, as locked-down Brits took home more large formats, such as multipacks. Meanwhile, sales of singles sank.
"As with almost every category, Covid has played a hugely disrupting role in the soft drinks market," says Kantar analyst Sam Plimmer. "Take-home has thrived as the shift in consumer demand has led to mixers, colas and lemonade performing strongly."
Growth is partly down to a spike in lunches eaten at home and, with pubs shut, a rise in people mixing their own G&Ts and the like in the evening.
As lockdown eases, these trends could ease off, Plimmer suggests. "Some of the occasions enjoyed at home will move back to out-of-home outlets."
But with businesses likely to encourage more remote working than before the pandemic, outlets that rely on office workers should take heed, he says. "For example, sandwich outlets need to target their offer to ensure sales return to pre-Covid levels."
Smaller suppliers
While smaller supplier faced an uphill struggle in packaging their products in 2020, other dynamics favoured them. Take Coke axing all marketing at the start of the pandemic and not resuming any advertising activity until the launch of its 'Open Like Never Before' campaign in August. It certainly didn't hurt challenger brands.
"With so many marketing opportunities unavailable during the pandemic, 2020 was a year when the playing field was much more level between the big and small players," says Paul Woodward, co-founder & CEO of 'natural' soft drinks producer Green Room Brands.
"This resulted in consumers acting more on their experiences than on marketing pushes. This has helped smaller brands with genuine, consumer-relevant benefits."
Another boon for smaller brands, many of whom were already operating their own direct-to-consumer web shops or selling via Amazon, has been the huge shift online as shoppers turned to e-commerce during the pandemic.
"We saw what was coming and adapted our model, launching a new website with a DTC offering"
"We've seen growth across the board with some digital channels showing 250% plus growth," says Waterfall at Soda Folk. "We saw what was coming and adapted our model, launching a new website with a DTC offering and started selling on Amazon. It's likely that brands that didn't pivot to a DTC offering during the pandemic are having issues."
Even Coke is going DTC with the launch of the Your Coca-Cola – its first online store in Europe. Although CCEP's Harrison is keen to emphasise the channel is not seen as replacement of existing retail channels.
"The platform aims to drive long-term brand loyalty and generate insight that will help Coca-Cola optimise its range across all retail channels, by giving consumers direct access to existing products and merchandise, and creating a testing platform for new launches," he says.
"It gives us real insight into changing consumer tastes and behaviours, as well as the ability to test and refine new products and innovations. We did this with Topo Chico Hard Seltzer at the end of last year, with a dedicated area of the site used to talk about the brand and the product."
Harrison stresses that Your Coca-Cola is still in its pilot phase, "but in the longer term, it will allow us to further optimise our range across all of our customer channels, strengthen consumer loyalty and help us to fulfil our potential as category leader".
Out-of-home decline
Clearly, having the right products in the right retail channels is always important. But when the pandemic hit, it was crucial. This is illustrated by the declines of Lucozade and Innocent. They're down £48.2m and £35.8m respectively [Nielsen 52 w/e 6 March 2021].
Both can blame their downturn – at least in part – to being overly reliant on the out-of-home sector.
"With food-to-go outlets being closed due to lockdown, the immediate on-the-go market is down by approximately a third," says Innocent commercial director John Taylor.
"Take-home growth has not been enough to offset the scale of the on-the-go decline. We expect to see these trends shift again as we move towards conditions which resemble pre-lockdown."
It was a similar pattern for Lucozade. "Lucozade Sport lost all of its occasions overnight, and drink-now stopped dead," says SBF's Mistry. "We launched 1.5-litre bottles and 12-packs of cans of Lucozade Energy for drink-later occasions but that wasn't enough to offset the decline in drink now.
The supplier is now "seeing a marked difference in that in recent weeks," he adds. "As restrictions are starting to lift and people are going out more, those occasions are starting to return."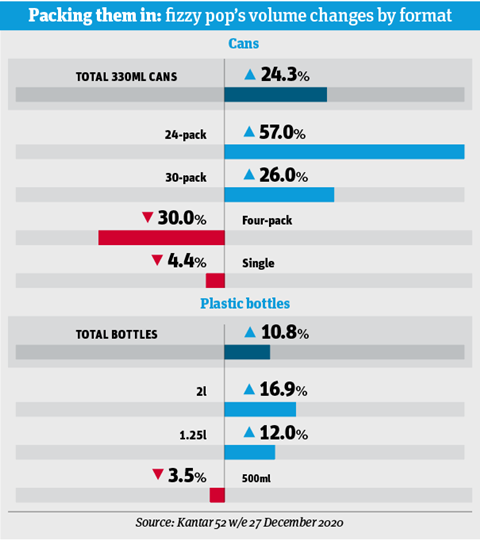 In 2020, shoppers took home almost 492 million packs of canned pop and more than 1.2 billion packs of plastic bottles.
That represents 561.7 million extra cans and 120.6 million more plastic bottles.
During lockdown, pack size mattered for shoppers as they limited store visits and bought more per trip. Packs of 24x330ml cans saw the highest rate of growth, surging 57%.
The next-fastest grower, albeit from a much smaller base, was 30x330ml can packs. Single 330ml cans and four-packs of 330ml cans fell into decline.
Two-litre and 1.25-litre bottles saw the greatest growth when it came to plastic. That equates to an extra 102 million two-litre bottles and seven million 1.25-litre bottles. Unit sales of 500ml bottles, typically sold through impulse for on the go, declined by 3.5% or 4.1 million bottles.
Demand for cans and bottles was met partly by redirecting units from the pub and restaurant trade, say suppliers.
The industry also required significant investment in packaging materials and production capacity, as demand for bag-in-box post-mix formats for pubs and restaurants collapsed.
Caffeine hit
Few will be happier to see the return of shoppers looking to grab a drink on-the-go than the operators of the nation's 25,000-plus coffee shops. Starbucks, for instance, has lost billions around the globe due to lockdowns of its outlets.
Still, at least its RTD drinks, and those of rival chain Costa, have been part of a booming soft drinks sector in grocery during the pandemic. In fact, take-home RTD coffee is the fastest-growing soft drink segment of the past year, achieving growth of 39.2% to £75.9m [Kantar].
"The RTD coffee sector has benefited from the number of people looking for a convenient pick-me-up while working at home and is the fastest-growing segment in soft drinks," confirms Harrison at Costa owner CCEP.
"RTD coffee has benefited from the number of people looking for a pick-me-up at home"
"What's more, while it still only accounts for 2% of soft drinks sales, it accounts for 7% of category value growth, because of its high pence-per-litre," he adds.
"That's why we believe there's an opportunity for another £183m in sales value growth over the next five years. Costa Coffee RTD doubled in size in 2020, thanks to the strength of the range on shelf, the quality of what's inside the can and our commitment to sampling and consumer education."
Starbucks RTDs have also had a good year, with its 24.7% growth bringing total sales to £79.8m [Nielsen 52 w/e 2 January 2021].
Even Monster Energy, the year's third-fastest growing soft drink brand after Coke (up £107.9m) and Pepsi (up £85.3m), can attribute some of its £68m growth to Brits' growing willingness to drink cold coffee out of cans, having launched Monster Espresso in February 2019 [Nielsen].
Energy expansion
While Brits love of a caffeine hit has driven great business for RTD coffee, it's also meant energy drinks have done surprisingly well over the past year (notwithstanding the losses of caffeine-free Lucozade).
Take-home sales for the sector – and on-the-go stalwart – are up 17.4% to £306.3m [Kantar]. "High-caffeinated energy drinks are performing really well, with brands like Red Bull continuing to endure," says Troy at Barr, the former UK distributor of Rockstar Energy, which was bought out last year by PepsiCo for $3.85bn (£2.78bn).
"Energy drinks is one sector that is bucking overall trends in soft drinks. If you look at IRI total soft drinks, take-home format volumes grew by 14% and drink-now volumes fell by 16%, but energy drinks, which is effectively a drink-now category, saw category volumes increase by 0.4%."
"Energy drinks is one sector that is bucking overall trends in soft drinks"
One reason for the energy volumes staying in the black is that have "a very loyal following" Troy adds. "It is a relatively low-penetration category with very high rates of consumption."
Those high rates of consumption make energy drinks ripe for further expansion. A number of innovations, including Barr's Rubicon Raw Energy (see right), Tata Beverages' Good Earth Energy and Britvic's relaunched and expanded Purdey's range (p64), are trying to broaden the category's appeal. They want to attract drinkers who are turned off by 500ml cans packing more calories than a pint of beer and the same amount of caffeine as four espressos.
"The category is maturing and there is space for brands that offer more than big, dark cans with aggressive, young and in-your-face marketing," says Troy.
While the resilience of energy drinks might be surprising, the performance of squashes and cordials probably isn't. Sales are up 12.4% to £626.4m on volumes up 11.6% [Kantar].
After all, "families were spending increased time together in the home and shoppers were looking for an affordable solution" notes Graham at Britvic, owner of market leader Robinsons. "Squash meets this need for a large number of households."
Before the pandemic hit, Britvic probably wouldn't have dared dream of the growth Robinsons has achieved. Sales are up 7.8% to £273.2m on volumes up 8.2%. That makes it the sixth-strongest grower in soft drinks overall [Nielsen].
"While shoppers were spending cautiously, squash offered a permissible treat"
In 2019, it was a different story. The squash brand mustered 0.6% growth on volumes that had slumped 10% [Nielsen 52 w/e 8 September 2019].
"Squash saw strong growth across what we define as good, better and best," says Graham. "While shoppers were spending cautiously, squash offered a permissible treat, with consumers trading up to more premium products within the range. Robinsons Double Concentrate delivered 60% of value growth. Robinsons Creations was the second fastest-growing sub-brand in the portfolio, offering a more sophisticated range of flavours."
There are further examples of drinkers trading up within squash. Take upmarket brand Belvoir Fruit Farms. "During lockdown, all 11 of our cordial flavours enjoyed good growth as consumers looked to hit their daily hydration targets in more tasty ways and without feeling like it was a chore," says MD Pev Manners.
"We're now the UK's fastest-growing premium cordial brand, growing both volume and value sales ahead of the market. As consumers tap the health benefits of ginger, our classic Ginger Cordial has become the biggest ginger-flavoured cordial and the fastest-growing at 29% in value."
Other squash suppliers suggest shoppers have become more adventurous when it comes to choosing what to drink at home. It stands to reason, given there have been limited opportunities to discover new drinks outside the home in bars, pubs and restaurants, says Bottlegreen head of soft drinks Jo Hussey.
"With consumers spending more time at home, the desire to enjoy 'variety' through purchases rather than through day-to-day experiences is something we picked up on," she says.
"We are predicting a resurgence in more on-the-go moments in the warmer months"
"We introduced two new products to multiples in the winter to help address consumers' desire for new and interesting flavours. With millions staying away from offices, the weekday lunch occasion is more likely to be serviced via the weekly shop than by café takeouts, midday meal deals or restaurants. Premium adult brands such as Bottlegreen have certainly benefited from this. In fact, Bottlegreen has recruited an additional 66,000 take-home shoppers over the last year."
As lockdown lifts, squash players, such as SBF with Ribena Sparkling and Nichols with its RTD Vimto lines, are eyeing the out-of-home market in anticipation.
"As the country emerges out of lockdown and we move further towards the warmer months, we are also predicting a resurgence in more on-the-go moments," says Nichols brand & innovation controller Angela Reay. "As schools and workplaces reopen, and groups are able to mix outdoors, we expect to see an up-turn in these moments."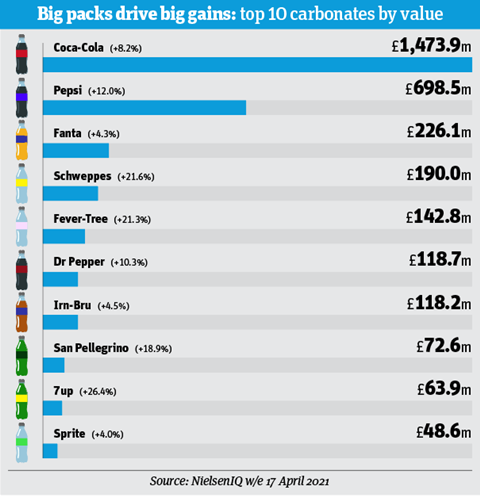 Every carbonates brand in the top 10 achieved value growth last year, despite impulse sales collapsing when lockdown hit last March.
Leader Coca-Cola saw value sales climb by 8.2% to £1.47bn.
Meanwhile, Pepsi marginally closed the gap on its arch rival with a 12% gain, taking its total value to £698.5m.
The cola giants' volume increases in grocery were also sizeable. Coke shifted an extra 116.8 million litres, a rise of 11.8%, taking its total to just over 1.1 billion litres.
The fastest value growth in percentage terms, albeit from a much smaller base, was achieved by 7up. It saw an uplift of 26.4% to £63.9m.
"All of the top 10 have benefited from a shift towards larger packs, specifically multipacks," says Josh Tombs, senior analytics executive for NielsenIQ. "This has paid off with increased volume sales, which has been reflected in value growth."
With a ban on HFSS promotions on the horizon, fizzy drinks powerhouses are likely to be heavily impacted, Tombs adds.
"On average, a third of the category's sales in grocery multiples are on promotion. However, the top 10 is more reliant, with an average of 44%."
Post-pandemic demand
Whether demand for soft drinks in workplaces and the outlets that used to serve the lunchtime crowd will return to pre-pandemic levels is still very much in question.
In March, a survey by the Chartered Institute of Personnel & Development found two-thirds of companies were developing hybrid work models to allow staff to divide their working week between home and the office. Seventy-one per cent of employers said having staff at home either boosted productivity or made little difference.
"We have a whole new relationship with our homes – how we work in them and how we socialise in them," says Graham at Britvic. "We are now looking more closely at how we spend our time in terms of hours spent on trains and international travel and how we balance our time between the office and our homes. I think our relationship with the office is going to rebalance. That will influence the soft drinks market."
In fact, it already appears to be influencing Britvic. Last year, the company bought the Boiling Tap Co, manufacturer of a commercial dispense system for hot, cold and sparkling water.
This March, the acquisition was rebranded as Aqua Libre, with Britvic announcing plans to apply flavours to the system. It's sort of an on-trade version of the sustainability-focused SodaStream (which was bought by PepsiCo for $3.8bn in 2018). Graham says Aqua Libre's expansion into the home market is a "possibility".
Perhaps that should be the next frontier for soft drinks manufacturers as a whole. The planet would probably thank them for it.
How the face of Coke promotions is changing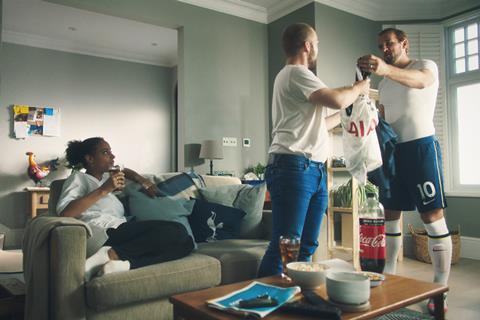 Promotions are a big deal in soda. They typically prove more effective for soft drinks than for other categories, data by Shopper Intelligence shows.
"Promotions are significantly more likely to encourage shoppers to buy more than they might have planned – 26% of soft drinks shoppers suggest this is the case, compared with 18% across grocery as a whole," says Chris Adkins, MD at Shopper Intelligence.
"Given that 71% of shoppers pass the soft drinks fixture in store, compared to only 37% of shoppers for the average category, these promotions help with category engagement and catch the shopper's eye," he adds.
The pandemic disrupted all of that. As the virus loomed, supermarkets drastically cut offers and shoppers made fewer trips.
For Coke, that called for a different tack, explains Simon Harrison, Coca-Cola European Partners GB VP for commercial development. "We adapted marketing and promotional activity to support the 'stay at home' message and tap changing shopper behaviour," he says.
"Many promotions have historically offered experiences tied into the events and sports we sponsor. This was no longer appropriate, so we focused on enhancing consumption in the home instead."
That meant, for example, Coke ran its Premier League on-pack promotion giving away Premier League club shirts ran across large bottles and multipacks.
The importance of on-pack activity could well increase in coming months – particularly once the ban on promoting sugary drinks such as regular Coke comes into force next year, adds Adkins. "Brand execution at the shelf may be one way for the soft drinks category to mitigate the impact of this."
Harrison insists CCEP is "fully engaged" with retailers in dealing with the implications of the promotions ban. "Two thirds of our soft drinks sold in Britain are now zero sugar variants," he says. "We are well-placed to drive further growth."
Will soft drinks' e-commerce boom continue?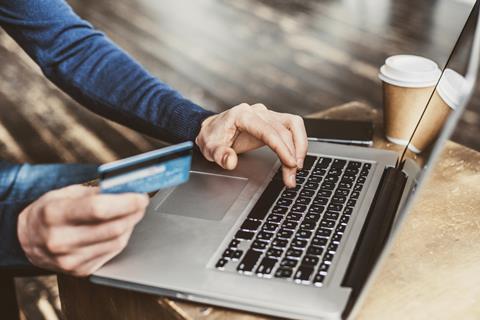 No one's been going to the on-the-go outlets and hospitality venues that soda's powerhouses have long fought over. Which is why online has become the pandemic's key battleground.
"We've seen an unprecedented switch from traditional retail formats to e-commerce," says Britvic MD Paul Graham.
He cites Kantar data showing that online accounted for 15.3% of cola take-home sales in 2020, up from 9.7% in 2019. That's the equivalent of the past decade's online growth in just 12 months.
"Online has gained footfall from all channels, generating almost half a billion pounds of incremental sales from supermarkets, convenience, high street and discounters," Graham adds. "In 2020, we saw the greatest increase in online usage from all age groups, but especially those aged 55 or over."
This switch has allowed agile challenger brands to gain on Coke and Pepsi. Take Green Cola, which "has been one of the clear winners in online, rising to be consistently the bestselling cola on Amazon" says Paul Woodward, co-founder & CEO of Green Room Brands. "We've outsold all major brands in the key online channels where we operate."
Many report booming sales via their DTC e-stores. "Brands that were set up in DTC have capitalised as they were ready to scale," says Chris Prowting, co-founder & MD of Gunna.
"These brands had well-functioning webshops with scalable fulfilment capabilities. They've also been skilled in digital advertising of their offers."
Now the industry's giants are moving online in a big way. Late last year saw Coca-Cola European Partners launch a DTC site, delivering the likes of Coke, Fanta and Costa lines.
Britvic put the Pepsi Taste Challenge online, reaching more than half a million people, up from the estimated 25,000 it would reach in-store.
The company distributed more than 5,000 1.25-litre bottles of Pepsi Max and more than half a million 'Guess Who Cans' via online retail including Tesco.com.
"The results showed the power of online and that sampling campaigns can be delivered through this channel," says Graham.
That online sales remain elevated as lockdown eases suggests soda's digital boom will continue.
Innovations in soft drinks 2021