The smart home is taking off. And the good news is, batteries are required. So will it boost sales among the tech-savvy crowd?
Who said the battery was dead? In a brave new world of rechargeable mobile phones and tablets, you would be forgiven for thinking the humble AA had run out of life. Indeed, this year heralded yet another decline in battery shopper numbers. Worse still, Nielsen reported this decrease was driven by under-44s, suggesting batteries no longer have a place in today's tech-savvy crowd.
Download the PDF version of this report
---

But don't write off the battery just yet. For there is one surprisingly cutting-edge saviour waiting in the wings: smart homes. As consumers look to control their homes at the touch of a button, ownership of home hubs and smart meters is rising. And despite their high-tech credentials, they are largely dependent on batteries.

So can smart homes revitalise sales? And how are brands and retailers aiming to capture this new, tech-savvy consumer?

On the face of it, batteries aren't doing too badly. Kantar Worldpanel data [52 w/e 22 April 2018] shows value sales have increased by a healthy 6.1% to just shy of £300m. Yet most of this is down to price rises. The average price of alkaline batteries, for example, shot up 4.3% - ahead of total grocery inflation. Combine this with the declining popularity among younger consumers and it's clearly not a recipe for long-term success.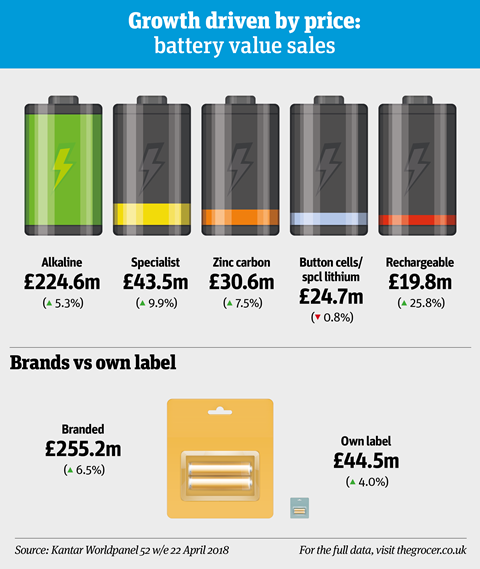 Find the full data at the bottom of this report

Tatiana Wijeyaratne, marketing manager for category leader Duracell, believes the smart home could turn all this around. Her assertion is backed up by data. A 2016 report by intelligence agency IHS Markit estimated 420 million batteries would be needed to power smart homes by 2020.

Challenger brand GP Batteries, which has racked up a 70.7% increase in value [Nielsen 52 w/e 30 July 2018], is already seeing the impact. The brand's marketing manager James Tuck says products like wireless home security cameras, smart thermometers and smart door locks are helping to drive up sales. "It is batteries that are making this growth in wireless smart technology possible," he says, "and as such we've seen sales growth in consumer batteries that are used for these products and also demand for industrial battery packs that will be built in to these devices," he explains.
"It is batteries that are making this growth in wireless smart technology possible"
Brands are now looking to boost their sales by bringing out suitable formats. In June, Energizer announced the launch of a new range of lithium coin batteries - touted as its longest-lasting specialty battery range so far - that can be used in "smaller, high-tech" devices such as smart home sensors and keyless entry systems. This innovation comes at a price. A two-pack of its new lithium coins comes at £6. (Its older 2032 coin product retails at £4.50 for two in Tesco.) This example goes some way to explaining why specialist batteries are up 9.9% in value, driven largely by price rises [Kantar].

This figure doesn't just include innovations such as Energizer's, though. It also includes the spoils from a fresh wave of power banks, which hit the market this year promising better portable power for smartphones. Duracell launched a new range of power banks delivering up to 72 hours of on-the-go charging. "With only 37% of smartphone users owning a power bank, there is still a huge gap between power bank and smartphone penetration. This represents an opportunity for a leading brand - like Duracell - to help meet a consumer need," says Wijeyaratne.

GP has also sensed an opportunity. It launched a Lithium 18650 cell battery for use in power banks, rechargeable torches, e-cigarettes and other rechargeable devices this year alongside the GP Charge Anyway, a portable battery charger that doubles as a power bank.
Batteries are going green, but Brits are hoarding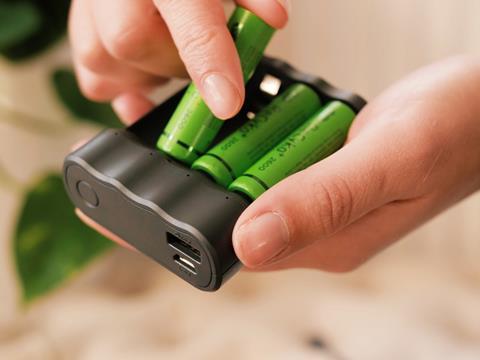 Sustainability has become a key focus for consumers in their shopping habits this year, and batteries are no exception. "Consumers are demanding less packaging, less plastic and that the retailers and brands that they use take responsibility for their impact on the environment," says GP Batteries' marketing manager James Tuck.
And so GP, which makes 22% of the world's rechargeable batteries, has launched a Reduce Your Footprint push to encourage a switch to rechargeables.
It seems to be on to a winner. Value sales of rechargeable batteries increased by over 25% over the past year to just short of £20m [Kantar Worldpanel]. New products are now coming out to help consumers make more sustainable choices, such as Varta's Recharge Accu Recycled rechargeable batteries (pictured below), which include 11% recycled material.
Brands are also ramping up their efforts to encourage responsible disposal of old batteries. Duracell is engaging with schools through its Our Big Battery Hunt, and is on track to recycle close to 12 million batteries this year.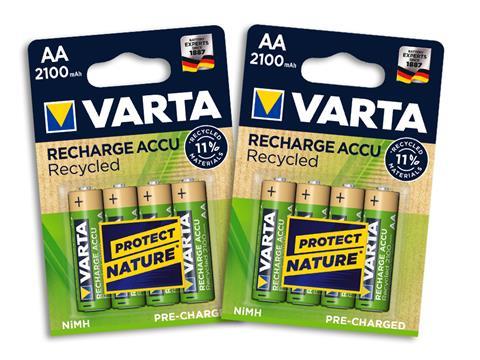 But still more could be done. An estimated 178 million used batteries are still hoarded in UK homes, according to environmental compliance scheme Ecosurety, while millions more end up in landfill. "In 2016 only 44% of the UK's used batteries were collected for recycling," says MD James Piper.
Last October, Ecosurety linked with charity Hubbub on a #BringBackHeavyMetal campaign to encourage consumers to bring used batteries back to stores. It will come back for a second run in October this year.
Until now the UK has exported the majority of its batteries for treatment overseas, but through a partnership with Belmont Trading UK, Ecosurety is establishing a UK-based plant with capacity to process up to 20,000 tonnes of batteries each year - covering the UK's entire requirement.
The children's market
All these efforts are, of course, targeting a younger consumer. For some this means tech-savvy young professionals, for others this means kids. Varta is one brand gunning for the children's market. Its 'My Power Bank' product is designed to appeal to kids and teens with a feature that allows users to draw their own individual design on the product. The brand has also developed a 'Minions' range consisting of a night light, lantern and flashlight, based on the character from the Despicable Me films. Duracell is taking a similar tack by partnering with the likes of Disney, Hasbro and Xbox, as well as movie franchises such as Star Wars and The Avengers.

And if kids are the target, there's no better time to engage with them than in the run-up to Christmas. Trends in Christmas toys always have a significant impact on battery buying habits. GP's Tuck notes that the craze for 'Fingerlings' toys during the last Christmas season led to a huge increase in sales of coin cells, and he expects to see this continue off the back of the recently launched Dino Fingerlings.

Hanifa Choudhury, Varta sales and marketing manager for the UK & Ireland, adds that interactive toys requiring power continue to make the top toys list for 2018, which is good news for the battery industry. "This includes Poopsie Unicorn Surprise, which can perform a number of tricks; Boxer, a game-playing robot, and VTech's Fantasy Unicorn, which comes with an animatronic wand."

Amid all this, it's important that brands don't ignore the core market. Yes, smart homes and young people may be the future. But in the present, it's a very different picture. Over-65s generated more than two thirds of the growth in the category, according to Nielsen senior client manager Larissa Rachitoff.

And despite all the innovation in specialist batteries, alkaline make up the majority of share (three quarters of the £299.7m market). Robert Baruch, managing director of UK distributor and supplier Baruch Enterprises, reports continuing strong demand for everyday AA and AAA formats.

This market couldn't be further from the trends in high-tech specialist batteries. Crucially, it all comes down to price. The fact that nearly 80% of battery sales are being purchased off promotion would suggest ­that consumers are willing to pay more. But this is largely down to the emergence of bargain stores as key players. Accounting for nearly a quarter of the market, battery sales through the likes of B&M and Wilko have grown by 11%. Kantar Worldpanel notes that mainstream ­retailers are struggling to hold on to shoppers.

Baruch believes this won't last long, however. With demand shifting towards even bigger pack sizes of 12, 24 or even 40 batteries, and with the long-term market trend towards more expensive, higher-performing alkaline batteries, he doubts it will remain viable to sell large packs of batteries at £1 or £2 price points.

And for the tech-savvy crowd, this is particularly true. For 'cheap' won't be the main criteria for the next wave of batteries. They'll have to be pretty smart, too.