The motivations of wellness-focused Brits now go beyond simple weight loss – which means brands are scrabbling to find innovative ways to appeal to shoppers who think diet is a dirty word
Forget calorie counting. Today's health-conscious consumers are smashing up the scales in favour of a more general focus on wellbeing. Slimming is out, and wellness is in. So traditional weight loss brands have been shedding the pounds - and not in a good way.

Take WeightWatchers. It was one of the fastest-falling brands in The Grocer's Britain's Biggest Brands 2018 in March, plummeting 11 places as sales dropped 11.5% to £93.1m. So it's perhaps not surprising that the global brand has just announced a complete image overhaul - ditching the weight from its name and rebranding as WW - to distance itself from the stigma of slimming.
Download the PDF version of this report
---
Its new 'Wellness that Works' tagline screams of millennial influence, as does this year's signing of DJ Khaled as social media ambassador. This activity seems to have had an impact, as CEO Mindy Grossman says the brand is seeing more diversity in the customers signing up to the programme.

So can this type of rebranding breathe new life into a market once dismissed as old-fashioned? And how else are traditional slimming brands adapting to today's consumer?

WeightWatchers is far from the only brand undergoing an overhaul. Kellogg's Special K ditched the red swimsuit last year in favour of more 'positive' marketing featuring Katie Piper to overcome women's 'distrust' of diet brands. Alongside this came a £10m push supporting its redesigned Special K bars with a fresh recipe and packaging.
"Investment in the brand has contributed to 40 million meal replacements sold"
SlimFast employed Alexandra Burke as a brand ambassador in a bid to establish itself as more of a lifestyle product. Again, it didn't shy away from blowing the marketing budget. Managing director Lindsay Reisser-Weston says SlimFast has tripled its consumer-facing marketing investment in the past four years. It now boasts "near universal brand awareness" - 90%, according to Consumer Tracker 2018 - and some healthy traffic to its site. "We've moved from zero to 23 'on air' weeks with our TV advertising and have driven more than one million unique visitors to our site in the last 12 months," says Reisser-Weston. "This investment has contributed to 40 million meal replacements sold last year - 110,000 meals every day."

The consensus is now is the time to spend big. "Positive marketing is very important," says Simon Brown, managing director of ingredient supplier John Morley Group. "It's important to utilise more positive messages about controlling your weight rather than focusing on dieting."

Arguably, something had to be done. Both SlimFast and Special K were examples of traditional diet brands struggling to relate to the modern market. In March, The Grocer's Britain's Biggest Brands revealed Special K had shed £14.6m. SlimFast sales figures are not readily available, but when speculation arose over Unilever selling the brand in March, it was rumoured to be asking only 17% of the $2.4bn (£1.8bn) it paid for SlimFast in 2000.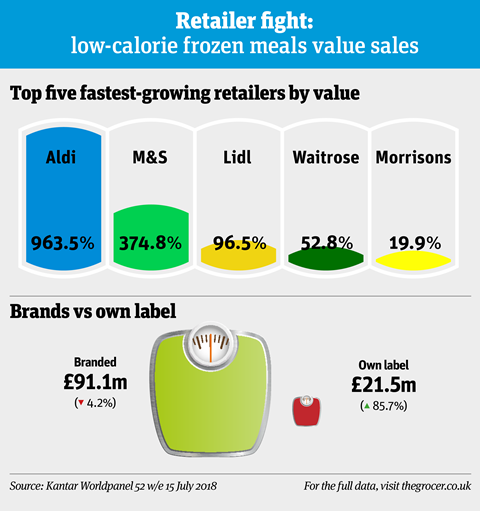 Find the full data at the bottom of this report
Fewer deals
Marketing may well be the tonic these brands need. But the money has to come from somewhere. And so brands such as SlimFast have heavily pulled back from promotions to balance the books. SlimFast explains that four years ago, the market relied on heavy discounts and promotions to drive sales, with 55% of volume sold on deals [Nielsen 2014]. It decided to move away from that to invest in marketing and innovation instead.

SlimFast isn't the only brand to take this tack. Fewer low-calorie frozen meals are on promotion this year, says Kantar analyst Alex McDonald. "In July 2017, 42.5% of spend was for products on promotion. However, July 2018 only saw 39.6% of spend being directed towards this." As a result, the average price per pack has increased by 5.5% from £1.82 to £1.92 per pack [Kantar Worldpanel 52 w/e 15 July 2018]. That has helped boost the total value of the market from £106m to £112.6m.

There's more than higher prices at play here, though. Penetration has also increased. Despite all this big-budget marketing, it's not the brands driving it. In fact, branded volumes fell by 11.9%. Instead, it's the new cool retailer brands that have pushed up own label volumes by a whopping 72.7%.

Slimming World was the first of this new generation. Designed to "transform the face of diet meals", the Iceland-exclusive brand has rapidly racked up sales since launching in 2015. In contrast to WeightWatchers' eye-watering decline in Britain's Biggest Brands 2018, the slimming brand was one of the fastest-growing outside the top 100 with a 5.3% increase in value to £81.7m. It now accounts for over half (50.3%) of own brand sales in the frozen low-calorie meals market.

This success has partially been down to an innovative approach. Recipes include everything from a Moroccan Meatball Stew to Chip Shop Curry Sauce. The brand also offers new world recipes and deals such as free fresh vegetables with the purchase of two products.
"Retailers are looking at low-fat, low-sugar and high-protein variants across all categories"
But its success also lies in more traditional roots. Having an "eco-system" like WeightWatchers has been key to Iceland's success, says Bryan Roberts, global insight director at TCC Global. "It really ties shoppers in," he says, "not just with the products but also the activities completed outside the store." With Slimming World used by 72% of those buying into a weight loss programme [Streetbees], its success was perhaps predictable.

So foolproof was the formula that many others have tried to cash in. Last year saw Asda get into a legal wrangle with Slimming World over its copycat Slimzone range, which has since been revamped to remove any reference to the official diet programme. Aldi has now got in on the act with its similarly branded Slim Well, which has brought in £9m and established its 128% overtrade in low-calorie frozen meals. Its Slim Well Chicken Chow Mein brought in £1.2m alone [Kantar].

Perhaps because of these developments, the stellar growth once seen by Slimming World has come to a halt. Iceland's value sales of frozen low-calorie ready meals fell 10.2%.

But there's room in the market for more than Slimming World copycats. Brands and retailers are looking for more innovative ways to draw in the weight management crowd. Asda, for one, is launching a range of ready meals later this year including everything from Spiced Lamb Koftas to Chicken Noodle Chow Mein. These dishes will be "balanced" rather than "focusing on calories". Some will focus on the 5 a day message, while others will have "added benefits such as high in protein or a source of fibre".

TCC Global's Roberts says retailers have spotted a "huge opportunity" in this area and are "looking at low-sugar, low-fat and high-protein variants across all categories".

So wave goodbye to the weekly weigh-ins, and say hello to the new era of weight watching. Or should that be WW?
Innovations in weight management 2018
Click on an image to expand