Juices and smoothies were suffering. But in the pandemic, brands have highlighted their vitamin C and D content to deliver growth
Juices and smoothies are cashing in on their health credentials. After years of stagnating sales amid concerns about their sugar content, the pandemic has pushed their functional benefits – crucially, their high vitamin content – into the spotlight.
Total category sales are up 9.5% to almost £1.4bn [Kantar 52 w/e 27 December 2020] thanks in part to the overall rise in grocery sales during multiple lockdowns.
But it's telling that the particularly strong performers have been freshly squeezed juice, up 18.7%, and smoothies, up 13.3%. That's because their growth has been propelled by some savvy health cues – a trend that could determine the future of the category.
For proof, see a poll carried out in February by consumer insight firm Streetbees. It found immunity-boosting claims on juices appealed to 66% of shoppers. Meanwhile, 46% were attracted to claims around gut health, believed to support immunity.
Vitamin D, the 'sunshine vitamin', appealed to 35% of the 1,040 people polled. That put it ahead of even vitamin C, named a selling point by 24% of respondents. Maybe because an NHS coronavirus update on its website promotes taking vitamin D "as you may have been indoors more than usual" – and because sub-optimal levels have been linked to poorer outcomes in cases of Covid.
"There's a renaissance for gut health food and drink as more research comes to the fore"
Add that advice to the widely held (albeit unproven) belief that vitamin C supports immunity, and its easy to see why juice drinks are doubling down on vitamin content. Just last month, for instance, Capri-Sun extended its No Added Sugar range with a Multi-Fruit variant containing vitamins C, B3, E, B6, B1 and biotin (vitamin H).
It's the sort of NPD that's bang on trend, suggests Alex Beckett, food & drink associate director at Mintel. "'What else can it do for me?' seems to be a question that consumers are asking of all soft drinks right now."
He reports 36% of UK juice drinkers are more concerned about their immunity than before the pandemic and are drinking more functional drinks as a result.
"There's a renaissance now for gut health food and drink as more research comes to the fore. The big guys are aware that consumers want quick-fix solutions. They want to believe they can have a drink and will somehow be better off for it," he adds.
One of those "big guys" is Tropicana, which has seen value climb by 2.4% to £214.2m [Nielsen 52 w/e 23 January 2021], making it the only brand in the top five to grow sales.
Healthy demand
That's down to some timely health-led activity. The juice brand renamed its Essentials range Tropicana+ in September, further playing up the functional credentials of variants Vitamin Victory, Berry Boost, Power Punch and Viva Vitality. That same month, it launched lower-sugar SKU Tropicana Lean.
Steven Hind, juices marketing director at Tropicana owner PepsiCo, says this innovation is important in the wake of the pandemic. The Covid-19 health crisis has been a "real opportunity for people to reassess the value of the category", he explains.
House-bound consumers are now drinking juices for a dose of vitamins first thing in the morning, Hind explains. Plus, juice and smoothie occasions have increased throughout the day as more people work from home and consume the drinks between main meals, much like "a small meal in itself".
"People now use juices and smoothies to snack on, much like a small meal in itself"
With so much extra demand, smaller players are cashing in too. Take Moju, which last year enjoyed an uplift in sales of 37.3% to £4.3m, on volumes up 47.7% [Nielsen 52 w/e 5 September 2020]. That success has continued, says marketing director Jon Marchant, with the brand's Vitamin D Shot, made with vitamin D3 from seaweed, enjoying "an explosion in sales over the past six months". He also notes higher demand for other functional ingredients with "existing links to immune health", such as ginger.
So it seems health cues are a winner. Which makes the decline of category leader Innocent, which trades on its wholesome image, even more painful. It has seen value fall by 10.5% last year [Nielsen].
That's because, unlike Tropicana, Innocent trades heavily on on-the-go sales. And those have been pretty sparse in the pandemic.
So, in an effort to regain momentum, Innocent jumped on the immunity trend with a Rays & Shine juice variant in September. It contains added vitamin D to give drinkers "that extra health boost" says UK commercial director John Taylor.
These cues are even more important for parents, if sales of its Kids range are anything to go by. It's enjoyed 26% growth over the past three months, Taylor says, driven by the need for "an easy way to get health into kids' diets" as school closures disrupted routines.
Also benefiting from that same trend is child-friendly smoothies maker Happy Monkey, which boasts of its "super natural goodness". It's enjoyed an uptick in sales of 55% [Nielsen 52 w/e 5 September 2020] by meeting the "huge demand for take-home products with kids being home-schooled" says head of communications Simon Gray.
"A consequence of the pandemic has been the increase in demand for products that provide health benefits and boost the immune system," he adds.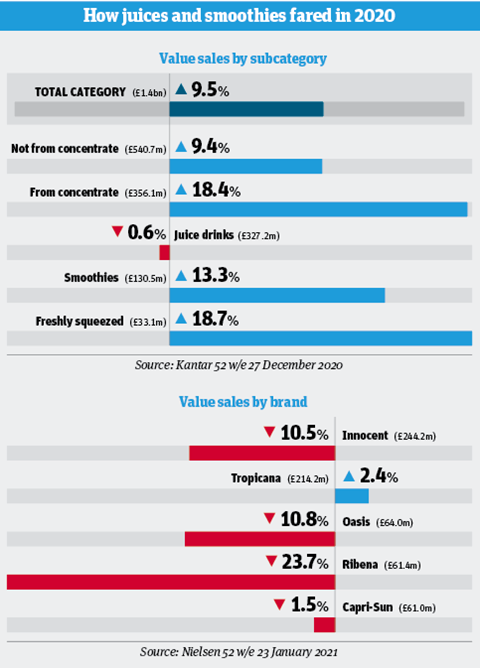 The juices and smoothies category is in growth of 9.5%, according to Kantar. That's been driven by increased volume per trip, a metric that has seen growth in many fmcg categories, as shoppers upped grocery spend in Covid restrictions.
Own label still holds a majority share at 55.3%, and is growing ahead of branded lines (14.1% vs 4.3%). Own label performance was mostly driven by from concentrate juices (where own label already dominates) as well as not from concentrate and smoothies. Tesco, Sainsbury's, Aldi and Lidl were the key own label ranges seeing growth.
Tropicana was the only brand in the top five in growth, according to Nielsen. That came after the launch of Tropicana Lean in September, offering a lower sugar alternative with 40% less sugar and calories than the average pure juice. The brand also relaunched its premium Essentials range as Tropicana+ with strong support, containing additional nutritional benefits aimed at more affluent shoppers seeking a "functional" juice.
However, a similar focus on health and functional benefits didn't help Innocent, which fell 10.5%.
This year, we are likely to see health trends continue to grow, benefiting those offering no added sugar, low-sugar and functional products, says Kantar analyst Josh Owen.
Vitamin C 'essential'
It's fitting that Happy Monkey boasts about its vitamin C content. Because, while vitamin D has grabbed all the latest headlines, vitamin C is still an "essential criterion" for immunity-boosting options, insists Kenton Burchell, trading director at Bestway Wholesale.
While there is no permitted claim around the term 'immunity-boosting' for non-medical ingredients in the UK, Mintel's Beckett anticipates more brands leveraging consumer awareness of vitamin C's supposed impact on the immune system. He points to use of cold-pressing, which retains more nutrients, and less familiar vitamin C-rich fruits, such as rosehip.
The cold-press method is already helping smaller brands capture the attention of retailers. Take startup Flawsome, which rolled out its cold-pressed juices made from surplus fruit into Sainsbury's and Whole Foods Market last month.
That means Flawsome can now be found on shelf alongside Cawston Press, which similarly highlights its vitamin content as a selling point. It saw sales surge by 13.9% last year [Nielsen 52 w/e 5 September 2020]. Tellingly, its Brilliant Beetroot and Tomato juices were its fastest-growing lines. Both contain potassium and vitamins A, B and C, while Tomato also boasts magnesium and vitamin K.
Cawston co-founder Mark Palmer has seen a "notable increase in customer enquiries in the immunity credentials" of the brand's range since the pandemic began. "Apple juice, which we use in all our drinks, is a good source of vitamin C and potassium," he says.
This could mark a turning point for the category, which until now has only hit the headlines for its sugar content. It now has something positive to shout about, insists Happy Monkey's Gray. "The message of the numerous health benefits of juice and smoothies will continue," he predicts.
Which means suppliers may finally be able to enjoy the fruit of their labours.
Innovations in juices & smoothies 2021