After years of happiness, Brits are falling out of love with ready meals
It was a match made in heaven. When the culinary-shy Brit met the microwave meal, it seemed as though nothing could tear them apart. But now it looks as though a break-up may be on the cards. Because after five years of continuous growth, the ready meals market seems to be losing its touch with shoppers.
Sales have fallen by £52.3m [Kantar 52 w/e 8 September 2019], marking the first decline since 2015. That was driven by shoppers simply buying less. Volumes fell 1.3%, equating to 7.9 million fewer kilos.
So is all the talk of Brits turning away from convenience-led fare in favour of scratch cooking finally coming to pass? And is there any hope of Britain rekindling its love affair with the ready meal?
This unexpected decline isn't all to do with culinary tastes. Pricing has been a driving force behind the decline of chilled own label meals, which make up three quarters of the £3.9bn market.
They have suffered a £55.9m slump due to a shift in promotional tactics, says Kantar analyst Madeleine Peck. "Promotions that encourage higher volumes per shop or higher basket spend – like multibuys, Y for £X, and meal deals – have all fallen into decline in chilled own label over the past 12 months."
Without these deals to encourage larger purchases, volumes took a tumble. In total, 43 million fewer packs were sold on deal.
And it seems shoppers are pretty price-sensitive. Just look at Morrisons, which suffered a 4% drop in ready meal value sales – the largest of the big four. According to Kantar, a "key factor" behind its decline was that its temporary price reductions weren't as deep as the year before. Its promoted meals were on average 14p more expensive this year, "making them less attractive" to shoppers, says Peck.
Not that there was any hope of price rises adding any value to the market. Overall, there was a rise in temporary price reductions across the mults, which meant that average cost per pack actually fell. That only "served to devalue chilled own label's offer, reversing any average price increases that came through full-price sales", explains Peck.
The impact of pricing is evident elsewhere in the market, too. Frozen ready meals, for example, have seen a 1.8% decline in sales on promotion. That coincided with a 1.8% drop in value sales and the loss of 114,000 shoppers. "There has been a particular decline in the 20 to 34 age group, who are core users of the category, and that has dampened sales," says Peck.
Unlike the chilled market, brands were the main casualty here – suffering a 3.8% hit to value. Three of the top five brands are in decline, Nielsen figures show [52 w/e 24 August 2019].
Top eight ready meal sectors
Value (£m)
% growth
Market share
English
1271.5
-3.9
32.8
Italian
669.1
-1.9
17.2
Indian
435.2
-0.7
11.2
Chinese
349.3
3.2
9.0
American
156.0
4.2
4.0
French
107.4
-12.3
2.8
Other European
77.3
4.1
2.0
Mexican
73.8
19.6
1.9
Source: Kantar 52 w/e 8 September 2019
The past 12 months saw decline in ready meals for both frozen and chilled, with value sales down £12.5m and £39m respectively.
While the frozen market lost shoppers, reducing penetration to 73%, chilled maintained shopper penetration of 91%.
However, the chilled market has seen shoppers reduce their basket spend following a 14% reduction in promotions.
The category's previously rising average prices have reversed, with both frozen and chilled seeing marginal drops (down 0.1% and 0.2% respectively).
In frozen, full-price sales have fallen slightly (0.5%), while sales on promotion have continued to be pulled back. These factors have counteracted each other to result in little movement, notes Kantar analyst Madeleine Peck.
English ready meals continue to take the biggest market share at 32.8%, but it is seeing decline as shoppers turn to emerging cuisines such as Mexican, which is up 19.6%.
Demand for plant-based options have resulted in "impressive growth" for brands such Linda McCartney's and Vivera, Peck says.
Consumer perceptions
Still, these brands believe there is more than price at play here. Take Young's, whose range of frozen ready meals suffered a 18.9% hit to volume, resulting in a £2.3m drop.
The brand's head of frozen marketing, Jason Manley, believes a perceived lack of quality is to blame for the demise. "As a sector, our biggest challenge is to change that perception," he says.
Indeed, a survey of 891 consumers by market research provider Streetbees found 35% were planning to reduce their ready meal consumption this year. More than half of the consumers are cutting back because they feel the products are too processed, found the December research.
This desire for less processed food coincides with the rise of another consumer trend that is hitting sales: convenience. As something that typically takes five minutes in the microwave, ready meals should theoretically benefit from that movement. However, they don't necessarily capture the consumers who are simply too busy to eat at home.
Polina Norina, senior behavioural analyst at consumer insights specialist Canvas8, says the past year has "seen a growing number of consumers replacing the traditional three staple meals a day with a more irregular schedule, where they are often eating on the go.
"As a sector, our biggest challenge is to change the perception of a lack of quality"
"One third of Britons now regularly eat just one proper meal a day and fill the gaps with snacks, and almost two thirds of gen Yers say they replace square meals with snacks because they are simply too busy to eat."
Even if these consumers do go for a quick meal option, there are several other, less processed formats vying for their attention. "Several adjacent categories to ready meals have upped their game in ease, convenience and quality this year, with products like straight-to-oven trays and pre-marinated products," says Lauren Kisby, category management lead at Bisto owner Kerry Foods.
That innovation includes straight-to-oven frozen steaks from Dutch meat producer Diviande, Merchant Gourmet's Persian-style quinoa and lentil packs, and The Spice Tailor's selection of south east Asian curry recipe kits aimed at providing all the ingredients to create an easy and authentic curry in just 10 minutes.
There is a similar premise behind the growing recipe box market, which aims to marry convenience with the benefits of scratch cooking. HelloFresh, for example, has trebled its recipe selection over the past year to include recipes that take just 20 minutes to make. The proposition is "winning customers by relieving them of the shopping time, preparation and planning that goes into cooking" according to Laurent Guillemain, UK CEO of Hello Fresh. "Our customers still enjoy and want to cook, and our products give them a quick and easy way to do that," he adds.
Plus, of course, there is the impact of the out-of-home sector. For the ultimate quick meal, consumers are turning to the likes of Deliveroo, Just Eat and Uber Eats, all of which have run sizeable campaigns in the past 12 months. Their figures speak for themselves. Deliveroo reported a 72% rise in global revenue for 2018, while Just Eat reported 33 million UK orders in the third quarter of 2019, an 8% increase on the same period in 2018.
"The increased popularity of these delivery services, which offer a huge variety of trendy, modern cuisines, is a key factor driving reduced ready meal consumption," says Strathmore Foods MD Julie Nisbet.
In the face of so much competition, ready meals are having to up their game. "Shoppers already use ready meals as a sweet spot between the financial saving of cooking from scratch and the treat of ordering takeaways or eating at a restaurant," says Canvas8's Polina. "Brands need to consider how their meals offer a money-saving alternative to eating out while also giving an interesting menu that keeps buyers interested."
So several ready meals players are using the popularity of takeaways to their advantage. Take Iceland's limited-edition Far Eastern range, added last March. Featuring innovative dishes that wouldn't look out of place on Deliveroo, such as Jungle Chicken Curry and Malay Chicken & Noodle, it amassed almost £750k and 240,000 shoppers in its first six months on shelf.
This desire to mimic the out-of-home experience means there is also "huge potential" in ready meals from restaurant chains, says Amy Price, senior food & drink analyst at Mintel. Last May, a Mintel poll found 30% of ready meal eaters believed restaurant-branded products to be higher quality than even premium own-label offers like Tesco Finest and Waitrose No.1.
That's inspiring a raft of restaurant names to venture on to grocery shelves. Although it's not a guaranteed success – in December, The Grocer reported Tesco had dropped the Bella Italia frozen ready meal range – the sheer number of launches suggests there is money to be made.
Those launches come from both big and small names. In terms of chains, Las Iguanas made its grocery debut with chilled ready meals in October 2018. Wasabi followed suit last January with the launch of five Home Bento ready meals into Sainsbury's, each containing the same ingredients as the restaurant version.
On the smaller side, independent London restaurant The Brook launched a premium plant-based range in March. The eight frozen recipes include a Mushroom Bolognese and Seafood Stew made with seaweed.
Convenience opportunity
Another opportunity lies in making ready meals even more convenient. That means securing listings in the easiest channel for consumers to access: convenience stores.
The Co-op's sales figures are proof of the potential. While the big four, Waitrose and Iceland have all seen a decline in ready meals sales, the Co-op has managed a 1.5% increase in value. This was driven by "an increasing number of younger, pre-family customers shopping in store" claims Kelly Moore, Co-op buyer for chilled ready meals.
Many brands are seeing success with this strategy. Take Cook, which is reaping the rewards of its partnership with Co-op. "Our concession sales are up roughly 25% since the start of our financial year in April," reports CEO Rosie Brown. "A big part of that growth has come from working closely with Co-op to roll out Cook freezers in series of stores in parts of the country where we don't have many of our own outlets."
Charlie Bigham's is similarly feeling the benefits. CEO Patrick Cairns says the brand's foray into convenience was a driving force behind its £15.3m growth over the past year [Nielsen]. The brand's associations with quality have also helped boost sales, he adds.
"We offer something different in the market by challenging people's preconceptions on what ready meals can offer," he says. "That focus on quality will be key in getting the likes of chilled own-label ready meals back in growth in the year ahead."
"A focus on very low price points on very low-quality products quickly spirals to nowhere"
That means a return to the volume deals of old isn't necessarily the way to go. "A focus on very low price points on very low-quality products very quickly spirals to nowhere. The way for the category to grow is through quality and promoting the idea that convenience doesn't have to equal compromise."
Looking at the brands in growth, he seems to have a point. Fellow premium chilled player Gressingham has seen sales of its range, which includes Duck à L'Orange and Duck Legs in Cherry Hoisin Sauce, soar 59% this year on volumes up 50.5% [Nielsen], while McIntosh of Strathmore plans to launch a premium selection later this year.
"Shoppers are turning to these branded chilled ready meals due to their perception of being more unique, premium and natural than private label," says Mintel's Price.
Indeed, our exclusive Streetbees poll found more than two thirds of shoppers (67%) would be willing to spend more on higher-quality ready meals.
Many are also apparently happy to splash out on meat-free options. The past year has seen a 20% rise in sales of meat-free ready meals, fuelled by new launches, developing brands and "increasingly competitive own-label ranges," says Kantar's Peck.
This has meant a raft of NPD from the supermarkets. Asda was the latest to jump on the trend with its Plant Based lineup this month. That followed the launch of M&S Plant Kitchen in December, which has already attracted "significant shopper spend" according to Kantar. Tesco unveiled its Plant Chef range in October, the follow-up to its vegan Wicked Kitchen range, and Aldi made its debut with I Am Vegan, later rebranded as Plant Menu.
Brands have also innovated with gusto. Quorn launched a range of ambient bowl meals in May, while Deliciously Ella relaunched its plant-based range in the autumn with larger portion sizes and new recipes. Whitworths is also planning to add meat-free options in the year ahead.
Such launches could be another way of revitalising the ready meals category. Indeed, a report created by Kerry Foods and Kantar last year suggested meat-free options could go some way to improving perceptions of ready meals. It found the number of people who associate meat-free with quality had nearly doubled from 2016 to 2019. "Bringing meat-free alternatives to favourite recipes in both chilled and frozen is a significant opportunity for the category to drive frequency," says Kerry's Lauren Kisby.
If ready meals can play into these trends, they might just be able to win back the love of the British public.
Soup brands seek recovery via new formats and flavours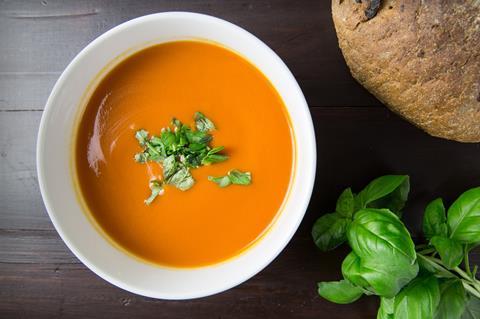 It's not just ready meals that have fallen out of Brits' good graces this year. Soup sales tumbled £22.4m (3.8%) in the past 12 months, driven by 6.3% volume declines through fewer shopper trips and lower volumes bought per trip [Kantar 52 w/e 8 September 2019].
Unfortunately for the category, the major factor dragging down value is entirely outside of its control. "The Beast from the East in March 2018 was an unusual and seismic event for category demand and sales, but this year we didn't have that to capitalise on," explains Gordon Sloan, category development controller at Baxters.
Still, in lieu of inclement weather there remain several opportunities to get soup back in the black this year, he continues. "Retailers should focus on areas of strong performance: health and vegetarian."
Indeed, sales of Baxters' Super Good range, focused on "goodness and wellbeing", gained almost £1m in additional sales this year, and its Veggie Goodness is the only top-five ambient soup lineup in growth [Nielsen 52 w/e 7 September 2019].
But growth potential isn't all centred on recipes. Another promising area for soup is convenient formats. The past year has seen a slew of NPD targeting time-poor consumers.
Take Heinz's microwavable pot, launched last January in Cream of Tomato and Vegetable as a convenient alternative to the brand's standard ambient cans. Sales surpassed £550k within eight months [Nielsen], prompting the supplier to add Cream of Chicken and Cream of Mushroom in September.
Handy formats are important in attracting new shoppers to ambient soup, says Asmita Singh, senior brand manager for Heinz Soup. "Over the past few years, the challenging performance of wet ambient soup has been largely driven by reduced engagement from younger consumers. Alternative formats will evolve the category further as younger consumers become more familiar with them."
Brands both large and small have followed Heinz's lead. Baxters unveiled microwavable Super-Licious pots in October, five months after UK startup Re:Nourish made its debut with a range of fresh soup in a heatable bottle (which the brand claims is a world first).
Soup sectors by value
Value (£m)
% growth
Market share
Wet Ambient Soup
317.4
-0.8
56.3
Fresh
127.9
-6.8
22.7
Dry Instant
114.1
-9.1
20.3
Frozen
4.0
25.5
0.7
Source: Kantar 52 w/e 8 September 2019
The past 52 weeks proved challenging for the soup market. After 2018's marginal growth (0.3%), value slipped into the red, with shoppers spending £22.4m less.
Volume losses of 6.3% were at the core of the category's decline – though its penetration, while in slight decline (1.6%), remains high at 86%.
"The real driver for volume decline is shoppers making fewer trips, and buying less volume on these trips" according to Kantar analyst Rob Cassie.
Wet ambient soup remains the largest sector in the market, accounting for 56.3% of sales. Despite seeing a slight sales decline of 0.8%, the sector is performing ahead of most of the market. Only frozen soup, which accounts for less than 1% of the market, outperformed it.
Meanwhile, fresh sales are down 6.8% following three years of growth. The decline was driven by both a slump in branded (down 7.8%) and in the premium own-label tier, where the majority of retailers are in the red.
"Within standard private label, performance is relatively better, with Co-op a noticeably strong performer," Cassie says.
Innovations in ready meals 2020