Captain Birdseye could soon represent high-end dining. For frozen food is developing culinary cred far beyond fish fingers
Let's face it, the frozen aisle isn't where most shoppers would go for a gastronomic experience. It's the traditional home of oven chips, burgers and peas. For anything more sophisticated than a potato waffle, shoppers generally head to the chilled section.

But bolstered by its comeback last year - in which it firmly put an end to three years of stagnation and decline - frozen is looking to challenge those perceptions. Leading the charge is Waitrose, which announced plans for a new premium frozen ready meal range in April. Boasting dishes such as slow-cooked pork belly, fish curries and Japanese ramen, it is squarely targeting the high-end crowd. Waitrose didn't do this on a whim, either. The launch follows a 500% spike in searches for frozen ready meals on its website.

Announcing the range, Waitrose product developer James Bennington made clear it would give customers "quality ingredients and a range of flavours, textures and cooking techniques" alongside "innovative freezing techniques" to ensure maximum freshness. One thing was clear: it is by no means the poor relation of the chilled ready meal.

Brands are also recognising this sea change. Take Birds Eye, which is supplementing core items like fish fingers with innovations including a Sweet & Sour Veggie Bowl and a vegan Green Cuisine range. All of which is being fronted by a new-look, suave Captain Birdseye (pictured above) who wouldn't look out of place at a Michelin-starred joint.

Still, Birds Eye is living proof that not all premium products hit the spot. In March, the brand announced it was binning its premium sub-brand, Inspirations. The figures tell the story. The struggling range dropped double digits in value and volume in The Grocer's Top Products survey last year [Nielsen 52 w/e 8 September 2018].

Birds Eye isn't ditching the concept altogether - the SKUs will fall under the Captain Birds Eye banner rather than the Inspirations sub-brand - but it goes to show that not everything premium is a winner.

So what does it take to win in this new era of frozen? Who is nailing premium? And who risks being denied entry to the top table?
"The renaissance of frozen food is well underway and gathering pace"
Sales figures show a slow but steady move towards more premium options. Average prices rose 0.6% over the past year which, coupled with rising volumes, pushed up value sales 3.4% [Kantar 52 w/e 27 January 2019]. That puts the total value of the frozen market at £6.3bn.

It's a movement driven entirely by brands, whose average prices have risen 2.7%. That's through no shortage of effort on the premium front. Before Waitrose unveiled its premium ready meal range, the likes of Deliciously Ella and Boxed were challenging perceptions with their own high-end frozen fare. Frozen ready meal brand Cook includes NPD such as artichokes & asparagus with salsa verde and halloumi & arrabbiata pasta bake. It's not just ready meals, either. Aunt Bessie's has gone beyond roasties with parmentier potatoes, seasoned with basil and parsley. And in fish, Young's has delivered consistent sales growth with its Gastro range, which includes such delicacies as basa fillets in lemon & herb batter and lemon & parsley cod fillets.

Richard Harrow, chief executive of the British Frozen Food Federation (BFFF), can only see these innovations growing. "The renaissance of frozen food is well underway and gathering pace," he says. "With the category demonstrating innovation and premiumisation, it is challenging the clichés of fish fingers and peas and catching the eye of more and more health-conscious and quality-driven consumers."
Engaged shoppers
Indeed, that does seem to be playing out in sales figures. Growth is being driven by increased shopper engagement: on average Brits have made one extra trip down the frozen aisle each this year, according to Kantar data. That's put 11 of the category's 14 sectors in growth.

For some of these sectors, that extra engagement has been bolstered by price rises. Ice cream prices rose 3.9% across handheld and tub formats. Red meat also inched up ahead of the category average with a 2.8% rise in average price. "There are two main reasons for this - the cost of meat going up and significant innovation and premiumisation, especially in ice cream," says Kantar analyst Jamie MacLeman.

Others have simply shifted more units. Pizza is up 5.4% in volume, equating to an extra 14.6 million packs. Snacks are up 11.5% and veg protein has delivered 8.2% growth in volumes.

The standout performance of the latter highlights an important point. To make a premium frozen product work, it needs to tap into wider consumer trends. "A lot of the NPD this year has been focused on key macro trends such as flexitarianism, veganism and health in a bid to appeal to shoppers and drive excitement back into the category," explains MacLeman.
"A lot of the NPD this year has been focused on flexitarianism, veganism and health"
If you get the proposition right, it can easily command a premium price point. Goodfella's vegan pizza range was bought by 1.1% of UK households, according to Kantar. That its vegan variants retail at £2.50 at Tesco - compared with the £2 price mark for its Stonebaked range - can only be a plus for the brand. Meanwhile, Iceland's own label meat alternative range No Bull made it into 1.3% of households. A 500g bag of No Bull mince comes at £3.50, while an 800g bag of the retailer's beef mince is £3.

Birds Eye's plant-based Green Cuisine range carries a similarly premium price point. A 280g bag of its Swedish-style meatballs retails at £3 at Tesco, while a bag of six meat-free sausages comes at £2.50. "We see huge opportunity in the plant-based category," says Birds Eye MD Wayne Hudson. "It's still early days but all of the growth in the category is coming from flexitarians and people who are actively trying to reduce the amount of meat in their diet," he adds. "We believe it's a huge macro trend that will continue."

Even kids' brand Ella's Kitchen is getting in on the act with the addition of four new products to its Big Kids frozen food range, including 'cowboy' bean burgers and 'nicely spiced' lentil bites, which hit the freezers of Tesco in May, winning the brand a Tesco IGD 'best product differentiation' award in the process.

Still, as much as mainstream brands are getting in on the act, it's meat-free stalwart Quorn that is benefiting most. It's the best-performing brand in the top 10 after Magnum with sales up 6.5% on volumes up 5% [Nielsen]. It credits NPD including vegan fishless fingers, vegan salt & vinegar battered fishless fillets and a vegan lemon & black pepper breaded fishless fillet.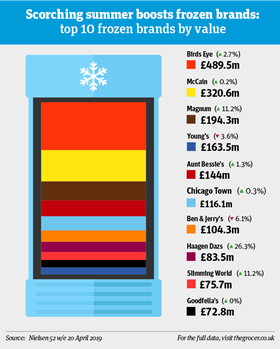 "We expect the Quorn fishless platform to generate £10m at retail sales value, given that our vegan SKUs outsell other vegan SKUs in the frozen meat-free category by 10 times," says Alex Glen, marketing director at Quorn.

Of course, it's not just full-blown vegans eating such products. More and more consumers are looking to reduce the amount of meat they eat, rather than cut it out altogether. Glen adds that so-called flexitarians are more likely to be better off, so by stocking more meat-free products in the freezers, retailers are more likely to attract higher-income consumers down the frozen food aisle.

"If they are met with a broad range, they become loyal to that store, and spend more not only in the total frozen category, but also in the total store," he adds.

This flexitarian trend means it's not just meat alternative items that are making waves. Brands that play into that trend of eating less meat and more fish and veggies are also gaining ground. One such brand is Strong Roots, which surged to the top of Alantra's list of the 50 fastest-growing privately owned fmcg firms in March. It offers meat alternatives such as a pumpkin & spinach burger, alongside healthy veggie options such as spinach bites and sweet potato fries. "With an increasing number of consumers looking to reduce their meat consumption, the demand for plant-based vegan food will only increase, bringing with it, huge opportunity for innovation," says CEO and founder Samuel Dennigan.

Young's says the meat reduction trend is also a key opportunity for fish. Overall sales may be down, but it has introduced a new coating to its Gastro range, which delivered 7.4% to be worth £62.4m last year [Nielsen, 52 w/e 8 September 2018]. "Health is a key reason that consumers opt for a flexitarian and meat-free lifestyle so now is a perfect time for fish, as many of the sales of vegan and meat-free products are driven by meat eaters trying alternatives and expanding their repertoires," says Alison Robb, head of frozen category management at Young's.

"All the major retailers have looked to capitalise on this with the launch of new ranges of meat-free food, and as with all NPD, we should expect to see these ranges consolidate as retailers understand what works and what doesn't work," she adds.
Retailer competition
The mention of retailers here is key. For in the battle for the healthy, flexitarian consumer, own label is upping its game. New lines include Sainsbury's sweet potato & quinoa lentil burgers, Asda's veggie katsu melts, Tesco's chicken-style pieces and Morrisons' spicy chickpea & sweet potato pies.

"Much of the innovation is being driven by retailers and this has driven growth in the value share of private label," says the BFFF's Harrow. Indeed, own label now accounts for 54.8% of all frozen spend [Kantar]. That's not just been down to savvy new product lines, though. "As well as driving premiumisation, retailers are also offering good basic items for cooking, such as diced onions and sliced mushrooms, simple but very effective in controlling waste and delivering convenience," Harrow adds.

Simple solutions are a crucial point. For as much as vegan katsu curries and premium slow-cooked cuts of meat may be grabbing all the attention, it's the likes of fish fingers, potato waffles and frozen peas that still make up the lion's share of category sales. Ignore these basics at your peril.
"It's the family staples that remain hugely important to the overall business"
"It's the family staples that remain hugely important to the overall business," says Hudson at Birds Eye, whose parent company Nomad now owns Aunt Bessie's and Goodfella's following its recent high-profile buying spree.

Indeed, Nomad says Birds Eye's frozen peas, Aunt Bessie's Yorkshire puddings, and Birds Eye's fish fingers, chicken dippers and potato waffles remain its top sellers. Getting consumers to reappraise and re-engage with these staples has been crucial to putting the category back in growth, says Hudson, who took over as MD of Birds Eye in January 2016.

"Pre-2016, the frozen category had been in decline for a number of years," he says. "We weren't communicating to shoppers in an appropriate way. The business was centred around supporting new pieces of innovation and had completely forgotten what made it famous in the first place."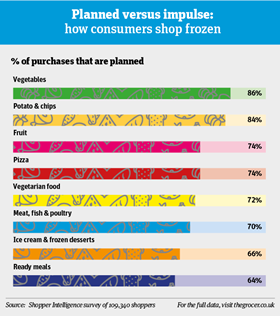 Four years on, Birds Eye, the category's bestselling brand, is back in growth with value sales up 3.5% on volumes up 3.1% [Nielsen] - a performance Hudson puts down to "completely changing" the brand's approach to the sector. "We really focused on the core of our products," he says. "We started off with fish and then moved into chicken - reinvesting in quality, creating distinctive brands and bringing back the captain, reminding people why they bought into the brand in the first place."

This ethos was what led it to take the plunge and axe the Inspirations sub-brand amid struggling sales. "Making sure that the quality of the product is actually delivering the right kind of value for consumers is what has been the key catalyst to reigniting growth in the frozen category," says Hudson.

That strategy is set to become even more important to the frozen aisle. For Nomad now has plans to give last year's acquisitions Goodfella's and Aunt Bessie's a similar 'Birds Eye treatment', Hudson says.

It's a well-established process: reinvigorate the core of a category in order to arrest decline and re-engage consumers, then look to attract more shoppers into the fold with a wider range of products.

Many areas of frozen have adopted this mantra. Rather than taking a full leap into premium, they are keeping a strong core offering while dabbling in new areas of growth. Pizza is a prime example. It's one of the fastest-growing areas in the aisles, up 5% in value to be worth over £479m. That's driven entirely by increasing volumes.
Pizza competition
Goodfella's may be getting the 'Birds Eye treatment' but it's up against stiff competition from other pizza brands, who have been working steadily to build their consumer bases using the same principle. Dr Oetker is sticking to its roots with a return to TV for its Ristorante pizza brand in early 2019, which saw it air romance-themed ads during Channel 4's First Dates. "Results for the first phase of the partnership showed that the brand delivered over 345,000 new shoppers in the 12-week period that included the First Dates partnership, showcasing the success of the collaboration," says Paula Wyatt, head of marketing for pizza at Dr Oetker.

At the same time, it's broadening its horizons. Earlier in May, Dr Oetker announced a £5m masterbrand push for its Chicago Town portfolio, which has a new look and feel designed to "bring the range together". It hopes this will both tempt "new pizza fanatics who don't currently buy" and expand usage across its range. As part of the move, it has renamed its Pizza Kitchen lineup Tiger Crust and added a limited edition Loaded Cheese pizza to its Takeaway Stuffed Crust selection. Costing £3.90 per pizza compared with the category average of £1.45 [Kantar], the takeaway range is important to its strategy.

"Tapping into the weekend treat occasion and successfully competing with high street takeaway is key to the brand strategy," says Dr Oetker's Wyatt. "Strong NPD directly targeting Domino's consumers is fundamental. Both our new flavours have high appeal against this audience, with taste to rival the high street at significantly better value. It's no surprise that savvy shoppers are turning to frozen pizza for their pizza night."
"Successfully competing with high street takeaway is key to the brand strategy"
The same trend is playing out in frozen potatoes, which has seen a 3.3% value increase to £747m. Beacon brand McCain is a driving force behind this, with a 3.2% increase in value [Nielsen]. That this growth coincided with a 1.3% slide in volumes tells the story. For McCain has been busy building up more premium lines alongside its core range. While McCain says its Home Chips have the highest penetration of any chip in the category, leading it to launch a lighter version in January, the brand says its triple cooked gastro chips are among its bestsellers. They're up 47% in value and 48% in volume, making the line worth £14m as a whole. With an rsp of £2.60 per pack they come at a significant price premium to the potato sector's average of £1.49 per pack [Kantar].

As Birds Eye has discovered, there are even ways to make the humble potato waffle appeal to a new generation of shoppers. Rainbow unicorn waffles featuring unicorns on pack are the latest addition to its potato waffle range. Coloured and flavoured with beetroot, peas and sweet potato, the waffles are vegan and gluten-free.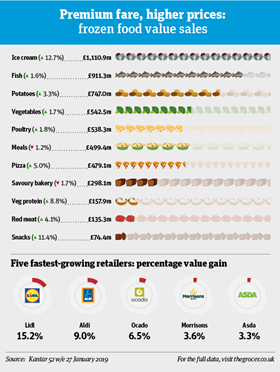 It shows frozen brands are thinking seriously about how to make their staples more premium and on-trend. Arguably, no one in the frozen aisle has done this better than ice cream. It's been the standout success of the year, with value sales up 12.7% to top £1.1bn.

The rise of low-calorie ice cream is, of course, one force behind this growth. US brand Halo Top has achieved 3.4% penetration since its launch in January 2018, according to Kantar figures. Its success, along with fellow low-calorie brands, has helped tub ice cream climb 9% in value to over £480m.

But it's handheld ice cream that has been the real rising star, up 15.7% to just shy of £630m. That's been down to some equally canny premium innovation. Nestlé, for example, is taking on Cornetto with the launch of Nestlé Extrême, a four-strong range of ice cream cones in flavours including gooey chocolate fudge. The high-end flavours come at a high-end price of £3 for a four-pack or £1.70 each. Kantar says the brand has achieved 7% penetration since its launch in March 2018.

Then there was the launch of Vegan Magnum in September that year. Retailing at £3.89 for a three-pack, these vegan alternatives are almost double the price of Magnum Classic at £2 for a four-pack. The innovation seems to have paid off for Magnum, which has delivered a double-digit increase in value sales. That equates to an extra £23.1m, making it the best-performing brand in the top 10 [Nielsen].

It's far from the only one adding value through vegan credentials. Prepared fruit brand Blue Skies entered the ice cream category for the first time in February 2018 with a vegan ice cream made with fresh fruit and coconut milk. Buoyed by this success, it went on to launch fresh fruit ice lollies in Tesco nationwide. Including variants such as mango & passion fruit and chocolate & orange, founder Anthony Pile says the brand is exploring more flavour options.
"Without ice cream, the frozen category's growth would be halved to 1.6%"
It's not just about saintly vegan credentials, though. Another way to get shoppers to spend more is to add booze. Adult popsicle brand Pops is projecting year-on-year revenue growth of 150% in 2019 after partnering with Diageo to bring Pimm's and Gordon's Gin popsicles to supermarkets. The brand secured listings in Tesco for its Gordon's gin & lime popsicle in March and will enter Waitrose in June with its Pimm's, prosecco & peach bellini and Gordon's gin popsicles.

"The frozen category had seen very little innovation and was dominated by the big players. We saw a gap for premium products that offered something new and exciting to consumers," says Pops' marketing manager Eleanor Leek. "By continuing to innovate and by growing an engaged audience, through social media and events like festivals and sporting events, smaller brands like Pops can offer products consumers want to talk about."

There is certainly a buzz around ice cream. Kantar is clear about just how much it has contributed to the overall category performance. "Without ice cream, the frozen category's growth would be halved to 1.6%," says Kantar's MacLeman. Whether it can repeat the same success this year will be largely weather-dependent, as there aren't any major sporting events on the horizon to take the place of the World Cup. "We could see a significant impact on ice cream sales and barbecue supplies, which have been a key driver of growth this year," adds MacLeman. "Manufacturers and retailers will need to have plans in place in anticipation of this."

As a pre-emptive strategy, many are making their barbecue offerings as tempting as possible. Iceland is already offering free bottles of Heinz tomato ketchup with its £5 BBQ bumper packs as part of its 'famous freebies' weekly deals, featuring salt & chilli ribs and wings and classic bangers and burgers.
Weather-proofing
For a more weather-proof plan, frozen brands could do worse than look to online. It's an area where frozen is performing well, as evidenced by 6.5% rise in sales at Ocado. Yet many brands are missing a trick in this area according to e-commerce expert E Fundamentals, which has analysed the online execution of frozen brands on the websites of Asda, Morrisons, Sainsbury's, Waitrose, Ocado and Iceland.

"Premium frozen products do not get their fair share of page one search results on retailers' sites, relative to their share of range," says insight manager Helen Thomas.

"As about 40% of conversions come from appearing on page one of search results, this could be costing the category an estimated £18m per year, which would give frozen e-commerce a boost of 2.5% year on year."

So understanding how retailers' algorithms work is therefore key, not only for established brands but for the new entrants to the market. "By having a promotional strategy and optimising product content, premium brands can give themselves the best chance of capitalising on this finding," says Thomas.

If premium brands can win over shoppers online as well as in store, they might just secure another year of bumper growth. And, most importantly, prove that there is far more to frozen food than oven chips and peas.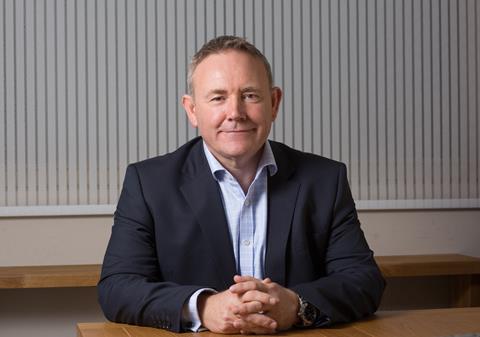 Why Nomad's bosses are betting big on frozen
It's been a busy - and expensive - year for Nomad Foods. Shortly after acquiring Goodfella's for €225m (£197m) in April 2018, it bought Aunt Bessie's into its fold for €240m (£210m) in July.
All for one simple reason: to get Nomad foods on more plates, more often.
"Pizza is a huge meal occasion both in the UK and Ireland but actually in frozen it's the third-largest category across Europe. It's a category we didn't really play in," says Wayne Hudson, MD at Birds Eye (pictured above), who sits on the Nomad executive board. "With Aunt Bessie's, again it was a meal occasion we weren't really in with our portfolio."
Nomad now plans to give these brands the so-called Birds Eye treatment. "The growth model has been about reinvesting in quality, reminding people why they bought into the brand in the first place and investing in media," says Hudson. "We'll use the same model for Goodfella's and Aunt Bessie's."
For Goodfella's that means a £4.5m marketing spend and a return to TV for the first time in three years with an ad set in New York featuring 'The Godmother'.
"It was the first pizza as a brand in the frozen category and we're going to take it back to its roots with a massive campaign," says Hudson. "We've invested significantly in quality, we've added more toppings and done a lot of research to establish superiority."
The same is in store for Aunt Bessie's, which has brought out trendy innovations such as Yorkshire pudding wraps (pictured). Plus, a big budget marketing campaign will take the brand into 2020.
"We see huge potential because Aunt Bessie's products only feature in roast dinner occasions about 11% of the time so there's a real opportunity," says Hudson.
All in all, Nomad says it will spend £35m on advertising across the three brands - Birds Eye, Goodfella's and Aunt Bessie's - in 2019. Looks like another pricey year.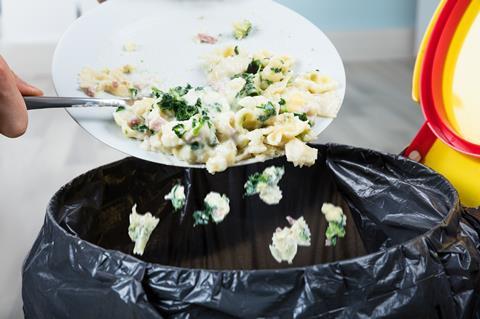 The frozen frontline in the battle against food waste
Frozen food could present the perfect antidote to food waste. A study by Manchester Metropolitan University last year revealed British families could reduce their waste by nearly half by making better use of their freezers.
The two-week long experiment asked 20 families to eat one week of meals made from fresh ingredients, followed by a week of the same meals made from frozen ingredients. Seventeen of the 20 families said they wasted less when it came to the frozen week, culminating in a 47.5% reduction in overall waste.
That study was commissioned by Iceland, which has long waxed lyrical about the benefits of frozen food, including its long-lasting properties.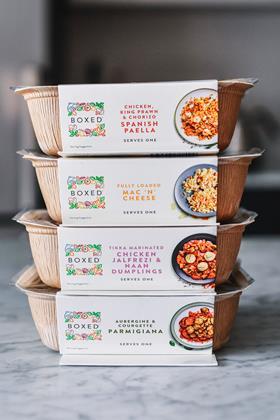 Now others are taking up this message. Earlier in May, the British Frozen Food Federation urged the government to highlight the role frozen food can play in helping achieve its 'Step up to the Plate' food waste targets. Speaking at a symposium in London, co-hosted by environment secretary Michael Gove, chief executive Richard Harrow stressed the severity of the issue.
"The scale of food waste in the UK is truly shocking and I firmly believe frozen has a vital role to play in waste reduction efforts," he said.
Frozen manufacturers are also looking to play their part in tackling the problem. That includes Nomad, which shrunk the size of its Boxed ready meals (pictured) from two servings to one in September to ensure food wasn't being binned in one-person households.
Now Nomad is focusing attention on its Birds Eye brand. "There's a whopping amount of food that is wasted," says Wayne Hudson, MD at Birds Eye. That's something he hopes to change through branded activity. "Freezing is nature's way of preserving, nature's pause button, and we intend to do more about that in the future. We've got some exciting plans but I can't divulge them at the moment."
Innovations in frozen 2019