How low can you go? That's the burning question for cheese players as they fight ever-growing pressures on their margins
There's something akin to a limbo party going on in Britain's cheese aisles. As the discounters continue to steal share by trading on value, the mults are seeing just how low their own cheese prices can go.

That's pretty low: 400g of Tesco's Creamfields Mature White Cheddar is currently fetching £1.79, significantly undercutting the closest comparable product in Lidl (550g of Mature Cheddar for £2.99) and matching Aldi's Emporium British Cheddar lines. Kantar shows strong growth for Creamfields as well as new bargain bulk cheddar blocks in Asda and Lidl.

And it's not just own label cheddar. Lidl is currently selling 550g blocks of Cathedral City's Mature and Extra Mature Cheddar for £2.99 (in Tesco the same product is £5.50). A net of 10 Mini Babybel portions goes for £1.99 in Lidl, compared with £2.85 in Asda, Sainsbury's, Morrisons and Waitrose.

But, as anyone who's ever had a go at limbo will tell you, go too low and you can easily end up flat on your back. As a result, many brands are now starting to push back on the deep deals that have characterised the market of late. Instead, they are spending on marketing and innovation. So is this a sign the rules of the game are changing? And how is all this impacting the wider market?
"Cheese has seen a strong performance this year … being consumed on 167 million more occasions"
All in all, things are looking pretty positive at total market level. "Cheese has seen a strong performance this year," says Kantar analyst David Taylor, pointing to market growth of £65.1m on volumes up 2.4% [52 w/e 11 August 2019]. "The majority of this growth is driven by rising trip frequency, thanks to cheese being consumed on 167 million more occasions than last year."
However, this increased appetite is far more evident in some areas of the market than in others. Branded and own label sales are growing at a similar rate in value. In volume terms, though, own label is leading the way with a 2.8% increase [Kantar]. Brands are growing at a noticeably slower rate of 1.6%.

And some cheddar brands are really suffering. See Pilgrims Choice, which is down 1.2 million kg (10.6%). Meanwhile, Seriously lost a whopping two million kg, 29% of its total volume in the supers.

In the case of both brands, that's been largely down to a squeeze on shelf space. "Sales of branded cheddar are in decline year on year, due to major multiple retailers increasing their focus on own label sales," Mike Chatters, sales director at Seriously brand owner Lactalis McLelland, said in September. "There's no denying that Seriously Cheddar is currently having a challenging time in the market and is in value and volume sales decline. This decline is primarily due to range changes in Morrisons."
Price wars: top to cheese brands by value
| Top 10 cheese brands | | |
| --- | --- | --- |
| | Value (£m) | % growth |
| Cathedral City | 270.8 | 2.3 |
| Dairylea | 96.5 | 4.3 |
| Philadelphia | 90.9 | 5.4 |
| Pilgrims Choice | 67.1 | -9.1 |
| Babybel | 57.1 | 17.7 |
| Cheesestrings | 46.3 | -0.7 |
| Seriously | 38.5 | -23 |
| Dairylea Lunchables | 31.7 | 4.4 |
| The Laughing Cow | 24.5 | -9.5 |
| Castello | 20.1 | -5.3 |
| | | |
| Source: Nielsen, 52 w/e 7 September 2019 | | |
Ranking Britain's top 10 bestselling cheese brands by the amount they've gained or lost at the tills paints an interesting picture of how the multiples are responding to the huge growth of the discounters (which these numbers do not cover).
The two greatest losers are cheddar brands Seriously and Pilgrims Choice, which have lost £11.5m and £6.7m respectively. Both brands have pulled back from deep deals, which has resulted in them losing sales and space (Seriously's block cheddar has been delisted by Morrisons).
Now spot the £6.2m gain of Cathedral City, which makes it the second fastest-growing brand after Babybel. The Saputo brand has seen average prices dip 2.9% as it continues to invest in deals. It's a bid to compete with own label cheddar, which the mults are using to battle Aldi and Lidl.
Block cheddar is becoming increasingly commoditised in the price war, but there are still opportunities for cheese players to grow value. The gains made by Babybel, Philadelphia, Dairylea and Lunchables point to one major opportunity: snacking.
These brands are seeing particular growth in retailers' food-to-go fixtures. Philadelphia, for example, reports strong growth for its breadstick and dips snacking range. Cheddar brands are moving in this direction too. Cathedral City says its cheddar snack bars are now worth a substantial £1.3m.
Own label drivedown
It's a symptom of what's going on in standard block cheeses. Brands are facing an ever-tougher environment as price becomes the only factor that matters. "Intense competition on price is driving commoditisation and devaluing the sector," says Nigel Marchant, marketing controller at Cathedral City brand owner Saputo Dairy.
Aldi and Lidl are a driving force behind that trend. "We've seen own label prices come down in the discounters, and this has driven up both trip volume and frequency of purchase," he explains. "Meanwhile, in the top six grocery mults, own label prices have dropped in all sectors other than grated and speciality, largely driven by the need to compete with everyday low prices in the discounters in an attempt to attract shoppers back."

The tactic is working. Marchant says cheddar growth has predominantly been driven by own label. Not only are retailers driving down prices, but they are also "investing in comms to improve its quality perception".

Plus, they are using larger pack sizes to their advantage. Asda and Lidl have both unveiled large mature cheddar blocks of 825g and 900g respectively in the past 12 months. Both have made a big impact since launch. "Asda and Lidl's large blocks have secured their position as the top two NPD launches across the total cheese market this year," says Kantar's Taylor.
"Cheddar brands that haven't taken advantage of added-value lines are suffering"
Sainsbury's is also getting in on the act with the launch of 600g and 900g blocks of cheddar under its budget Mary Ann's Dairy brand, retailing for £2.70 and £4 respectively. "The recent launch of Sainsbury's Mary Ann's targeting a competitive entry point to enable bigger pack, better value, has been a major strategic focus," says Mike Harper, marketing director at Ornua Foods. "Larger pack sizes can be highly effective in encouraging trade-up, appealing to a distinct shopper and mission and driving consumption.

"For retailers they are also a tactical means of locking in spend loyalty at the point of purchase," he adds.

This competition is forcing brands to think differently. One such brand is Wyke Farms, whose sales in the mults have fallen 27.3% to £5.3m on volumes down 28.7% [Nielsen].

"The advertising strategy adopted by the discounters has helped remove the stigma that many shoppers may have previously held about purchasing own label," says MD Rich Clothier. "Private label has competed strongly with brands because the category leaders haven't done enough to drive genuine point of difference."

Given Wyke Farms' steep decline, this might sound like a case of the pot calling the kettle black. But Clothier suggests that a smaller, privately owned operator is less able to work with retailers on changing the 'pile high sell cheap' or delist approach.

"In mainstream multiples, rationalisation almost always favours the large plc category leader suppliers," argues Clothier. "This often does not reflect consumer choice and makes it challenging for brands like us to compete."

Wyke has lost significant space in Waitrose, Morrisons and others. So it is looking elsewhere for growth opportunities. Clothier says the brand is seeing growth in Lidl and Home Bargains, which aren't reflected in Nielsen's read of the market.
Kantar: cheese sectors by value
Cheese sectors by value
Value (£m)
% difference
Market share
Cheddar
1403.7
0.3
47.5
Continental
555.5
4.5
18.8
Processed
298.8
2.4
10.1
Soft White
236.2
2.2
8.0
Territorials
231.6
1.3
7.8
Mini Portions
134.9
17.4
4.6
Blue
94.6
2.2
3.2
Brands vs Own Label
Value (£m)
% difference
Brands
1141.6
2.1
Own Label
1813.7
2.4
Retailers
Category value
% growth
Tesco
25.5
0.6
Sainsbury's
14.2
-3.0
Asda
14.1
2.6
Morrisons
9.8
-3.1
Aldi
9.3
12.6
Lidl
7.1
10.8
Waitrose
5.7
-1.0
The Co-Operative
5.2
6.7
Iceland
2.3
1.9
Marks & Spencer
2
4.8
Source: Kantar 52 w/e 11 August 2019
Cheese is in pretty good shape, up 2.3% in value and 2.4% in volume. In a market worth nearly £3bn a year in take-home sales, that equates to an extra £65.1m or 10.9 million kg.
Note that brands and own label are growing at similar rates. Contrary to the protestations that prices are being hammered down to unsustainable levels, this suggests that retailers are mostly getting the balance right.
"The dynamic between brands and own label has remained fairly similar, with about 39% share of spend being on brands and 61% on own label lines," says Kantar analyst David Taylor, who also notes a decline in sales of value own-label cheese lines.
That Kantar's numbers paint a rosier picture for brands than Nielsen's (see p52) also reflects the discounters' growing reliance on brands and the big four's increasing use of own label cheese to compete. Nielsen does not cover Aldi and Lidl, which have the largest slices of the market relative to grocery share. They are also growing fastest, up 12.6% and 10.8% respectively. Of the big four, only Asda and Tesco have mustered any growth in the past year.
Risk worth taking
It's one of a few brands - including Cathedral City and Babybel - that have decided to move into the discounters. It does carry a risk. Namely, alienating existing retail customers and devaluing your brand in the eyes of consumers. But a growing number of brands are deciding it's a risk worth taking, given the higher volumes you can shift as the only, or one of only a few, brands in a discounter.
Other brands are very much sticking to their guns in terms of price. Ornua Foods, for example, is determined not to discount its Pilgrims Choice brand. "One of the easiest ways to steal from own label is to increase the depth of discount," says Harper. "The branded part of the cheddar category has generally been in decline through the year and it is only heavyweight deals in the latest period that have driven growth back.

But, as Harper points out, that comes at a "significant pound per kilo concession". So Pilgrims Choice is just one of the many brands resisting. That's resulted in a 3.9% fall in share of sales on deal [Kantar].
"One of the easiest ways to drive steal from own label is to increase the depth of discount"
Instead, Pilgrims Choice is pursuing growth "through attractive promotional mechanics, but also continued above the line investment." That includes plans for the brand's "biggest-ever marketing investment" in 2020. The company will bring back its 'Cheese of your Dreams' campaign with TV and social media activity focused on cheese as a meal inspiration in a bid to "provide more reasons to buy than just price".
The ability to spend big on advertising certainly seems to help. Bel UK reported record penetration of 25.6% for Mini Babybel at the end of March 2019, following the brand's sponsorship of Comic Relief for the 20th year running. It also says the 'We Summer, Oui Boursin' campaign resulted in a 9% increase in Boursin's sales this summer versus the same period last year.

Saputo Dairy is similarly positive about marketing. It attributes part of Cathedral City's performance to sponsorship of prime-time ITV family quiz show Britain's Brightest Family for the second year running. "The imperative is clear," adds Marchant. "To continue to offer superior and consistent quality and to work hard to communicate this to give shoppers a reason to trade up". At the same time, the brand is "continuing to innovate to meet new and emerging consumer needs and maintain relevance".
Upturn in snack sector
Innovation is another crucial factor in cheddar brands' fight back against own label, with added value lines helping to mitigate the impact of rapidly falling block prices.
According to Kantar, the average price of cheddar has dipped by just 1%, while Continental and territorial cheeses have seen prices sink by 1.4% and 1.9% respectively. That's because deep dealing on standard blocks is being offset by strong growth from added value lines. Sales of sliced and grated cheddar climbed by £20.1m (5.6%) on volumes up 4.3% [Kantar], for example.

Nielsen figures, which include on-the-go sales, show how brands are also reaping the rewards of snacking lines. Cathedral City is a case in point. It remains Britain's bestselling cheese and is the only one of the three cheddar brands in Nielsen's top 10 to achieve volume growth [52 w/e 7 September 2019]. It's shifted an extra 1.9 million kg, equating to an extra £6.2m. According to the brand, that's down to strong growth in its snacking portfolio. Its Snack Bar, for example, is up 82% to £1.3m on volumes up 57% [Mintel].
"The rise of cheese snacking is helping to mitigate the impact of downward pressure"
"The range has benefited from some important distribution wins across convenience and food to go throughout 2019, notably within Tesco, Co-op and WH Smith," says Saputo's Marchant.

Convenience is also a rare ray of sunshine for Seriously. "Within the convenience channel, Seriously Cheddar is performing well with volume and value sales growth and for the Seriously Spreadable range the performance has been much more positive," explains Chatters. The brand is the "fastest-growing in the category" with 14.3% value and 16.4% volume gains, says Chatters, citing IRI figures to 20 July.

Another source of hope is the return of the Seriously Melting Pots in September, which were recalled last year due to safety concerns. Their return will be cemented with "ongoing media spend" in 2020 as well as the promise of "some exciting NPD" to come.
Consumer trends
Cheddar brands aren't the only ones tapping into the appetite for snacking. Bel UK puts much of Mini Babybel's double-digit sales success down to new shelf space in food to go chillers, distribution gains and promotions including Babybel Mini Melters. "The benefits of Mini Babybel being ranged within the food to go area of a store are proven," according to group brand manager Gaëlle Vernet, who cites SBXL Shopper Research data.
"Nets of three Original Mini Babybel have become the fifth-bestselling product in the Boots food to go area, and has resulted in a further listing for the Light variant. Furthermore, supermarket trials demonstrated an impressive 120% incremental sales uplift when Mini Babybel was situated within the food to go aisle."

It's a similar story for Philadelphia, which netted an extra £4.6m [Nielsen]. While its new 340g family tub of cream cheese may have secured the top spot for branded NPD in the past year [Kantar], brand owner Mondelez says the March relaunch of the Philadelphia Snacks range of breadsticks and cheese dips has been crucial to its sales growth over the past year.

"The growth is being driven by the alignment of processed cheese to three of the key macro trends in grocery - health and wellness, the growth of snacking and the drive for convenience," says trade communications manager Susan Nash.

Mondelez has used those same principles to drive growth in its Dairylea brand. It attributes the strong performance - up 4.3% in value on volumes up 2.3% [Nielsen] - to the 2018 launch of its Dairylea Snackers cheese & cracker snacks range.

Mondelez says the NPD added £2.6m to the processed cheese category in its first year of sales, more than any other launch. That has prompted a spate of innovation along those convenience lines.

In April, it added a Cadbury Giant Buttons variant to the Dairylea Snackers range. That same month, the brand expanded its Dairylea Dunkers and Lunchables ranges with Dairylea Dunkers Cheesy Cones in four packs of 40g and Dairylea Lunchables Streetfood Pizza, combining Dairylea with mini pizza bases and pizza sauce.
Speciality versus block: shopper attitudes to cheese
| Shopper attitudes to cheese | | | | |
| --- | --- | --- | --- | --- |
| | Don't want to run out | Buy it because they feel like it | Just grab it and go | Browse it |
| Block Cheese | 66% | 15% | 74% | 17% |
| Speciality Cheese | 18% | 62% | 66% | 26% |
They may both belong to the same category, but the way shoppers approach block and speciality cheese is, well, chalk and cheese. This was the key finding from consumer research by Shopper Intelligence.
Perhaps unsurprisingly, speciality cheese is more of an indulgent and emotion-driven purchase than its block counterpart. As many as 62% of shoppers claim they buy it 'because they feel like it', compared with just 15% that do so for block cheese.
Meanwhile, competitive prices are more important in block cheese. "Everyday low prices are particularly useful here, as block cheese is considered by shoppers to be a key value line," says Jeremy Garlick, partner at Insight Traction.
Two thirds of shoppers say they aim to always have block cheese stocked in their fridge, while speciality cheese is seen by most as more of an occasional treat, and as such is less price-sensitive.
Block cheese is often eaten at work or used in kids' lunchboxes (cited by 23% and 13% of shoppers respectively). By contrast, speciality cheese is eaten more as a treat (24%) or while relaxing in the evening (21%).
Base: Shopper Intelligence survey of 992 shoppers
Health focus
As Mondelez suggests, tapping into the health trend is a key strategy for brands. It has proven a focal point of innovation in the past year. Perhaps the most high-profile example was the launch of Cathedral City 82 in June. The 'calorie-led' cheddar, which contains just 82 calories per 30g portion, has a nine-month exclusive in Tesco. Marchant stresses there is no compromise on taste, despite using lower-fat milk than standard cheddar.
"Health as a reason for food choice continues to grow but for many there's still the perception that 'lighter' products will compromise on taste," he says. However, that perception is being challenged by the latest wave of calorie-controlled products, which have a strong focus on taste.

"We've seen a more recent shift in government, retailer and consumer focus towards calorie reduction, and in response, a rise of calorie-based product propositions in other grocery categories such as ice cream," Marchant says. "Cathedral City 82 aims to leverage this trend to offer consumers a healthier cheese that tastes great."
"For many there's still the perception that 'lighter' products will compromise on taste"
Cathedral City isn't the only one at it. Growing demand for healthier cheese has inspired independent cheesemaker and cheesemonger Singletons & Co to launch a cheddar using kefir cultures. The numbers make a convincing argument. "The healthy cheese market is already worth more than £20m a year and, in the dairy category as a whole, kefir grew by more than 300% last year," says Singletons export manager Henry Openshaw. "We're trying to tap into both trends with our handmade Original Kefir Cheddar."

For cheddar brands, this sort of added value innovation is crucial. Because as supermarkets slash deals on standard blocks, shoppers are increasingly tempted to switch to other cheeses, suggests James Millward, MD of Eurilait, which supplies dairy produce from 20 French creameries and more than 15 cheese specialists from across Europe.

"As retailer strategies have been to reduce promotions, in particular on branded block cheddar, this has helped drive trial into continental, particularly summer cheeses such as mozzarella and feta," Millward says.

Indeed, Continental cheeses have gained an extra £24m with a 6% rise in volume [Kantar].
Adventurous tastes
Wider consumer trends are also driving growth in alternatives to cheddar. "A more culturally diverse society, better access to global foods and a booming street food scene are some of the influences that have whetted the appetite of today's increasingly adventurous consumers," explains Millward.
"Continental cheeses have soared in popularity, reflecting a positive shift in consumer attitudes toward food quality and provenance. The growing trends in meat alternatives and in sharing means we are seeing ongoing, sustainable growth in halloumi, not just from Cyprus but also from Greece."
"Continental cheeses have gained an extra £24m in the past year, with a 6% volume rise"
Rupert Linton, head of cheese at Spanish food importer Brindisa, says there has also been a rise in demand for Spanish cheeses such as manchego. "One explanation is that many customers are increasingly seeking alternatives to cows milk for health, allergen and ethical reasons," he adds.

"Many of Spain's most famous cheeses, including manchego, are made with goats or ewes milk. Freely grazing on pasture, these herds have adapted to Spain's diverse terrains and environmental conditions, which in turn has an enormous impact on the cheese's flavour and sets it apart from block cheddars."

The more consumers discover these cheeses, the more Britain's big cheddar brands are going to have to work to demonstrate their value in the eyes of consumers. Otherwise, they could be forced to return to the limbo party.
Why raw milk cheese could beat the backlash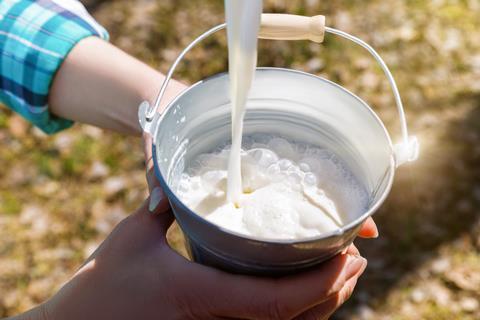 Beer and cheese have more in common than you might think. In their purest forms, both use only four ingredients: malt, hops, water and yeast for beer; milk, rennet, salt and live bacteria for cheese. Both rely on live organisms for production. And both have their fair share of passionate fans.
But there's no campaign for 'real cheese' in the same way as 'real ale'. Perhaps there should be. Because cheese made with raw, unpasteurised milk has had a fight on its hands.
Production of raw cheese - which can differ hugely in taste, texture and appearance through minor tweaks to the production process - has been in steep decline over the past century with the growth of modern supply chains and supermarkets that mostly stock pasteurised cheese. Plus, it has suffered the fallout from recent food safety scandals.
In 2018, Scotland's Errington Cheese was cleared of breaking food safety laws after one of its raw milk cheeses was linked to the death of a child from e.coli poisoning.
In May, Errington and four other Scottish cheesemakers successfully challenged tough new Food Standards Scotland rules, claiming they would 'shut down' Scottish artisan cheesemaking.
The manufacturers have the support of trade body the Cheese Board, which stresses there is "nothing intrinsically harmful" about raw milk cheeses.
It seems that message is gradually getting through. Cheesemakers and sellers say interest in raw cheeses is growing. One of these is Rupert Linton, head of cheese at Spanish food importer Brindisa. He argues they should become more widespread.
"Raw milk cheeses are such an integral element of our shared cheese heritage," he says. "They deserve a rightful place on the counter and there are many individuals and organisations working to preserve the future of raw milk produce, in the face of over-regulation."
It's an opinion shared by David Hartley, MD of Wensleydale Dairy Products, owner of new artisan cheese brand Yorkshire Creamery.
"We see much interest in the world of artisan cheesemaking, including raw milk cheese," he says. "Consumers have an interest and are keen to support this production, so we hope there is a place for this type of cheesemaking in the future."
Innovations in cheese 2019