Brits are eating crisps until they're coming out of their ears. But could a rise in potato prices spell the end of this snacking boom?
In the late hours of 24 March, Twitter went into meltdown. 'This nation truly is doomed' tweeted one user. Another claimed they had 'lost faith in the British public'. One went as far as branding it a 'national disgrace'. Although no one could agree on the solution, everyone was united in one belief: something had gone terribly, terribly wrong.

No, it wasn't the latest twist and turn in the Brexit debate. Instead, it was the result of Channel 5's Britain's Favourite Crisps, a two-hour show that ranked the UK's potato snack preferences based on a public poll.

That Walkers, Pringles and Doritos came out on top - while Nik Naks and Mini Cheddars were left out in the cold - was a source of great controversy. Even former Oasis frontman Liam Gallagher weighed in to back Taytos as "the best crisps in the universe".

If the debate proved one thing - apart from a surprisingly high viewership of late-night Channel 5 fare - it's that the British public is serious about crisps. Kantar figures are further proof of that enthusiasm. Brits spent an extra £25.9m on crisps over the past year, bumping up value to a whopping £957.7m [52 w/e 30 December 2018]. That's a lot more packets (two million kilos more, to be precise).
"Any business dealing in potatoes is dealing with inflationary pressures from the poor harvest"
Yet there is one thing threatening this outpouring of love for crisps: a hike in prices. Volume growth in crisps over the past year was entirely driven by own label. Branded volumes, on the other hand, dipped 1.7%. That was amid a 20p rise in branded prices to £7.28/kg, representing a 2.8% increase on the year before. Which suggests shoppers are reluctant to pay more for their habit.

That doesn't bode well, for prices are on the rise again. Data from Edge by Ascential shows a 4% increase in average crisp prices across the big four and Waitrose [52 w/e 5 April 2019].

That's been driven by the poor harvest of 2018, named the lowest since 2012 by the AHDB. The UK Potato Processors Association warned quality issues and short supplies could last until this summer - possibly longer.
Brands are feeling the impact. "The potato harvest has been dire," KP Snacks sales director Andy Riddle told The Grocer last year. "The Beast from the East, combined with the heatwave, meant the potatoes went into the ground later and didn't have the right conditions to grow, not just in the UK but across Europe. That led to a shortage and farmers looking to get more value from the yield next season because the last one was so damaging. It's resulted in inflationary pressures for any business that deals in potatoes."
Enter a spate of shrinkflation and price hikes in the crisp aisle. In February, The Grocer reported the shrinking of selected Walkers multipacks in Asda and Morrisons to cut costs. At the same time, Tesco hiked prices across its range of Tayto crisps, while Asda and Morrisons increased prices on selected Hula Hoops, McCoy's and Pom-Bear SKUs. Sainsbury's added 10p to its range of 31.8g bags of Seabrook crisps. Even own-label prices were on the up.
Those rises couldn't come at a worse time for consumers. For with Brexit (somewhere) on the horizon, today's shoppers are increasingly cost-conscious. Just last month, Reuters reported consumer confidence levels were close to a five-year low. "2019 already kicks off in a delicate macro context regarding politics and economy," says Kantar analyst Tomas Caetano. "Customer confidence drops and budget control becomes a new order for all."
Indeed, it seems shoppers are willing to shun their regular brands in the name of saving. Despite Walkers being named one of Britain's favourite crisps, it shed £25.3m in the past year [Nielsen 52 w/e 26 January 2019]. Nielsen analyst Steven Hansell believes the shrinking of its multipacks was one factor behind the brand's decline.

So if crisps are costing more to produce, but shoppers are unwilling to pay more for them, brands are likely to find themselves in an increasingly tricky spot. To convince shoppers to part with more of their cash, many are turning to innovation to add value.
Healthier options
Healthy crisp alternatives are one particular area of innovation. Not only do many of these use alternatives to potato - avoiding the problem of a poor harvest - but they meet the growing demand for 'better for you' options.

Keeping track of the number of innovations over the past year has been nigh impossible. On the branded side, we've had big bang launches like Pringles Rice Fusions and the Kettle potato and veggie range alongside ventures by outsider brands such as Nairn's, which unveiled its Pop Oats snack in December. Over in own label, Tesco added Plantain and Sea Salt sharer bags to its Finest collection in October, and Aldi rolled out Brown Rice and Kale Pop Chips in February.
"Healthier options is currently the fastest-growing sector within the category"
As the last example illustrates, ingredients are getting ever more adventurous. Farming co-operative Growers Garden introduced crisps made from wonky broccoli last September. Over the past month, both Guruji and Native Snacks have launched popped lotus seed ranges on to the market. "It's a product that's really starting to gain traction in the US and now in the UK," says Charlie Bowker, co-founder of Native Snacks. Indeed, Whole Foods' Top 10 Trends for 2019 report named the seeds as one of the foods to watch.

The flurry of innovation suggests there is money to be made in this healthier end of the market. Marketing director at Burts Chips Simon Knight points to recent IRI data as proof. "It's currently the fastest-growing sector within the category," says Knight. "Sales are up 15% to almost £207m, which is significantly ahead of overall category growth, and it shows no signs of slowing."
Rise of the educated shopper
Indeed, many healthy brands are posting growth the big boys would envy. Chickpea puff brand Hippeas reported a sales increase of 91% in 2018, with new listings in Co-op and Morrisons taking its retail value to £5m. Soffles says sales of its pitta chip crisps are up 25%, roasted pea snack brand Brave is forecasting 500% growth by the end of the year, and PepsiCo claims sales of its healthier brand Off The Eaten Path are up 136%.

PepsiCo expects the lineup, now including products such as Vegetable & Nut Blends and Rice & Seaweed Crispy Curl, to continue its upward trajectory. "Seaweed and rice snacks have grown in popularity this year, and ocean-inspired flavours are set to take off in 2019, so we are confident they will continue to perform well," says Walkers snacks marketing director Fernando Kahane.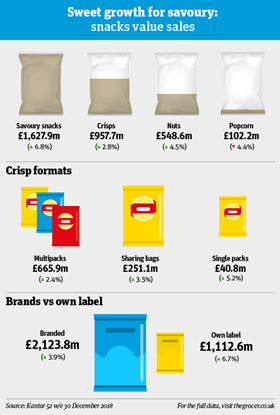 A key factor in the success of all of these brands is the rise of the educated consumer, says Chris Christofi, managing director of new vegan popped chip brand Hawker's. "A major benefit for a brand like ours launching on to today's market is that we don't need to educate shoppers on the health benefits of popped chips or the sustainability benefits of our products being palm oil-free. Consumers these days are figuring all that stuff out for themselves."

Free-from brand Eat Real is benefiting from shoppers "getting it". Reporting 206% sales growth across the mults last year, the brand has recently expanded its range of hummus, lentil, quinoa and veggie bagged snacks to include a raft of new flavours such as Paprika, Mango & Mint and Sour Cream & Chive.

The brand's success is partly down to cornering a profitable niche of the market: free-from. "Our range sits in the free-from fixture rather than the crisps and bagged snacks aisle," explains director of marketing Debbie King. "We find we get more attention and support in the free-from section, so our task is to get that initial engagement from shoppers to drive them into that fixture."

It could prove a smart move on Eat Real's part. For differentiation and healthy credentials are key to standing out in this ever more crowded crisps and snacks market. Chris White, channel controller at foodservice snack supplier Delicious Ideas, says smaller brands are doing this better.

"What these startups are doing successfully is showing a point of difference between themselves and the bigger brands, be that healthier credentials or sustainable practices, he argues. "That's leading to a loss of confidence and trust in the bigger conglomerates."

Indeed, many of the big brands have suffered slumps of late. Last year, Pringles was reeling from a near £20m blow, which it has more than made back thanks to its football campaign around the World Cup. This year, Walkers was the fastest falling brand (see above) and Kettle Chips also dipped £2.9m. In the case of Kettle, it attributes this fall largely to its decision to pull its healthier range Kettle Bites in September (though Nielsen says a decline in sales of its 40g handy packs were also a factor).

It shows healthy snacking products aren't always a surefire hit. Hence Kettle's commercial director Nicola Robinson says the brand will now "concentrate on our core range and providing innovation there". That innovation arrived last month in the form of Kettle &, a new three-strong range of sharer bags that include a combination of potato and vegetable or potato and fruit crisps. Veggies and fruit may sound healthy, but this should in no way be considered an alternative to Bites. "Kettle & isn't positioned as a healthier option," says Robinson. "It's tapping the trend for increasingly indulgent products with a point of difference."

The experience of Kettle hasn't deterred many other big brands from placing their bets on healthy snacking. Among them is KP Snacks, which credits its Hula Hoops Puft range for boosting the brand's sales by £17.4m [Nielsen]. "Puft has brought new shoppers into the brand," says Kevin McNair, marketing director at KP Snacks. "The Hula Hoops core range is positioned more towards families, whereas Puft is attracting younger female consumers."

Pringles is also eyeing up the healthier end of the market. The brand claimed its biggest innovation in four years with last month's launch of Rice Infusions, which promise 23% less fat than regular Pringles. "We're predicting first-year sales of £20m, with the products already proving popular with the 18 to 24-year-old category," says Pringles commercial lead Vicky Middlemast.

The lower fat content isn't the only pull. Pringles is also banking on exotic flavours to tempt today's snacking crowd. The Rice Infusion flavours include Malaysian Red Curry, Indian Tandoori Chicken Masala and Peking Duck with Hoisin Sauce. "Our research showed there is a drive for 'meal-based' flavours," says Middlemast. "There are a lot of consumers out there who like trying new flavours in crisps, so we're trying to attract those who are seeking new experiences."

Indeed, IGD's ShopperVista report found new and different products were particularly important to crisp shoppers.
Watch: Crisps and savoury snacks category briefing sponsored by KP Snacks
World flavours
So world flavours are proving profitable across the board for brands. Walkers says the £16.2m gain in its Sensations sub-brand [Nielsen] was down to "foodies looking for globally-inspired flavours and textures". Itsu has reported a 28% rise in sales of its seaweed thins grocery range, which includes Asian flavours like Wasabi and Sweet Soy & Sea Salt. The brand plans to build on that momentum with the launch of a new Korean BBQ flavour this month.

"Sales of Asian-inspired snacks are soaring as consumers become more adventurous with their food choices, seeking out the flavours they experienced while travelling in Asia or at one of the many authentic restaurants popping up across the UK," says Georgina Bolton Carter, brand manager of Itsu's grocery line. "We expect this trend to continue to grow this year."
Amid this appetite for world flavours, Mexican snacks are also on the up. KP Snacks says its McCoy's Muchos, a three-strong range of quesadilla-shaped tortilla chips, racked up £2.5m in its first 11 weeks on shelf. Similarly to Pringles Rice Infusions, it combines the appeal of the exotic with healthier credentials. "We launched Muchos as better-for-you folded tortilla crisps that are perfect for with-food occasions - particularly Mexican food," says McNair. "More and more consumers are eating Mexican food in this country, which is why the likes of Wahaca are doing so well, so tapping that trend with flavours like Nacho Cheese and Spicy Chilli Chicken is a real opportunity."

That the UK's biggest tortilla chip brand, Doritos, gained almost £10m over the past year [Nielsen] serves as further proof of the nation's love of all things Mexican.

Still, this world fare is hardly the sole preserve of brands. Tesco's Mexican crisp range includes four standard tortilla flavours as well as Finest Salsa Picante sharer bags, while Sainsbury's offers such exotic fare as Spiced Turmeric & Coconut Flatbread Chips.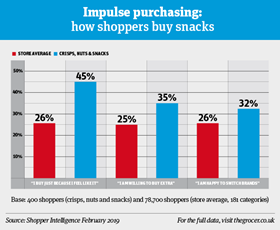 Pairing
So to differentiate themselves, brands are looking for new areas of growth. One is in alcohol pairing. As Insight Traction partner Jeremy Garlick explains (right), this could present a real opportunity for brands to grow consumption occasions.

This insight was behind the launch of Walkers Max Strong, which was responsible for the £24.1m growth in the Walkers Max Strong range over the past year. These come with a the prominent on-pack claim 'Perfect with beer', inspired by the "demand for a perfect snack to accompany a pint". Another key selling point of the range - which comprises Chilli & Lime, Hot Chicken Wings and Jalapeño & Cheese variants - is that they are, as the name suggests, strong. "It delivers maximum flavour," says Walkers' Kahane.

So pairing with beer, strong world flavours and healthier options are all making a strong case for justifying the higher crisp prices ahead. That doesn't necessarily mean the standard crisp will be left out in the cold. As Golden Wonder marketing director Matt Smith points out, there remains a place for the reliable, comforting snack. "Many consumers stick with what they know and love, so crisps will always be at the heart of the category," he says.

And if the recent outburst across Twitter is anything to go by, the crisp remains firmly in the hearts of the British public, too.
Can vending machines be reinvented with healthy options?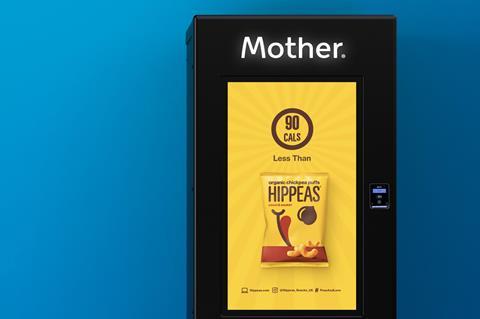 The first record of a coin-operated vending machine dates back to first century Egypt, when the devices were used to sell holy water in temples. It couldn't be much further away from today's vending machines, typically filled with crisps, chocolate and other unhealthy fare.
Still, vending machines may be about to undergo another evolution, says Phil Davison, founder of vending machine brand Mother (pictured). His machines are focused on health, rather than indulgence. "The UK vending industry has been pretty slow on the uptake compared to the likes of Japan and the US when it comes to healthy options and technological advancements," he says.
For an idea on just how far behind the UK's vending proposition is, look no further than PepsiCo's Hello Goodness machines. Stuffed with healthy snacks from its portfolio, the machines feature smart equipment, a point-of-sale touch screen and dual climate control shelving.
It may all sound very futuristic, but these machines are already available in thousands of locations across the US.
Now Britain may be about to catch up. Several healthier vending operators including Mother and Healthy Vending Company have reported increased interest in their machines as of late. "We're also seeing more companies that manage public spaces come to us," says Toby Hanbury, founder of Healthy Vending Company.
These companies are also offering something far more technologically advanced than your standard vendor. Mother machines feature a 43-inch touch screen that can advertise healthy snacks when not in use, and filter options according to dietary requirements. "It's the future of vending," says Davison. "Our machines are used on average three to four times more often than traditional vendors because people want healthy options and digital interaction. We're bringing vending into the 21st century."
Innovations in crisps, nuts and bagged snacks 2019