Peanut butter sales have passed the £100m mark for the first time, thanks to the spread's versatility and kudos with the health crowd. Now nut butters are getting even more inventive in format and flavours
Every so often, a food or drink is reborn. Products that were previously about as cool as Theresa May's dance moves suddenly start moonwalking off the shelves like they're channelling Jacko himself. Porridge has boomed on the back of new portable formats and gin is in after years gathering dust at the back of granny's drinks cabinet, for example. But few things compare with the explosion of peanut butter over the past decade.

Back in 2009, we reported TNS figures that put UK sales of peanut butter at £24.9m. Now they stand at £101.6m, having sailed past the £100m mark for the first time [Kantar Worldpanel 52 w/e 7 October 2018].
Download the PDF version of this report
---
Admittedly, those two figures aren't directly comparable. But they do point to an explosion in the popularity of the nutty stuff. Over the past year, Kantar Worldpanel data shows shoppers have picked up an extra 900kg of peanut butter, leading to a 9.5% increase in value. It's not just peanuts. New butters such as almond, cashew and hazelnut are hitting the shelves thick and fast. So what is it about the nut that has got everyone going, well, nuts?

For major nut butter players such as Meridian, Whole Earth and Pip & Nut, it's all about agility. These brands helped drive up peanut butter volumes up for three years on the trot, by exploiting new ideas about health and promoting themselves as far more than a bread accompaniment.

"Peanut butter fits into the health and fitness revolution and is gathering momentum as people recognise the wholesome goodness and nutritional benefits of peanut butter," says Whole Earth brand controller Kirstie Hawkins. "Great taste and the popularity of protein, driven by health and fitness influencers, is prompting Britain's love of nut butters."
"Peanut butter fits into the health and fitness revolution and is gathering momentum"
This new breed of health-conscious peanut butter nutters is far less likely to be filling sandwiches and topping toast with the stuff. This is because 'healthy eating' has been reinvented: many are eating fewer carbs (fuelling a decline in bread) while protein and fats are in demand. Peanut butter is rich in both and low in carbs.
Brands have therefore been trumpeting the versatility of peanut and other nut butters. "We continue to see usage occasions changing, with shoppers enjoying peanut butter and nut butters throughout the day," says Pip & Nut founder Pippa Murray.
"A few years ago, it was just something you put on toast in the morning. Now if you look at our Instagram feed, we get tagged in over 2,000 meals a month, ranging from smoothie bowls to homemade protein balls to savoury main meals. As a brand we believe this is a massive opportunity for the category to increase frequency and drive growth."

Indeed, Pip & Nut has pulled off quite a coup since launching in 2015: it's established peanut butter as a product that can be consumed on its own and on the go. The brand's single-serve squeeze packs have won space at till points to drive impulse sales.

"Inspired by Pippa's love of nut butter as an energy snack, the brand was specifically designed to rejuvenate the sector and reinvent nut butter from a tired cupboard staple to a versatile healthy ingredient and on-the-go energy snack," says Lisa Desforges, strategy director at the branding agency B&B Studio, which has worked with Pip & Nut.
"Pip & Nut's on-the-go squeeze packs have been key to peanut butter's repositioning and the introduction of new consumers. An innovative sales strategy, in which squeeze packs are placed at the front of store at checkouts as an impulse snacking purchase, represents a first for the category and has created a whole new merchandising opportunity."

Now others want in. At the start of 2018, Fuel10k launched a range of peanut butters in 225g resealable pouches, a move founding partner Barney Mauleverer says was intended to "re-engage younger consumers who are looking for easy functionality" in the morning.

"Collaboration with retailers has been vital," he explains. "For example, we are able to clip-strip the pouches to hang from shelves as a trial before taking up well-earned shelf space. We work with our partners to fill gaps and deliver what consumers want."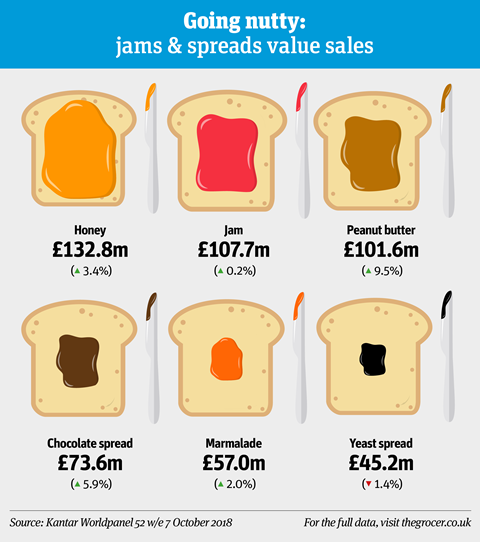 Find the full data at the bottom of this report
Versatility
Others in the jams & spreads market have been watching closely. Take the 2017 launch of Nutella B-Ready. The wafer biscuits containing the hazelnut spread moved the brand into snacking for the first time - a departure that can be seen as part of brand owner Ferrero's ongoing efforts to promote the product's versatility.
"The use of chocolate spreads has expanded into new culinary areas such as dipping sauce"
Nutella has also been going after key seasonal events throughout the year, such as Pancake Day and, more recently, Christmas and the weeks building up to the start of the new school year in September.
Chocolate spreads are similarly enjoying year-round popularity. Michelle Frost, general manager at Mars Chocolate Drinks & Treats, says they have become a cupboard staple. She points to Kantar data that suggests a third of British households buy into the category each year.

"No longer purely used as an accompaniment for traditional desserts and treats such as waffles, toast and crumpets, the use of chocolate spreads has expanded into new culinary areas such as a melted dipping sauce for fruit and as a versatile baking ingredient," she says. "This has led to an increase in purchasing frequency to 3.9 times a year."

Indeed, chocolate spread is the second fastest-growing spread after peanut butter, with value up 5.9% on volumes up 3.7% [Kantar]. Nutella is up 4.9% on volumes up 1.2%, while Mars' Maltesers spread and Cadbury have both suffered value and volume losses [Nielsen 52 w/e 8 September]. Own label is also doing well, up 9.4% in value and 14.2% in volume [Kantar].

The growth in chocolate spread makes one thing clear: the struggles of jam, curd and marmalade can't be simply blamed on sugar. After all, Nutella contains more or less the same amount as jam.
Why nut butter brands are looking beyond the peanut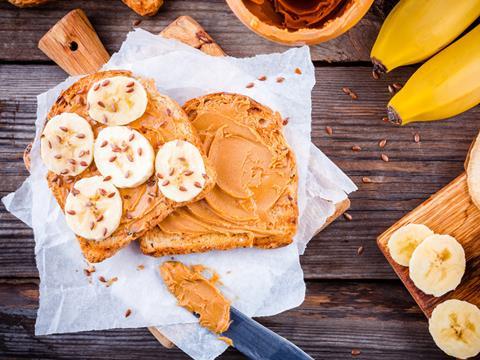 'Nut butter lover', 'nut butter addict' and 'nut butter porn'. They're among the foodie trends on social media, helping nut butters expand far beyond the humble peanut.
As nut butters reach new heights in the US - Wild Friends' collagen nut butter is the latest NPD to cause a stir - the trend is starting to play out in the UK with brazil nut spread and chocolate orange almond butter among the new variants to hit supermarkets this year.
"Nut butters are meeting consumer requirements at a time when healthier living remains one of the strongest consumer food trends," says Darren Robinson, head of sales at Meridian Foods, whose lineup now includes coconut & almond, pecan and pistachio butters.
Natural nut butter brand Pip & Nut, which has achieved major distribution gains in Sainsbury's and Tesco, says its chocolate orange almond butter has become one of its top-selling products since launch in June 2018, and founder Pippa Murray says almond butter is a huge driver of sales.
"If you look at our Instagram we get tagged in over 2,000 meals a month, ranging from smoothie bowls to homemade protein balls to savoury main meals," she says. "We believe this is a massive opportunity."
But it could be some time before we see the likes of collagen nut butters making it to UK supermarkets. "We expect to see more innovation in the category with different nut varieties, though perhaps not a collagen butter breaking in to the UK market due to food labelling claims," says Whole Earth's brand controller Kirstie Hawkins.
And retailers should be mindful about getting too carried away. "In time we expect more and more exciting nut butters on fixture, but brands and retailers need to be careful not to overwhelm shoppers with too many weird and wonderful options," warns Pip & Nut's Murray.
Jam in a jam
In the past year, jam volumes have dipped 1% while value sales have inched up 0.2%. "We do not believe this is closely related to the 'war on sugar'," says Catherine Hicks, marketing controller at Sun-Pat peanut butter and Hartley's Jam owner Hain Daniels.

As Hicks points out, that jam contains sugar will be of little surprise to anyone. So the government crackdown on sugar will hardly have altered perceptions. But the proliferation of seemingly more virtuous nut butter alternatives can't have helped. "Many jam shoppers have moved to perceived healthier categories such as honey and nut butters and it is not an easy job to attract them back."
So, jam brands are focusing on formats and flavour innovations to bring shoppers back into the fold. Hartley's, for example, has developed seedless versions of its bestselling jams and mess-free squeezy packs. Later this year, Manchester business Duerr's is partnering with artists from its home city for a campaign aimed at differentiating itself.

April will also see the launch of more exotically flavoured jams under the Duerr's brand: strawberry & elderflower, raspberry & orange, blueberry & lime and ginger & honey. "This year we're taking core flavours and adding an extra twist of flavour and creativity," says sales & marketing director Richard Duerr.
"These new products will complement not only your traditional breakfast toast but also wider baked goods. We need to be ready for our consumers whenever the occasion calls, from breakfast to afternoon tea, and these new flavour profiles certainly do that."

The move makes sense. Ingredients such as lime, elderflower and ginger are in greater use across grocery in everything from craft spirits and adult soft drinks to yoghurts.

Marmalade, which has managed 2% growth on volumes up 0.9% [Kantar Worldpanel] after years in the wilderness, also has the development of new, more adult-orientated flavours to thank for some of its return to form. Last year, The Bay Tree launched a lime & gin marmalade and a whisky-laced Christmas marmalade, for example.

Still, there's no getting away from it: compared with peanut butter or chocolate spread, there are fewer opportunities to increase usage of jam and marmalade outside of bread and toast. Yeast spreads face similar challenges. Market leader Marmite has tried pushing itself as a cooking ingredient. Now it's investing in its reduced salt variant.

"Last September and October, Marmite Reduced Salt was featured in a health-focused power aisle in Tesco," says Marmite marketing manager Kyrie Merryman. "It was put on promotion at £2, which resulted in increased brand awareness and a sales uplift."

Still, it's not all about luring in shoppers with attractive prices. For many brands suggest future growth for jams & spreads will come from driving value, rather than volume. "Premiumisation is a key strategy for the jam category," says Hicks at Hain Daniels. "Giving people a reason to trade up in a highly regulated category is the challenge."

One way to meet this challenge is by tapping demand for more 'natural', less processed products. To this end, Hain Daniels launched premium brand William's British Conserves in February 2018. Targeting shoppers concerned with provenance and ingredients, the brand's marketing makes much of its use of only British varieties of fruit sourced from Cambridgeshire.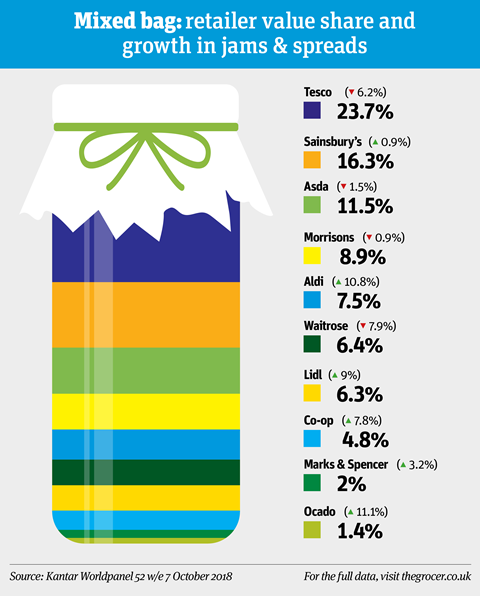 Find the full data at the bottom of this report
'Pure and natural'
Playing the 'all-natural' card has certainly helped honey in recent years. Market leader Rowse puts its 'pure and natural' credentials at the centre of its marketing, as well as trumpeting its versatility as an accompaniment to everything from pancakes to cereals and as a cooking ingredient.

"Honey continues to steadily grow and in 2018 we relaunched our 100-year-old honey brand Gale's," adds Hicks. "Gale's has relaunched in a clear bottle with a delicate floral design, celebrating the simple beauty of honey and the flowers it's harvested from."

Peanut butter brands are taking a similar tack. Both Pip & Nut and Meridian attribute much of their growth to growing demand for products perceived as more 'natural', healthier and better for the planet. Both brands are free from palm oil, while rivals such as Whole Earth and Sun-Pat use sustainable, RSPO-certified palm oil.
"I looked at single origin coffee, and thought 'why not apply that process to peanut butter?'"
Outside these natural credentials, industry players say there's scope for further premiumisation in nut butters. See Whole Earth's new Dark Roasted Peanut Butter, set to launch in February, and Meridian's Rich Roast Peanut Butter, which rolled into Morrisons and Ocado in September.

"With Rich Roast, we are able to provide nut butter lovers with a richer and more intense peanutty flavour by blanching the peanuts and roasting them for longer to intensify their flavour profile," says Meridian head of sales Darren Robinson. "We continuously strive to stay ahead of our competitors by our commitment to sourcing the finest ingredients from all around the globe, reacting to new food trends and developing products that further vary the food choices that people make."

There are a growing number of challenger brands, too. New Zealand brand Pic's expanded into more than 200 Tesco Express stores in December and 'craft' peanut butter brand Manilife has won listings with M&S, Ocado and Holland & Barrett.

"I looked at the boom in single origin coffee and thought: why not apply the same rigorous sourcing and roasting to peanut butter?" says founder Stu Macdonald. "That's what we've done. We roast, blitz and blend our beautiful single estate peanuts fresh each week. The result is life-changing peanut butter made by fantastic people with a real story behind it."

With big bread brands increasingly going down the artisan route, craft peanut butter certainly has a ring to it. Maybe there's life left in a simple peanut butter on toast after all.
Innovations in jams & spreads 2019
Click on an image to expand