Health lobbyists want tougher regulation on confectionery to cut the toll it takes on public health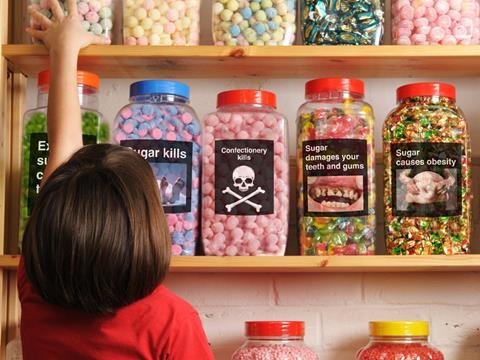 Confectioners, be warned: the sugar police are coming for you. If suppliers don't do more to mitigate the toll their products take on the nation's health, the sweet shops of the future might end up looking like the above.

'Fag warnings to fight flab: Docs demand cigarette-style labels on sweets to help tubby tots cut down on sugar' was The Sun's line in June after a proposal by the North West Regional Council of the BMA to urge health secretary Jeremy Hunt to make warnings on packs of sweets and chocolate mandatory.
In the event, the BMA agreed to push for traffic-light warnings rather than graphic images of the type mandatory in tobacco since 2008, but the move makes the health lobby's views clear: confectioners need to do more to protect public health. But what?
It was only a matter of time until confectioners began to feel the heat. Chocolate, after all, is the third-biggest source of sugar in the diets of 11 to 18-year-olds [National Diet & Nutrition Survey], accounting for 7% of the age group's intake and 4% of kids in general. Only soft drinks and fruit juice contribute more sugar to our youngsters' diets.

With soft drinks set to be hit with the sugar levy next April and number one juice brand Tropicana now making portion size central to its Little Glass marketing campaign, pressure is mounting on confectioners to do more. And reformulation is seen as a key way to address soaring instances of infant tooth decay and the startling statistic that a third of kids aged under 15 are either overweight or obese.
"These targets need to create a level playing field for every food company to address"
Public Health England has set voluntary targets for confectioners to cut sugar content by 20% by 2020. Some say this is too tall an order, given the technical challenges that would need to be overcome, but concede that the sector needs to make progress in reducing sugar before 2020 if it is to avoid harsher regulation or mandatory targets.

"Significant progress has already been made but the complexity of the reformulation process gives us concern about the timescales," says Andrea Martinez-Inchausti, BRC deputy director of food policy. "To achieve the PHE objective, these targets need to create a level playing field for every food company, large or small, to commit to and address."
Confectionery Category Snapshot 2017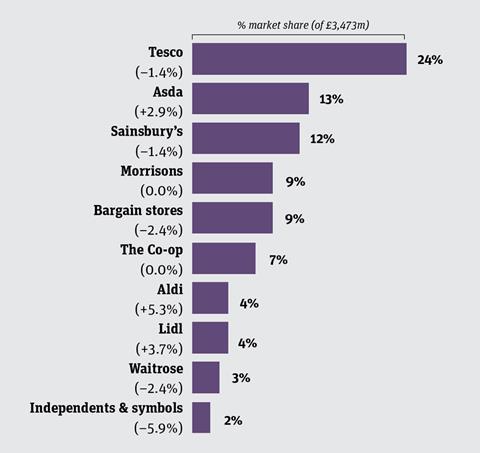 This is a crucial point. According to PHE, there are huge disparities between the amount of calories in a typical portion in the supermarkets versus foodservice, with the latter's portions consistently more calorific. For example, chocolate contains an average of 180kcal per portion in the retail sector, versus 274 in foodservice. Add to this our April revelation that foodservice still sells almost twice as much full-sugar Coke and Pepsi than zero-sugar (the supermarkets sell more diet than full sugar), and it's clear that the out of home sector is lagging behind.

Nevertheless, some retailers say more can be done to encourage grocery to clean up its act. "We do support the introduction of mandatory sugar targets as a way of reducing sugar consumption across the whole of the food industry," says Cathryn Higgs, Co-op head of food policy. "However, even though the targets are voluntary, we have been one of the first retailers to sign up and are continually working to reduce sugar in the identified categories, including confectionery."
"The Co-op supports the introduction of mandatory sugar targets across the industry"
This is easier in some sectors than others, as the glut of low and no-sugar sweets & candy launches (see p82) and the dearth of similar NPD in chocolate makes clear. The Co-op, for example, says it has slashed more than nine sugar cubes from a bag of own-label strawberry bon bons, a reduction of 22%, and cut sugar in its jelly mixes by nearly 60%.
Reformulation
When it was revealed in December that Nestlé had found a way to drastically cut the sugar from its chocolate without affecting taste, the reaction was a bit like the moment Charlie Bucket discovered that golden ticket. But any celebration was a tad premature.

This technological development, in which sugar crystals are hollowed out to allow them to melt more quickly on the tongue, is potentially game-changing. The expectation is that confectionery manufactured using this technique would contain 40% less sugar while tasting 'just as good'.

Yet Nestlé has been at pains since to play down the breakthrough and warns it could take years before it hits the market. So far Nestlé's progress in the UK has been less spectacular. In March, pre-empting PHE's targets, the manufacturer announced it was to take 10% of the sugar out of its confectionery in the UK and Ireland by 2018, a move it said was the equivalent of removing 7,500 tonnes of sugar. Within weeks it rolled out reformulated Kit Kats. But not everyone was happy.
"When it comes to cutting sugar levels you can only go so far before there is a backlash"
'Stop messing with our chocolate' screamed one headline in the Daily Mail, as many Kit Kat lovers warned that changes to the recipe were going down like a lead balloon. That the new recipe had just four calories fewer than before (despite having 10% less sugar) also stuck in some throats.

One senior food industry source says a backlash was inevitable. "When it comes to reducing sugar levels you can only go so far before there is a backlash against the change in taste," they contend. "Suppliers simply cannot afford to go further than their consumers' tastes will allow."
How taxes on sugar work around the world
If the government caves in to demands from Action on Sugar and extends the sugar tax to confectionery, it would not be the first to aim legislation, rather than voluntary initiatives, at sweets and chocolate.
Childhood obesity hot-spot Mexico has a tax on food containing more than 265kcals. Hungary introduced a tax on food high in sugar, fat or salt and sugary drinks in 2011. The tax is calculated based on company turnover and the percentage of sugar per 10g.
Denmark too has an excise duty on chocolate and sweets, while non-alcoholic beverages containing added sugar or sweeteners, chocolate and sweets are taxed in Norway.
However, in December, Finland's parliament voted to scrap a tax on confectionery and ice cream. The country had imposed the tax of 95 cents (70p) per kilo in 2011 but despite income of more than €100m (£81m) it bit the dust amid criticism from suppliers who claimed it violated EU rules on fair and equitable treatment.
In the UK, businesses have warned of a dire impact should the government look to expand its sugar tax, especially with the economic upheaval of Brexit already hammering companies.
In April, the FDF warned MPs companies like Nestlé and Mondelez could be driven out of the UK if the government added the burden of health taxation.
But similar arguments were levelled against the soft drinks tax, not least from ministers who repeatedly said it would never happen - and yet within months of its being proposed, industry had dropped its campaign.
Last year, the World Health Organization called for a massive expansion of sugar taxes across the globe. "Taxation of certain foods and drinks, particularly those high in saturated fats, trans fat, free sugars and/or salt appears promising, with existing evidence clearly showing that increases in the prices of such products reduces their consumption."
Pack sizes
Reformulation is not the only answer, of course. The widening of portfolios to include healthier products - see the 2016 launch of Mars Trail Mixes under the M&M's, Galaxy and Bounty brands - is one option, although chocolate manufacturers have more often than not plumped for another solution: the shrinking of pack sizes. And that's perhaps even more risky than changing recipes in terms of public image.

"Portion control is pretty much the only game in town, yet when companies have done it, they get slammed," says the supplier source. "And the reality is that portion size alone is not going to be anything like enough to hit the 20% target."

All the big brands are at it. In July this year the ONS released a report that slammed companies including Mondelez and Mars for cutting pack sizes while keeping prices the same. The ONS singled out the November 2016 shrinking of Toblerone, which prompted outrage in the press, as well as Maltesers, M&M's and Minstrels as the worst offenders. "We found that the changing pack size contributed 1.22 percentage points to the rate of inflation of those items since the beginning of 2012," declared the body.

One response from the industry is that such pack engineering is necessary to keep products below the voluntary 250kcal maximum portion cap on chocolate introduced in 2014, while others have been open about how cost inflation is causing brands to shrink pack sizes.

With the FDF openly warning that the 20% reduction target will not be met by 2020 and PHE calling on suppliers to reduce the voluntary portion cap by a fifth to 200kcal, while bringing in a 150kcal max for sweet confectionery, packs could shrink further.

The trick for brands will be to develop innovative new products that consumers are prepared to pay more for (or the same amount for less of). Because without a little bit of inspired thinking, the sweet shops of tomorrow could well look a lot different.
Is our sweet tooth being pulled? Confectionery report 2017
1

2

Currently reading

The future of sweets? Confectionery category report 2017: health

3