Premium and low-calorie ice cream brands are attracting funding like never before. So why is investment in the freezer heating up?
What do you get if you cross a Swiss billionaire with healthy ice cream? A recipe for some serious investment, if you're Oppo.
Just last year, Capri-Sun owner Hans-Peter Wild had the low-calorie Oppo ice cream range privately flown over to his Swiss abode, where he conducted extensive taste trials. It wasn't just an excuse for a binge session. Having tested Oppo versus UK and European rivals, Wild bought out 90% of its 1,200 investors in December. The deal, which offered shareholders four times their original investment at £6.15 per share, earned Wild a 30% stake in the business.
"We couldn't be happier that Dr Wild is on board," says Oppo co-founder Harry Thuillier. "He understands the industry, can advise us on how we build the brand and has the capital to fund future growth." It's safe to say that, when Thuillier and his brother devised the recipe for Oppo in a home kitchen back in 2013, they probably didn't expect to attract the attentions of a billionaire just five years later. Yet this kind of rags-to-riches investment story is becoming relatively common in the fast-paced ice cream sector.
Smaller ice cream brands are racking up hefty investment through crowdfunding, government schemes and private investors. The past year has seen protein brand Wheyhey secure £3m through private investors, premium brand Remeo Gelato gain £500k in funding and dairy-free venture Coconuts Organic raise £413k through Seedrs.
So, why are investments in the freezer suddenly so hot? Which startups have the most potential? And how are the major brands reacting to this newfound competition?
Looking at the numbers, ice cream seems a sensible place to invest. The market value has climbed 12.8% to just shy of £1.1bn, representing a £124.5m increase in take-home sales [Kantar Worldpanel 52 w/e 4 November 2018]. That wasn't just down to last year's hot summer, which admittedly drove an extra 118.4 million consumption occasions. Experts say ice cream is becoming ever less dependent on weather, as innovative new brands look to tempt consumers all year round.
Of these innovators, low-calorie brands have dominated most of the headlines. The biggest disruptor in ice cream – Halo Top – has now entered the top 10 brands after racking up £22.2m in sales since its UK launch last January [Nielsen 52 w/e 26 January 2019]. According to Kantar Worldpanel, over 187,000 UK households bought Halo Top in the past year. That same data found Unilever's low-cal rival Breyers Delights reached more than 190,000 households.
"We're at the tip of the iceberg with health-conscious consumers returning to ice cream"
Unilever is confident that number can grow. "We're just at the tip of the iceberg with health-conscious consumers being brought back into the category," says its executive director of ice cream Noel Clarke. "There's still 75% to 85% of the population who aren't even aware of low-calorie and low-sugar ice cream, so there's a lot of growth to be had."
All this activity put healthy brands such as Oppo in an opportune place to attract investment. So many are following suit. The past year's launches have included everything from Graham's Goodness – a range of high-protein, low-sugar tubs from Graham's The Family Dairy – to the October launch of Jude's low-calorie tubs, which will be followed by mini versions in Sainsbury's this month.
Market saturation
Still, there is a flipside to all this sudden interest. The market is becoming saturated fast, as evidenced by the sheer amount of promotions. "The low-calorie sector has become very busy very suddenly," says Wheyhey co-founder Damien Kennedy. "Within six months of all these new players launching, 95% of the sector is suddenly being sold on promotion. It's really not sustainable and quite scary. I can see there being a lot of fall-off this year."
So the catch-all promise of a low-cal option is no longer enough to tempt investors, who recognise only the fittest will survive. A brand has to offer a genuine point of difference. In Wheyhey, that's a bold high-protein claim on pack (its salted caramel flavour contains 7g per 100ml). In Oppo, it's the mix of low-calorie credentials alongside "decadent" flavours such as Colombian Chocolate & Hazelnut.
"Survival in the market is going to come down to who has enough money to have staying power"
These unique selling points are vital, explains Garyth Stone, managing director at investment bank Houlihan Lokey. "It's critical for these newer, smaller brands to stand out from the pack; they need to demonstrate differentiation in terms of marketing and positioning if they want to succeed," he says. "The market is becoming crowded, and survival this year is going to come down to who has enough money to have staying power, both in terms of running the business and advertising investments."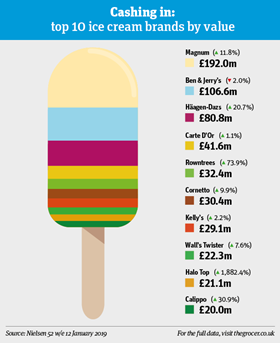 Going premium
In the face of that challenge, some investors are looking elsewhere. One area of interest is premium ice cream. Luxury gelato brand Remeo Gelato, for example, raised £500k in funding last year from an Italian VC fund and a number of angel investors, including Nando's Grocery CEO Georg Gruber.
Granted, the luxury market isn't exactly short of tough competitors. Häagen-Dazs has netted stellar growth of over 20% to top £80m this year [Nielsen]. Gü Puds is branching out from puddings and spreads with the launch of a three-strong range of luxury pint-size tubs this month. Other innovations to land this year include Lotus Bakeries' Lotus Biscoff ice creams and Nuii, the latest development from category giant Froneri. Comprising four luxury handheld variants – Salted Caramel & Australian Macadamia, Dark Chocolate & Nordic Berry, Cookies & Idaho Valley Mint and Almond & Java Vanilla – Froneri names the brand its biggest launch of 2019.
But there are still fewer new brands vying for the luxury crown – leaving room to offer that all-important point of difference. For Remeo Gelato, that difference is being the "first artisan gelato sold in jars". The standout look and feel – combined with the promise of gelato being "healthier and lighter" than ice cream – seems to be pulling in punters. In August, the brand reported year-on-year sales growth of 41% in Waitrose.
Another premium ice cream attracting investment is Northern Bloc. Trading on a combination of all-natural credentials and adventurous flavours such as Black Treacle or Chocolate with Sea Salt, it raised £512k on Crowdcube in September. "Within six days we'd smashed our target," says founding director Dirk Mischendahl. "The funding is going towards marketing predominantly, but will also be used for acquiring sales staff and equipment."
Entrepreneur and investment portfolio manager John Stapleton says the premiumisation of frozen food has been a boon for the likes of Northern Bloc. Not long ago, frozen wouldn't have seemed an obvious place to invest. That all changed last year, when the frozen market shot up 6.1% to £6.1bn, ending years of stagnation and decline [Kantar Worldpanel 52 w/e 28 January 2018].
"The rise of social media means smaller brands don't have to compete on marketing budgets"
"For decades, frozen was considered the graveyard of the retail store," says Stapleton. "There wasn't much innovation or excitement, which as an investment opportunity wasn't attractive. That's all changed in the last five years."
So the environment is ripe for ambitious startups to shake up the status quo. Alongside new investment opportunities, the culture is also more favourable than it has ever been to smaller challenger brands. "The major supermarkets are needing to rethink their ranging to remain competitive," says Sabrina Brindisi, co-founder of gelato brand I'm Real, which launched in 2016.
Sainsbury's, for one, has a Future Brands team dedicated to finding the next big thing. There are external initiatives, too. StartUp Britain – a national, entrepreneur-led campaign encouraging retailers to consider fledgling brands – earned Greek yoghurt ice lolly brand Claudi & Fin a Sainsbury's listing before selling a single SKU.
Plus, big marketing budgets are not as vital as they once were. "The rise of social media as a marketing tool has meant smaller brands don't have to compete with the marketing budgets of the major, established players in ice cream," says Jane Woodhead, co-founder of alcoholic ice cream brand Speakeasy.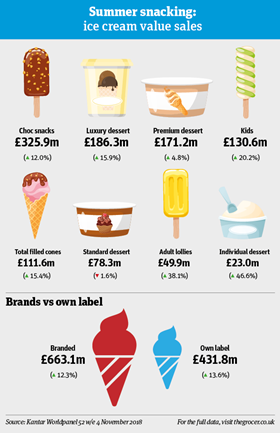 This fresh competition is forcing big brands to keep on their toes. "There's no question that the major ice cream brands are very concerned that if they don't innovate, they'll lose market share," says Remeo Gelato founder Jacopo Cordero di Vonzo. "It's difficult for those brands to move too far away from their core business because they have an image to uphold, and they're also slower moving."
Still, the giants are giving it a go. This month, General Mills entered the healthy scene with Häagen-Dazs gelato cups, touting no more than 150 calories per 95ml. Meanwhile, Unilever is pulling out all the stops. It is set to introduce a raft of new ranges this year, including two Kinder ice creams (one stick and one cone), 100% fruit Nice by Nature sticks for children and three Carte D'Or pint variants. Plus, it is adding new flavours in the form of a White Chocolate & Cookie Magnum and a Caramel Cookie Fix variant for its Ben & Jerry's Moophoria range.
Unilever's Clarke believes this level of innovation is vital. "There's no doubt we'll see more competition, more brands and more innovation in the ice cream aisle in 2019," he says. Still, he believes the crucial thing will be whether these innovations "add more to the category rather than just being 'me-toos'".
For those who can prove they are more than just a me-too, a Swiss billionaire and a private jet might be calling.
The disruptors: ice cream brands securing funds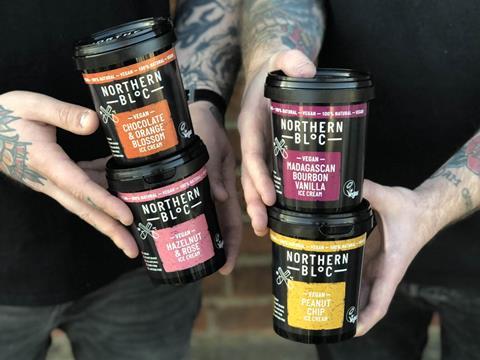 Northern Bloc
Launched: 2015
Funds raised: £512,000
Money wasn't the only driver behind high-end ice cream brand Northern Bloc's crowdfunding campaign last September. "Getting big-name investors is of course always fantastic, but the idea of getting hundreds of people emotionally invested in the brand was a really interesting concept," says founder Dirk Mischendahl. "We've essentially created an army of investors who want to see the brand do well."Northern Bloc raised £512,000 via 242 investors on Crowdcube, which was spent on marketing, sales staff and manufacturing equipment.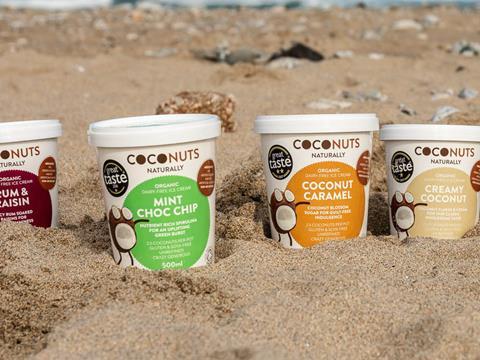 Coconuts Organic
Launched: 2015
Funds raised: £413,000
Achieving 100% of your crowdfunding target before launching to the public is no mean feat. Neither is turning down a Dragon. Coconuts Organic (formerly Coconuts Naturally) has managed both. Having rejected an offer of £75k from Dragons' Den investor Jenny Campbell for 30% of the business, it launched a Seedrs campaign. The brand secured £100k within 48 hours and the campaign was closed 10 days later having overfunded by 413% (£413k) from one private and 474 public investors. Funds have gone towards marketing, working capital and recruitment.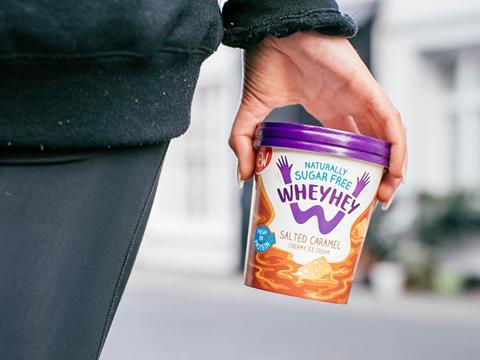 Wheyhey
Launched: 2013
Funds raised: £3,000,000
Funding doesn't get much bigger than Wheyhey's drive in January last year. The brand gained a cool £3m from various private investors, including ex-Weetabix CEO Giles Turrell and Little Dish founder John Stapleton. "It's helped us in so many ways, including a rebrand last year, increasing our distribution through the Tesco incubator programme, boosting distribution in Sainsbury's and launching internationally," says co-founder Damien Kennedy. Funding was also spent on consumer research and innovations, plus a new deal with Kerry Foods.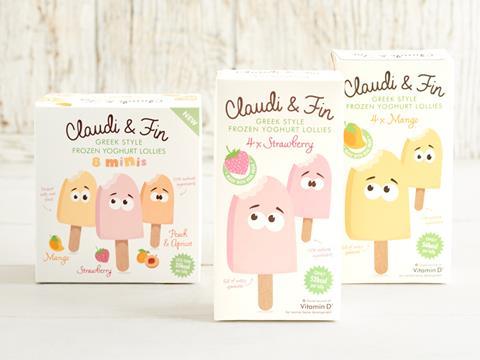 Claudi & Fin
Launched: 2014
Funds raised: £106,000
Kids' frozen yoghurt brand Claudi & Fin was one of 400 food entrepreneurs to enter the StartUp Britain competition in 2014, winning a Sainsbury's listing as a result. "We went from never having sold a single lolly to having to supply 16,000 lollies to 250 Sainsbury's stores," says co-founder Lucy Woodhouse. Faced with advertising, promotional and admin costs of fulfilling its first order, the brand secured £14k through government-backed Start Up Loans and a further £92k through the government's Seed Enterprise Investment Scheme.
Data for this report
Click for a pop-up table