Comprehensive skincare is an increasingly important part of the modern man's routine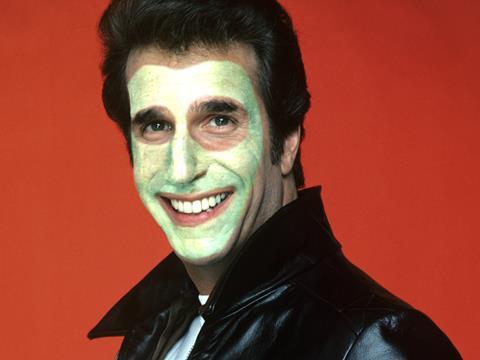 It takes work to be cool nowadays. In the past, all a guy needed was a black leather jacket and a greasy quiff. Take Arthur 'The Fonz' Fonzarelli. Gee, he was cool! In fact, since the 1970s, everyone's favourite Happy Days character has entered pop culture lore: Fonzie's name has become shorthand for male uber-hipness.
Were he in his pomp today, though, he'd need to do more than run motorcycle oil through his barnet to be able to pull with a click of his fingers.

In the near £880m male grooming category [Kantar Worldpanel 52 w/e 22 April 2018], a typical male beauty regime has many stages.
Download the PDF version of this report
---

No longer can you simply scrub your face with a bit of soap, for starters. Comprehensive skincare is an increasingly important part of the modern man's routine, says Alex Grogan, co-founder and CEO of Man Cave, which counts a micellar water and face scrub with olive stone powder within its portfolio. "We're seeing men experiment much more with their skincare routine. The main concern for many men is ageing and skin fatigue, which is why men are using moisturisers much more than ever."
So cool is men's skincare that sales have heated up to the tune of an extra 2.9 million packs over the past year, pushing up value by 6.5% to £106.6m. That's pretty impressive for a category that is seeing stagnating volumes and falling value. The changing attitudes of today's menfolk towards their skin represents a substantial opportunity for male grooming players.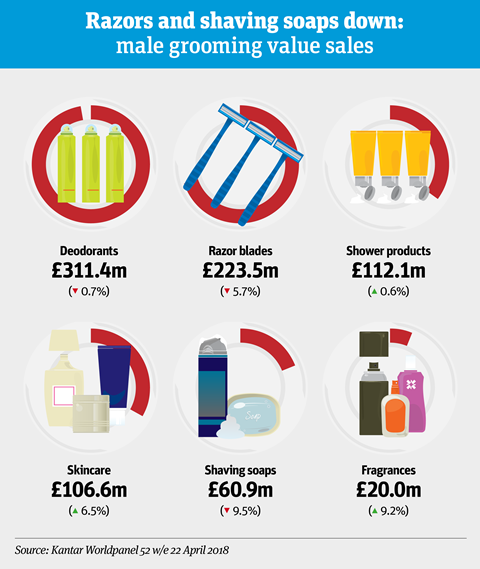 Find the full data at the bottom of this report

The influence of contemporary cool guys has helped dispel the idea that 'real men' don't use moisturiser. "Cristiano Ronaldo is no stranger to using a sheet mask and has posted selfies of himself masking on Instagram," says Simon Duffy, founder of Bulldog Skincare for Men, up 24.7% in value. "Pharrell Williams also looks great. He's not shy to say he cleanses and moisturises on a daily basis and I'm sure this helps him retain such good looks at 45."

Actor and singer Donald 'Childish Gambino' Glover is another icon. "His 1970s dress vibe, tidy beard and afro hair have helped to influence the laid-back, 'I don't have time to endlessly worry about my grooming' look," says Bradley Wicks, The Bluebeards Revenge's head of content. "The irony is this sort of look actually requires a lot of effort to pull off effectively."
"The top skincare launches of the past year understand the power of social media"
Then there's style perennial David Beckham, who began 2018 by launching his own grooming brand, House 99. The minimal-look range includes 'Spruce Up' toning lotion and 'Truly Brighter' eye balm.
All this savvy skincare NPD might be one reason why brands have enjoyed the lion's share of skincare's success. Their volumes have shot up a whopping 14.6%, in contrast to the near 5% decline in own label volumes, as they combine on-trend launches with a canny social media strategy.

"The list of top skincare launches over the past year is extremely long. Look at Glossier, Farsali, Drunk Elephant, Saturday Skin, House 99, Glamglow… the list goes on," says Sylvia Enotiades, creator relationship manager at Buzzoole, the influencer marketing platform.

"One thing they share in common is the fact they have incorporated influencer strategies by establishing advocacy and relationships with talent who use their products on a daily basis. Ultimately, they understand their audience and the power of social media."
Rise of the influencer
There has been an increase in watchable Instagram content that's hugely appealing to male audiences, with entertaining takes on the traditional 'how to' beauty tips. "It's this blend of education and entertainment that enables these brands to be at the forefront of male consumers' minds," Enotiades adds.
It's also helping chaps better understand their epidermis, which is more prone to oil and acne than women's skin. Plus, shaving stresses male faces, which can encourage pronounced signs of ageing in later life.
"Men are becoming more aware of the need to invest in good quality skincare products designed specifically to suit their skin," says Herbie Dayal, CEO of KMI Brands. "They are looking for products with extra benefits such as anti-ageing or anti-pollution, toning, energising, etc."

Helen Duxbury, senior account manager for beauty at The NPD Group, believes this is starting to create demand for premium brands. "However, it still remains a relatively untapped market that is still in its infancy and therefore presents huge opportunities for brands targeting a male audience."
The beard trend
All this buzz in skincare is good news for men's toiletries overall. They're in need of pep, having dipped 1.4% in value following 2017's resurgence. Last year's success was most likely a blip in a long decline, suggests Nielsen analyst Ben Hanson.

"Male grooming is a sector that has suffered over the last few years due to the trend towards beards and increase in flexible working. This has resulted in a consistent decline for the category as men shave less frequently."

The category's misfortune is reflected in shaving soaps and preparations, the most beleaguered sub-category. Its value is down 9.5% to £60.9m, and even large players such as Gillette, down 7.2%, are struggling to find levers for growth. The exceptions have been Wilkinson Sword and Bulldog.

Wilkinson is up 68% in volume [Nielsen 52 w/e 22 April 2018], having seen products land in more stores at lower prices. Meanwhile, Bulldog (up 35.3%) has marked its entry to the prep market with a premium offer. Its beard maintenance products are finding growth in a sector that is still struggling to accommodate the change in shaving habits.
"The beard isn't going anywhere, and men want grooming products to make sure their facial hair looks good," says Simon Duffy. "There are still some retailers who do not treat beard products as category staples in male grooming. These are products that men are looking for, yet often still find hard to find."

The popularity of facial hair is why L'Oréal's Men Expert launched its Barber Club range in 2017, says the brand's general manager Kristin Richtsteig. "This trend remains prominent in the market and is influenced by barbers and social media, where grooming tips are easily shared."

But not all cool guys wear beards. Those who still shave - albeit less than daily - are being offered something hipper than the shelf-dominating Gillette: online shave clubs. Their upsurge is pulling focus from the mults, where razor blade sales have fallen 5.7% in value. Dollar Shave Club arrived in the UK earlier this year, having pioneered subscription-based shaving in the US. It joined the likes of Harry's from New York, South Korean brand Dorco and the UK's own Cornerstone.

"Subscription services in the UK have benefited from the popularity of the models we see in other markets," says Laurent Laforest, general manager at Bic Shave Club.
"The launch of US subscription brands into the UK market is no doubt disruptive"
Ian Morley, sales director of Gillette owner P&G, has also witnessed the effect. "The launch of US subscription brands into the UK market is no doubt disruptive, as they have arrived with strong media spend and an intent of taking shoppers out of traditional bricks-and-mortar stores and into a direct-to-consumer online model."

Shave clubs offer convenience, stylish gear, flexible subscriptions and affordable prices. Amit Sharma, CEO of retail and e-commerce tech company Narvar, says they are "transforming the razor-buying experience from a chore to one that is convenient, pleasurable and just as personalised as choosing what facial hair style you'll go for next".

They're also knocking it out of the park when it comes to consumer relations, adds Sharma. "Delivering personalised, thoughtful purchase and delivery messages via the communications channel of the customer's choice creates happier customers who feel more valued."

Not everyone's convinced of DTC shave clubs' long-term staying power, though. The Bluebeards Revenge's Brad Wicks believes they are "just a fad" and that "being part of a shave club that offers the same products every month could become repetitive."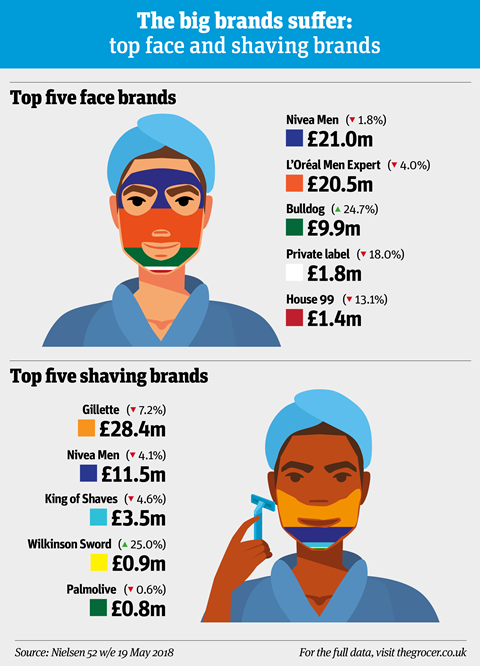 Find the full data at the bottom of this report

Bulldog's Duffy is similarly nonplussed. He foresees a near future in which voice-enabled home shopping devices will make the subscription model largely redundant. "People will be able to replenish their blades exactly when they need to from the comfort of their bathrooms. This will make the concept of committing to a programme of standard delivery quantities and frequencies feel very old-fashioned."

Still, while men getting hairier is spelling bad news for razors, it's good news for another market: shampoo. Its value has increased 12.5%, largely down to price rises (volumes are more or less flat at -0.1%) and men trading up to added-value products. This is all helped by the trend for a bigger barnet.

Ben Sutcliffe, salon director at KH Hair, says he's seeing more "longer, softer hair, perhaps with some tucked behind the ears", which needs plenty of care.

Fashion has a "huge" impact on male grooming - especially in hair, says Chris Barron, VP for personal care at Unilever, owner of Brylcream, Lynx and Dove.

"As new trends emerge, this dictates the type of products men need in their grooming repertoire, and this is where our innovation teams step in to help men achieve the 'in trend' look.
"Men are now looking for products which help protect the hair and scalp too"
The Bluebeards Revenge's Wicks says guys are looking for "more natural formulations" with "strong added benefits" to maintain their hair's health. "They are now looking for products which help protect the hair and scalp too."

Man Cave's Grogan is also seeing chaps turning to shampoos that are formulated for specific needs, such as anti-dandruff and thinning hair. "From reviews of Man Cave Caffeine Shampoo, it is clear that the effect of caffeine - encouraging healthy hair growth - is a massive attraction."

Colouring one's mane is another big trend, insists Luis Mendez, head of marketing at Just for Men. "Hair colourants continue to gain value share in the male toiletries market, now holding a 2.7% share, after growing sales by £1.7m over the last two years."

There's one final area of male grooming that's cool: sustainability.

"People are more aware of what they should and shouldn't be putting on their skin and are seeking products which are cruelty-free, vegan, and free from parabens, SLS and sulphates," says Grogan.

Such concerns allow suppliers to slap a premium price point on their guy-focused products. "The need to be organic, vegan or vegetarian is a way to justify extra cost, with 44% of men agreeing this is important," says Stephen Shortt, CEO of Hawkins & Brimble.

The blowback against plastic is another area of focus for on-trend grooming brands.

Punters are more concerned about plastic than ever before, says Duffy, whose Bulldog brand this year introduced sugarcane plastic for all its tubes and a bamboo razor. "There is still way too much waste, and most packaging is still unreformed."

He's hopeful about the future, though. "Increasing consumer demand for more sustainable thinking will become the most important driver of change in the male grooming market."

Which most certainly deserves a Fonzie-style thumbs-up. Ayyyyy!
---
Innovations in Male Grooming 2018