Sales of frozen food shot up when lockdown was announced – and have remained high. So what challenges does this present?
Britain is entering a new ice age. We're not saying that the economic fallout of Covid-19 will send us back to living in caves, or that grim predictions of melting ice caps disrupting the gulf stream and cooling the climate will soon be realised. We mean Brits are turning to frozen food in their droves.
Supermarket sales of frozen food leapt by £194.8m, a rise of 16.1%, in the 12 weeks to 18 April [Nielsen]. Unit sales were up 12.4%, meaning an extra 82.2 million packs of frozen peas, fish fingers, chicken nuggets and the like went through the tills.
Covid-19 has been the key catalyst in the recent sales boom, of course. Supermarket freezers were, on average, just 45% full in the week before Britain went into lockdown on 23 March as customers bought everything in sight and retailers struggled to replenish depleting stocks. At some points, nearly two thirds of freezer space was left empty [Shepper/The Grocer].
Availability has now been restored, for the most part, as Brits have returned to more normal levels of buying. However, frozen hasn't yet returned to baseline levels. Unlike sectors such as UHT milk and canned food, which saw spikes amid the panic buying followed by dips in sales, frozen has retained its appeal. Sales were up 8.8% year on year on units up 5.3% in the four weeks to the close of April, according to Kantar figures, and are expected to remain elevated.
"Sales have remained well ahead of forecast even after the initial surge of panic buying subsided," says Andrew Staniland, trading director at Iceland. "Frozen food has seen the largest and most prolonged sales growth during this time, and this is an indication of customers favouring products they can store for longer."
"We're seeing the return of the 'big shop' and an end to visiting a range of stores for top-ups"
Frozen food bosses like Staniland are hoping the trend will stay for the long term, rather than simply subsiding in the aftermath of the coronavirus pandemic.
In the short term, the rise of frozen food was inevitable. As Covid-19 forces consumers to limit their journeys to the supermarket, the 'little and often' trend has been stopped dead in its tracks.
"We're seeing the return of the 'big shop' and an end to visiting a range of stores for top-up purchases," says Young's Seafood marketing director Jason Manley. He quotes Kantar figures, which show there were 142 million fewer shopping trips taken in March and April, down 24% year on year. Meanwhile, trip spend increased 43.2%.
The long life of frozen food plays well to these new buying habits. But that's not the only reason it's doing well. After all, canned food, which has a similarly long-life promise, enjoyed just a short-term spike in sales.
Birds Eye UK general manager Steve Challouma points out frozen has enjoyed a 30% increase in in-house consumption. Essentially, it is something consumers are buying and continually consuming, rather than stocking up just in case. He believes the ongoing reappraisal of frozen food among consumers is a key factor here.
"It's no longer seen as a compromise," Challouma explains. "We've been driving the repositioning of frozen from a back-up food to something that's high-quality, modern and relevant.
"It's now seen as a positive, healthy, natural and sustainable food choice. Retailers have therefore been reallocating macro space to offer a much wider range."
Pre-pandemic sales
Kantar data from before the pandemic backs up that point. Granted, the topline figures aren't much to write home about – sales fell 0.4% to £6.3m on units down 1.1% in the year to 26 January.
But that was chiefly as a result of a slip in ice cream and desserts, which struggled to match the staggering level of sales seen during the hot summer of 2018. Take ice cream and desserts out of the equation and the market performance is slightly stronger (up 0.5% in value but down 0.5% in units).
Plus, there are areas of the market boasting far stronger gains. In cash terms, frozen potato, vegetable protein, snacks and fish products were the fastest growers, putting an extra £53.3m through the tills combined before coronavirus had even been confirmed in the UK.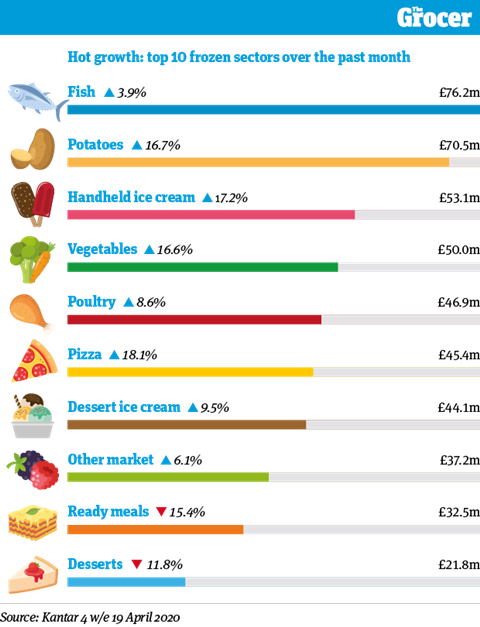 Covid-19 has turned established consumption patterns on their head. Most shoppers have gone from being time-poor to time-rich. As a result, convenience is no longer king of the freezers.
See the decline in sales of frozen ready meals, down 15.4% in value, and desserts, down 11.8%, in Kantar's read of the market for the four weeks to 19 April for proof.
"Customers are choosing to cook from scratch more as they have become more time-rich," says Iceland trading director Andrew Staniland.
"Products associated with scratch cooking such as frozen raw pastry, flour, cooking oils, frozen vegetables and frozen protein have seen growth of more than 100%," he adds.
Indeed, frozen vegetables and potato products saw strong growth in the four-week period, up 16.6% and 16.7% respectively.
Not everyone's scratch cooking all the time, however. See the performance of pizza, which delivered value growth of 18.1%. That was partly fuelled by higher prices as promotions were cut. But volumes also shot up 9.6%, equating to an extra 900,000 packs.
This was, in part, down to consumers dining out less in response to the economic uncertainty surrounding Brexit and looking to recreate nights out at home. A poll of 2,000 people conducted for the 2019/20 Waitrose Food & Drink Report (published in November) found that 46% of consumers were going to the pub less often, while 41% said they had cut back on going out for dinner on weeknights.
That trend has since become a necessity, rather than a lifestyle choice. In lockdown Britain, no one is able to go out for dinner or a pint, and they're looking to replicate that experience at home.
That's been good news for the growing number of premium frozen lines inspired by the restaurant scene. Suppliers that have gone down this route are reaping the rewards. Young's, for example, reports strong growth for its 'restaurant quality' Gastro range of frozen fish products.
The lockdown era has also given McCain high hopes for its Brew City range of 'beer munch' snacks, including Onion Straws and Halloumi Fries. It believes the range, launched last summer, will benefit from the enforced switch to socialising at home. "Even if you're getting together with your mates at home on Zoom rather than at the pub, you still want to be eating something that's interesting and indulgent," says McCain category controller Naomi Tinkler. She points to the success of the brand's core offer.
"Consumers are increasingly looking to recreate restaurant experiences at home"
"Our range of products inspired by the out-of-home market, such as Gastro Chips, Skin On Fries and Sweet Potato Fries, has grown to be worth £30m a year in around five years.
"Particularly now, with so many people trying to recreate their favourite pub dishes at home, frozen food products such as these have never been more relevant," she adds.
It's not just pub grub, either. Itsu is doing well with its Asian-inspired fare, which mimics its in-store offer. That's a key selling point when Itsu outlets are closed.
"Our two longest-standing frozen SKUs – vegetable fusion and chicken gyozas – increased their rate of sale by an average of 32% in March," says Natalie Sugarman, head of marketing in Itsu's grocery division. "These two flavours now feature in Tesco's top 10 frozen ready meals at numbers 10 and three respectively." For her, this is partly driven by consumers "increasingly looking to recreate restaurant experiences at home".
Of course, not all lockdown meals will be restaurant-quality. The new reality has created new occasions that are decidedly less gourmet. Since schools shut on 20 March, parents have been feeding their children more at home. That has driven growth for other areas of the frozen market. In the week following school closures, Birds Eye kids favourites such as chicken nuggets, fish fingers and potato waffles saw sales surge by 119%, 59% and 54% respectively [Nielsen].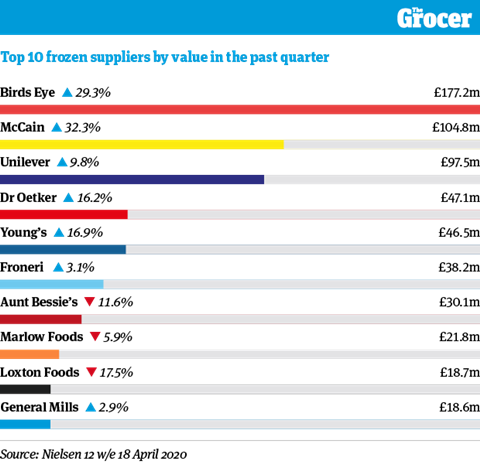 As Britain went into lockdown, frozen food sales shot up. Sales leapt by £194.8m in the 12 weeks to 12 April. That's a rise of 16.1%, or 12.4% in terms of units.
But what drove growth rates of more than double the market average for brand leaders Birds Eye and McCain – up by 29.3% and 32.3% in value respectively – while others saw sales decline?
"The key drivers have been around the strength of our portfolio and the brand familiarity and comfort that we offer," says Birds Eye UK general manager Steve Challouma.
"We've attracted new consumers. They're slightly more affluent and would usually be eating out of home. They're more willing to treat themselves and are therefore more likely to buy branded," he adds.
So, McDonald's loss has been Birds Eye's gain. Owner Nomad Foods claims 13 million households bought its products in March, up from a norm of 11 million. That's penetration of roughly 40%.
It wasn't all down to brand strength, however. Retailers couldn't refill freezers fast enough at the peak of panic buying, meaning players with more robust supply chains saw stronger growth.
"What really helped our performance was our strong supply chain collaborations with our retail partners to keep them in stock and manage supply as we started to see those peaks in demand," says McCain category controller Naomi Tinkler.
"Just after lockdown, sales in some retailers grew by more than 100%, which is unheard of," says Challouma.
"Clearly the drivers behind that surge in demand are the shutdown of the out-of-home sector and the rise of home schooling. At times of uncertainty, consumers seek the reliability, familiarity and comfort brands can offer," he adds. "With millions of children now at home, parents know that giving them fish fingers, waffles and peas for lunch or dinner will be a winner. It removes that extra piece of anxiety."
Of course, there will be a fair amount of anxiety among suppliers to schools, pubs and restaurants, many of which cross over with the frozen grocery sector. McCain, for example, says it supplies a "significant proportion of the country's restaurants, pubs and foodservice outlets" and was forced to take drastic steps when lockdown was announced towards the end of March.
"Parents know giving children fish fingers, waffles and peas for dinner will be a winner"
"While we continue to see strong sales of our retail products, as a result of the shutting down of the hospitality sector, total demand has been significantly reduced," says a spokesman. "In response to this, we have temporarily scaled back production to match reduced demand and in April made the difficult decision to furlough a number of employees.
"These temporary measures are to preserve jobs and ensure a sustainable business in the long term. We remain committed to all our employees and ongoing operations in the UK and, when customer demand dictates that full production resumes, we look forward to welcoming our employees back. All furloughed employees will maintain 100% of their salary."
Other frozen suppliers have proven their agility by opening up new routes to market. School meals supplier UK Foodhall, for instance, picked up distribution for its Harry Ramsden Junior range at Morrisons and Farmfoods. Pukka, meanwhile, has launched home delivery packs of six pies for the wholesale and independent players that have seen sales suffer since the lockdown was imposed.
"Our new packs are designed to provide an alternative revenue stream for wholesalers and independents at this critical time and help them to keep trading by delivering direct to consumers at home," says Pukka general manager Isaac Fisher. "We've seen a number of businesses start to diversify their model so we've adapted quickly to offer a solution."
Whitby Seafoods is another example. Before lockdown, the company supplied scampi, along with other frozen fish such as calamari and goujons, to pub and restaurant chains across the country. "About 60% of our business was foodservice and 40% was retail," says sales & marketing director Laura Whittle.
"Obviously foodservice pretty much disappeared overnight. Suddenly, we found ourselves sitting on 24 weeks of stock and we were coming into the key fishing season and we didn't need to buy any fish from our local fishermen. Not only were we worried for our own survival, we were worried for theirs. If we survived, would there be anyone left to buy our fish from?"
So, Whittle made the case for Whitby's retail partners – including the big four and Aldi and Lidl, to which it supplies own label lines – to buy more of its fish. Scampi, for example, was sold as a "pub classic" for customers to enjoy at home while pubs are closed. "They've been absolutely fantastic in running more end of aisle promotions," Whittle reports. "We're up 65% a week on average. It's not enough to make up for foodservice but it's close."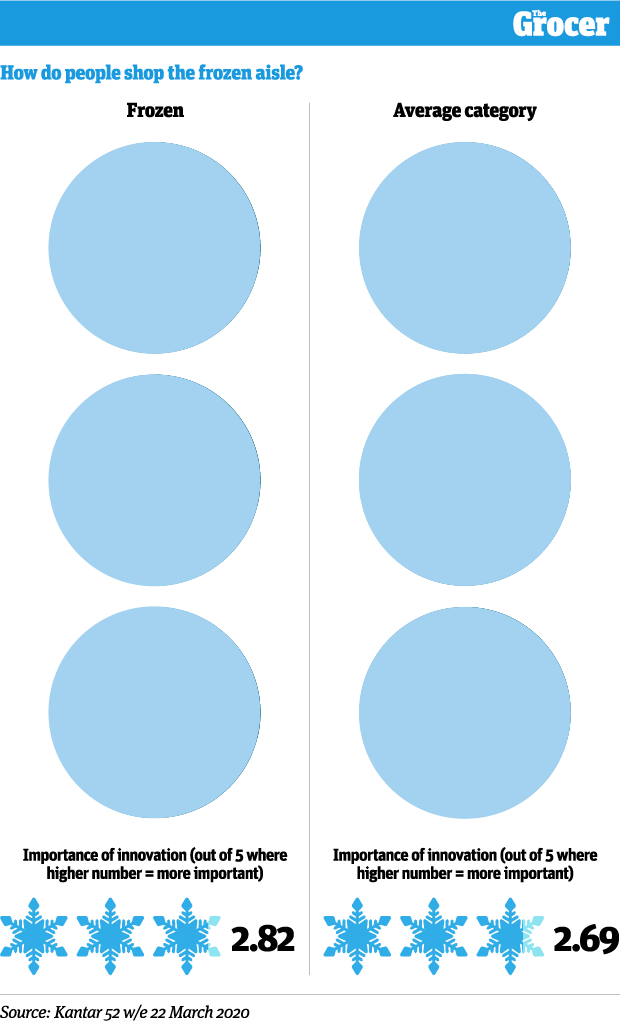 Frozen is too often forgotten. Seventy-one per cent of shopper journeys around supermarkets don't pass the freezers, according to consumer research by Shopper Intelligence. That makes frozen food one of the least visited major fixtures in store.
"With less than average traffic, the decision to shop the category is more likely to be unplanned, only decided once we're in the store," says Shopper Intelligence MD Chris Adkins. "This is the case with a higher than average percentage of shoppers making unplanned purchases in frozen food," he adds.
However, shoppers are more receptive to innovation in the frozen aisle. When it came to the importance of interesting NPD, shoppers scored frozen higher at 2.82 out of five, versus 2.69 for grocery as a whole.
Half of all shoppers say they're willing to try "new and different" frozen food.
Storage challenge
But not everyone can divert foodservice stocks to the supermarkets. As lockdown drags on for longer, that is presenting a challenge even for long-life frozen food. "No one's told me that there are massive issues with stock that is likely to go out of code. The bigger concern is the cost of storing it," says Richard Harrow, CEO of the British Frozen Food Federation.
"If you have it in your own warehouse then it's not a major problem, but it is if you have it in a third-party warehouse because you are having to pay to keep it stored. Obviously, the other problem with stock that's in storage is that it is capital that's tied up. What any business always tries to do is convert stock into cash as quickly as possible. With foodservice shut, many can't do that."
Even if businesses can afford to hold food in storage, there is another problem at play. "UK cold storage is now full," says Shane Brennan, CEO of the Cold Chain Federation. "If you're a business looking to find new storage capacity, you're not going to find it. Now, with harvests and the lamb season about to start, there's a real nervousness that we won't have enough capacity."
Plus, warehouses are not for storing goods indefinitely. Good business relies on products flowing through warehouses and on to retailers and, ultimately, consumers as quickly and efficiently as possible. For that to start happening, suppliers of frozen food need to find new outlets for foodservice stock.
If they don't, the new ice age might pass them by.
Innovations in frozen food 2020