Until now, the big shots of the energy drinks world have gone unchallenged. An ambitious newcomer could change all that
In westerns, the stranger in town tends to make everyone nervous. And rightly so. More often than not, his arrival will signal the start of a frantic shoot-out. And typically, the gunslinging stranger will defeat the old guard against all the odds.

In the world of energy drinks, there has been little in the way of disruptive strangers. The top three energy drink brands - Lucozade, Red Bull and Monster - are today worth a combined £962m [Nielsen 52 w/e 16 February 2019]. That's more than three quarters of branded sales.

In the past year, they drummed up a whopping £94m worth of growth. All in all, they have been happily running the town.

But a young, ambitious challenger is looking to change that. What's more, it comes with the backing of a multinational soft drinks giant. Yes, we're talking the launch of Coca-Cola Energy in April. Touting natural ingredients, B vitamins and the tagline 'the only energy drink with a great Coca-Cola taste', it poses the first major threat to the big energy brands. And this shoot-out could have consequences for everyone in energy drinks.

For its part, Coca-Cola European Partners says it's not here to swipe sales from anyone else. After all, it also holds a stake in number three brand Monster and number six brand Relentless.
"The consumer we're appealing to loves Coca-Cola but isn't an energy drinker"
"We've created Coca-Cola Energy with a different kind of consumer in mind," says Simon Harrison, vice president of commercial development at CCEP. "The consumer we're appealing to loves Coca-Cola but isn't ­traditionally an energy drinker. This consumer may not necessarily enjoy the taste of energy drinks, or might prefer to choose options with ingredients from naturally derived sources."

Essentially, it believes it can become the fourth player without damaging any of the other three. That isn't enough to appease Monster, though. The brand claims Coca-Cola's entry into the energy market violates a deal agreed back in 2015, which made CCEP Monster's largest shareholder.

Coca-Cola disputes Monster's claim and is now involved in an ongoing arbitration to settle the dispute.

Whatever the outcome may be, it suggests Monster potentially sees the new Coke brand as a threat. It's easy to see why. Overall, 42% of consumers would be more likely to buy Coca-Cola Energy than a standard energy drink, according to our poll with Streetbees. That's hardly music to the ears of Monster or the other big brands.

Still, there could be truth to CCEP's talk of targeting a different shopper. Our poll showed less frequent shoppers were particularly positive about the proposition - 49% of those who bought into energy drinks once a year or less said they were likely to opt for Coca-Cola Energy over a standard energy brand.
Stimulation drinks recruit new shoppers
Even if there is some overlap in consumer, sales figures suggest it needn't be an all-out disaster. For there is plenty of growth to go around. Nielsen data, which includes on-the-go purchases, puts the total energy drinks market value at £1.2bn. Kantar data shows take-home sales of energy drinks rose £11.8m in the past year to a total £239.5m. And the stimulation drink sector - drinks whose main energy ingredient is not glucose, and the area that Coca-Cola Energy is targeting - accounted for a whopping 96.6% of that growth. Not bad for a market that was forecast to be in major trouble this year, following widespread sales bans to under-16s.

"Stimulation has recruited nearly 200,000 new shoppers in the past year, and seen shoppers make more frequent trips to the fixture," says Kantar analyst Helen Sale.
"Energy is one of the fastest-growing segments in the non-alcoholic RTD industry"
CCEP's Harrison says that growth was the driving force behind the launch of Coca-Cola Energy. "The energy category has exploded of late - it's one of the fastest-growing segments in the non-alcoholic ready-to-drink industry," he says. "Aligned with this rapid growth, there is an increasing demand for innovation within energy drinks, making this the perfect time for Coca-Cola to venture into the category with a trademark product."

The timing could, indeed, prove just right. Caroline Dilloway, client service director at branding agency StormBrands, says there is potential for a new entrant to disrupt the scene. And Coke Energy is "loud and proud about what it is" - essentially, a mainstream soft drink brand with energy credentials. That Irn-Bru has also launched its own energy range suggests it also sees potential in this area.

But Dilloway fears Coke has potentially missed an opportunity to be truly disruptive. "For example, using the same pack format as Red Bull automatically puts Coke Energy into a 'me too' state, when its credentials should see it standing up as category leader."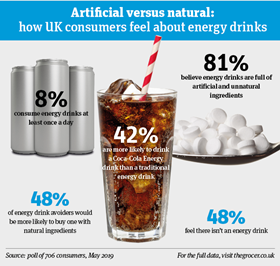 And Hamish Renton, managing director of consultancy HRA Global, stresses that the brand will need to take on "several very well established, authentic brands targeting both the sports and the high energy ends of the market." In this case, the mainstream appeal of Coke could prove a hindrance. "I doubt the new range will be taken very seriously by the sports fraternity, and it's not really trendy enough to hit the full-sugar, younger shoppers."

Those doubts are echoed by energy drink brand Carabao. "Energy drinks is not an easy category to break into," says John Luck, chief marketing officer. "The challenge for Coke will be to create an energy drink that meets the taste expectations that its loyal soft drink consumers have come to expect, which is no easy feat."

Still, succeeding in energy drinks is no easy feat even for the establishment. That's marked by the sheer rate of flavour innovation. Everyone's adding more exciting flavours, from Monster's Pipeline Punch to Red Bull's Coconut Berry. There's certainly no room for resting on your laurels.

Innovation is vital to boosting sales in this competitive environment, says AG Barr, which launched its Rockstar Twister range of American-inspired flavours in January.

"Flavoured energy drinks are driving growth in the market, and have been the fastest-growing sector for a number of years now," says AG Barr marketing director Adrian Troy. "The category has a much younger customer profile than most beverage sectors, and those shoppers demand more choice and new flavour experiences."

That appetite has even been enough to help Lucozade recover from a multimillion-pound blow to its Energy line last year, following the high-profile backlash against its reformulation. This year, the brand has edged up 5% to more than £400m, according to Nielsen data. Senior client services manager Lazlo Zsom says that growth was "about evenly driven by its energy and sports drinks business".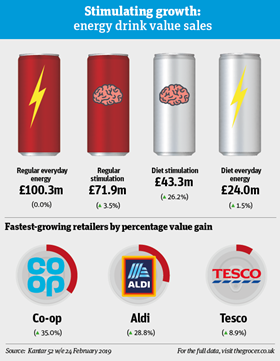 New variants such as its Apple Blast Energy line, launched in August, were a driving force. According to LRS sales director Scott Meredith, 67% of sales from Apple Blast were incremental to the category. "We know that these shoppers are new energy drinkers, and aren't just switching from other flavours or brands," he stresses. Lucozade is hoping to keep up that momentum with the launch of a new Watermelon & Strawberry Cooler flavour in May.

Meredith's point about new shoppers is backed up by our Streetbees poll. It found 19% of people who don't consume energy drinks could be lured into the category by attractive flavours. It's an insight that inspired Red Bull to introduce a Coconut Berry flavour into its energy and sugar-free ranges in February.

"Taste is a key barrier for the trial of energy drinks amongst shoppers," says Gavin Lissimore, head of customer marketing for Red Bull UK. "This new flavour aims to remove that barrier."

Monster is also seeing the benefits of flavour innovation, which it cites as a driving force behind its stonking £37.8m growth to £216.4m. CCEP says Monster's 2018 launches, Mango Loco and Pipeline Punch, generated more than £24m that year. The same approach has worked for its zero-calorie, zero-sugar Ultra range, which CCEP says has grown 52% on the back of innovations such as its Ice Cold Blue product, launched in February.

Which brings us to another key factor influencing the energy drinks market: sugar levels. In the overall soft drinks market, shoppers have made a significant shift towards diet variants. Since April, volumes of regular fizzy pop fell 8.8% while diet variants shot up 13.8% [Kantar 48 w/e 24 February 2019]. In energy drinks, that effect seems more muted. Sales of diet drinks are up 14%, but standard variants have held their own with completely flat volumes [Kantar 52 w/e 24 February 2019]. It's also worth noting that, while diet outperforms standard variants in colas and lemonades, the same isn't true for energy drinks. The take-home market for standard energy drinks is worth over £170m, while diet is only worth £67.3m.
"Since the soft drinks tax we've seen demand for low-sugar ranges increase significantly"
Still, energy drinks players believe low and no-sugar is a vital area of focus. Because although it is a comparatively small area, it is growing rapidly. "Since the soft drinks tax in April we've seen demand for low-sugar ranges increase significantly," says CCEP's Harrison.

That's particularly true of the stimulation sector in which CCEP's brands operate. Diet stimulation sales rose a whopping 26.5% to £43.3m this year. That extra £9m accounts for the majority of the total category's £11.8m sales growth [Kantar].

"We're seeing increasing concern about sugar content among shoppers, leading energy brands to put more focus on their diet offerings," says Kantar's Sale. "As a result, low-sugar energy drinks have continued to perform strongly."

That's certainly been the case for Red Bull. Lissimore says introducing a sugar-free version of each variant in 2018 has paid off for the brand. "Our sugar-free sales rose 23.2% over the past year, and attracted 423,000 new shoppers into Red Bull."
Natural drinks are gaining ground
At the same time, there is stiff competition for this health-conscious shopper. Natural energy drinks have been gaining ground for a while now, led by the likes of Purdey's and Tenzing. That's now stepping up a notch.

Although still a small sector - Lucozade is worth 30 times more than Purdey's, the leading brand in this area - sales are rocketing. Purdey's is up 35.2% to £12.5m, and owner Britvic says the rest of the category isn't far behind. "The natural energy sector is now worth £106m and outpacing the category at 22% value growth this year," says Paul Graham, managing director at Britvic.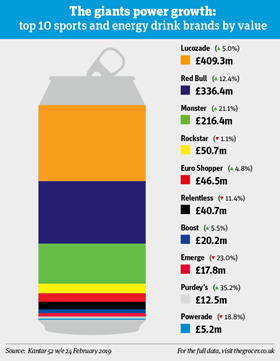 And there could be potential for even more growth. Streetbees research found 81% of consumers view energy drinks as artificial and full of unnatural ingredients. Plus, half of those who don't buy into energy drinks say they would consider a product with more natural ingredients.

Recognising the opportunity, natural brands are now ramping up their marketing efforts. Purdey's has invested £3m in a marketing campaign including a 10-week TV ad push that kicks off in June. "This will make Purdey's the first drinks in the natural energy category to appear on TV, and will introduce the product to millions more consumers," says Graham.

Fellow natural brand Tenzing is also going on the marketing offensive. It launched its first above the line campaign last April, spanning social and London Underground posters.

The campaign is the next logical step for Tenzing after two consecutive years of strong growth, says Huib van Bockel, the former Red Bull marketing director who founded the brand. "Our turnover in 2017 was £750k, which rose to £2m in 2018, and in 2019 we're projected to make £6m."
"Retailers see it's crucial to offer a plant-based, natural alternative in the energy drink aisle"
That Tenzing has an enviable list of stockists - spanning the big four, Marks & Spencer and Co-op - makes this projection a realistic one. "We've seen a lot of support from retailers," says van Bockel. "They see it's crucial to offer customers a plant-based, natural alternative in the energy drink aisle."

The amount of activity in this area is indicative of its potential. In May, the owner of Vita Coco unveiled 'clean energy' drink Runa, which gets its energy from 'super leaf' guayusa. Fellow natural brand Yusa, also made using guayusa leaf, is relaunching in June. And chemical-free brand Xite Energy, which launched in 2018, is set to land its first national listing in Holland & Barrett in August.


Energy water hitting supermarket shelves
Then there's bottled water brand Radnor Hills, which has taken a potentially even more disruptive tack with its Radnor + Energy proposition. The two-strong range of sparkling energy waters, available in Lemon & Lime and Cranberry & Raspberry flavours, contain around 70mg of 'natural' caffeine. That's the equivalent of a cup of coffee.

With just five calories per bottle and added vitamins, it's hoping to squarely target the health crowd. "Water is known as natural anyway, so it's quite an easy step change to take the consumer from water, to water with natural energy," says sales director Chris Sanders. The brand is set to announce two national listings in the coming weeks.
"It's an easy step change to take the consumer from water, to water with natural energy"
Rahi Daneshmand, founder of sparkling energy water brand Virtue Drinks, says demand for this type of product is on the up. Indeed, Britvic's 2018 Soft Drinks Grocery report states sales of 'water plus' - that's water with added functional benefits - rose 12% in grocery over 2018.

"Our 250ml cans of flavoured sparkling energy water started off only being available online in Holland & Barrett," says Daneshmand. "Now we're available in every one of their stores, as well as Ocado, WH Smith, Selfridges and John Lewis."

Like many of the brands in this space, Virtue is looking to target women, or simply those shoppers "who aren't being captured by those bigger, extreme sports or gamer energy brands".

In that way, it shares an aim with Coke Energy. Amid the fallout from the sugar levy and general movement towards more natural food and drink, that target audience is growing.

So it may not just be Coke that's the new kid in town. The old guard better brace themselves for a high-stakes shoot-out.
Innovations in Energy Drinks 2019
Can energy drinks step in as coffee alternatives?

The UK's love of coffee shows no sign of abating. Four coffee shops open every day in Britain, according to Allegra.
The rise of coffee culture was the driving force behind Coca-Cola swooping on Costa last August for a cool $5.1bn (£4bn).
Now Coca-Cola is looking to capitalise on this growth in retail, too. Its organic coffee brand Honest is the most obviously placed to trade on the boom in iced coffee, which gained an extra £22.2m in 2018 to account for 25.5% of the dairy drinks market, according to IRI figures [52 w/e 30 December 2018].
But Simon Harrison, vice president of commercial development at Coca-Cola European Partners, wants to squeeze as much mileage as possible out of the trend. "RTD coffee is set to more than double over the next 10 years," he stresses.
So CCEP spotted an opportunity for energy drinks. At the tail end of 2018, it trialled its two-strong Monster Espresso range in selected retailers, which paved the way for a wider rollout in March. Including Vanilla Espresso and Espresso & Milk variants, it hopes to tempt the iced coffee shopper looking for an extra caffeine boost. Monster Espresso claims to be the first RTD on the market with caffeine content that can match a hot coffee. "It's a real step-change for the brand, but it's proven really popular in our retail trial at the end of 2018," says Harrison.
The coffee-energy drink hybrid may sound unlikely, but Richard Hall, chairman of food and drink consultancy Zenith Global, identifies coffee as one of the key opportunities for growth in the year ahead.
Indeed, research by natural energy brand Virtue Drinks found almost a quarter (23%) of its shoppers would have bought a coffee if Virtue hadn't been available. So a coffee-energy hybrid may prove tempting. "There's a massive opportunity for energy brands to capture shoppers looking to swap from coffee," says founder Rahi Daneshmand.