Sales of voddy have overtaken those of blended Scotch for the first time. Why? And can whisky reclaim its crown?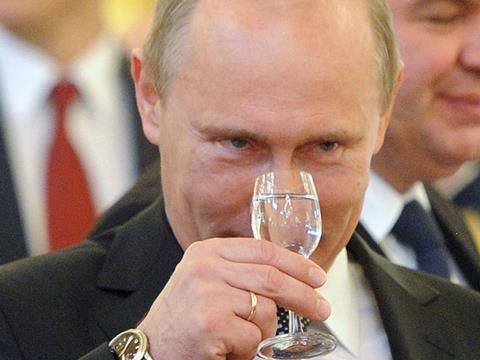 Hurricanes, North Korean missile tests, chlorinated chicken, Russian aggression in Ukraine and posturing over the Baltic States… 2017's been heavy. No wonder Brits are reaching for the hard stuff.

We're quaffing spirits like there's no tomorrow. As a nation, we've knocked back 238.6 million litres of shop-bought grog in the past year, splashing out £3.6bn [Kantar Worldpanel 52 w/e 21 May 2017]. That's a rise of 3.2% in value terms, 2.8% in volume. And there's a Russian connection to all this.
In this report
Pop-up gallery: innovations in spirits 2017
Spirits brands: winners & losers
Download the PDF version of this report
The country's national drink has staged a coup in Britain's booze aisles. Vodka has overtaken blended Scotch as the UK's top spirit, up 3.3% to £775.8m on volumes up 4.5%. Scotland's national drink (or at least the blended stuff) is down 2.4% to £763.9m; volumes fell 1.4%. That's 800k fewer litres sold.

So what does vodka's rise to become Britain's bestselling spirit tell us about wider trends in the booze sector? Can blended whisky reclaim its crown? And what's in store for spirits drinkers in the coming year?

The change at the top is as much to do with an image problem for blended whisky as it is with the vogue for vodka. "Blended Scotch is highly competitive," says Guy Dodwell, off-trade sales director at Diageo, owner of Bell's, which has lost £20m (11.6%) in the past year on volumes down 10.1% [IRI 52 w/e 22 July]. That's the biggest loss of the year in spirits.

"There are a lot of brands competing in a very similar space, with products that, from a consumer perspective, command less loyalty," he says, adding that Scotch sales are chiefly deal-driven. "Brands need to create more distinctiveness. There hasn't been a lot of news in blended and other categories have driven more interest, excitement and awareness among a wider group of consumers."
The Grocer Drink Awards are fast approaching: book your ticket now to find out which tipples turned the heads of consumers and our expert judges
Indeed, three of spirits' five biggest losers are Scotch brands (see panel). That the sector's biggest winner is also a blend (Grouse, up 17.3% to £222.3m) is further evidence of the price sensitivity of Scotch. Grouse's growth is chiefly thanks to fierce deals at key trading periods such as Father's Day and Christmas, which have driven average price down 3.4%.
In short, Scotch just isn't cool. "The Scotch whisky industry has created a reverence around the serve that actively deters younger consumers," says Dan Bolton, MD of Hi-Spirits. "American whiskey, meanwhile, is making all the running in terms of sales growth, mainly because it doesn't have that baggage. Bourbon, for instance, is loved for its mixability and is the basis of popular cocktails such as the Mint Julep, Old Fashioned and Whiskey Sour."
Cocktail culture
All this is coming from the on-trade. Younger Brits have taken to mixing their own cocktails at home. This has significantly contributed to the rise of vodka, with brands pushing a range of serves that makes the humble vodka & tonic look positively dowdy. For example, market leader Smirnoff - up 4.9% to £487.8m - suggests drinkers try mixing anything from Martinis to wasabi Bloody Marys at home.

Premium vodka Absolut is at it too. "We're convinced that the growth of Absolut vanilla vodka correlates with the trend for espresso and pornstar Martinis," says Pernod Ricard UK's off-trade channel director Chris Shead. "We see an absolute line of sight between what we do in the on-trade and the opportunities that creates in grocery. When I was growing up, spirits were seen as an old man's game; now the coolest thing to drink in a bar is a cocktail. That cocktail culture has led to spirits' makeover in the off-trade."

Pernod Ricard has ploughed a 'record' investment into Absolut this year to cash in on the trend, including a partnership with Tabasco, which saw it roll out mini sauce bottles on Absolut neck tags in May, designed to capitalise on surging enthusiasm for brunch in the on-trade and encourage customers to create their own Bloody Marys at home.

Brands at both ends of the spectrum, from £50+ a litre Grey Goose (up 9.8% to £14.8m on volumes up 14.1%) to convenience store value voddy Glen's (up 2.4% £179.7m on volumes up 0.3%), appear to be benefiting from cocktail culture's homecoming.

But there's another spirit that's outshining all the rest: gin. According to IRI, not a single brand in gin's top 10 sellers list has suffered value or volume losses in the past year. Brits have splashed out a staggering £88.8m extra on Mother's Ruin in the past year, a rise of more than a fifth on volumes up 15.8%. The higher rate of value growth reflects ongoing premiumisation in the market.

"We've certainly seen an increase in the value of individual products sold," says Marc Sanders, spokesman for online drinks retailer 31Dover.com. "In the past, we typically saw customers purchasing spirits in the £20 to £30 bracket, whereas now we're commonly seeing customers purchasing spirits in the £30 to £40 bracket."
Pop-up gallery: innovations in spirits 2017


As in vodka, brands at a range of price points are cashing in. Market leader Gordon's is responsible for nearly a quarter of sector growth (£20.2m), while pricier Diageo stablemate Tanqueray has added a further £14.2m, growth of 60.2%. Bacardi's Bombay Sapphire is up £8.8m (+12.6%) and an army of smaller craft players are also winning growing share of shelf. Sipsmith, for example, has seen sales surge 65.3% to £4.6m.

The supers have gone bonkers for gin, with small-batch brands winning serious shelf space in Tesco and Asda's range reviews earlier in the year. "It's not a race to the bottom anymore," adds Shead. "A lot of the time and effort in previous years was focused on the cheaper end of the market. But if you look at the gin category, in Asda for instance, who've been quite bold, you'd be surprised how premium it is now. It's clearly working."

Indeed, Asda is the strongest performer in the big four in spirits. Value sales are up 5.7%; at Tesco growth is at 3%, while Sainsbury's and Morrisons are both in decline. But growth isn't all down to high-end brands, notes Kantar analyst Roy Mattar: price is still crucial, with £16 deals on litre bottles (up from £15 a year ago) a popular mechanic.

"Price cuts at the right time during the Christmas period still have a massive impact on performance," he says. "Asda is the key mover in the big four, increasing market share to 15.7% from 15.4%. They've pulled in lighter, younger shoppers with late deals in the final stages of the Christmas period with deals on big brands such as Smirnoff, Gordons and Bacardi."
Push to the posher end
Waitrose has been the driving force behind the push to the posher end of the market, adds Mattar. "Spirits are now a key strength for the retailer. Its strategy of broadening choice within gin has paid off as shopper numbers have grown by an astonishing 57% this year. The average price per litre of gin at Waitrose has increased by almost £2.50 to £23.61."

Some suggest that rum will be the next big growth story in spirits. Waitrose, for example, is currently running rum-tasting sessions at some of its stores. IRI's numbers show the major mults have sold an extra million litres of rum (+5.3%) in the past year, with shoppers forking out an extra £22.6m (+6.3%) on the stuff. Kantar puts white rum's growth at 4.8% to £138m and golden's at 15% to £102.7m, while dark rum grew just 0.6% to £86.9m.
Spirits brands: winners & losers

"Rum is hot on the heels of gin," says Gauthier Boche, head of strategy & innovation at brand design agency Webb deVlam. "There's been premiumisation across the sector; rum has elevated itself from a simple cocktail mixer into something that can be sipped and savoured, like whisky."

As in gin, certain rum brands with craft credentials are flourishing. The Kraken is up by £3.5m (+52.9%), and Mount Gay is up £1.6m (+32.2%) to £6.7m. But Diageo's Captain Morgan Spiced stole the show, adding a cool £13.2m (+18.9%). Meanwhile, category leader Bacardi slipped 3.1% to £115m, partly as a result of Captain Morgan white rum's continuing growth following its launch in 2015.
Rum deal
Again, much of spiced and white rum's growth is as much down to image as it is about how the stuff actually tastes. Dark rum players should take note, says Shead. "Where's the sassiness in dark rum? It needs to create points of passion with shoppers. It needs to create some emotion and that needs to be conveyed in the packaging. A funky new dark rum brand could definitely make waves."

Waves are already being made in Scotch by Diageo's David Beckham-backed brand Haig Club. Packaged in a striking blue bottle and pitched as either a cocktail mixer or straight-up serve for a new generation of whisky drinkers, it's conceivable that Haig could do for Scotch what the arrival of Bombay Sapphire in its blue bottle did for gin in the 1980s.

Last summer, £45 a pop Haig Club was joined by Clubman, priced at a more accessible £25 per 700ml. The Haig brand already appears in 10th place in IRI's list of Britain's 10 topselling whiskies, with a value of £11.8m. Kantar says sales of single grain whisky have surged 145.4%, driven by Haig. "Clubman has attracted 240k shoppers since launch and is leading the charge by catering for a younger, niche market," says Mattar. Not bad, given it's only been in existence for three years.

Just as impressive is where those sales have come from. "It hasn't come from switching, but from new buyers," says Dodwell. "There's no question it is attracting millennial consumers. American whiskey is probably the most dynamic category in whisky and Clubman plays to similar occasions and similar consumers, because it's very easy to drink and it doesn't have any fixed norms around how you mix it or work with it."

In other words, it's cool. Scotch might win back its crown yet.