A generation of revellers has ditched booze, and low & no brands of all sizes are cashing in. How will they keep the party pumping?
Alcohol is so ingrained in the British psyche that the word 'sober' also means drab and reserved. That might soon not be the case, because the way society views sobriety is rapidly changing.
Yes, a new generation of drinkers is moderating alcohol intake or abstaining entirely. But they don't fit the dour stereotype of teetotallers. They want to party, quaffing sophisticated drinks. They just don't want to feel rough the following morning.
They're the people who have helped grocery sales of low & no alcohol surge in value by 25.4% to £164.6m, on units up 22.3% [Nielsen 52 w/e 30 January 2021].
The bigger picture of the category is almost certainly even more eye-catching. After all, Nielsen's read doesn't capture brands selling direct to consumers through their own websites and specialist online retailers such Masters of Malt, Sobersauce and Dry Drinker. Even Kantar's more generous market read for the 52 weeks ending 21 February 2021 – up 50.7% to £217.1m – doesn't fully cover this fragmented retail landscape. That's because some channels are still too small to be picked up by its 40,000-strong consumer panel.
"History is a good teacher if you're trying to work out where this market will be in a few years"
Whatever the total numbers are, they're attractive enough to inspire booze giants, craft startups and even reality TV stars to move in as retailers devote growing space to low & no. Some point to the incredible success of the plant-based market when asked about low & no alcohol's potential.
Is that realistic? If today's pleasure-seekers have the potential to get the low & no party started in a big way, who stands to cash in?
"History is a really good teacher if you're trying to work out where this market will be in a few years," says Mark Livings, co-founder and CEO of Lyre's, a portfolio of 13 alcohol-free (AF) spirits that launched in Australia in 2019 and counts the German Krombacher brewing dynasty among its backers.
"If you look at other categories with similar consumer motivations like health and mindfulness it's not difficult to see it taking $15bn [£10.9bn] globally in the next five years. We will be doing about $35m to $40m [£25m to £29m] globally by the end of the year. A few years ago, plant-based was less than 1% of total dairy. Now look at it. Another useful analogue is plant-based meat. Five years ago, about 1% of the UK was vegan. Now that's hovering at around 5%."
It's an intriguing comparison. Sales of plant-based meat alternatives passed £500m last year [Nielsen 52 w/e 8 September 2020].
"The gap between desire and compromise is being bridged. That's what we are doing"
"It feels that we are at the start of the Beyond Meat era," says Spencer Matthews, former star of reality TV show Made in Chelsea. He quit booze in 2018 and a year later founded low-alcohol spirits brand CleanCo, whose Clean Gin is now the fifth bestselling spirit alternative [Nielsen 52 w/e 30 January 2021].
"If you'd suggested that we go out for plant-based cheeseburger a few years ago you'd have sounded like there was something wrong with you, but now it's possible because of the incredible companies that can give you a cheeseburger without the meat," he adds. "The gap between desire and compromise is being bridged. That's essentially what we are doing but in a different space."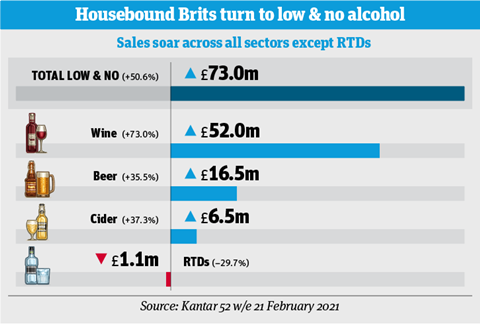 UK supermarkets have sold an extra 23.5 million litres of low & no-alcohol beer, cider and wine in the past year – a rise of 51.4%.
The increase in volumes put an extra £73m through the tills. That's an uplift of 50.7% year on year.
The low & no wine segment saw the greatest rise in value. It's up 73%.
Kantar analyst Callum Matthews has a word of caution. Health and moderation were "slightly less of a focus for shoppers" last year, he says. "Low & no-alcohol beer may have grown strongly (by 35.5%) but that is still behind total beer (ale is up 38%, lager 38.9%) for the first time in years."
It's easy to understand why. With pubs shut for most of the year, beer and cider sales were buoyed because Brits had nowhere to drink but home. Alcohol-free offers benefited less from the shutdown of hospitality because they are less well established in the on-trade.
This could soon change, with many alcohol-free brands hoping to win greater share of bar tops when pubs finally reopen.
And there are signs that increasingly more Brits are trying to moderate their drinking.
"The health and wellbeing focus appears to have returned this January," says Matthews. "More than 530,000 households purchased low & no-alcohol beer – up 7% on last year."
Big brewers
The idea AF could rival plant-based in terms of market value gathers muster when you consider comments made last year by brewers Heineken and AB InBev, who anticipate low & no alcohol lines will account for around a fifth of their volumes by 2025. Diageo, William Grant and Molson Coors are among those making similar noises about AF.
"The trend for moderation was on the rise before lockdown last year, with the no & low segment seeing the fastest year-on-year growth within beer & cider in the first quarter of 2020," says Jessica Markowski, convenience sales director at AB InBev's UK operation, Budweiser Brewing Group.
"The pandemic has increased consumer focus on creating a healthy lifestyle. Over 2020, two of the top three consumer concerns were related to health, with overall wellness forming part of this. As such, we are now seeing almost a third of adults putting greater emphasis on healthy eating, including alcohol moderation."
"Alcohol-free is still a small part of the market, but the rate of growth can't be ignored"
Last year, Budweiser unveiled two versions of its bestselling lagers, Stella Artois Alcohol Free and Budweiser Zero, to challenge market leader Heineken 0.0%, which launched in 2019 and is worth £21.9m in grocery. Bud Zero was the biggest AF launch of the year, having hit sales of £2.3m [Nielsen].
There have been significant moves in ale, too. BrewDog's Punk AF, added in 2019 to replace low-alcohol ale Nanny State, has more than tripled its value in the past year, rising by £4.1m [Nielsen]. And Molson Coors, which already had Cobra Zero in its portfolio, is reporting big things from its 2020 launch of Doom Bar Zero.
"The expert brewing team at Sharp's have been working for more than two years to develop a pioneering brewing method which ensures Doom Bar Zero retains a similar flavour profile and stays true to the style of Doom Bar while achieving 0.0% alcohol – significantly more difficult to brew than 0.5%," says Kevin Fawell, off-trade sales director at Molson Coors.
"Alcohol-free is still a small part of the market, but the category's rate of growth can't be ignored. In January, the number of UK stores selling Doom Bar Zero increased 23% month on month. Low & no alcohol isn't a new phenomenon in the beer industry, and we're really starting to see the market mature."
Production techniques
Things have certainly come a long way since the days when Kaliber lager, Guinness's first stab at AF back in 1986, was the only option for a beer-drinking designated driver.
Progress in production technique have been crucial, says Geraldine Coombes, technical sales manager at flavour essences and ingredients supplier Lionel Hitchen.
"The biggest growth in alcohol-free so far has been in beer and beer alternatives because of the expertise that has developed in getting similar flavour profiles of the full-strength versions," she explains. "The advances have been phenomenal. That has been really important because younger consumers don't want to compromise just because they are not drinking alcohol. That shift is now staring in other sectors."
Indeed. Take the phenomenal sales achieved by Diageo's zero-proof version of the UK's bestselling gin, Gordon's. Unveiled in December, by the end of January it had racked up £910k [Nielsen]. Now the supplier is looking to accelerate market growth and carve out greater share with February's launch of Tanqueray 0.0%.
"Consumers are looking for the assurance of trusted brands to set high standards"
"We're exceedingly proud of how Tanqueray 0.0% tastes," says Pedro Mendonça, Diageo's global reserve director. "Our innovation team has combined years of expertise and knowledge and has invested heavily in our spirit production capability to manufacture this complex 0.0% liquid without compromise to its quality."
His point about no compromises is crucial. After all, flavour has nowhere to hide when alcohol is absent. "Consumers have higher expectations now for low or no offerings, both in terms of quality and range, and there's an opportunity for big brands to introduce consumers to the category by investing in innovation," says Norbert Jozsa, head of category at Accolade Wines, which includes Hardys 0.0% Chardonnay and Echo Falls Botanicals in its low & no portfolio.
"We expect to see the low & no alcohol category entering the second stage of evolution in 2021, with new entrants offering innovative products and flavours replacing some of the originally listed lines," he adds.
"Introducing new low & no variations will help the wine category cater for occasions where full-strength wine would not be considered, increasing opportunities to target new consumers."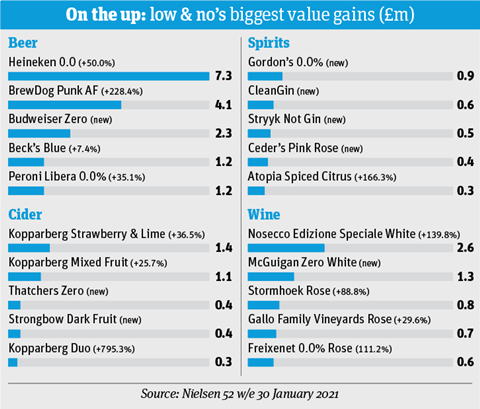 Beer dominates the low & no fixture in terms of total sales value and growth. Seven of the category's 10 bestsellers are beer (Kopparberg's Mixed Fruit and Strawberry & Lime ciders and Nosecco wine complete the list).
Seven of the 10 fastest growers are also beer.
Heineken 0.0 is both the fastest-growing brand and the biggest, with sales surging by £7.3m (50%) to £21.9m in the past year. BrewDog Punk AF and Budweiser Zero are the next fastest, up £4.1m and £2.3m respectively.
Notably, the category's ninth-fastest grower is Gordon's 0.0%. Diageo launched its temperate version of Britain's bestselling gin in December. In just a month, it racked up £900k in sales, making it the fourth bestselling alcohol-free spirit in UK supermarkets.
Gordon's 0.0% is a clear threat to alcohol-free spirits leader Seedlip (in which Diageo happens to have a majority stake).
"Seedlip is the only brand declining," notes Nielsen client delivery team leader Rob Hallworth. "This is due to the market becoming more mature and fragmented. Seedlip accounted for 67% of the market a year ago. Now it's at 54%."
Seedlip's flagship Grove 42 is down 0.7% in value.
Paying a price
So, quality is key. And it comes at a price. Hardys 0.0%, for instance, sells for around the same as a bottle of standard wine (£5/70cl). Tanqueray 0.0% carries an rsp of £16 per 70cl, only £2 less than a full-strength bottle of Tanqueray listed in Tesco. But it's £10 less than a bottle of gin alternative Seedlip, in which Diageo also holds a majority stake.
Clearly, Diageo is trying to establish the 'good, better, best' tiers that exist in the mainstream spirits market. "We understand that consumers are looking for the assurance of trusted brands to set high standards within the no or low alcohol spirits category," says Mendonça. "Their desire is that we deliver authentic quality taste profiles."
The generations that grew up drinking alcohol as a rite of passage might find paying £26 for a bottle of Seedlip sobering, especially given it's exempt from the £11.50 duty applied to every litre of 40% abv spirits sold in the UK. But, of course, producers insist the prices of AF offers are justified.
"Most AF drinks have a higher production cost than their alcoholic cousins and this more than outweighs the saving on duty," says Rob Fink, founder & CEO of AF craft beer brand Big Drop Brewing Co. "People who embrace artisanal products recognise there are higher costs involved and are willing to pay more."
Maturing market
The extent to which punters accept high prices may be eroded as the low & no market matures and economies of scale yield savings in production costs. This will be further impacted by the growing influence of bigger brewers and distillers, who have significant advantages over startups in the shape of well-established routes to market and deep pockets for securing greater share of shelf.
"There's no denying that the larger players have a distinct competitive advantage in terms of existing contracts, the ability to discount and being able to brute force their way to success," says Lyre's Livings.
"It's going to be an uphill battle for smaller guys in traditional channels like the on-trade and grocers. But where there is a level playing field is e-commerce. The landscape has shifted in that direction because of the pandemic."
"Where there is a level playing field is e-commerce. The landscape has shifted in that direction"
That explains why online retailer Sobersauce reports sales three times greater this January compared with January 2019. And that wasn't just because drinkers were going dry for the month. "February was even stronger," says founder Adam Uttley.
"People are finding many drinking occasions are better alcohol-free. While we may see a dip from people letting off steam in early summer, those occasions are not going away in the long term."
For startups with a presence in the supers, investment in branding and price will be crucial if they are to hold their own against the giants. "We've run TV ads and invested in our bottling to drive down cost and pass that margin back to consumers," says CleanCo's Matthews. The brand's average retail price has fallen 30% in the past year [Nielsen].
"With many of the big alcohol players coming into this market and trying to take a slice, this sort of investment is really important. There are still a lot of products out there where the liquid or the brand isn't good, and I think we will see some of them fall by the wayside. In the coming couple of years there's going to be a real shake-out of the market."
So, it looks like the low & no party's just getting started.
William Reed - the publisher of The Grocer - has launched an exhibition exclusively for the low & non-alcoholic drinks sector. For more information visit low2nobev.com.
Innovations in low & no alcohol 2021