Over-the-counter drug stocks were hit hard by Covid. What's being done to ensure they're not wiped out by the second wave?
The sunny days of summer are a distant memory. Many Brits spent them working from home, 'eating out to help out' and merrily mucking about with new puppies and e-scooters (both saw big sales spikes over the summer). In reality, we were in the eye of the storm.
Daily Covid-19 diagnoses are now exceeding the numbers we saw in April. Of course, comparisons are difficult because, in spite of the widely reported problems, the government is now testing more people for the virus. But it seems inevitable that more absences from work, local lockdowns, hospital admissions and deaths will follow.
Data suggests that shoppers were bracing for a second wave over the summer, with paracetamol sales growing steadily. Growth peaked at 34% in the four weeks to 9 August and stood at 29.2% in the following four weeks [Kantar 4 w/e 6 September]. Ibuprofen and indigestion pills are up too, despite conflicting reports about their efficacy in fighting (or worsening) Covid symptoms.
It has all the makings of a repeat of March, when shelves were stripped of many over-the-counter (OTC) drugs. "We saw a record peak of 85% year on year for winter remedies in the four weeks to 22 March," says Kantar strategic insight director Matthew Maxwell. "People were panic buying. It was all about protecting yourself and your family from Covid." That demand meant you couldn't get paracetamol for love nor money; stocks in store sank to just 5% on 18 March and were below 15% all that week [Shepper/The Grocer]. So will they be wiped out again by a second wave? And what impact have reports that some OTC drugs can improve or, conversely, worsen Covid symptoms had on demand?
A shot in the arm: How Covid-19 spurred winter remedies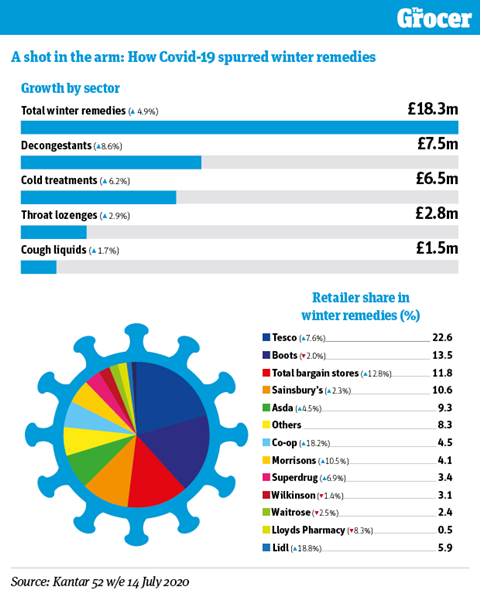 No prizes for guessing what drove most growth in sales of winter remedies for the year ending 14 June. Sales grew 4.9% on packs up 1.6%, despite a mild winter dampening growth.
The pandemic shook up retail share. The Co-op realised growth of 18.2%, driven chiefly by a switch to local shopping during lockdown. High street chemists Lloyds and Boots suffered respective declines of 8.3% and 2%.
"Sadly, the biggest casualty for us have been high street pharmacies," says GSK Consumer Healthcare sales director Jon Lewis. "We're seeing growth in supermarkets and c-stores."
Indeed, the mults benefited from shoppers buying OTC remedies with their food & drink. Only Aldi, Lidl and the bargain stores realised higher growth levels, buoyed by stronger performances pre-pandemic.
And healthcare sales through the convenience channel stood at 14.3% of the market total for the 28 weeks to 6 September, up from 9.8% in the same period in 2019.
"Online share is continuing to grow, even since the easing of lockdown," adds Lewis.
You could say the past year has been a perfect storm for the major OTC manufacturers. "Prior to Covid-19, there was already a general shortage of paracetamol in the marketplace," says Jon Lewis, sales director at GSK Consumer Healthcare, which had the added headache of being in the midst of a merger with Pfizer to become the world's biggest OTC player when the virus hit.
"As well as the other challenges, we were integrating two large businesses. We manufacture to forecast and have a significant safety stock to cover a production time of eight to 12 weeks to allow us to manage short-term increases in demand. But in some cases, we did run out of stock, because we had to ensure balance of supply across different retailers and channels."
Retailers had been struggling with squeezed supplies of OTC painkillers and anti-inflammatories since last autumn, when some completely ran out of ibuprofen. At the time, Tesco blamed a 'global shortage' of its active ingredient. Shoppers then began taking paracetamol to manage pain and fever instead, causing shortages of that too.
Covid, of course, made matters worse. "Consumers wanted to be certain they had OTC medicines to treat coronavirus symptoms," says Michelle Riddalls, CEO of the consumer healthcare association PAGB. "That led to short-term supply difficulties, particularly for paracetamol, and the decision by some retailers to manage demand by limiting the amounts people could buy."
Production efficiencies
Manufacturers had to take decisive action. "It's not only [impacted] the raw materials, but also packaging and production lines," says Lewis. "We saw a massive shift in behaviour. We've prioritised cold, flu, immunity and painkiller brands against others and made production lines more efficient. We're making heavy investment in inventory to cope with what could be coming."
GSK brands seeing increased production include the painkillers Anadin and Panadol, cold and flu remedies Day Nurse and Beechams, cough relief brand Robitussin and vitamin supplement brand Emergen-C. Other players report a similar prioritisation of existing products that address Covid-like symptoms, as well as general feelings of anxiety caused by the pandemic.
"Big buyers are telling us they have stopped looking at new products for the moment," says Leyla Moudden, head of sales & marketing at the distributor The Really Healthy Company, who reports booming sales of pro- and prebiotics and herbal sleep aids. "We're seeing a lot of spending on gut health products and a huge amount of digestive complaints and sleep and anxiety problems."
Cold treatments have been particularly top performers, with growth of 144% in the four weeks to 22 March [Kantar]. Maxwell suggests that appetite was partly driven by shortages of standard paracetamol. "You have to remember that nobody was expecting Covid to have the impact it did, hence the stock issues," he says. "Shoppers were looking at the fixture for anything that had paracetamol in it. Products like Calpol and cold & flu treatments like Lemsip and Beechams flew off the shelves."
Sales of ibuprofen also boomed, growing by 104.3% in the four weeks to 22 March. It should be noted, however, that it has not performed as strongly as paracetamol, which saw sales spike by 141.6% in March and has consistently outperformed ibuprofen ever since (see left). Ibuprofen slipped 7.2% in April [Kantar 4 w/e 19 April].
This is partly because the NHS recommends paracetamol as a more effective treatment for fever – a key Covid symptom – with fewer side effects. The March WHO warning that ibuprofen could worsen Covid outcomes also had a likely impact on sales, despite the Commission on Human Medicines saying there was no clear evidence to support this in April. Ibuprofen returned to growth in June but has remained on a far more subdued trajectory than paracetamol.
Self-care
Still, growth of all analgesics is likely to gather pace this winter, as consumers are encouraged to self-treat when faced with mild to moderate flu-like symptoms. "Self-care is all about taking the pressure off the NHS," says GSK's Lewis. "Eighteen million GP appointments are booked every year for self-treatable conditions that patients could have gone into a pharmacy, supermarket or C-store and bought OTC medication for. That costs the NHS in the region of £2bn."
That sentiment is backed up by Riddalls of the PAGB. She highlights self-care as an important "tool to keep the NHS sustainable, whether in relation to Covid-19 or any of the illnesses that always become more prevalent over the winter".
So let's hope that all the work OTC manufacturers did to boost supply in spring will help meet the demands of the winter.
Because even if OTC drugs can't beat the virus itself, indirectly they could help us weather the storm. After all, it will be the NHS that will ultimately determine how well Britain rides the second wave.
Indigestion: the surprise price of lockdown
Strange but true: sales of indigestion pills have been outgrowing ibuprofen almost every month since lockdown.
That's despite a study in July suggesting common heartburn drugs increase the risk of developing the virus two-fold, while the NHS recommends ibuprofen as a treatment for mild Covid-like symptoms.
So, what's going on? Have we all gone mad?
"Indigestion remedies have been growing around 20% pretty consistently since March," says Kantar strategic insight director Matthew Maxwell. "This is a lot to do with the fact that people have been at home more, cooking more and, for many, disposable incomes have been a bit higher. There's been a change in lifestyle.
"The side effect of this has been indigestion."
Consumers don't seem to have been put off by less-than-encouraging findings on indigestion tablets from a study of more than 53,000 US patients released in July. It found taking heartburn remedies containing substances known as proton pump inhibitors (PPI), such as Nexium, the UK's third bestselling indigestion pill, once a day doubles the risk of contracting Covid. Taking one twice a day nearly quadrupled the risk.
Kantar's numbers do not show whether or not medications containing PPI have contributed to the growth in indigestion pills. What they do suggest, however, is that similarly negative warnings on ibuprofen saw its sales take a tumble.
The warning from the French authorities in mid-March that ibuprofen could exacerbate the symptoms of Covid-19 seemed to hit home with UK shoppers.
In the four weeks after the French health minister Oliver Veran tweeted that ibuprofen 'could be an aggravating factor for the infection', UK sales of the drug fell by 7.2% year on year [4 w/e 19 April]. They were down 5.1% in the following four weeks and did not recover until the four weeks to 14 June, when they grew 18.3%, after the NHS said the drug was safe.
Since then, the plot has thickened. Studies have suggested famotidine – an ingredient used in indigestion pills around the world, though not in wide use in the UK – can reduce the risk of death. A trial of the drug in conjunction with anti-malarial medication hydroxychloroquine is now underway for use in patients with Covid-19.