Peanut butter, jam and other spreads are flying. But we're not just smearing them on bread any more. So what's behind the boom?
At last, something to toast! Britain has rediscovered the joys of jam, marmalade and other spreads. Sales are up £120.8m (21.7%) on volumes up 24.8%, making spreads one of the biggest winners of the past year [Kantar 52 w/e 29 November 2020].
Every spreads subcategory is growing; even jam, marmalade and curd, which had been struggling for years until Covid-19 came along. Breakfast has been reborn. Commuters who once ate the most important meal of the day en-route to the 6.20am to Charing Cross can now take more time over their breakfast before starting a day's work at home.
But the copious rounds of toast and homemade sarnies we've been scoffing under lockdown are not the only key to all this. After all, we reported that bread volumes had risen by 4.3% in our 2020 Top Products report, while spreads grew much faster at 16.2% [Nielsen 52 w/e 8 September 2020]. Clearly, we're doing more than smearing our spreads on bread.
That peanut butter is growing fastest gives a clue to what's going on [Kantar]. "Peanut butter is on-trend for health-conscious consumers who are creating plant-based recipes or looking to add natural nutrition to dishes," says Bryan Martins, marketing director at Wessanen UK, owner of Britain's bestselling peanut butter Whole Earth.
"Whole Earth has a wide range of healthy and plant-based recipes including whole roasted peanut butter cauliflower curry and sweet potato & crunchy peanut butter gratin."
"Peanut butter is incredibly on-trend for consumers creating plant-based recipes"
Indeed, it was peanut butter's versatility as a sandwich filler, toast topper and cooking ingredient (as well as its health credentials) that helped sales of the spread overtake jam for the first time last year, according to IRI's analysis [52 w/e 25 April 2020]. It's worth noting that Kantar's later read of the market still puts jams slightly ahead of peanut butter, but the gap is narrowing and stands at just £3.9m [52 w/e 29 November 2020].
Brands have been playing into that versatility angle. Pip & Nut has also been encouraging consumers to cook with its nut butters since 2017, when it brought out a cookbook. The approach seems to have paid off. It's registered growth of 57.4% to £4.4m [Nielsen], partly driven by the lockdown baking boom, says founder Pippa Murray. "When banana bread went viral, we created our ultimate banana bread recipe using our ultimate deep roasted peanut butter," she explains. "We reposted user-generated content from foodie influencers and chefs such as Melissa Hemsley's delicious tahini and almond butter chocolate chip cookies."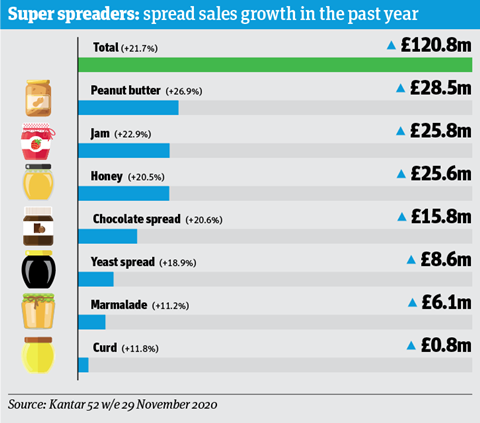 Sales are up across the board in spreads, driving overall market growth of 21.7% (£120.8m). Volumes up 18.4%. That's approximately 75 million more jars sold.
Kantar analyst Robert Willis says purchase frequency has risen: "We have also seen an influx of shoppers into the category, with increased basket sizes and higher average prices also contributing to the total growth figure."
Brands report growing sales of larger tubs as shoppers stock up. Whole Earth says sales of its 1kg tubs are up 28% year on year, while Pip & Nut reports 50% growth for the format.
Willis also notes strong growth for a number of newcomers, following moves made by Gü, M&M's and Maltesers into spreads in recent years.
"We've also seen Marmite launch a new smooth peanut butter product, and Bonne Maman launch a new line of breakfast compotes."
"Lotus Bakeries, makers of Lotus Biscuits and Lotus Biscoff spread, saw exceptional growth, almost entirely by attracting new shoppers," he adds. "Of the more traditional players in the market, Nutella, Marmite and Hartley's have performed strongly."
Culinary credentials
Fellow small batch nut butter brand Manilife has taken the rise in popularity of home baking and scratch cooking to the next level. Not content with just sharing recipe ideas online, owner Stu Macdonald has teamed up with the top three meal kit operators – Gousto, HelloFresh and Mindful Chef – to take Manilife into the kitchens of thousands.
"We are the exclusive peanut butter supplier for the UK's three major recipe boxes and the taste and versatility of our range has played a massive part in that," says Macdonald, who says sales are up 435% to £1.2m [Nielsen]. "These partnerships have been instrumental in challenging consumers to see peanut butter as being more than they might think and already understand."
The brand has also teamed up with Middle Eastern restaurant Le Bab to develop a three-course menu that features its peanut butter as a key ingredient. "Manilife will be used across all dishes, where it is paired with Middle Eastern flavours such as tahini," says Macdonald. "It's certainly a gateway to more palates that fits with our quality and taste-led experimental mission."
The use of nut butters in the kitchen isn't just growing sales. It's also growing tub sizes. Wessanen's Martins says sales of Whole Earth's kilo tubs (crunchy and original) are up 28% year on year, with 10% of shoppers now using the brand as a cooking ingredient. Pip & Nut's Murray, who will soon be taking to TikTok from her kitchen to promote her nut butters' culinary credentials, also reports strong growth in kilo tubs and mid-sized 400g jars.
"Millennials are the fastest-growing consumer group in honey consumption"
Still, it's not all about peanut butter. It may be the fastest-growing spread overall, but the title of fastest-growing spread brand goes to Rowse. The leading name in honey has seen sales grow £12.6m (23%) on volumes up 22.1%. Again, honey's versatility as a cooking ingredient is a major factor here. "Usage of honey is in growth across all mealtimes with the evening meal delivering the strongest levels of growth (28% on last year)," explains Kirstie Jamieson, marketing director at Rowse Honey brand owner Valeo Foods.
"Millennials are the fastest-growing consumer group in honey consumption and they are the key demographic driving usage at the evening meal, accounting for two thirds of the growth," adds Jamieson, who points to a 40% growth in the use of honey in oriental dishes consumed at dinner time as an example. "At Rowse we have focused on providing recipe and baking inspiration via our social media channels and highlighting recipes such as Greek Honey, Dark Chocolate & Walnut Baklava and Sticky Honey Gingerbread to drive usage of our honeys."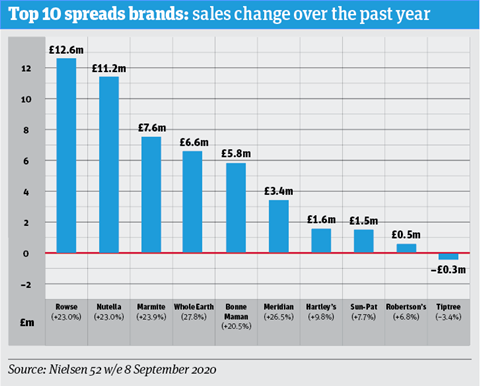 Spreads aren't only for slapping on toast or between two slices of bread. Rowse, which has turned in the strongest growth of the year, says its 23% (£12.6m) rise on volumes up 22.1% has been driven by growing use of honey as a cooking ingredient and rising demand for manuka honey for health reasons, as well as locked-down Brits bingeing on toast.
The same goes for the category's second-biggest brand, Nutella. "There's been a significant increase in people using Nutella in creative ways to produce delicious desserts and baked goods, all of which has led to value sales gain of 34.3% over the initial lockdown period," says Levi Boorer, customer development director at brand owner Ferrero.
Nutella is up 23% (£11.2m) on volumes up 21.5% and Boorer says the brand has been busy with its online recipe hub to keep shoppers inspired. Meanwhile, others have been using new product offerings to widen their appeal. Marmite, which is up 23.9% (£7.6m) on volumes up 18.1%, attributes much of its growth to its 2019 move into peanut butter, for example.
Whole Earth, the category's next fastest grower, has also been innovating hard. In 2019 it launched a dark roast peanut butter variant and last February it unveiled a chocolate and hazelnut peanut butter. Brand owner Wessanen UK attributes its 27.8% (£6.6m) surge on volumes up 31.7% to a boom in at-home snacking since the pandemic hit.
Home baking
Nutella is taking a similar tack. The lockdown baking frenzy saw the nation use Nutella in new and creative ways this year, producing breakfast dishes, desserts and baked goods, says Ferrero customer development director Levi Boorer. This helped fuel a 23% leap in sales of the choccy spread to £60m, with volumes up 21.5%, making it the category's second fastest-growing brand after Rowse. The brand is planning to publish a range of recipes across its social media channels in coming months.
"With so many families up and down the country looking for baking inspiration this past year, we placed a lot of focus on amplifying our Nutella recipe hub and pushing out ideas via our social channels," explains Boorer. "We currently have around 80 recipes and our development team will be baking up some additional topical and seasonally relevant recipes in the new year."
"Consumers getting creative in the kitchen has been at an all-time high during lockdown"
Nutella has also ventured into subscription box territory by teaming up with baking kit company Bakedin, which gave subscribers a 200g jar of the spread along with ingredients to make 12 brioche buns. "We're seeing a mix of customer demand together with more brands wanting to collaborate, as it's a great way to get their spreads in front of the home baker audience," says founder of Bakedin Joe Munns. "We've just run a successful brioche baking kit with Nutella and our collaboration with Lotus Biscoff was incredibly popular too. Next month sees us team up with a market-leading UK honey brand."
Even jam has gone far beyond toast and sarnies, benefiting from the rise in home baking and the more leisurely breakfasts many have been enjoying over lockdown. Its still rates as one of Brits' favourite spreads, hogging 20% of category value and clocking up sales of £138m in 2020 – up 20%. Hain Daniels says this is down to a combination of uses.
"Breakfast is still a massive part of spreads consumption," says a spokeswoman for Hain Daniels, which has seen its jams used on porridge on three million more occasions during lockdown. "That being said, we have also seen sweet spreads starting to expand more into occasions outside of breakfast with lunch occasions up 58%."
Health cues
There's just one sticking point for jams and sweet spreads: sugar. As health has taken centre stage during the pandemic, a growing number of consumers are seeking out healthier alternatives. Against that backdrop, there's no shortage of brands trumpeting their health credentials.
Take Marmite, which has begun highlighting its health benefits – mainly its abundance of B vitamins and vegan credentials – over the past 12 months. As a result, consumption of the Marmite range is at its highest in five years, says brand owner Unilever, with an additional 524,000kg being consumed this year alone [Nielsen].
"At Marmite we're on a mission to offer Britain better breakfast choices for the more health-conscious shoppers and breakfast lovers," says Unilever marketing director Fikerte Woldegiorgis. "Creativity in the kitchen has been at an all-time high during lockdown. Our fans have been sharing some weird and wonderful breakfast and brunch creations with us via social, from Marmite peanut butter pancakes to Marmite and cheese muffins, or even Marmite sausage rolls."
Honey has also benefited from consumers' growing health consciousness, says Brooke Williams, marketing director at The British Honey Company. It reports strong growth during the 'stay at home' message of Covid-19. "People have been looking for alternatives to sugar in cooking for a while now and honey is a natural sweetener which is packed full of nutrients, minerals and antioxidants," says Williams.
Of course, even the more sugar-laden spreads are having to up their health game. Sweet spreads were one of the categories challenged by PHE to reduce their sugar content by 20% by 2020. Although that's unlikely to happen – the latest report covering 2019 progress showed only a 5.6% drop – sugar levels are nonetheless an area of focus.
So ultimately, spreads are in rude health. But sadly, with no end date to lockdown, the same can't be said of the rest of us.
Innovations in jams & spreads 2021