On-the-go sales of bottled water have suffered a leak. But take-home remains largely intact. So how is the category likely to fare post-Covid?
Italy's Acqua di Cristallo Tributo a Modigliani is the most expensive mineral water on the planet. It's sourced from springs in France, Iceland and Fiji, and has 5mg of gold dust in it.
It's packed in a 750ml glass bottle, of which there are several versions, including one covered in 24-carat gold. Holding the Guinness World Records title of 'most expensive bottle of water sold at auction', it went for 774,000 Mexican pesos (£26.6k) in 2010. An even fancier Acqua di Cristallo pack is coated in platinum and 6,000 diamonds. Only one exists and it has an estimated value of €4m (£3.5m).
Needless to say, the Italian beverage is a rare sight. Which is something it has in common right now with the humble plastic water bottle – at least when it comes to the single-serve format. Since coronavirus sparked the UK's first lockdown in March 2020, out-of-home refreshment occasions have been fewer and further between – and sales of on-the-go water have suffered a serious leak.
"The pandemic has resulted in large value losses overall for the bottled water category, driven largely by the fall in demand across the single-serve sector," confirms senior Nielsen analyst Tom Newman. "This time last year, single-serve bottled water was worth 45% of the total category. Now it is worth 36%."
As such, big brands with a strong presence in impulse have been hit hard. Take the category's top three names – Volvic, Evian and Highland Spring – which have lost £78.8m between them [Nielsen 52 w/e 30 January 2021]. Their volumes are down 11.1%, 13.5% and 5.6% respectively. That's a combined 56.2 million litres – the equivalent of 112.4 million standard (500ml) single-serve bottles.
It bad news for a market that was already leaking value pre-Covid, facing stiff competition from zero-calorie carbonates and reusable 'flask' bottles from the likes of Chilly's. A lacklustre summer in 2019 didn't help either, driving the category into the red last year after five consecutive years of growth.
So, will brands be able to plug the holes in sales? How will they tempt back shoppers who are not only used to going without bottled water but more aware than ever of the environmental impact of single-use plastic?
"There's no denying the widespread impacts of the Covid pandemic over the last year, which has led to many consumers changing their shopping habits," says John Letford, head of category development at Danone Waters, supplier of Volvic and Evian.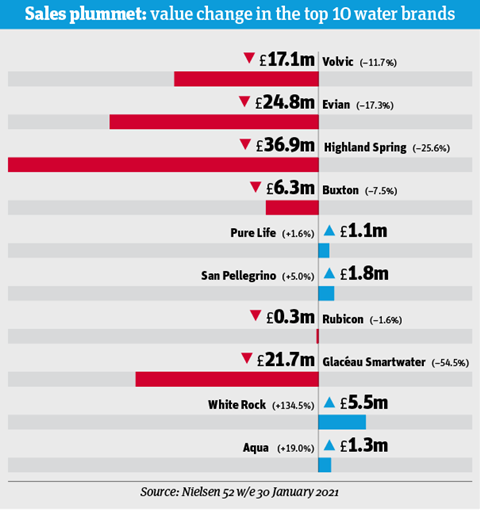 The pandemic has resulted in huge value losses for bottled water brands, driven largely by the fall in demand across on-the-go single formats.
Six of the top 10 best-selling brands have taken hits this year due to their performance across the impulse and convenience channels.
Brands such as Aqua Pura and White Rock, whose portfolios focus more on multipacks and larger formats, managed to capitalise on the shift in buying habits, particularly when the first lockdown kicked in and consumers stocked up.
Highland Spring was in growth this time last year but is now the fastest-falling brand in value terms, despite volume only slipping 5.6%.
It is one of the brands looking to diversify through the growing flavoured sparkling water segment.
However, reliance on the core plain water market is still strong and needs to see a turnaround in fortunes if brands are to reach the levels of growth seen pre-pandemic, says Tom Newman, senior analyst at Nielsen.
"The return to 'normal' life will have a big impact on bottled water sales, as the market relies on consumers being out and about, either in the office or for leisure," he adds.
Take-home sales
But Letford goes on to insist that matters aren't as bad for the category as they may first seem. "Despite a challenging year for on-the-go sales, take-home sales of water have increased during the pandemic as natural source water continues to be a unique proposition enjoyed by millions of consumers across the UK and Ireland."
At first glance, Kantar's data seems to disagree. It shows take-home sales of both plain and flavoured still water suffered value and volume declines in the 52 weeks to 1 November 2020. But a closer look reveals the numbers aren't as severe as one might expect.
Plain still water, the largest part of the market, has seen unit sales fall by just 0.2%. Its value is down a larger 5.6% to £213.5m, mainly because popular at-home formats – multipacks and sharing bottles – are cheaper than single-serve bottles.
Letford puts those relatively minor declines down to the success of "brands able to adapt and offer the right selection of products". Danone, for instance, "adapted to new ways of shopping by boosting our online presence and exploring new online channels such as Deliveroo so consumers can easily and safely access our products" he says.
"Along with these changes to channel choice, we also saw shifts in format and sub-segment performance. At Danone Waters, we've focused on our multipacks and have seen positive results. For example, our Evian and Volvic large multipacks saw growth of 58% and 56% respectively in symbols and independents. By prioritising these SKUs, we've been able to cater for demand."
"With more people working from home, the out-of-home lunch occasion has shifted"
Highland Spring chief commercial officer Simon Oldham is similarly optimistic, despite the challenges. Bottled water "remains a crucial part of the soft drinks category", even in the pandemic, he says.
What makes it so is Brits' awareness of the benefits of hydration, he adds. "Health remains a key priority, with 92% of shoppers prioritising it when choosing soft drinks. This means that although our loyal shoppers have been purchasing fewer single units, they have not left the category entirely. In fact, what we have seen is those shoppers have simply looked elsewhere to get their natural sourced water."
"Lunch at home is now a key opportunity for natural source water, leading to a shift in 'drink later' formats, which sees larger bottles and multipacks currently driving the category at 3.7% growth in the last 12 weeks."
The popularity of these 'drink later' formats goes some way to explain Highland Spring's sales. Although the brand has suffered a double-digit drop in value, volumes only fell 5% [Nielsen] – reflecting that shoppers are going for bigger, cheaper bottles.
It's a picture that has played out across the board. There has "a change in mission within the convenience channel", says Kenton Burchell, trading director at Bestway Wholesale, with Brits "three times more likely to be on a main shop mission now than they were pre-Covid". "Take-home formats have therefore performed particularly well, growing at 4.9% in value over 2020," he says.
Take-home sales of bottled water dipped in value by 1.3% to £518.5m.
Plain still water declined by 5.6% but continues to dominate the category.
Sparkling water, after dropping in popularity last year, has grown. Flavoured sparkling increased its share to 21.8% and plain sparkling increased its share to 14.6%.
Bottled water sales traditionally peak in the summer. However, last year sales peaked in March (up 11.3% year on year) at the start of the first national lockdown, and again in September (up 12.5% year on year) when a second wave was predicted.
However, fewer shoppers purchased bottled water, with penetration down from 71.9% in 2019 to 69.6% in 2020 – an ongoing downward trend.
A drop in sales on promotion continued, with promoted sales down 6.3%.
Concerns around single-use plastic has caused manufacturers to reconsider their packaging leading to the increased use of cartons, cans and rPET. "Bottled water manufacturers must not lessen the focus on plastic-free or more recyclable options for eco-conscious shoppers," says Kantar analyst Fiona McQuire.
Covid will continue to have a disruptive effect, changing behaviour and driving greater demand for flavoured and sparkling alternatives to plain still water, she adds.
Sparkling water
Burchell adds that "sparkling water has also been resilient throughout the pandemic, growing at 3%, with shoppers bringing their social pub/restaurant occasions in home".
His final point is underlined by Kantar's numbers. They show take-home sales of plain and flavoured sparking water have grown in value by 7.7% and 12.7% respectively, adding a total of £18.1m to the market.
"The sparkling water subcategory has emerged as a star performer," says Highland Spring's Oldham. "Perhaps previously overlooked or reserved for special occasions, the last 18 months has seen a real trend towards sparkling natural source water, which is ideal for those looking for a little lift as part of their day, or to recreate lost out-of-home moments during mealtimes that they may be missing."
He anticipates fizzy water will remain popular even after bars and restaurants reopen, which no doubt inspired the brand's latest launch. "Consumers' habits will not return fully to what they were in 2019," Oldham argues. "So, I don't think sparkling will drop off a cliff. The growth will continue."
Sparkling water's improved performance has done much to limit the value loss of the overall water category. It's the pandemic's biggest success – but not its only one.
Makers of functional and added value water are hailing increased demand, too. "Take-home sales have seen significant growth," says Marcus Hudson, sales director at Clearly Drinks, who puts this down to increase in demand for healthier drinks.
"Consumers don't need to be an athlete or a sports star to drink protein and electrolyte waters"
"As plain water continues to see market declines, focus on healthier added value categories like flavoured and functional water will be key to driving total category growth," he adds, pointing to Clearly's sport-focused Revolution Waves as one such example.
Demand for better-for-you options has been a boon for protein water brand Vieve, says founder & CEO Rafael Rozenson. "Our sales have grown by 300% during lockdown." He credits not just health-minded Brits' desire to keep up their protein intake, but also Vieve's strong direct-to-consumer offer online. "As consumers shifted their spend to e-commerce, we have naturally benefited."
It's the huge surge in online spend that led functional water brand Wow Hydrate to launch its drinks subscription service during the pandemic in two levels – Silver and Gold – starting at £29.99 for 24x500ml per month.
"By signing up online, individuals will join a community of like-minded people that are always pushing it to be their best," says the brand's head of commercial, Queenie Porter. "Consumers don't need to be an athlete or sports star to drink our protein and electrolyte waters – they'll simply feel better by incorporating them into their daily diet."
While brands such as Vieve and Wow Hydrate have been able to rely on online sales during lockdowns, that's not been the case for all the category's players, says Rozenson. "DTC is very difficult for traditional bottled water companies. Water is very expensive to ship due to its weight," he says. That much was highlighted by Ocado stopping the delivery of bottled water at the height of demand for online grocery slots.
"Availability of key market-leading brands will be vital to re-capture shoppers"
"Unless the product is a 'water-plus' like ours, where there is added value to the consumer to justify a higher price, it is very difficult to make the macro-economics of it work," Rozenson adds. So his brand was in a better position than most – plus, the pandemic "didn't really cause so much of an issue for us as our business isn't focused on impulse".
But, of course, many other brands are reliant on on-the-go sales. As such, they're banking on am imminent return to growth in the channel. Impulse will be "vitally important to category recovery in 2021, especially as the government restrictions start to ease over the coming months" says Danone's Letford. "We've increased our level of investment into on-the-go pack formats, driving us to maintain a strong level of distribution whilst others decline. This will ensure that our brands are widely available when shoppers return to on the go later in the year."
Burchell at Bestway is similarly optimistic. "As we move into 2021, and the latest government roadmap for easing restrictions is announced, we expect small formats to be vital to category recovery, with higher levels of footfall in key on-the-go locations such as travel sites and high streets," he says.
"With convenience whilst on-the-go being the number one driver of purchase for the category, convenience stores are well set up to capitalise on this."
What threat do 'fizz it at home' brands hold?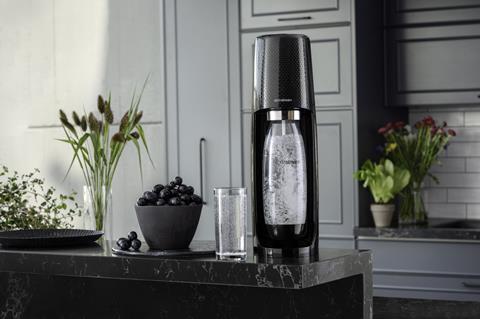 As bottles of sparkling water have been flying off shelves, SodaStream has been making a major push into grocery.
PepsiCo's $1bn (£720.2m) home carbonation brand rolled its Jet machine into Asda last April, followed five months later by Sainsbury's.
"Self-service sparkling water makers are experiencing a huge spike in popularity," says SodaStream UK general manager Tiago Alves. "They allow consumers to keep hydrated and refreshed simply by making sparkling water in their own homes at the touch of a button."
So, just how much of a threat is 'fizz it yourself' at home to the future growth of bottled sparkling water?
"The short answer is: not too much," says Simon Oldham, Highland Spring chief commercial officer. "It's not anything that keeps me awake at night."
SodaStream has yet to have an impact on the bottled water category, says Andrew Capper, creative director at design agency Echo. "SodaStream carbonated two billion litres of tap water globally in 2017, which sounds great until you consider that, in the UK alone, the bottled water market sold 4.2 billion litres in 2018."
Nevertheless, there's an opportunity for SodaStream to tap into the demand for flavoured fizz with its range of syrups, Capper adds.
This is because it offers "greater personalisation and transparency as to what we add to our water, reflecting individual health and wellness needs".
Francois Sonneville, beverages director at RaboResearch Food & Agribusiness, points to other benefits of home carbonation. SodaStream "scores well from a sustainability viewpoint (less need for plastic bottles) and affordability," he says.
"From a convenience point of view, it helps that you do not need to carry the bottles home. It is, however, less convenient if you need to clean your machinery."
It's also less healthy, insists Alina Balatchi-Lupascu, marketing manager at Romanian water brand Aqua Carpatica.
Artificially carbonated water "increases the acidity and the blood pressure" and "can create a harsh digestive system environment by generating carbonic acid in the stomach", she claims.
That's far from a sparkling recommendation.
Sustainability concerns
It remains to be seen how big a comeback impulse makes. What's likely, however, is that its return will intensify ongoing concerns about plastic pollution – 13 million tonnes of which ends up in the oceans each year, the UN estimates.
Worries about plastic waste have, argubly, intensified during the pandemic, after MPs lifted the charge on single-use plastic bags for online grocery delivery, Scotland's DRS scheme was delayed for at least a year, and local authorities' collection of recyclable materials was suspended or reduced at the start of the outbreak.
As such, bottled water suppliers – frequently the target of environmental campaigners – are working to limit their part in the scourge of single-use plastic.
In early 2020, Coca-Cola European Partners GB poured its Glacéau Smartwater range into 100% rPET. Although the brand's sales took a dive last year – falling by more than half to £18.1m – CCEP is confident it is making moves in the right direction.
"We will continue to tap into shopper appetite for products that use recycled materials"
"Glacéau Smartwater was the first major water brand to make this switch across its full range," claims Simon Harrison, VP for commercial development at CCEP GB. "This year, we will continue to tap into growing shopper appetite for products that use recycled materials. This will involve using bold messaging on pack to highlight our 100% recyclable, 100% recycled credentials and to drive standout on shelf."
Then in September, Buxton announced a partnership with sustainable waste management business Biffa, which will collect and recycle plastic bottles that will be used to manufacture eco-friendly packs for the Nestlé brand.
In the same month, Aqua Carpatica added four 100% rPET bottles and Evian began rolling out 100% rPET across its 500ml, 750ml and 1.5-litre formats. That means both of them have taken the lead from Highland Spring, which was first to market with its 100% recycled plastic Eco Bottle in June 2018.
The brand isn't taking that challenge lying down, though. Highland Spring is "focused on continuing to increase the use of recycled PET in our products as the quality and quantity that it needs becomes available" says Oldham. "Ultimately, we're on a journey to reach 100% rPET across our entire range by 2025 and have further innovation planned on the Eco Bottle in 2021.
"By the end of 2021, we will have increased the availability of the Eco Bottle across all our key bottle sizes, and the remainder of Highland Spring bottles will contain a minimum of 30% rPET, with a plan to increase this to 50% by the end of 2023."
Cutting their use of virgin plastic is a major part of suppliers' sustainability efforts, but not all of them. Highland Spring's new rail freight centre at its Blackford site will see a significant proportion of transportation switching from road to rail, phasing out around 8,000 truck journeys a year and reducing carbon emissions by 3,200 tonnes.
Meanwhile, Vieve plants a tree for every five packs its sells, via a partnership with social enterprise B1G1 and the Mango Orphan Tree Trust. "So far we have planted 5,000 trees," says Rozenson. Similarly, fast-growing seltzer startup Dash Water offsets its carbon emissions via a partnership with the Trees for City charity.
And Danone, which achieved B Corp accreditation in December, is planning activations "to help engage consumers on key topics such as recycling and carbon neutrality" says Evian brand marketing manager Gemma Watkins. "Sustainability is still very much on the agenda for this year."
So it seems green initiatives could be a common sight in bottled water during 2021.
Innovations in bottled water 2021


Daniel Selwood is The Grocer's special projects editor, managing Britain's Biggest Brands, Britain's Biggest Alcohol Brands, The Dairymen and Top Products – as well as contributing to news, features, analyses and category reports.

He joined the magazine in January 2016 as food & drink editor, having been at financial & legal publisher LexisNexis for eight years.

He began his journalism career in the mid-1990s at a general interest magazine in his birth city, Sheffield.

Follow Daniel on Twitter: @danielmcselwood