Rising prices have finally pushed consumers away from fish. How can the industry rebalance the scales?
What's Brexit got to do with the price of fish? Quite a lot, actually. The weakening pound has piled yet further pressure on an industry already suffering from rocketing prices. Until now, that has simply added value to the market. But it may have finally hit a tipping point: shoppers are starting to turn away from a fish supper.

Looking at the steady rise in prices, it's easy to see why. The average price of chilled fish has jumped 4.3% over the past year [Kantar Worldpanel 52 w/e 15 July 2018], representing a 9% rise since 2016. It's a trend that's being mirrored in the frozen market, which saw prices climb 3.9% over the past year, and 10% since 2016.
Download the PDF version of this report
---
Even the days of cheap canned fish are a thing of the past. Average prices have rocketed 10.1% since last year, and an eye-watering 13% since 2016.

The impact on sales is starting to show. Fish volumes are down 1.5% in chilled and 5.2% in ambient. Surging prices look to be having a "detrimental impact on volume", suggests Kantar analyst Jim McKenna, with almost 9.7 million fewer trips to the category this year, a 2.4% fall on last year.

It's younger households who are feeling the pinch most, points out Seachill category manager James Purling.

"Millennials have been leaving the category in search of cheaper protein alternatives," he says, a worrying loss "as these are the demographics we are working hard to attract and retain".
"Millennials have been leaving the category in search of cheaper protein alternatives"
It's all put something of a dampener on industry body Seafish's ambitious plans for a two-fold rise in UK fish consumption by 2040. As Brexit threatens yet further price rises, global demand rockets and sustainability becomes more of an issue than ever, that ambition faces substantial obstacles.

So what's behind these challenges and what are retailers and brands doing to address them?

Brexit uncertainty means the pound has been bumping around the $1.30 mark on foreign exchange markets for much of the past two-and-a-half years - a far cry from the highs of $1.70 to the pound in July 2014 - and its performance against the Norwegian krone and the euro has been equally dismal since 2016's EU referendum.

As most fish is traded in one of those three currencies, it means suppliers (and ultimately consumers) have been getting much less bang for their buck, says Young's Seafood's head of frozen category management Alison Robb. She says the situation has been exacerbated by rising demand. "We have an increasing world population and a rising middle class. That's driving protein consumption."
At the same time, quota cuts on key species such as salmon, cod, haddock and even pollock (normally held up as one of the most sustainable in the ocean) have "inevitably driven up prices", says Birds Eye's UK general marketing manager for fish, Becky Nascimento.

This has been compounded by the shift to everyday low pricing, which has particularly driven inflation in ambient, says Mat Lowery, commercial director of Princes' fish brand.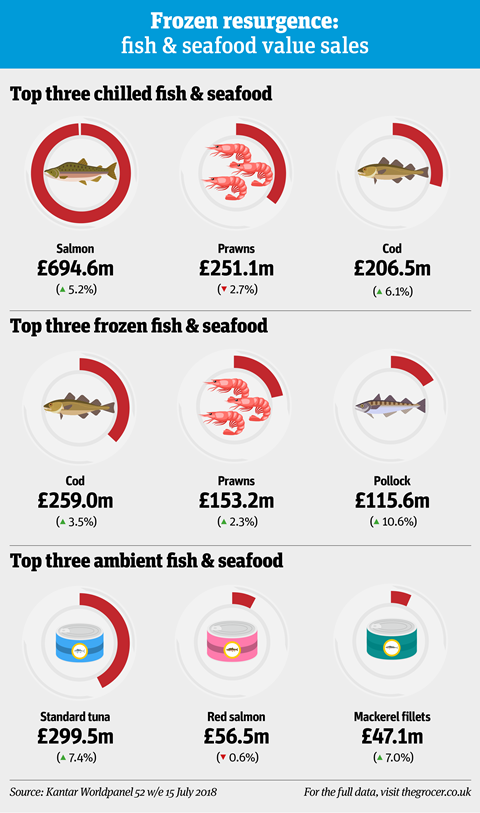 Find the full data at the bottom of this report
Species
Certain species have been harder hit than others. In chilled, for example, salmon has racked up an average 8% rise in price, while cod, haddock and mackerel were up 3.8%, 3.7% and 3.4% respectively.

In frozen, there were also significant price rises for cod (up 6.7%), pollock (up 5.2%) and rising star basa (up 9.8%), while in ambient, the 56p per kg average price increase seen by the category was driven by a 13.8% hike in standard tuna prices and a 10.1% hike in red salmon prices.

Still, some species have escaped relatively unscathed. Frozen scampi saw prices fall by 1.2% and racked up a 10.5% increase in volume. Yet even this mainly UK-caught and consumed species will soon hit inflationary headwinds, warns Whitby Seafoods marketing director Laura Whittle.

Whitby warned back in April that a long-term slump in landings around UK waters was starting to hit scampi supplies. With ageing crews leaving an under-invested sector, just 70% of the quota was caught in 2017, leading Whitby to hike the price it pays crews by over 20% this year to safeguard supplies.
A tough year: MSC battles claims it is 'duping' consumers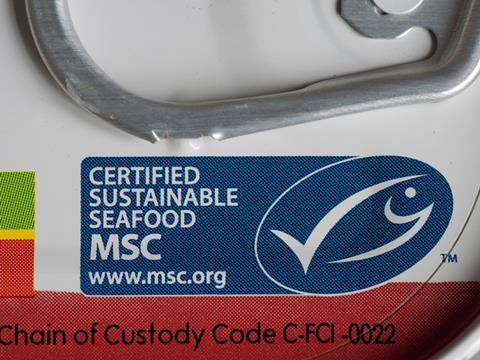 The past year has been far from plain sailing for the Marine Stewardship Council, as it faced mounting scrutiny over alleged unsustainable fishing practices.
Some two decades after it was founded by the WWF and Unilever, the MSC came under fire from campaign group On The Hook last August over claims it was "duping" consumers by allowing crews in the Pacific PNA fishery to catch tuna to both certified and non-certified standards.
The practice, known as compartmentalisation, meant fisheries could be certified as sustainable, even if crews also caught species using unsustainable practices on the same trip, OTH claimed.
These concerns led major retailers including Tesco and Sainsbury's to write to the NGO in January, following lobbying by MPs affiliated to OTH.
The MSC subsequently announced plans to strengthen certification rules and pledge seafood would only enter MSC-certified supply chains if it came from fishing trips where "all activities on the target stock are certified".
But those plans hit the buffers in August after they were rejected by stake-holders over concerns they did not go far enough.
In addition to compartmentalisation and an objection to the PNA's recertification in March, OTH also claims the MSC continues to overlook shark finning, and has called for an "urgent independent review" of MSC standards.
But in response, the MSC insists it retains the backing of the industry and consumers. It also questions the motives of OTH, pointing out one of its major backers is World Wise Foods, "a commercial competitor to companies that source from the PNA".
Meanwhile, compartmentalisation is "allowed by all major eco-labels" and helps encourage change, it insists, adding "nearly every fishery in the MSC programme is compartmentalised to some extent". And on the issue of shark finning in the PNA, it points out instances have fallen significantly since it was banned in 2013.
Many suppliers are yet to pass on the price hikes doled out during the summer. However, Whittle questions how long retailers will be able "to afford to swallow this inflation".
Prices aren't the only issue threatening the future of the fish supper. Shoppers are also increasingly aware of sustainability concerns. The Marine Stewardship Council has faced a glut of recent criticism over how fisheries are certified.

In October, the WWF pointed to "major flaws" in the planned certification of the Indian Ocean Echebastar skipjack tuna fishery due to concerns about its excessive bycatch of overfished yellowfin tuna. Meanwhile, research by campaign group Make Stewardship Count in May found 78% of consumers would either stop buying, or buy fewer MSC products, upon learning some fisheries were involved in such eco-unfriendly practices.

These factors are putting undeniable pressure on the fish sector, but it's not all doom and gloom. Indeed, traditionally less loved areas of the fish market could get a boost. Frozen is one. Even with 3.9% rise in prices, it's still half as expensive as chilled per kilo. And while chilled and ambient fish are suffering declining volumes, frozen sales are steady with a 0.1% rise in volume.
Frozen brands are reaping the rewards. JCS Fish's frozen Big Fish brand recorded a 0.4% rise in volume sales [Nielsen Scantrack 52 w/e 16 June]. Shoppers now fully understand freezing locks in the goodness of a product, says director Louise Colbeck. "This gives brands like ours headroom to create good quality frozen fish ideas that go some way to overcoming barriers to seafood created by chilled price inflation."

Birds Eye is also feeling the benefits of being in the freezer. The brand reported a return to value growth for the first time in four years last month (up 2% to £407m). Nielsen data suggests higher prices may be the main cause, as volumes fell by 0.9% over the past year [Nielsen 52 w/e 8 September]. But Nascimento insists the brand is in rude health, buoyed by NPD such as its MSC-certified chunky fish fingers in June, which is already the "best-performing NPD in fish".
She also points to the relaunch of Captain Birdseye with a younger, more rugged look in January as a success story. Value sales under the Captain Birds Eye sub-brand have grown 6% [Nielsen 52 w/e 14 July 2018] and the brand is now seeing "increased appetite from the trade to extend the portfolio", adds Nascimento.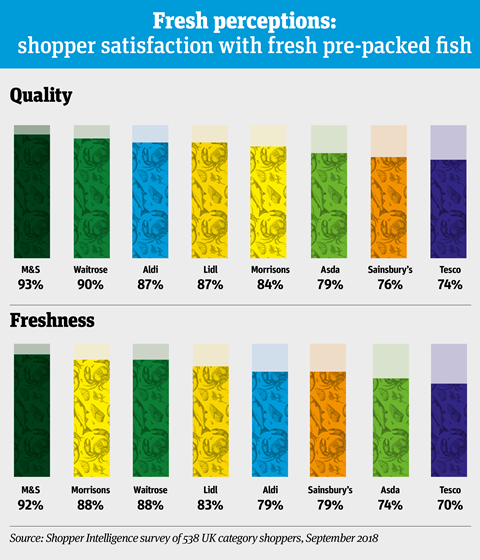 Find the full data at the bottom of this report
Dab, hake and herring
It's not just frozen due its turn in the spotlight. Lesser-known species could also see a boom in popularity. Rising prices and the pressures of increased demand saw the Marine Conservation Society urge shoppers to try species such as dab, hake and herring in its latest Good Fish Guide in April.

The impact is already starting to come through. Young's Robb says "spreading consumption across a range of species," particularly outside the big five of cod, haddock, salmon, tuna and prawns, is now a key driver for suppliers and retailers.
Watch: Fish category briefing sponsored by Birds Eye


She uses Iceland's September launch of 'What the Fish?' as a "great example" of how the industry can open the eyes of shoppers to new species. The product, a bag of frozen fish fillets made up entirely of UK bycatch species such as whiting, megrim, pouting and grey gurnard, is also a concept Young's is "open" to exploiting, she says.
"Species is something the industry needs to be more focused on, as is aquaculture"
The brand is already starting along the path towards greater diversity. Frozen volume sales have grown 4.8% across its Gastro brand, which has a number of basa SKUs, and 0.1% across its core range [Nielsen 52 w/e 8 September 2018] on the back of species and added value innovation, says Robb.

"We've worked really hard to keep fish as accessible as possible. Being able to use a variety of species and formats keeps fish on the menu." Young's is making sure these dishes are as easy as possible through new formats such as the Simply Steam and Simply Bake ranges launched in September and October, which Robb says respond to the mega-trends around health and convenience.

Birds Eye's Nascimento agrees diversity of species "is something the industry needs to be more focused on". In an ideal world, the brand would "love" to get the UK population eating more oily fish like mackerel and herring. "There are challenges, of course, particularly from consumption barriers such as smelliness and lack of ease in preparation," she says. "But it's something we have to consider, as is aquaculture. Fish stocks aren't going to multiply - that's the reality - so if we want to grow consumption, it's something we have to take more seriously."
Despite the reluctance of some consumers to try something other than the average fish finger, Nascimento thinks there is a "slow burn" movement towards more experimental consumption habits. Robb also believes it's a matter of time. "Roll back 10 years to the credit crunch, and we saw retailers bring forgotten cuts such as skirt steak, pork belly and chicken thighs back to the menu. Now those items are part of the normal shop. That's where we're starting to go with fish."

It seems the fish supper is far from dead. It just might need a little reimagining.