It's enough to curdle the milk. If you're looking for good news from a dairy sector that has stumbled from one crisis to the next over the past two years, best not look to butters & spreads.

The sector lost 1.5% of its value in 2014/15, and things have got worse since: in the latest 12-month period, almost £70m was wiped off the value of the total BSM category, with value sales down 5.1% to £1.29bn [Kantar Worldpanel 52 w/e 28 February].

Value is melting away as brands have had to slash prices in the face of a perfect storm of intense own-label price competition, falling sales in host products such as bread, plummeting consumption (BSM volume sales are down 1.3% year on year) and widespread range rationalisation and cuts in facings.

So what can brands do to turn the tide?

One of the biggest frustrations for butter brands over the past year has been that the changing public debate about healthy eating hasn't translated into better fortunes for the category. As the health debate has shifted further away from fat and towards sugar, many consumers continue to turn back to butter as a 'better for you' option seen as less processed and more wholesome than reduced-fat spreads.

But while this has resulted in healthy volume uplifts for both spreadable and block butter, only spreadable has been able to turn this into an increase in value, with sales up 3.4% to £426m. In contrast, block butter value sales are down 5.8% (or £18.5m) to £301.9m, and branded block butter has fared even worse - value is down 9.4% on last year, and volume is down 1.6%.

Fierce price competition from own label and rock bottom commodity prices for butter are largely to blame, with the average retail price for own-label block butter down 12.7% year on year. Brands have had little choice but to follow suit.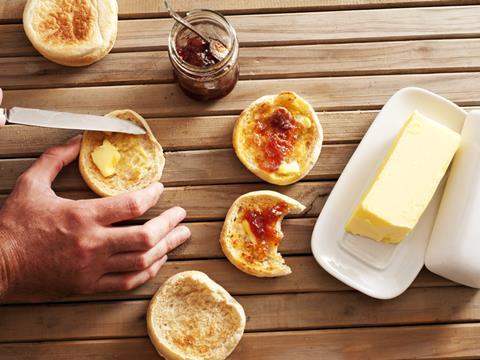 The disappointing performance of butters, spreads & margarine was caused by two main factors.
Dairy spreads kept declining (-15% by value). As shoppers look for more natural options, they are switching to butters. In spite of price decline in dairy spreads, fewer shoppers are shopping this fixture and they are buying less. Recent launches from major manufacturers in dairy spreads aim to limit this switching (Clover's new recipe, Flora Gold).
Spreadable butter volumes have grown 10% by volume but this growth is not compensating for the decline of dairy spreads.
While block butter has grown in volume (+7%), it hasn't grown enough to compensate for the price decline. Its value decline overall of 6% is driven by price wars in the standard own-label block butter tier with an average price that fell 13% on last year.
In the year to come, BSM could be at risk of more range rationalisations in the major retailers. Demonstrating the role of brands, feeding into relevant macro trends and launching relevant NPDs, will be key for brands.
Chris Barron, Kantar Worldpanel
TAKE HOME SHARE
Butters & spreads: 52w/e 28 February 2016
VALUE
VOLUME
£m
y-o-y%
kgs (m)
y-o-y%
Spreadable
426.0
3.4
93.8
10.2
Block
301.9
-5.8
72.9
6.5
Dairy Spreads
231.7
-14.6
111.9
-11.3
Specific Health
78.5
-5.4
13.9
-4.3
Olive Spreads
67.7
-7.0
30.1
0.1
Margarine
60.2
-8.4
29.6
-6.2
Low Fat Spreads
58.2
-4.2
26.5
4.8
Sunflower
35.4
-15.0
16.5
-9.8
White Fat
29.3
-3.1
10.2
-9.1
Flavoured and Alcoholic
5.9
-1.7
0.6
-0.8
Total Butter and Spreads
1,294.8
-5.1
405.9
-1.3
BRANDED VS OWN LABEL
Butters & spreads: 52w/e 28 February 2016
VALUE
VOLUME
£m
y-o-y%
kgs (m)
y-o-y%
Branded
1,016.1
-5.5
307.1
-3.3
Ownl label
278.7
-3.3
98.9
5.5
RETAIL SHARE
Butters & spreads: 52w/e 28 February 2016
TRADING
VALUE
retailers
grocery
category
index
y-o-y%$
Asda
13.9
16.5
118.7
-0.1
The Co-Op
5.1
6.0
116.9
-0.9
Morrisons
10.2
11.8
116.0
-2.4
Iceland
2.1
2.4
114.5
-4.9
Sainsbury's
14.5
16.3
112.1
2.1
Tesco
25.3
28.1
111.2
-3.6
Waitrose
4.9
5.2
106.7
6.1
Lidl
3.7
3.7
100.7
6.0
Independents & Symbols
1.1
1.0
90.8
-8.5
Aldi
4.8
4.1
84.7
15.0
Marks & Spencer
3.4
0.9
26.8
5.0
A tough sector
Block butter has become the hardest sector for suppliers to compete in, says IRI senior insight manager Wendy Kilner-Smith, "particularly as own label continues to erode value through price declines". Brands urgently need to ensure their products offer consumers a point of difference and a reason to spend more money, she adds.

Block butter is at a further disadvantage as consumers prefer the convenience of spreadable, argues Hamish Renton of food consultants HRA. And then there's the tricky business of managing consumer expectations.

"More and more people are coming across to butter from other spreads as part of a trend towards more natural products," says Dairy Crest marketing manager for spreads Neil Stewart. However, once they try butter again, many consumers are reminded why they switched to spreads in the first place. "There is generally a trade-off between how convenient and spreadable something is and how natural it is, and that's why many consumers are moving to spreadable."

The market dynamics are undoubtedly challenging and Dairy Crest's flagship Country Life butter brand has suffered a 5.5% drop in total value sales over the past year, but Stewart is confident it can recover. "The advantage it has over other butter brands is its Britishness, and we think it is well positioned to capitalise on the category's growth."

While Dairy Crest goes big on provenance, Arla says responding to changes in consumption patterns is key to shoring up the fortunes of its butter brands, Lurpak and Anchor, which have seen value sales fall by 1.1% and 0.9% respectively, though volume sales for both brands grew, by 5.7% each.

Consumers are "actively trading up" to more natural products, says Arla Foods UK's director of BSM, Ruby Ali-Brett, but they are also switching off from BSM products as tastes for host products such as bread are changing. "Breads of the world such as wraps, bagels, and focaccia are in growth, but in these sub-categories butter doesn't play a natural role," she says. "So we are trying to react to those evolving habits with our latest innovations such as Lurpak Infusions."

The flavoured butter range launched in April and has had a positive response so far from retailers, she adds, and was developed in an effort "to get our brands and products into these new usage occasions".
SPREADS BESTSELLERS
IRI: 52W/E 26 March 2016
VALUE
VOLUME
£m
y-o-y%
kgs (m)
y-o-y%
Flora
£136.1
-10.6
44.9
-2.7
Clover
£74.4
-13.8
29.2
-6.1
I Cant Believe Its Not Butter
£45.1
-24.2
20.1
-25.4
Bertolli
£43.1
-11.3
14.6
-7.3
Own Label
£30.8
-13.8
16.5
-8.4
BUTTER BESTSELLERS
IRI: 52w/e 26 March 2016
VALUE
VOLUME
£m
y-o-y%
kgs (m)
y-o-y%
Lurpak
£296.1
-1.1
56.8
5.7
Own Label
£137.8
-9.4
36.4
2.4
Anchor
£98.4
-0.9
19.7
5.7
Country Life
£56.7
-5.5
12.5
2.3
Kerrygold
£22.5
3.1
3.7
9.1
Range rationalisation

Gaining retailer support for NPD like Infusions is no easy feat in the current trading climate, with the mults taking a very close look at the brands they stock and stripping out duplication or slow-selling products. That cutting-edge innovation doesn't have always stay the course was experienced first hand by Arla with its Cook's Range of cookery-focused BSM products, which was pulled last summer after 17 months due to poor sales.

Despite this, Ali-Brett says Arla is "proud" of what the range achieved and hints it could even make a return one day.

"We've had a lot of feedback from consumers that they have missed it since it was delisted," she says. "Watch this space; we have lots of exciting plans coming up for Lurpak."

While the overall market dynamics are tough for butter suppliers right now, there are some brands that are managing to grow value. Kerrygold (up 3.1%), Yeo Valley (up 3.6%) and Graham's the Family Dairy (up 27.3%) are all bucking the deflationary trend in the category.

What unites the three brands is their emphasis on naturalness. Graham's, for example, has leveraged this to become the second-largest BSM brand in Scotland, with ambitions to widen sales across the UK.

"Our products have been doing well both in block and spreadable, with block sales over the past 12 weeks up about 5% and bucking the general trend, while spreadable butter value sales are up about 32% over the same period," says MD Robert Graham. "We've definitely benefited from being the number two brand in Scotland and it has given us the opportunity to pick up more shelf space."
Stork bucks falling ad spend trend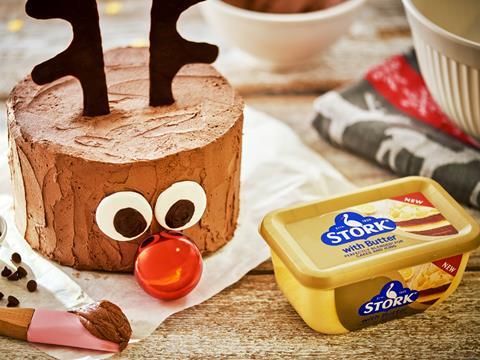 After increasing 16.9% the year before, BSM ad spend has fallen 4.5%.
Anchor brought its Hugglers family of animated characters back to screens last Christmas to push Anchor Spreadable, although the brand's ad spend fell 1.84% to £2.6m.
Other fallers included Lurpak, which spent 26.8% less on advertising after delisting its Cook's Range, while Flora and Flora Pro-activ saw spend fall 61.5% and 58.2% respectively.
The biggest climber was Unilever's Stork, with ad spend up 608.8% to just under £3.7m with a TV ad before Christmas focusing on two Rudolph cakes - one with conventional block butter and one with Stork with Butter.
| BUTTERS & SPREADS TOP 10 ADVERTISERS | | | | | | | |
| --- | --- | --- | --- | --- | --- | --- | --- |
| Ebiquity: 1st March 2015 - 29th February 2016 | | | | | | | |
| Media | TOTAL | | Cinema | Outdoor | Press | Radio | TV |
| Brands | Spend £m | Y-O-Y | % | % | % | % | % |
| Bertolli | £4.0 | -14.1% | - | - | 9.3% | - | 90.7% |
| Flora | £3.8 | -61.5% | - | 8.0% | 2.1% | 17.1% | 72.8% |
| Flora Light | £3.7 | - | - | - | 0.3% | - | 99.7% |
| Stork | £3.7 | 608.8% | - | - | 1.5% | - | 98.5% |
| Lurpak | £3.4 | -26.8% | - | 10.8% | 10.0% | - | 79.3% |
| Anchor | £2.6 | -1.8% | - | 11.3% | 2.5% | - | 86.2% |
| Clover | £1.7 | 30.3% | - | 98.8% | 1.2% | - | - |
| Flora ProActiv | £0.5 | -58.2% | - | - | 69.2% | 30.8% | - |
| KerryGold | £0.4 | 326.4% | - | - | 100.0% | - | - |
| Benecol | £0.2 | -5.4% | - | 0.0% | 100.0% | - | - |
| TOTAL (Top 10) | £23.9 | -4.5% | 0.0% | 11.3% | 7.5% | 3.3% | 77.9% |
Dairy spreads suffer
While the trend towards naturalness helps butter brands, it is making life hard for spreads. Even core lines of established spreads brands are having to fight harder than ever to retain space.

Dairy Crest is seeing this with Utterly Butterly right now, which has lost 29.4% of its value over the past year, while volumes have slumped 26.9%. "Part of this decline is distribution related," says Stewart. "Most of the major mults now have Utterly Butterly out of their range, with Tesco, Asda and Sainsbury's having delisted it."

The overall dairy spreads segment has seen values fall 16.2% over the past year and volumes by 13.7%, and Utterly Butterly is far from the only brand to be affected. Unilever-made rival I Can't Believe It's Not Butter has seen value sales fall 24.2%, or almost £15m, while volume sales are down by 25.4%.

Stewart doesn't pull his punches when assessing the future of the category.

While there are channels such as convenience where Utterly Butterly can continue to thrive, the decline of dairy spreads' main brands "point to what the category will potentially look like in a few years' time, with no place for those spreads that come across as artificial" he suggests.

To stem the decline in spreads, innovation and refined positioning is a top priority for many suppliers.

Dairy Crest relaunched and reformulated Clover last August to contain no artificial ingredients in a bid to better appeal to consumers interested in 'naturalness'.

Full-year sales for the brand continue to look shaky, but Stewart insists it is now on the road to recovery. "Looking at full-year results doesn't tell the whole story, it's almost a tale of two halves for Clover," he says. "The relaunch and reformulation has really paid off in terms of sales.

"Clearly spreads as a category is in long-term decline and we expect that to continue, but Clover is doing better than the overall category and has increased market share from 20% to 22% since last August."

But despite Stewart's confidence in the wider prospects for the brand, not all of its innovation has worked.

Clover launched a trio of cooking sprays last April in chilli, garlic and butter flavours, and it has delivered almost £350,000 in value sales since launch, but it was delisted in May, Stewart says, as Dairy Crest seeks to concentrate on the brand's core products.

Unilever, meanwhile, has been spending heavily in the wake of a £21m combined loss in value sales for Flora and Bertolli, which put the brands as two of the worst performing in the BSM category, alongside stablemate I Can't Believe It's Not Butter.
Own-label price war dampens promo activity by brands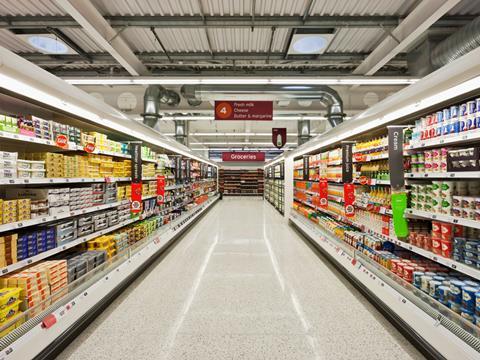 The effects of a fierce price war from own label looks to have curbed branded promotional activity during the past 12 months, with the number of featured promotions by retailers falling by 10.5% from 1,019 to 912.
Flora pulled back on activity, with promotions down by just over 50% on last year's figures, despite undertaking a full-scale rebranding and repositioning at the start of 2016.
The brand is still the most promoted in the category, though this didn't stop volumes from falling by 2.7%. However, Unilever says sales have picked up following its rebrand, backed by strong media support.
Anchor overtook stablemate Lurpak as the second most promoted brand, up 45% on last year, with Lurpak promotions falling by 29%.
Elsewhere, the newly reformulated Clover, Bertolli, I Can't Believe It's Not Butter and Benecol all registered double-digit increases in promotional activity, while Utterly Butterly saw promos halve due to several delistings in the mults.
The most popular price mechanic was 'save', up 7.61% to a total of 397 on last year (and representing 43.5% of all promotions). The use of 'x-for-y' deals fell by 5.56% to 293 (representing 32.1% of all promos), while the least popular promotion was bogof, representing 7.2% of all offers.
Powered by plants
It completely revamped the Flora brand in January, with a £12.5m repositioning of the portfolio as a dairy-free spread range using the tagline 'Powered by Plants', and the launch of all-new Flora Freedom, which boasts 60% less saturated fat than butter.

The relaunch was designed to showcase health credentials such as Flora's low fat and high omega-3 and 6 content, and it has "so far resonated well with our customers and they are continuing to engage with the importance of a plant-based diet" says Unilever brand building director Caroline Jarry.

However, Gold from Flora, which launched in 2014 and is blended with butter, arguably looks out of step with the rest of the plant-based portfolio now. But Unilever says it remains committed to the variant, adding the Flora range now "offers consumers products to suit every need".

Other suppliers are also going big on plant-based credentials. Tesco recently added own-label dairy-free spreads made with on-trend avocado and coconut oil to its range, while Dairy Crest is ramping up investment in dairy-free spread Vitalite.

"It's an area we have identified as having the potential for having long-term and exciting growth potential," says Dairy Crest's Stewart. "In Vitalite we already had a brand in our portfolio that was dairy-free and plant-based, but it wasn't really noticeable on pack, so we've revamped the packaging and reformulated it, and the next stage for us is to communicate these changes in the ad that dairy-free, plant-based spreads can be upbeat and positive and don't have to compromise on taste."

Dairy companies touting the advantages of dairy-free spreads? It's a counterintuitive proposition, but if it allows BSM brands to talk to consumers in a way that resonates, it may just be what the category needs to return to value growth.
Tesco Avocado Spread

Launched: May 2016 
Manufacturer: Kerry Foods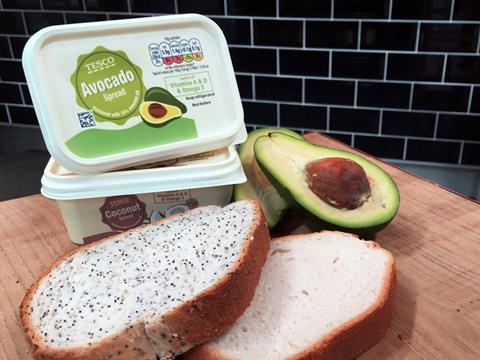 Tesco claimed a UK-first last month with the launch of a dairy-free avocado spread under its own-label range designed to capitalise on the fruit's booming popularity. The spread contains 24% avocado oil and is a source of vitamins A and D and omega-3, and has been pitched as an alternative to butter and margarine. It went on sale in 400 Tesco stores nationwide, alongside a sister spread made with coconut oil (rsp: £1.20/250g).

Lurpak Spreadable Infusions

Launched: May 2016

Manufacturer: Arla Foods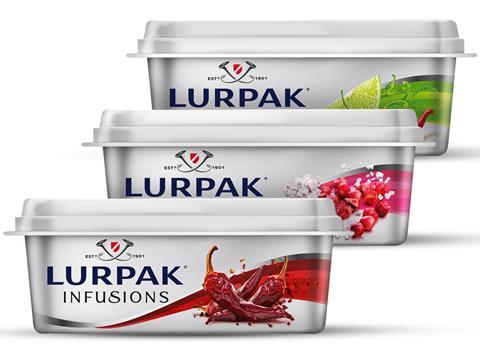 Lurpak took another stab at innovative butter (after the delisting of its Cook's Range last year) with the launch of a range of spreads made from a blend of butter and rapeseed oil with added herbs and spices. The range began rolling out last month in Chilli & Lime, Smoked Chipotle, and Sea Salt & Pink Peppercorn flavours (rsp: £1.25/115g).

Flora Freedom

Launched: January 2016

Manufacturer: Unilever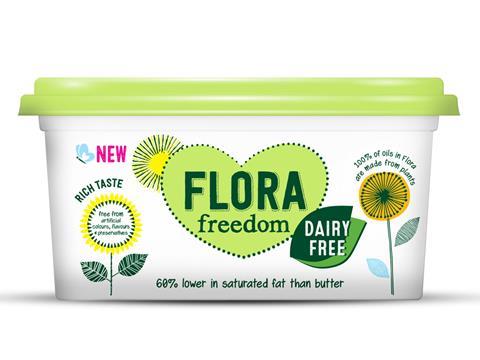 Unilever unveiled its first-ever dairy-free spread under the Flora brand as part of a £12.5m revamp of the Flora portfolio to tap demand for free-from products and a growing interest in plant-based eating (rsp: £1.70/500g). The spread is made from vegetable fat containing rapeseed and palm oil and uses only natural colour and flavourings.

Improper Butter

Launched: October 2015

Manufacturer: Improper Foods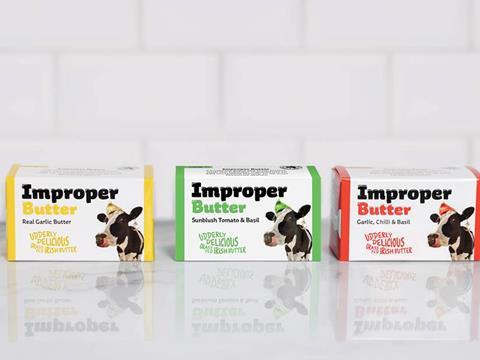 The Irish brand, which combines grass-fed Irish butter and fresh herbs, launched in the UK in John Lewis food halls last autumn in Real Garlic and Garlic, Chilli and Basil flavours (rsp: £1.89/100g). Designed to melt over meat, fish, potatoes, vegetables and bread, the product has picked up multiple awards in Ireland.