Jonathan Warburton is no Muppet. Sure, he's been hanging out with Kermit and the gang to advertise those huge crumpets of his, but his is the only big bread brand to have achieved volume growth in the past year.
That's no mean feat, given that Warburtons' loaves carry an 18.2% premium over the market average [IRI 52 w/e 27 February 2016] and are significantly pricier than rivals Kingsmill and Hovis, which have seen sales plummet, haemorrhaging nearly £60m each.

They're the hardest hit in a bread category that's had £138.3m sliced off it in the past year alone [Kantar Worldpanel 52 w/e 31 January 2016]. So what can be learnt from Warbies? And who else is managing to buck the downturn in the bread market, and how?

Wrapped bread's decline is gathering pace. A year ago, we reported it had lost 5.4% of its value; it's now down a further 8.9%, bringing sector value beneath the £1.5bn mark. The average price of a loaf has sunk to a new low in the past year, with the 75p price point on standard 800g lines now commonplace.

Warburtons, second in our Britain's 100 Biggest Brands ranking (19 March) and one of only four worth more than £500m [Nielsen 52 w/e 2 January], isn't immune. It's lost £22m in bread and its baked goods are struggling, bar strong growth in crumpets. Still, this looks like a star turn next to its peers' losses.

"The pressures facing the category, and therefore our business, aren't dissimilar to those facing the food industry as a whole," says Warburtons portfolio lead Emma Billinge. "However, in spite of these challenges, we're continuing to perform well."

While Jonathan was starring alongside Sly Stallone and then the Muppets in Warburtons' ad campaigns, his rivals were going through the mill. Hovis has plunged by 17.8%, a loss of £59.8m, while Allied Bakery's Kingsmill waved goodbye to just a little more (£59.9m), an 18.6% loss [IRI]. Nielsen's figures reveal that the two brands suffered the greatest losses of any in grocery last year.

There are a number of factors at play here. Bread is falling from favour as growing numbers of Brits dodge carbs on health grounds. What's more, in the past few years more have been opting to pick up food on the go, rather than packing lunch in the morning. Fewer sarnies, of course, mean fewer loaves sold; 50 million fewer have been sold in the supermarkets in the past year [IRI].
BREAD BESTSELLERS
IRI: 52w/e 27 February 2016
VALUE
VOLUME
AVERAGE PRICE
£m
y-o-y%
kgs (m)
y-o-y%
£/kg
y-o-y%
Warburtons
£541.8
-3.9
336.0
0.8
£1.61
-4.6%
Hovis
£276.4
-17.8
221.2
-8.3
£1.25
-10.4%
Kingsmill
£261.8
-18.6
212.4
-8.3
£1.23
-11.2%
Own Label
£146.4
-16.9
152.3
-10.2
£0.96
-7.4%
Roberts Bakery
£48.5
1.5
35.2
7.3
£1.38
-5.4%
Braces
£38.9
-8.6
25.6
-7.2
£1.52
-1.4%
Genius
£16.0
-6.4
3.2
-5.2
£5.05
-1.2%
Burgen
£14.1
0.9
9.4
9.0
£1.51
-7.5%
Jacksons
£11.1
95.6
6.0
80.4
£1.87
8.4%
Allinson
£7.7
-32.9
4.9
-29.3
£1.58
-5.1%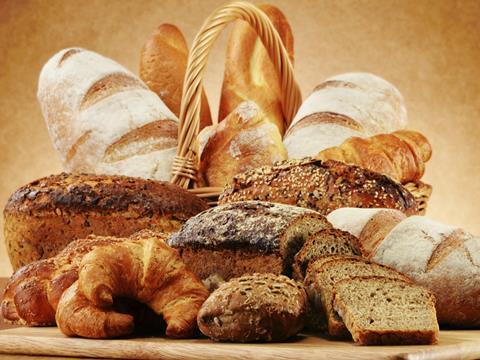 The fall in total bakery is largely down to the poor performance of wrapped bread and rolls, driven by lower prices and shoppers buying fewer packs per trip.
Price wars have seen wrapped bread prices drop to an average of just 90p, the result of everyday low prices and an increase in temporary price reductions.
The largest decline for wrapped consumption is at lunchtime as more shoppers opt for food to go. Shoppers are buying more often, averaging 92 trips this year; however, this is not enough to offset losses.
Own label is growing at 2.2%, ahead of branded where a much higher percentage of products is sold on promotion.
Sandwich alternatives and breakfast items are bucking the overall trend with notable growth from bagels, wraps, sandwich thins and pastries.
The free-from trend continues with growth of 20% from an influx of shoppers; 8% of UK households now buy.
Sainsbury's is the only the big four retailer in growth while Aldi and Lidl are in double-digit growth.
Kathryn Brown, Kantar Worldpanel
TAKE HOME SHARE
Breads and baked goods: 52w/e 31 January 2016
VALUE
VOLUME
£m
y-o-y%
packs (m)
y-o-y%
Wrapped Bread
1,414.9
-8.9
1,567.3
-1.0
Rolls
592.6
-3.2
983.6
-1.2
Breakfast
586.5
8.5
709.0
10.9
Sandwich Alternatives
372.3
6.5
378.0
7.6
Tea Break
359.1
2.5
376.7
0.9
Freshly Baked Bread
336.8
0.3
376.5
3.0
Meal Accompaniment Breads
195.5
5.4
227.2
3.6
Chilled Breads
194.9
5.3
187.5
1.8
TOTAL CATEGORY
4,052.6
-1.5
4,805.8
2.0
BRANDS VS OWN LABEL
Breads and baked goods: 52w/e 31 January 2016
VALUE
VOLUME
£m
y-o-y%
packs (m)
y-o-y%
Branded
1,914.3
-5.3
1,986.6
-0.5
Own label
2,138.3
2.2
2,819.1
3.9
BRANDED V OWN LABEL
Meat free: 52w/e 28 February 2016
VALUE
VOLUME
£m
y-o-y%
kgs (m)
y-o-y%
Branded
215.4
10.1
34.8
12.6
Own Label
53.4
-6.9
11.7
-6.5
RETAIL SHARE
Meat free: 52w/e 28 February 2016
TRADING
VALUE
retailers
Grocery
Category
Index
y-o-y%
Waitrose
4.9
7.1
145
20.2
Sainsbury's
14.5
20.1
139
7.6
Iceland
2.1
2.9
138
0.6
Asda
13.9
15.6
112
-0.1
Tesco
25.3
28.2
111
6.6
Morrisons
10.2
8.5
83
-2.5
The Co-Operative
5.1
4
78
27.8
Marks & Spencer
3.4
2
59
-14.3
Aldi
4.8
2.2
46
6.8
Lidl
3.7
1.1
30
3.9
Independents & Symbols
1.1
0.2
18
-29
Price and promotions
Value is falling even more steeply as prices are slashed ever deeper. The cost of wrapped bread has dropped to an average of just 90p per unit, down from 98p a year ago [Kantar]. Bagged loaves are still heavy weapons of choice for the multiples, where cheap prices are a permanent sight in the bakery aisle, and temporary price cuts are more frequent.

"The main grocery retailers are looking to offer less multibuy activity on fresh products in store - which includes bakery - in an attempt to reduce food waste and also simplify the offer," says Matt Lothian, head of category at New York Bakery Co. "This has resulted in lower promotional uplifts and lower sales. Some core categories used to regularly offer two-for-one deals, which worked well. Price promotions are not delivering the same uplifts and this, along with discounter price wars, is contributing to price deflation ."

Mike Roberts, deputy chairman of Roberts Bakery, agrees bakery is "definitely seeing fewer multibuy deals across the market and more focus on everyday low prices". His bagged loaves have seen their average price fall 5.4%, helping to drive volume sales up 7.3%. Meanwhile, Roberts has managed to grow value, which inched up to £48.5m - the only top five bread brand in value growth.

Kingsmill, conversely, has suffered the steepest fall in average price - of 11.2% - making it the cheapest bread brand in IRI's top 10. The brand was hit hard when Tesco pulled its loaves from its shelves last March, before relisting some lines at the rock bottom price of 75p a loaf in July. Further relistings followed later in the year.

Market experts see Tesco's delisting of Kingsmill as a bold move. It made clear no brand is safe in this age of range rationalisation; if it doesn't justify its shelf space allocation, it will lose it.
Brands square up in crumpet showdown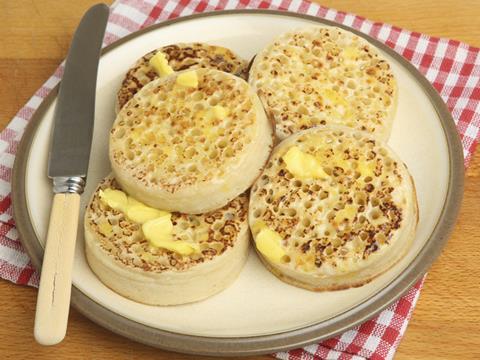 The October launch of Warbies' Giant Crumpets, backed by ads starring the Muppets, has paid off. Its overall crumpet sales are up 13.3% to £63.3m, making up for steep declines in fruit loaves and English muffins.
It's also cost Kingsmill dear. The brand has seen 26.3% wiped off its crumpet sales in the past year, with value standing at £8.9m, but its English muffins have risen 1.5% to £5.2m.
Soreen, meanwhile, has gone after on-the-go with the launch of squidgy cake minis and breakfast bakes, primarily sold in multipacks. Although it's sold 1.3 million fewer packs overall, Soreen has shifted 5.2m more loaves.
BAKED GOODS BESTSELLERS
IRI: 52w/e 27 February 2016
VALUE
VOLUME
£m
y-o-y%
kgs (m)
y-o-y%
Own Label
£570.8
-2.0
3,076.6
-0.1
Warburtons
£194.3
-10.9
1,255.8
-10.5
Kingsmill
£64.4
8.9
511.4
6.7
New York Bakery
£59.9
-3.7
219.4
-2.5
Soreen
£33.1
0.1
49.8
11.1
Mission
£31.9
-4.6
194.2
-5.6
Brioche Pasquier
£24.2
17.7
130.6
20.7
Haywood & Padgett
£11.0
33.6
100.5
20.9
Sharwoods
£10.0
-7.3
17.8
-7.3
Merchandising
But there is another, longer-term issue in the big supermarkets that concerns bread makers: the quality of display and instore merchandising - or the lack thereof. Bakers are worried about stagnation; about the bakery aisle becoming increasingly staid as it starves for love, attention and new ideas.

"The bakery category has suffered from a lack of instore investment, creating a sense of factory and lacking any emotion that consumers hold for the category," says Zoe Taphouse, category director at Allied Bakeries. "The environment with which you present your category has a huge impact on a consumer's perception of the category's worth. Right now, it dials up a sense of factory or being processed. The category needs to move away from this. Our ambition is to transform the bakery environment, from just another category to a much-loved experience."

Taphouse isn't alone in suggesting retailers have a role to play in recovering category value. "Merchandising hasn't changed much in the last five years, and shoppers are not being inspired," says Lothian. "Packaging has a key role to play in making the category look more indulgent, but also the layout in store needs to be easier to shop. It is key for bakery to ensure that feature space is used to focus on new and innovative products."

Stephen Clifford, head of marketing at Country Choice, offers a view from the convenience stores' in-store bakeries that's different but also familiar: "The picture here is certainly not as gloomy as the one being painted by some. There has been a clear trend towards in-store bakery for many years now and 'bake-off' products make it operationally easy for even small convenience retailers to provide quality products at affordable prices. That said, the category does need to be properly managed in a similar way to a good dairy or fresh produce fixture. While it's a statement of the obvious, empty shelves don't generate cash."

But a fixture makeover on its own would be all fur coat and no knickers. A deeper underlying symptom of bread and bakery's suffering is shoppers' changing habits: their growing preference to eat on the go and their mounting concern over health and wellbeing.

On the go has hit the lunch occasion hard for everyone in bread as fewer consumers opt for the traditional sarnie, but, conversely, sandwich alternatives have bucked the general downward trend, grabbing a 9.2% share of the market and 6.5% growth in sales value [IRI] for bagels, wraps, sandwich thins and the like. They've contributed £68m to the category between them [Kantar]. It's a trend that will endure, says David Laurence, commercial director at Signature Flatbreads.

"We expect alternative sandwich carriers to continue to go from strength to strength in the coming 12 months," says Laurence, whose business has invested £10m into new bakery facilities to expand production and introduce new lines. "Folded flatbreads are a more recent addition to the market that we expect to continue to increase in popularity with customers as they become more available within the retail sector."
Seed Sensations Chia Bread

Launched: February 2016 
Manufacturer: Hovis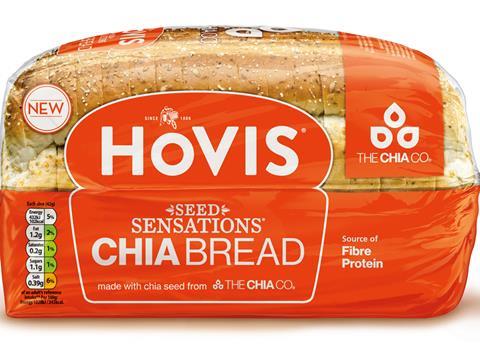 When it comes to the bits in our bread, there's nothing more fashionable than chia. The introduction of the superseeds - rich in omega-3 fatty acids - has been hailed by Hovis as a "natural extension and perfect fit" for the brand, as it looks to tap an "all-time high" in the popularity of chia. The seeds in this product (£1.45/750g) are sustainably farmed and supplied by The Chia Co, which was founded in Australia and claims to have introduced the UK to chia nearly three years ago.

Pesto & Red Pepper Wraps

Launching: June 2016

Manufacturer: Mission Deli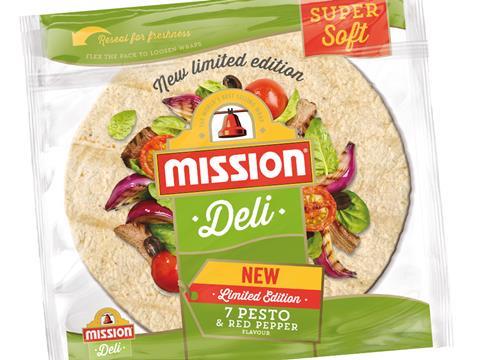 Mission Deli has a rolling range of limited-edition flavours, the latest of which is this one (rsp: £1.49/7 x 25cm wraps). It will be available for six months and follows last year's garlic & thyme and sundried tomato & basil, which at the peak of its sales exceeded the brand's established Mediterranean herb flavoured line.
Deli Kitchen Folded Flatbreads

Launched: May 2016

Manufacturer: Signature Flatbreads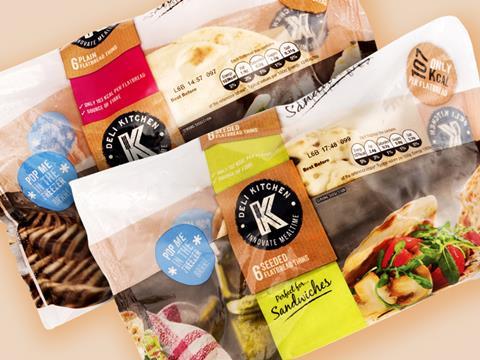 A favourite at street food markets, folded flatbreads are soft and flexible. These ones are being launched with summer barbecues in mind, pitched as an alternative to traditional burger rolls and hotdog buns. Plus, they can be torn into pieces for dipping, and come in both plain and seeded variants (£1.25/pack of six).

Seeded Brown Farmhouse Loaf

Launching: March 2016

Manufacturer: Genius Gluten Free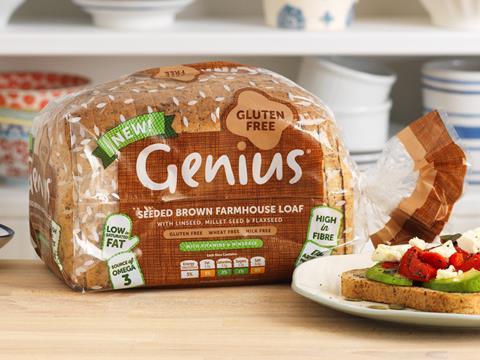 This bagged loaf (rsp: £3) is stuffed with linseed, millet seed and golden flaxseed, but it is totally lacking gluten. It also promises to be high in fibre, and is an extension of a range created by brand founder Lucinda Bruce-Gardyne after failing to find good quality gluten-free and wheat-free bread suitable for her gluten-intolerant son.
Sandwich alternatives
Roberts says sandwich thins are "the most dynamic sector within sandwich alternatives". February saw the launch of Roberts Bakery Brown Thins into a market that includes Warburtons Thin Bagels, which the brand says has sold more than 6.7 million units since launch in April 2015, and the thins and flatbreads Hovis launched last autumn.

Hovis came late to the bread alternatives party but claims its flatbreads range has the USP of being fortified with fibre, omega-3, wheatgerm and 14 'essential vitamins and minerals', just like the wrapped loaves it rolled out in September, ahead of Seed Sensations Chia Bread (see right). Bread with bits is what's hip, says Hovis.

"Products like chia seeds are at an all-time high, with 41% consumers saying they are more likely to buy bread with seeds like chia in it [Mintel Bread & Baked Goods Report, October 2015]," says category controller Simon Hancock. "Within the 'bread with bits' category, the consumer needs for purchasing have been primarily based around 'great taste' and 'health', and the new launches firmly deliver on these."

It's clear innovation is required to satisfy consumers who care more than ever about the things they put in their bodies. "Health was a major consideration for customers in 2015," says Laurence, while Roberts notes the "increasing amount of coverage on balanced eating and the role carbs play in providing energy and fibre".

Lothian, meanwhile, describes health as one of the "key macro trends in UK bakery". He adds: "Bakery has struggled on a health platform as consumers look to reduce carbohydrate consumption, and core bread purchasing has suffered over the long term. There need to be positive and credible health claims around products, but there are already positive signs suggesting more and more consumers understand slow-release carbs are good for a high energy lifestyle. Lower prices have not been able to win consumers back."

Free-from bakery, meanwhile, is continuing its rise, with growth of 20% coming from an influx of shoppers; 8% of UK households now buy free from, up from 6.8% last year [Kantar]. Genius Gluten Free holds 30.9% value share of the free-from bakery category in Britain [IRI].
Warburtons dwarfs other advertisers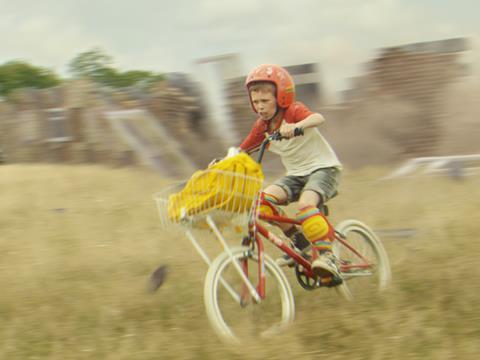 Warburtons nearly doubled its ad spend from the previous year. Almost all (90.3%) was on TV air time for the two blockbusters starring Sly Stallone and then The Muppets. A £9.5m investment was £2.3m larger than the next nine advertisers' put together.
Hovis massively ramped up its spend by 143.81% and invested £1.7m in bringing back its 'boy on a bike' during the autumn, in the brand's first small screen push for three years. But the brand still saw £59.8m wiped off its value sales.
The star power of the Big Apple's skyline in the TV ad A Taste of New York hasn't been enough to prevent New York Bakery Co losing £2.3m of sales.
TOP 10 BREAD AND BAKED GOODS ADVERTISERS
Ebiquity: 1st February 2015 - 31st January 2016
Media
TOTAL
Cinema
Outdoor
Press
Radio
TV
Brands
Spend (£)
y-o-y%
%
%
%
%
%
Warburtons
£9.5
90.53%
0.00%
9.30%
0.40%
0.00%
90.30%
New York Bakery Co.
£2.8
40.88%
0.00%
4.30%
8.90%
0.00%
86.70%
Hovis
£2.5
143.81%
0.00%
0.00%
12.20%
20.20%
67.60%
Kingsmill
£0.8
-72.82%
0.00%
0.00%
9.10%
0.00%
90.90%
Mission Deli
£0.4
-16.10%
0.00%
0.00%
100.00%
0.00%
0.00%
Roberts Bakery
£0.3
1008.19%
0.00%
3.70%
1.40%
9.50%
85.40%
Brennans
£0.1
-6.43%
0.00%
0.00%
0.00%
0.00%
100.00%
Sunblest
£0.1
333.31%
0.00%
0.00%
0.00%
0.00%
100.00%
Sheldon's
£0.1
-
0.00%
0.00%
0.00%
0.00%
100.00%
Ormo
£0.1
-
0.00%
0.00%
0.00%
0.00%
100.00%
TOTAL
£16.6
42.70%
0.00%
6.10%
6.40%
3.20%
84.30%
Free-from
"Many consumers have re-evaluated their bread consumption due to health concerns," says Genius commercial director Dave Shaw. "Our next-generation recipe change was aimed at improving both the taste and nutritional profile of our bread, to meet demand for healthier products from all our customers, whether suffering from gluten intolerance or coeliac disease, or moving to a gluten-free diet as part of a positive lifestyle choice."

Gluten-free isn't confined to bread. It has extended to breakfast, where the likes of Flower & White have introduced muffins and other free-from products. The breakfast occasion is still ripe for investment, say bakers about a category where branded products have seen an 11.2% surge in sales to £209.4m on volumes up 13.3% to 247.9 million packs [Kantar Worldpanel 52 w/e 31 January 2016]. Own label's performance in free from is equally impressive: value is up 7% to £377m with volume at 461.2 million packs, up 9.6%

"We continually watch for trends emerging in the UK and globally. Concept, flavour and nutritional demands are all of particular importance. Being innovative, agile and challenging can deliver great gains," says Leanne Crowther, co-founder of Flower & White.

Most bakery purchases are made before 9am, meaning it is essential for retailers to capitalise on this with a solid range of best-selling products, according to Warburtons' Billinge. "In spite of the pressures felt across the board, total breakfast is in growth within wrapped bakery," she says.

There's room for more growth, adds Lantmännen Unibake UK marketing manager Rachel Shoosmith. "Effective point of sale material is a great way to communicate these messages to consumers," she says. "Defending and re-building the association of morning goods as the first choice for a more enjoyable breakfast is an opportunity. Breakfast represents 77% of croissant consumption, but croissants only feature in 4% of in-store bakery breakfast occasions."

There's room for NPD, then. "The breakfast occasion is an area where innovation is really taking off," says Marie Davies, head of marketing at Mission Foods.

Doughnuts are the key, according to Brioche Pasquier's UK marketing manager Neil Lunn. They have become a "real trend over the past couple of years and there is a big gap for a convenient, long-shelf life option", he says. His brand recently launched Doh to Go, a filled brioche doughnut with a long shelf life without the use of preservatives.

While he is upbeat about his brekkie, Lunn foresees more pain for the bakery category as a whole - and only good ideas will provide relief. "It is likely that prices will continue to fall over the next 12 months. Both supplier and retailer margins will be squeezed and it may force some smaller suppliers out of business.

Innovation and NPD are the most important things for a brand to survive at the moment," he says. "Retailers will put pressure on brands to heavily discount their products to make up for shortfalls in volume. However, if brands can create attractive, less price-elastic products, they will build brand power to make retailer negotiations easier."
Flower & White Muffins

Launched: April 2016 
Manufacturer: Flower & White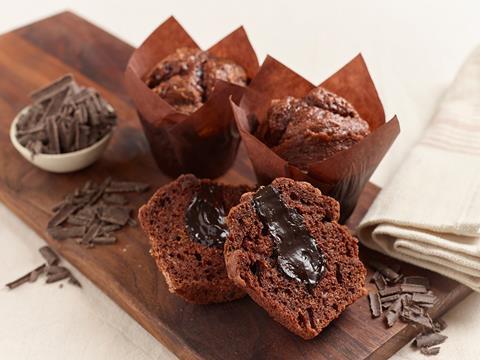 The sweet bakery category is on the up as shoppers look for 'permissible treats'. This trio of 'muffins with stuff in' from Shropshire's gourmet dessert brand Flower & White are particularly permissible because they're gluten free. The range is available in white chocolate & raspberry, salted caramel and triple chocolate. Each individually wrapped 110g variant (rsp: £1.95) has a gooey filling and is made with British free-range eggs and natural flavourings.

The Ultimate Brioche Rolls

Launching: May 2016

Manufacturer: Roberts Bakery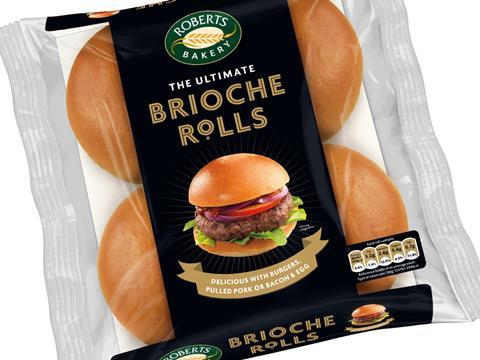 The ambition behind this four-pack (rsp: £1.49) - the result of three years' R&D - is to "feed the nation's increasing hunger for gourmet burgers while capitalising on the trend for sweet and savoury flavour combinations". Pitched as an aspirational product, it is made with butter and free-range eggs from the UK.

Plain Bagels

Launched: March 2016

Manufacturer: Genius Gluten Free
This expansion of the free-from bakery leader's portfolio marks the brand's first foray into 'rolls with holes'. The bagged bagels (rsp: £2/pack of four) - which were launched at the same time as the brand's Seeded Brown Farmhouse Loaf, in a small flurry of bagged NPD - are also available in a cinnamon & raisin variant.

Strawberry & Cream Muffin

Launching: June 2016

Manufacturer: Aryzta Food Solutions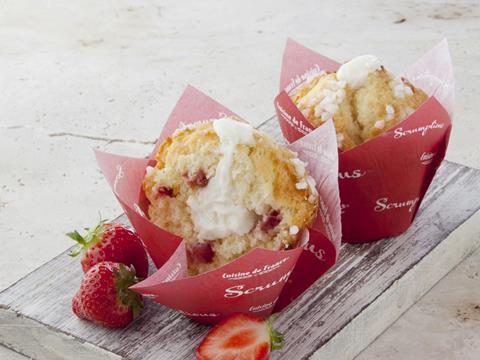 Strawberries and cream is a very British dish and the inspiration for a burgeoning flavour variant. This limited-edition product under the Cuisine de France brand is a strawberry-flavoured muffin with white chocolate chunks, real pieces of strawberry and a creamy vanilla frosting (rsp: £1.09 per muffin).
Speciality bakery
Speciality products will be key to future success, believes David Walmsley, general manager of Genesis Crafty. "I think the category will continue to evolve, with more growth coming from the niche elements that offer genuine differentiation, while the core bread market continues to decline," he says.

"That's not to say that time is up for the standard loaf, far from it, but the consumer has woken to the prospect of a greater variety of flavours and artisanal breads. Special loaves can become the centre of the meal again, shared around the table while the traditional loaf remains in the bread bin. This is good news for the category as the growth of premium artisanal products offers a counter-balance to the deflation of the staple loaf."

Billinge agrees that innovation will be crucial to value growth.

"While we can't predict what the future holds for the market, we can look at what role Warburtons can play as the market leader in bakery and how best to respond to the current challenges," she says. "This includes a continued focus on bringing new thinking to the category."

As Kermit might say, this means bringing NPD that's sensational, inspirational, celebrational - and even Muppetational - to the table. In short, bread brands need to use their loaves.