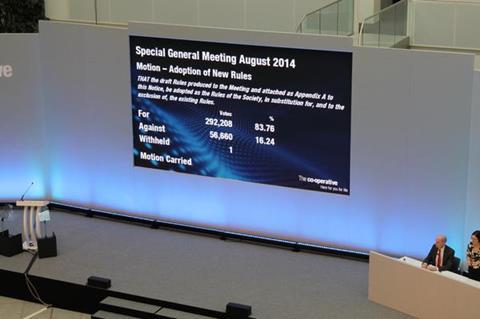 Elected members of The Co-operative Group have voted through proposals to radically reform the society's corporate governance.
At a special general meeting held this morning at The Co-op Group's Angel Square HQ in central Manchester, 83% of members voted in favour of a resolution on the adoption of a new rule book for the society.
Their approval paves the way for 'one member one vote' for the society's millions of members, as well as a new-look board largely made up of independent non-executive directors, as well as two executive directors and three member-elected directors.
The backing comes despite concerns in the lead up to today's meeting that the vote would not be passed following resistance to drastically cutting the number of member-elected directors on the group board from the current 14 to just three.
Chair Ursula Lidbetter described the vote as "a momentous and defining moment for The Co-operative Group."
"I am delighted that our members have voted in favour of this much-needed radical reform to our governance structure," Lidbetter said.
"These reforms represent the final crucial step in delivering the change necessary to return the Group to health. This will strengthen the society and enable us to move forward with the urgent work to rebuild the business and deliver on our renewed purpose, in the interests of all our colleagues and our millions of members and customers.
"In voting for real change we have demonstrated our co-operative values of self-help and self-responsibility. The rest of the board, the executive team and I would like to thank all those involved in working on these reforms, developed through a unique co-operative approach.
"We now have to bring to life the new structure. But I am confident that with every member now having a voice, the society will grow ever-stronger and more effective and make a distinctive contribution to communities throughout the UK and the wider co-operative movement," she added.