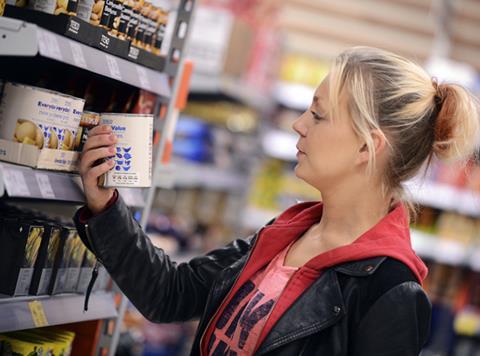 The raft of January price cuts across the supermarkets helped food sales record their best performance for a year, according to the BRC-KPMG retail sales monitor.
With total grocery sales now rising for two consecutive months, the industry has reached its best performance since February 2014, with a three-month average of 0.2% growth.
This is "an encouraging sign from the battlefield" said KPMG head of retail David McCorquodale.
"With consumers benefitting from lower fuel and petrol prices, retailers are fighting for their share of these savings."
Once adjusted for food deflation as measured by the BRC-Nielsen Shop Price Index, food sales hit growth levels for the first time since September 2013, at 0.4%.
Like-for-like sales also showed improvement, with the three month average slowing to a 1.8% decline, down from -2.2% in the previous three months.
Increasing shopper confidence is also helping food sales recover, said IGD food and drink sector performance chief executive Joanna Denney-Finch.
Over a fifth of shoppers expect to be better off in 2015, according to IGD ShopperVista research- the highest amount since IGD began tracking this in September 2010.
"Shopper confidence is being boosted by lower fuel and grocery prices. A record 23% expect food prices to fall further this year and interest in quality is building, with a quarter of people now prioritising this when shopping for food and drink," Denney-Finch said.
The uptick in food sales was partly attributed to a January consumer focus on healthy eating, with offers on fruit and vegetables leading to increased year on year sales during every week in January.
The latest results also show the gap is now narrowing between food and non-food sales, with the three month average for non-food growth now standing at 2.7%. Overall retail sales were up 1.6%, above the 1.4% 12 month average.
Overall UK retail sales increased by 0.2%, on a like-for-like basis from January 2014, when they had increased 3.9% on the preceding year.
"Looking into the numbers a little more closely gives us even more cause for optimism - last year retailers had a bumper January so to see growth against such a tough comparison shows the industry to be in rude health," said BRC director general Helen Dickinson.
"Customers were offered attractive bargains on winter ranges but it remains to be seen at what cost to the retailers' margins.
"Shoppers were in the mood to buy products aimed at helping them lead a healthier lifestyle - from fruit and veg to exercise equipment, all these kinds of products have been selling strongly. Given the time of year this is no surprise and retailers have capitalised by making sure they have the right stock, at the right price to help consumers achieve their New Year goals."