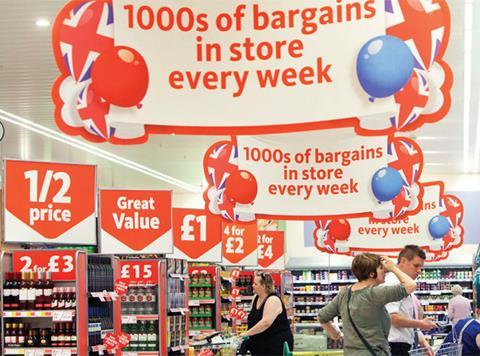 Retail leaders have furiously denied the latest claims from Which? of so-called supermarket "dodgy deals".
Having launched a "super-complaint" to the Competition and Markets Authority (CMA) last month, Which? revealed today what it described as "further evidence of dodgy special offers" claiming some broke government guidelines.
"We've found pricing practices which we believe are potentially flouting government guidelines," said Which?
"For example, continuing offers where products are on offer longer than they were sold at the higher price. This makes it look like you're getting a discount, when actually the lower 'discount' price is probably a more accurate reflection of the value of the product.
It cited an example of Pepsi Max (2 litres) sold at £1.98 in Morrisons for 28 days but then on a £1 'was £1.98' offer for 63 days.
It also said Asda increased the price of Robinsons Orange Fruit Squash (1 litre) from £1 to as much as £1.59 while on '2 for £2.50', "creating the illusion of a saving but actually costing shoppers 50p more when buying it on offer."
Which? also attacked cases of "shrinking products".
"We found more evidence of shrinking products which are a sneaky way of increasing prices. For example, a box of 100 Twinings Assam tea bags was £4.40 in Tesco but when the pack shrunk to 80, the price increased costing £4.49.
"In Sainsbury's the price of the tea bags remained the same (£4.50) despite the loss of 20 tea bags."
"Retailers are continuing to pull the wool over shoppers' eyes with dodgy discounts that just don't stack up," added Which? executive director, Richard Lloyd.
A spokeswoman for the BRC said retailers were committed to treating customers fairly and accused Which? of missing the point.
"The examples set out are very specific in nature and are not in any way indicative of broader systemic problems across the retail industry.
"In some cases they are examples of companies seeking to keep prices down for customers. At the same time, with thousands of products and special offers in store every day, errors may from time-to-time occur, however these are rare in nature and are resolved quickly by the retailer concerned.
"Millions of shoppers across the country enjoy the benefits of price promotions and special offers," she added. "Recent research has shown that, with the exception of fruit and vegetables, food prices in British supermarkets are on average 7% lower than the Eurozone average.
"In addition, major supermarkets have worked with government and public bodies to make pricing clearer and simpler for customers, such as improving the way that unit price is displayed," she added.