Resurgent Tesco is Christmas victor
On the surface, 2017 was a good Christmas for food retail. Nielsen data shows this was the best Christmas for at least six years, with sales up 3.5% over the Golden Quarter. There were no real losers in absolute terms, with all major retailers likely to have met their sales budgets. On a relative basis, though, there are clear winners and losers.

We should focus on two-year growth. It's sometimes said that the only growth that counts is 13-month growth. In other words, one-year growth is relatively easy, particularly against negative comps, and growth on growth is what really counts.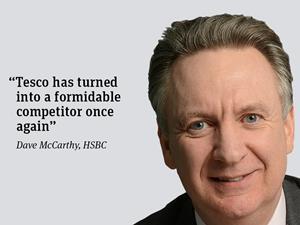 On a two-year view, Tesco is the clear winner and in cash terms looks to have outgrown Sainsbury's by 10:1 and Morrisons by about 6:1 (for suppliers it is cash/volume growth that counts). Tesco has turned into a formidable competitor once again. It is improving its offer with investments in price, quality and service, but it is perhaps Tesco's scale that makes it such a worry for the competition (and a good partner for suppliers).

When Tesco was at its peak, it shared the benefits of scale with customers. But when it started to struggle abroad, the benefits were used to prop up a failing P&L. Now Tesco is again sharing the benefits of its scale, growth and efficiency gains with customers once again. So it was no surprise Tesco had a good Christmas in food. It built momentum going into Christmas and held on to it. But food retailing is a relatively inelastic market a And growth by Tesco means losers elsewhere.

And things are set to get even worse for the competition. This quarter should see the merger between Tesco and Booker complete, to the benefit of both companies, their shareholders and their employees in our view. The merger will be bad news for the competition as b. Both will become stronger, have more resources (synergies and management), and both focus on long-term customer satisfaction.

But as well as Tesco has done, the discounters were the real winners, as they march on relentlessly, opening new space. At the same time, growth has become harder to come by for the discounters and it is less profitable than previously as the big four fight back. The discounters will not give up the fight easily, and neither will Tesco.

The discounters and Tesco can grow simultaneously - they only have a combined 40% market share. There is still 60% to compete for and someone out there looks set to lose.

Dave McCarthy is head of the consumer retail team for Europe at HSBC Global Research