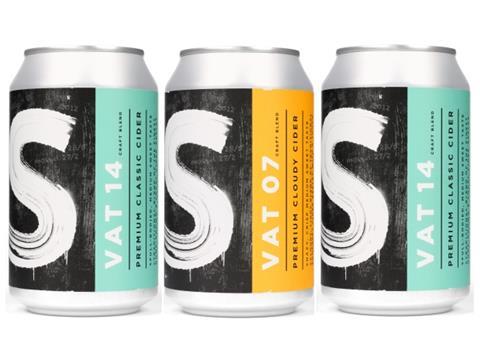 Somerset cidermaker Sheppy's has launched 330ml cans of its VAT craft ciders into Tesco.
VAT 14 Classic Cider and VAT 07 Cloudy Cider have hit the retailer's shelves priced at £1.50, with the brand's master of cider David Sheppy heralding the listings as "an exciting step" for the brand, whose bottled products already are sold in Tesco across the South West. This marks the first nationwide listing for the brand.
The news follows a "strategic rebrand" for Sheppy's last year, which saw it unveil a fresh look across its portfolio designed to play up its premium credentials.
Cider drinkers were "becoming more sophisticated in their tastes", said Tesco cider buyer Rosie Goodson. "With that in mind, we wanted to expand our range in this area. It made perfect sense to work with a long-established craft producer like Sheppy's, which already has a strong track record with us in the South West."