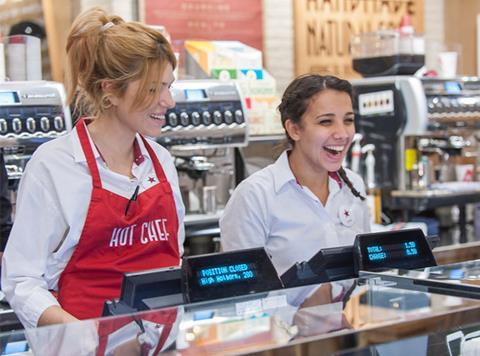 Top story
The British Retail Consortium (BRC) has published its retail employment monitor for the first quarter in which it said structural change in terms of higher business rates and employment costs continued to transform retail employment.
Total hours fell 3.2%, while the total number employed dipped 2.5%. The majority, but not all, retailers reported a reduction in both hours and employment.
Growth in store sales during the first quarter fell 3% and store numbers declined 2.3%.
Three quarters of respondents to the BRC's survey reported intentions to keep staffing levels the same, 12.5% said they would be increasing staff levels, and 12.5% planned to reduce staff levels compared with 14% cent a year ago.
Helen Dickinson, BRC chief executive, said: "Our latest employment figures show how the retail industry is going through a continued period of significant transition.
"The expected further rises in business rates and employment costs are contributing to the pressure on retailers to close stores and reduce job numbers further."
The future for retail, despite these things, was positive, she said.
"Retailers are investing in technology and innovation which are transforming the retail experience for customers, and the industry has a vision for better retail jobs in the future that will improve productivity and provide quality employment opportunities for people across the UK."
Policy makers could play their part by reforming the current business rates system, which placed a disproportionate burden on retailers, who paid 25% of the total rates bill despite making up a much smaller proportion of the economy, Dickinson said.
Morning update
Park (PKG), the UK's leading multi-retailer, multi-channel gift voucher and pre-paid gift card provider, announced an update on trading for its financial year ended 31 March 2018.
The board expected to report continued growth with results ahead of last year but marginally below market expectations.
This was predominantly because of the later-than-expected roll out of a significant contract with a client in its Corporate business. Costs associated with the recent changes in senior management had also affected the results.
Momentum in the consumer business in the first half translated into a strong performance in the second half, with Park recording another successful Christmas period. Completed orders for the Consumer business were almost 4% ahead of last year.
The overall financial position of the group remains solid, with cash balances and order books again ahead of their positions at the same time last year.
On the markets this morning, the FTSE 100 fell 0.2% to 7,367pts in early trading
Early risers include Britvic (BVIC), up 1.1% at 718p, Whitbread (WTB), up 0.9% at 4,213p, Associated British Foods (ABF), up 0.4% at 2.645p, Greene King (GNK), up 0.5% at 539p, Imperial Brands (IMB), up 0.6% at 2,486p and Ocado Group (OCDO), up 0.5% at 507p.
Fallers so far today include Dairy Crest Group, down 0.9% at 536.5p, M&S (MKS), off 0.3% at 282.8p, GlaxoSmithKline (GSK), down 0.4% at 1,406.4p, and Reckitt Benckiser Group (RB), down 0.2% at 5,486p.
Yesterday in the City
The FTSE 100 closed down 0.6% at 7,379.3p.
GlaxoSmithKline (GSK) posted first-quarter sales down 2% in sterling terms – up 4% with the effect of currency movements stripped out – to £7.2bn.
Pharmaceutical sales climbed 2% with currency movements stripped out (down 4% without) to £4bn and consumer healthcare, up 2% (-3%).
Agreement was reached with Novartis during the period to acquire full ownership of the consumer healthcare business for $13bn (£9.3bn), subject to shareholder approval.
Total operating profit fell 15% to £1.2bn with currency movements stripped out, or down 28%, and adjusted operating profit climbed 9% with currency movements stripped out – down 3% without – to £1.9bn.
Emma Walmsley, chief executive, said: "GSK has continued to make good progress in the first quarter with sales growth on a CER basis across all three businesses."
Dr Pepper Snapple Group (NYSE: DPS) posted first-quarter net income down from $177m to $159m on net sales up from $1.5bn to $1.6bn.
Stock market fallers included C&C Group (CCR), down 2.8% at €3.2, Coca-Cola HBC (CCH), down 1.2% at 2,442p, Devro (DVO), off 1.4% at 215.5p, following the morning's trading update, Fevertree Drinks (FEVR) dipped 4.6% to 2,695p, Just Eat (JE) fell 2.3% to 734.4p and Ocado Group (OCDO), 2.7% to 504.4p.
Stocks on the up included Nichols (NICL), up 3.2% at 1,515p, following an upbeat AGM, McBride (MCB), up 3.6% to 154.4p, Imperial Brands (IMB), up 3.5% at 2,472p and Crawshaw Group (CRAW), surged 11% to 5.05p, despite reporting the deepening pre-tax losses. British American Tobacco (BATS) climbed 2.8% to 3,850p after the company's AGM.