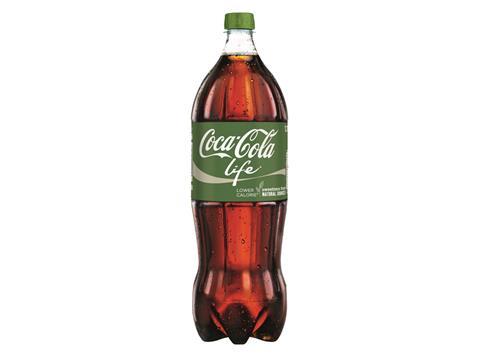 Coca-Cola Life – a lower-sugar version of Britain's biggest fmcg brand – is being launched in the UK this September.
The drink, which carries green branding, is sweetened with a blend of sugar and stevia, and contains a third less sugar and a third fewer calories than regular Coke. A 330ml can of Coca-Cola Life weighs in at 89 calories, compared with 139 calories in a can of 'red' Coca-Cola, and just one calorie in 330ml of Diet Coke and Coke Zero.
This is the first time natural sweetener stevia – extracted from the stevia leaf – has been used in the core Coca-Cola range, although the supplier launched a reduced-calorie Sprite containing stevia last year.
Coca-Cola Life will be available to grocery, convenience and wholesale in a 330ml can, 500ml PET bottle, 1.75-litre PET bottle, and six and eight-can multipacks at the same rsps as the rest of the Coca-Cola range. The launch will be supported with in-store promotions, sampling and a marketing push including digital, outdoor and print.
Piloted in Argentina and Chile last year, the UK launch marks the European debut of Coca-Cola Life. Coca-Cola distributor Coca-Cola Enterprises (CCE) said Life was the first new Coca-Cola launched in Great Britain since the arrival of Coke Zero in 2006.
The launch comes as pressure mounts on many parts of the grocery industry – and particularly soft drinks – to help reduce UK sugar consumption, although the Department of Health this week said ministers would not be pushing ahead with plans for a 'sugar tax'.
Coca-Cola is a signatory to the government's Responsibility Deal and has committed to reducing the average calories per litre in its range of sparkling drinks by 5% by the end of 2014.
"The launch of Coca-Cola Life is an important part of our ongoing commitment to offer consumer choice for every occasion and meet changing lifestyle trends," said CCE VP for sales and marketing Nick Canney, adding Life would appeal to 35 to 55-year-olds looking for a lower-calorie cola with sweetness from natural sources.
"Coca-Cola Life will also help to drive incremental growth of the total soft drinks category, building upon our on-going strategy to bring new innovations to market," he said.
Coca-Cola Life will be produced at CCE factories in East Kilbride, Edmonton, Wakefield and Sidcup.