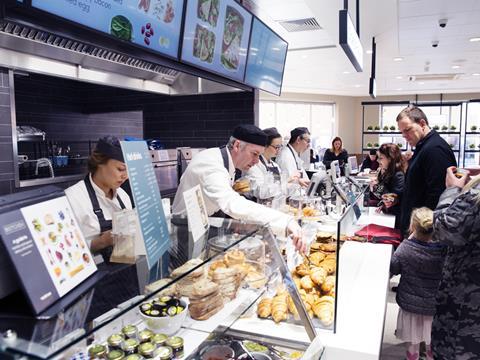 MD Rob Collins insists the Waitrose store renovation programme is working, despite like-for-like sales dropping for the second year in a row.

On Thursday, the John Lewis supermarket division reported a 0.2% fall in like-for-like sales in the 52 weeks to 28 January. And the initial five weeks of this year suggested trading was worsening, with a 1.4% fall in like-for-like sales.

But Collins warned against "reading too much into" the five-week results in the context of a late Easter and Mother's Day, and highlighted the "strong" Christmas and new year in which like for likes were up 2.8%.

He also stressed its three-year store renovation programme would step up a notch in 2017, with Waitrose ploughing 40% of profits into improving its existing stores as opposed to 25% last year as Collins focuses on improving its existing estate rather than opening new stores (he scaled back its expansion plans in September and announced the closure of six stores last month).

Existing stores could get full makeovers - like its Twyford branch, which was refurbished to include an open kitchen and new outdoor seating area - or simple upgrades to lighting, service counters and flooring.

"Our intent over the next three years is to invest in every single shop and we will do a range of improvements. The testimony is, whatever we do, customers always say this has made a real difference," he told The Grocer.

Collins said the open kitchen concept, which serves hot food for breakfast, lunch and dinner, had been "a success", having first launched in its Barbican store last year. Waitrose opened its third open kitchen in its Chandler's Ford branch, Hampshire, on Friday.

"We're still developing that offer and if you compare the Twyford branch with Barbican, the concept has moved on and I suspect in our Chandler's Ford branch it will move on again," Collins said.

Waitrose is also looking to increase the number of in-store Sushi Daily counters from 24 to 36.

Total sales increased by 2.7% to £6.6bn, bolstered by the opening of five supermarkets and five convenience stores, plus the launch of its premium Waitrose 1 range, in which sales of revamped products shot up 17.5%.

But pre-tax profits fell by 11.3% to £206m after exceptional items, including a £65m fall in pension accounting charges across the partnership, and the JLP staff bonus falling to 6% as it looked to preserve cash.