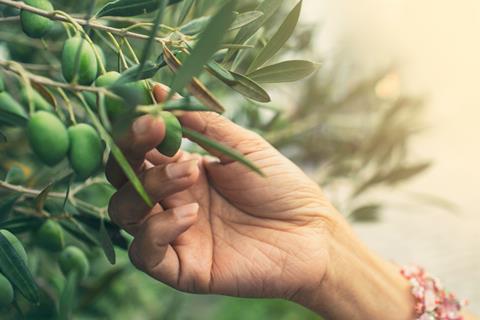 Global olive oil markets are set to face another blow after Syria warned of a "significant" slump in production.
The country's Ministry of Agriculture recently said the country was bracing for a stark downturn in production in the 2023/2024 season.
It projected that output would be 49,000 tonnes this year, in comparison to the 130,000 to 140,000 tonnes produced the year before.
The decline has been attributed to a combination of weather events and limited irrigation, with significant hot and dry periods over several months a key cause, according to Mintec analysts.
This is a similar scenario to what has taken place in countries like Spain, Italy, Greece and Portugal over the past year.
And while Syria is not a major olive oil exporter compared with the likes of the Mediterranean countries, experts still fear this could place added strain on global olive oil markets, which are already under extreme pressure.
"There are concerns that with fewer options for sourcing the product, market players may encounter challenges in securing olive oil supplies", said Mintec analyst Kyle Holland, leading to another wave of short-term increases in prices globally.
"This situation is compounded by the fact that high prices have not deterred consumers from purchasing olive oil," he added.
It also comes on the heels of the Turkish Ministry of Trade reportedly suspending olive oil exports until 1 November due to the global surge in olive oil prices seen in recent months.
Turkey supplies olive oil to Spain and Italy, often at cheaper prices, which means a decision to halt exports increases pressure on both countries' domestic market consumption, as well as their ability to export.
Most of the UK's olive oil comes from the two southern Mediterranean nations, which have faced unprecedented drought levels in 2023 that had a deep impact on this year's harvesting season.
Estimates point to an average of 1.3 million to 1.45 million tonnes of olive oil to be produced in the EU this year, significantly below the five year average of 2.1 million tonnes, according to the EU commission.
Spain alone produced just half of its normal quantity of oil in the most recent harvest, according to the International Olive Council.
The Grocer recently reported that the commodity's prices had more than doubled in a year – the price of extra virgin olive oil from Andalusia jumped up 114.1% from €3.83/kg to €8.20/kg in the 52 weeks to 16 August.