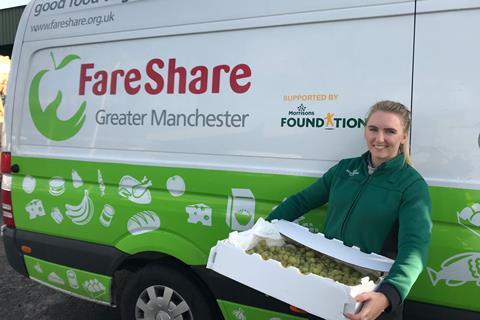 The food and drink industry helped redistribution charity FareShare double the amount of food provided for vulnerable families during the pandemic.
The charity's annual statistics, released today, confirm between April 2020 and March 2021, it redistributed more than 55,000 tonnes of food, the equivalent of nearly 132 million meals.
The report shows it supplied an average of more than 2.5 million meals to people struggling to get enough to eat in 2020/21, double the amount it redistributed in 2019/20.
However, charity bosses today repeated calls for the government to commit to future funding to help food redistribution, warning the crisis was far from over despite the gradual easing of restrictions.
The figures show more than 20,000 tonnes – equating to 37% of the food it redistributes – came from the charity's Surplus with Purpose scheme, which helps fund the cost of redistributing fresh food through FareShare.
FareShare is calling on the government and industry to roll out the scheme permanently across the UK.
"These figures show the scale of just how many people have been struggling to get enough to eat during the last year," said FareShare CEO Lindsay Boswell.
"Our warehouses, staff, volunteers and our network of charities have been working flat out to support the millions of people and families who are going hungry. But just because lockdown is easing doesn't mean people won't still be struggling. Our charities tell us need is still high, and our work continues."