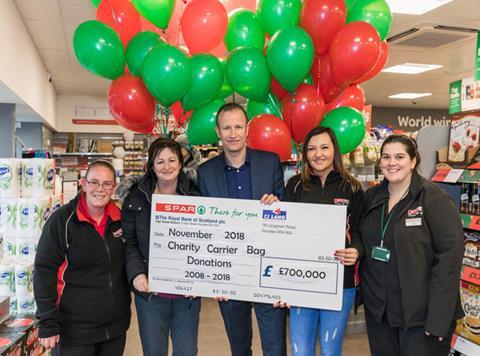 CJ Lang's 5p charge for single-use carrier bags has raised £120k for 65 charities selected locally by store staff in the past year - bringing the total raised since 2008 to £700k.

The Spar Scotland wholesaler, which celebrates its centenary this year, gave £100k to Marie Curie, Spar's chosen national charity over the 10-year period.

The remaining £600,000 went to the National Society for the Prevention of Cruelty to Children (NSPCC), Children 1st and local charities and organisations across Scotland.
"All of these funds have been raised through customer purchases of 5p carrier bags in store and we will continue raising funds this way to support local charities," said chief executive Colin McLean.

The mandatory charge for single-use carrier bags was introduced in Scotland in October 2014.

CJ Lang distributes to 300 Spar outlets across Scotland from its multi-temperature site in Dundee.