Krispy Kreme came under fire for donating sugary doughnuts and hospitals have had to turn away deliveries of food they can't store
Fever-Tree, Fyffes, Gü, Copella, Grenade, Britvic, Unilever, Holy Yolks, Mr Lee's Noodles and Brewgooder. Suppliers of all shapes and sizes have been donating food to the NHS since the coronavirus struck.

But it's not as straightforward as you might think. For an example of how quickly a good deed can go bad, take Krispy Kreme. When the Royal Free London hospital posted a picture of some doughnuts it had received, in an act of seeming generosity, a Twitter storm erupted. One doctor branded it "disgraceful" that "a root cause of increased death rates from Covid-19" could be considered a gift. Another retorted: "Please find a better way to support us or do nothing at all."

A PR disaster is only one of the potential pitfalls though - as JJ Foodservice discovered when it attempted to donate 1,500 vegetarian dishes to the cystic fibrosis ward in St James Hospital in Leeds, only to find the hospital could not accept it due to limited cold storage.

So what is the right way to donate food and drink? What are the protocols? How much red tape do you have to go through?

As JJ Foodservice now knows, suppliers cannot simply drop off food and drink at the doorstep of hospitals.

There are more than 200 NHS trusts in the UK and each has different requirements. The NHS Supply Chain website has an application form that tries to manage the donation process, but each hospital trust has a different policy, which should be checked.
Some only want certain items. Or set minimum quantities. For example, Cheltenham and Gloucester hospitals are only able to receive wrapped items in larger quantities of 250-plus. And due to the high proportion of drinks donations they have received, they are only accepting bottled water for the moment.

One thing is for sure: the NHS is grateful for the industry's efforts. Suzy Newman, business director of the food division of NHS Supply Chain, highlights just how vital it is to keep the workforce fed. "What we are seeing within NHS trusts and our supply chain is that Covid-19 is having a broad impact for manufacturers, distributors, SMEs and of course within the trusts themselves where they are dealing with unprecedented demand for goods and resources," she says. "The NHS staff caring for patients are working long hours so providing the right food to staff is important.

"It has been wonderful to see so many companies reach out wanting to help. We have had some fantastic support from our framework suppliers who have delivered free food and drink.

Indeed, the levels of support have been so overwhelming that NHS Supply Chain has had to quickly create a centralised team to co-ordinate donations, Newman reveals.
Food schemes
The challenges have inspired the launch of new organisations to get food where it is needed. SaluteTheNHS.org, an initiative founded in March by ex-McLaren CEO Ron Dennis and former Fresh Direct owner Nigel Harris, is using £1m of grant funding and £500,000 donated by Dennis' Dream Chasing foundation, accepts donations online and turns them into ready meals and food parcels for the NHS. It is already providing food to 11 hospitals.
Dennis is leading the effort from the front, having been inspired by his daughter, an NHS anaesthetist. Harris is equally passionate. "It really struck a chord and we were determined to help," he says.

Backed by NHS Charities Together, the organisation aims to provide one million nutritious meals to NHS staff in hospitals, as well as to sick frontline doctors' homes, over three months.

Tesco has agreed to contribute the ingredients for the meals, which could amount to 15 million products, and the scheme has already attracted 800 volunteers, who prepare the food parcels for delivery.

"What's incredible is everyone is doing this for free, giving up their time," adds Harris.

Unilever is another supplier backing the effort, with the provision of 500,000 free personal care products, while further donations have also come from a number of brands including Fever-Tree, Fyffes, Gü Puds, Copella, Grenade Bars and AM Fresh. Delivery is taken care of by Yodel.

A second scheme accepting donations is Help NHS Heroes, which runs pop-up shops in hospitals. The scheme was founded by entrepreneur Jason Mawer with the aim of ensuring NHS staff can access basic essentials. It launched at the start of April with two pop-up stores at Lister Hospital, Stevenage and Royal Berkshire, Reading, and Mawer plans 40 more across the country.

Mawer runs the non-profit initiative with the help of 1,500 volunteers. "Teamwork has always been my thing and to put together an initiative like this takes a group of people focused on the job in hand," he explains. The operation takes food direct from brands such as Meatless Farm Co and also sources supplies from Brakes.

Granted, this isn't free food. The scheme boxes up enough food for three meals a day for a family of four for two days, at a cost of £30. But Mawer stresses the motivation was to help workers like critical care nurse Dawn Bilbrough, who made headlines after issuing a tearful social media plea for shoppers to stop stockpiling in March. Brakes CEO Hugo Mahoney is in no doubt of the benefits of the stores to NHS staff. "I'm sure you can imagine the relief of an NHS worker who is tired after a long shift and can grab a take-home box instead of stopping off at a supermarket on the way home," he says.

It's the common aim that unites the industry's efforts - to make the lives of NHS staff easier by improving their access to essentials - and it makes it all the more important to have a strategy that gets the right things in the right place.

Just so long as they're not doughnuts.
Four operations supplying the NHS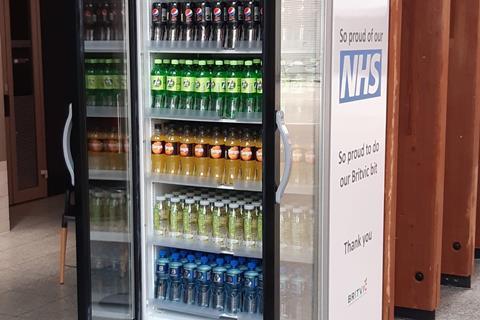 Britvic
The soft drinks giant's Beckton factory is less than two miles from London's NHS Nightingale, where it has supplied more than 38,000 drinks and installed 20 chillers for staff.
In total, more than 360,000 soft drinks have been distributed by the supplier to NHS hospitals and charities. It has also provided warehousing to store beds and put together food parcels for the NHS.
"In these extraordinary times we are more aware than ever of the courageous efforts of people working on the frontline," said Britvic MD Paul Graham.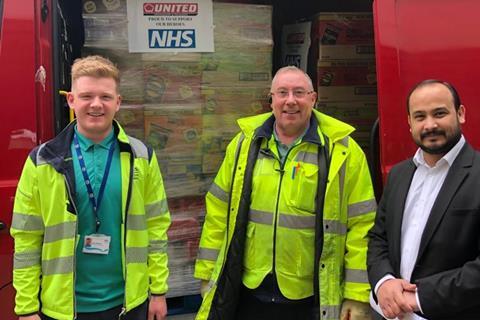 United Wholesale Grocers
The Scottish wholesaler's owner, Amaan Ramzan, along with retail director Tom Slaven and depot manager Kaleem Ullah, made a donation of 8,000 bottles of water, 4,000 bags of crisps and 3,000 cans of soft drink to the new rest and recreation hubs at three Glasgow hospitals: Royal Infirmary, Royal Alexandra Hospital and Queen Elizabeth Hospital.
Staff there said the donations were very welcome - and timely.
"We all want to play our part and let those on the frontline know we are behind them," said Slaven.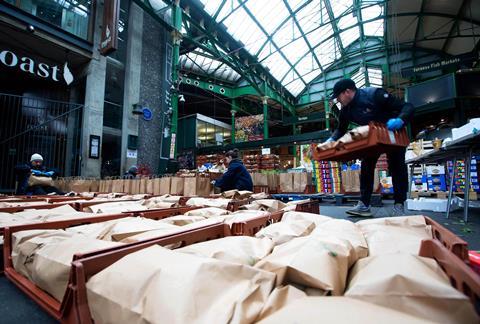 Borough Market
The well-known London market has launched #feedthefrontline, a national campaign to provide NHS workers with free fruit & vegetables.
Each week, 1,000 bags of fruit & veg, along with recipe cards, are distributed. Initially the scheme was set up to benefit three London hospitals: St Thomas', King's College and The Maudsley. It has now been rolled out to Leeds Teaching Hospitals, supplied by Bradford St James Wholesale Market. Borough Market is calling on more businesses to pledge funds and help expand its work.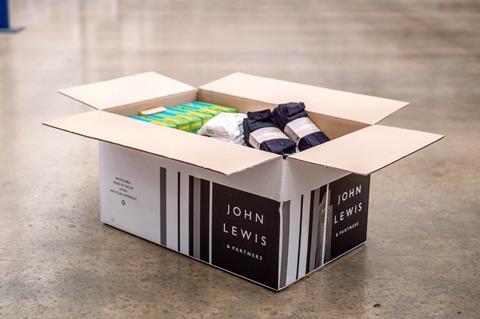 Waitrose
The supermarket has partnered with the British Medical Association to distribute care packages for frontline NHS workers at some of the busiest hospitals across the UK.
This has included making 400 deliveries of 60,000 essential items which include snack foods, tea and coffee as well as personal items such as deodorant, shaving foam, hand cream, antibac hand gel and lip balm.
The boxes also contain a wellbeing leaflet with information about a counselling service.