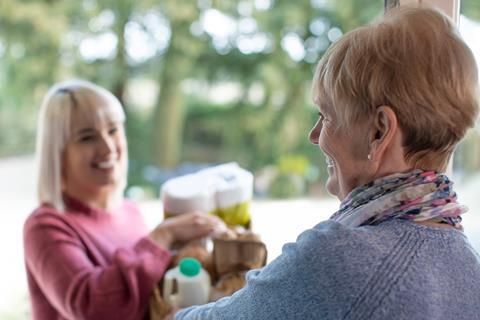 George Eustice said the increase in online capacity would "still not be enough" to meet demand

A new universal script on supermarket websites is due to launch this week
Environment secretary George Eustice has confirmed a major switch in the government's strategy to try and ensure elderly and vulnerable can get access to essential groceries during the coronavirus crisis.

The Grocer revealed last week the government was set to launch the new plan, involving hooking up local authorities with a nationwide army of volunteers who would be able to go into stores and shop on behalf of those isolated people.

The policy shift is understood to have come following weeks of tense discussions between government and leading supermarkets, who stressed that increasing online delivery slots would not be enough to meet the massive demand from anywhere between five and 19 million elderly and vulnerable shoppers.

The Defra secretary told yesterday's Downing Street coronavirus briefing that the huge increase in capacity would "still not be enough" to meet demand.

Eustice said that while steps had been put in place for patients deemed clinically vulnerable to the outbreak, many others in need of help would need support from volunteers.

Those who are self-isolating because they are over 70, and those who are pregnant or suffer from existing health conditions, will be redirected to a new universal script on the grocery retailers' websites, due to launch this week, which will put them in touch with local volunteers in their area.
Eustice told the conference: "At the beginning of this virus outbreak there were typically 2.1 million delivery slots in the entire supermarket chain.

"That has now increased to 2.6 million, and over the next couple of weeks we anticipate that will grow further to 2.9 million. So, supermarkets have taken steps to increase their capacity, but while this capacity has expanded, it will still not be enough to meet all of the demand that is out there."

He added that 500,000 food parcels had been delivered to the "shielded" group of people defined as clinically vulnerable.

But he said: "We recognise there are others who are not clinically vulnerable and therefore not in that shielded group, but who may also be in need of help.

"We have been working with local authorities to ensure those people can be allocated a volunteer shopper to help them get their food needs. Charities such as Age UK and others can now also make direct referrals on the Good Samaritan app to locate volunteers for those in need."

BRC head of food policy Andrew Opie told The Grocer last week: "We raised this as an issue in March, so it is frustrating it's taken so long. We have always said it will be through community operations that people will get the help they need, not online."