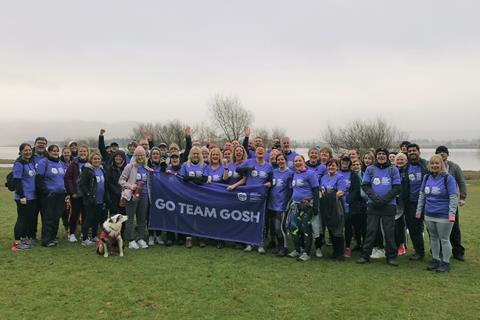 McColl's has raised £500,000 for Great Ormond Street Hospital (GOSH) Children's Charity.
The money raised equates to half of its fundraising target of £1m that was set when they partnered in October 2019.
It will help fund the refurbishment of family accommodation, just across the road from Great Ormond Street Hospital (GOSH), which will enable parents be close to their children as they receive life-saving specialist care.
During the pandemic, McColl's also supported GOSH by providing essential food and drink products to the hospital, free of charge.
These included sandwiches, bread, milk, eggs, biscuits, tea and coffee, which meant NHS staff could collect much-needed supplies at the start and end of their shift.
Fundraising highlights since the partnership launched have included 81 McColl's colleagues and friends from across Scotland coming together to complete two 26-mile walks around Loch Leven and Ayrshire, collectively raising over £15,000.
The partnership has also seen eight McColl's colleagues from Crewe, Cheshire, spend 24 hours throwing darts at the double 10 on the darts board, successfully breaking the Guinness World Record for the most double 10s hit in a 24-hour period.
This raised £11,770 for the charity.
"We are delighted that we have already raised half of our £1m target for such a fantastic cause, supporting Great Ormond Street Hospital, which provides excellent, specialist care," said McColl's CEO Jonathan Miller.
"I am incredibly proud of the efforts of our colleagues, customers and suppliers, continuing to fundraise safely in the knowledge that their efforts will provide vital support for families at a very difficult time. We look forward to continuing to support GOSH Charity as we push towards achieving our £1m fundraising goal."
GOSH Charity director of fundraising Liz Tait said: "A large part of our partnership has coincided with lockdown, and so we're incredibly grateful to colleagues at McColl's up and down the country who continued valiantly and safely with their fundraising efforts to reach this incredible milestone in support of the UK's most seriously ill children.
"I'd also like to thank the business for stepping up and providing the hospital's hardworking NHS staff with much-needed essentials to make their days at the height of the pandemic that little bit easier.
"At a time when Great Ormond Street Hospital needs the charity's support more than ever before, we are truly excited about what is to come from this fantastic national partnership and the impact that we can create for the hospital's patients and families."