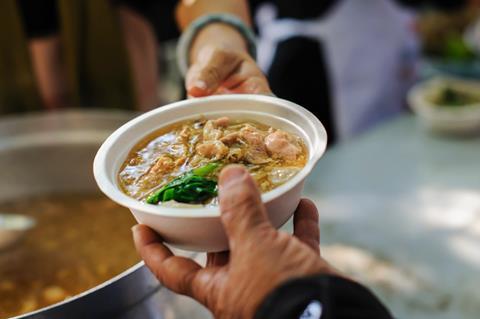 A raft of the UK's independent food surplus redistribution organisations announced a new coalition movement today, promising to tackle hunger in poor communities and save tens of thousands of tonnes of surplus food from going to waste.
The Independent Food Redistribution Network (Xcess) said it would look to establish and develop national strategies and work with the food industry and other agencies to tackle food surplus, its wastage and the impact on poverty in the UK's most deprived communities.
Organisations signed up to the new coalition include Blackpool Food Bank, a network of 70 local partners, The Bread and Butter Thing, which runs a weekly affordable food service for over 12,000 members across the north of England and works as a food surplus partner with Morrisons, and City Harvest, which delivers to 340 community projects and charity groups across London from soup kitchens to women's refuges.
HIS Church, currently distributing 200,000 meals a week across a network of 15,000 charities, is also signed up to the project which will include working with the IGD, Wrap and Defra to identify untapped sources of surplus food.
Members said they want to establish a formal code of conduct for all social food redistribution agencies to ensure continued high standards across all organisations working in the area.
Xcess said it estimated there was the potential to increase redistribution from retail and manufacture by around 190,000 tonnes compared to 2018 levels, plus approximately 80,000 tonnes from retail and 110,000 tonnes from manufacturing.
Read more:
"It's time for us to harness our collective might and align the food surplus redistribution sector to unlock the maximum amount of food surplus available for social redistribution," said The Bread and Butter Thing CEO, Mark Game, on behalf of the group.
"As a group, we are experts in developing innovative food redistribution models and we are united in our social and environmental aspirations. Together we need to seek cost-effective, meaningful and sustainable solutions which will have lasting impact on the communities we each serve."
City Harvest,CEO Laura Winningham added: "Our commitment to rescuing quality surplus food to help people and planet is greater than ever.
"In these challenging times, more and more people are unable to nourish themselves and their families. As well as the challenges presented by the pandemic, climate change marches on, with food waste a major contributor.
"This deeply experienced group of organisations is coming together to ensure all businesses can safely and reliably redistribute all surplus food."
"The range of different redistribution organisations operating across the UK is an essential element in preventing good quality surplus food from going to waste," added Estelle Herszenhorn, special advisor for food and drink at Wrap.
"We welcome the formation of Xcess: The Independent Food Redistribution Network as a practical network to share insights and best practice. This will help increase the valuable work these organisations do in helping more people, and preventing more food from going to waste."