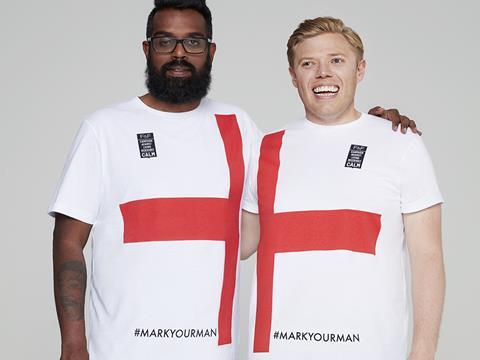 Tesco's F&F brand has partnered with the Campaign Against Living Miserably charity (Calm), to raise awareness of male mental health issues in the UK.
It has created a two-part t-shirt (see picture) to raise money for the charity and emphasise the importance of getting support.
Calm has been working to prevent suicide, the biggest killer of men under 45 in the UK. Its #MarkYourMan campaign draws on the contrast between the emotion men are able to show on the football pitch or in the stadium compared with everyday life, where Calm's research shows 84% of men bottle up their emotions.
Timed to coincide with the World Cup, Calm and F&F are encouraging people to offer the same support to friends, sons, brothers and fathers who may be going through mental health problems. A social media, print and retail campaign is fronted by comedians Romesh Ranganathan and Rob Beckett.
F&F will donate £1 from the sale of each Calm t-shirt sold between 14 May and 1 August 2018 to the charity.
Richard Price, F&F CEO, said: "Calm do amazing work to build awareness and campaign for societal change in male communication and emotional support. They provide invaluable care with front-line crisis management, so we're delighted to partner with Calm and we hope to raise further awareness, get men talking and support Calm with donating profits from our charity t-shirts."
Simon Gunning, Calm CEO, added: "We're thrilled to be working with F&F and Tesco on the brilliant #MarkYourMan campaign. Together we'll reach a huge audience with the wonderfully positive message about supporting the men and boys in our lives. With Romesh and Rob at the helm it shows that we can tackle a serious issue with authenticity and humour. We encourage everyone to get a t-shirt, support Calm and #MarkYourMan – whether that's your dad, your son, your partner or your pal."