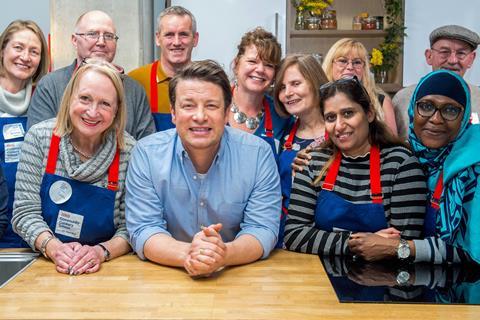 Tesco has trained 1,000 community cooks since launching its partnership with celebrity chef Jamie Oliver a year ago.

The supermarket announced the achievement after Oliver paid a visit to its multimillion-pound Heart Building innovation centre, at Tesco headquarters in Welwyn Garden City, to celebrate the landmark and meet some of the chefs trained in the programme.

The Tesco Community Cookery School was launched in January last year, in partnership with food redistribution charity FareShare.

It built on Tesco's Community Food Connection scheme, which supplies a million meals each month to 7,000 charities and community groups across the UK.

The community cooks learn everything from knife skills and nutrition to recipes for base sauces, which can be adapted to complement a wide variety of donated food.

"Jamie spent time with the cooks talking about the work they do in their communities and how the surplus food they receive gets put to good use," said a Tesco spokesman.