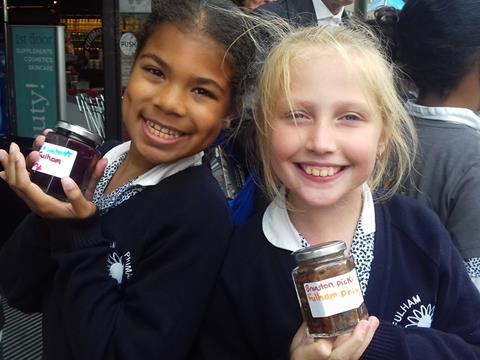 Whole Foods is hosting a children's micro-business showcase across its London stores in a bid to improve children's knowledge of food and health.

Children from 16 schools surrounding the health food retailer's branches in Clapham Junction, Piccadilly Circus, Camden, Richmond, Kensington, Stoke Newington and Fulham, had the opportunity to sell their own chutneys in Whole Foods' stores this week.

Students taking part in the project with charity School Food Matters have spent the last term learning how food is made, including recipe creation, label design and marketing techniques, and visiting farms to learn about food origin, culminating in producing their own chutneys.

All money raised through the initiative will be reinvested into the schools to continue students' learning, and pay for tools for gardening and cooking equipment and seeds, for instance.

Whole Foods is hosting the showcase in an effort to leave a lasting legacy for the children who take part and other students at their schools. It is also aiming to channel children's "instinctive curiosity", and teach them lifelong skills around food choices through "an interactive experience you just can't get in the classroom."

"We have in-store sample days most days from recognised brands, but these are a bit different. This is one of the highlights of the year," said Ben Woodgate, UK marketing director at Whole Foods. "The whole ethos of Schools to Market is to get children excited about food - growing, cooking and selling it. The fact they are learning along the way is a fantastic by-product."

Stephanie Wood, founder of School Food Matters, added: "It's amazing what young people can learn via the power of a little pot of chutney. Schools to Market harnesses their enthusiasm to discover and learn and gives them lifelong skills as they take their chutney on a journey from seed to supermarket."

The project is supported by the Whole Foods' Foundation, established by the retailer in 2009.