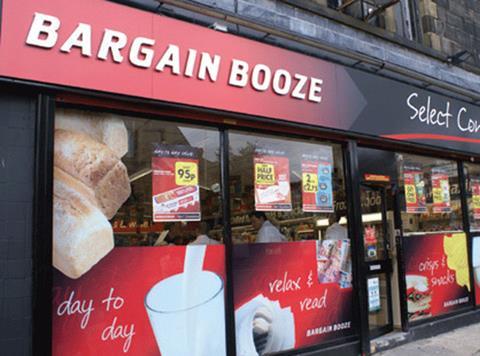 Bargain Booze owner Conviviality Retail has reported a 13% hike in pre-tax profits, excluding exceptional items, to £2.2m for the 26 weeks to 27 October.
Reporting its first half-year update since the company listed on AIM on 31 July 2013, Conviviality Retail said its wholesale sales – sales to franchisees – declined by 5% to £183.7m. The company blamed reduced store numbers for a fall in revenues, as it cut its estate from 616 stores to 592 (excluding Wine Rack shops) as part of a strategy to strengthen the estate's "quality".
Wine Rack enjoyed a "strong Christmas performance" over the two weeks to 5 January, with sales up 21.8% for the period. Online sales for Wine Rack were also up 15.3% over the period, the company said.
Like-for-like franchisee retail sales across the estate were up 1.5% over the 26 weeks to 27 October and 2.8% in the two weeks to 5 January. Franchisee sales do not form part of Conviviality Retail's revenue but were an "important performance indicator for the business", it said.
"Throughout the first half we have implemented our strategy to improve the quality of our store estate and build stronger relationships with our franchisees and suppliers. We acquired the Wine Rack business on 30 August, increasing focus on our wine offering and penetrating further into the South of England," said CEO Diana Hunter.
"As anticipated store numbers and therefore revenues have reduced in the first half of this financial year. This reduction is in line with our expectations and is consistent with our aim of improving the quality of our store estate.
"We are making progress across all elements of our strategy and expect the benefit of these initiatives to start to drive growth from the next financial year 2014/15."