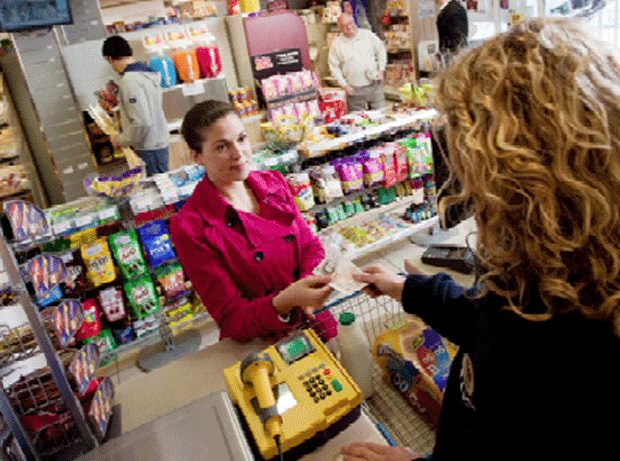 Sales and profits are up at PayPoint, while its Collect+ parcel scheme has turned a profit for the first time, half-year results have shown.
Net revenue for the 26 weeks to 30 September climbed 9.7% to £54.1m, while profit before tax was up 16.6% to £21.3m.
PayPoint's click & collect service Collect+ earned the company profits of £0.2m, compared to a loss of £0.7m in the same period last year. Operated in conjunction with Yodel, the service was relaunched in June and offers parcel deliveries to 5,500 locations. Over the period, it saw transactions soar 72.2% to 5.7 million.
Turnover from PayPoint's retail networks grew 10%, the company said. General transactions through PayPoint sites were up 2.3% over last year, boosted by a 41% rise in transactions in its Romanian network. Romania accounted for 13% of revenue in the first half. Meanwhile UK transactions were in line with last year, PayPoint said.
ATM net revenues were broadly flat compared to the first half of last year, although PayPoint said it expected to see a boost in the second half of the year from 400 newly installed ATMs.
Elsewhere, internet and PayByPhone transactions rose, although mobile phone top-up transactions continued their long-term decline, down 24.3% year-on-year.
PayPoint chairman David Newlands said trading was in line with expectations: "I am pleased to report strong growth in net revenue and operating profits in the first half of this financial year… Our Collect+ joint venture is now profitable and we have strengthened our e&m commerce management team to address the substantial opportunities available in electronic commerce.
"Looking ahead, our retail networks in the UK and Romania should continue to deliver profitable growth from our strong client base and breadth of services. We will continue to invest in network expansion, innovative technology and new services to improve the quality of these retail networks."