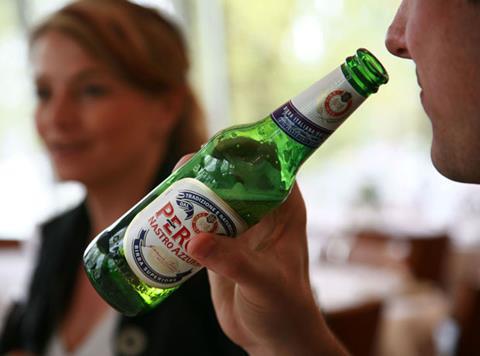 SABMiller has reported a small rise in full-year earnings helped by growing beer sales in emerging markets and the UK.
The maker of Peroni and Miller reported a 1% rise in EBITA for the year ended 31 March 2014 to US$6.45bn, despite what it called "a number of headwinds".
Lager volumes were up 1% on both reported and organic basis, with growth in Latin America, Africa and Asia Pacific partially offset by declines in Europe and North America.
UK beer sales were a notable exception in Europe, with subsidiary Miller Brands UK (MBUK) reporting a rise in volumes of 5% compared to the overall beer market in the UK, which declined by just under 1%.
The wider group performance largely met analyst expectations, with pre-tax profit increasing by 3% to $4.8bn and revenues falling by 4% to $22.31bn.
The London-listed company said its results were particularly impacted by the depreciation of currencies including the Australian dollar, South African rand, Turkish lira and Colombian peso, which reduced EBITDA by approximately $400m.
Chief executive Alan Clark said: "We have produced a resilient performance in the face of a number of headwinds… We continue to deliver operational cost efficiencies including the completion of the business capability programme and have identified further areas where efficiencies can be targeted."
The brewer announced a new cost-cutting programme to achieve savings of approximately $500m per annum by 2018. The efficiency effort will include the restructuring of in-country back office teams and the expansion of the scope of its supply chain activities.
The company said trading conditions "remain broadly unchanged" and growth would be driven by emerging markets, though impacted by currency movements.
Shares in SABMiller rose by over 4.5% in early trading, taking the brewer's share price gain to 28.5% since late January 2014.