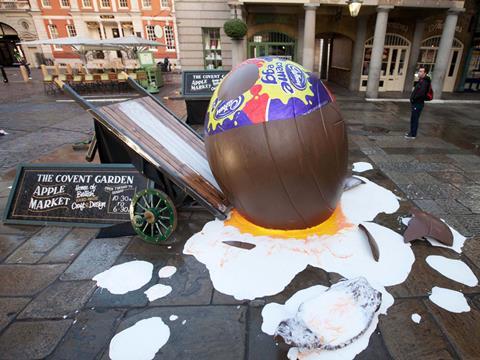 Cadbury is gearing up for a spring offensive as cracks have begun to appear in its dominance of the Easter egg market.

The brand's best-selling Easter lines lost more than £10m in sales last year, according to IRI sales figures seen by The Grocer [52 w/e 7 November 2015], narrowing its market share from 42% to 40%.

Creme Egg was the biggest loser after US owner Mondelez replaced the Dairy Milk in its recipe with cheaper chocolate, sparking a tabloid backlash. Filled and shell Creme Eggs lost more than £6m.

However, Mondelez insists the recipe change did not have an impact. "The fundamentals of Cadbury Creme Egg remain exactly the same," said marketing manager Claire Low. "It's simply not the case that Creme Egg has always been made with Cadbury Dairy Milk."

Creme Egg wasn't the only casualty. Sales of Cadbury Egg n Spoon, launched in 2012, crashed by £1.2m as average prices fell by nearly a fifth, partly as a result of fiercer deals and strong growth for own label and the discounters.

With this Easter the earliest since 2008, recovering lost sales would be a tall order, acknowledged Low. "We're aware shorter seasons can be challenging. To strengthen our positioning, we'll continue to invest in power brands, launching new seasonal products and a brand new Easter pack design."

Competition is heating up, with Mars' January launch of Galaxy Golden Eggs, its extension of the Malteaster bunny range with a new family pack, and Ferrero's launch of Kinder Joy among notable NPD.

"Spring represents a £139m sales opportunity for chocolate, with three key gifting occasions," said Ferrero customer development director Levi Boorer.