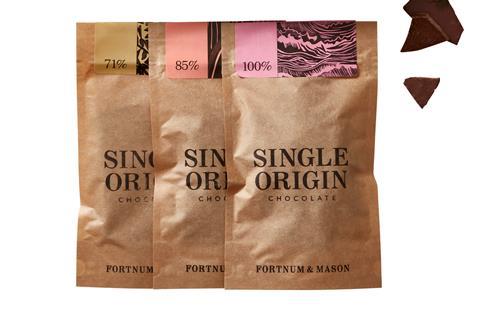 Fortnum & Mason has introduced what it claims is the world's first 99% carbon-free chocolate as part of its drive to increase its sustainability credentials.
The Sailboat chocolate (rsp £24.95 for three 60g pouches) is made and transported using only green energy.
The cocoa used is grown and manufactured in a solar-powered factory in Grenada and delivered via non-carbon reliant transport. A wind-powered sailboat takes the cocoa from Grenada to Neary Nógs factory in Newry, Northern Ireland, where it is broken down, tempered and packaged using solar energy.
It is then transported to Fortnum & Mason's Piccadilly flagship store via rowing boat, horse and carriage, and the retailer's own fleet of electric vans.
The remaining 1% of energy represents the emergency allowance of fuel on the sailboat.
The organic slates of chocolate come in 71%, 85% or 100% cacao variants.
Farmers who grow the cocoa beans for the chocolate are also paid a claimed 65% more per lb compared with the local price.
The product, which has been created in partnership with the Grenada Chocolate Company and British chocolatier Chantal Coady, is available at Fortnum & Mason in Piccadilly and will be stocked on its website from 29 October.
"We're incredibly excited to launch Sailboat Chocolate – the world's first 'farm to store' 99% emission-free chocolate slates," said Sophie Young, confectionery buyer at Fortnum & Mason. "This is an important step in supporting Fortnum's Future Matters commitment to creating long-lasting change, showcasing our values in an innovative way, while delivering a delicious bar of high-quality and sustainable chocolate to our customers."
Fortnum & Mason's Future Matters programme has already seen the luxury retailer commit to remove single-use plastic and replace it with plant-based, domestically compostable alternatives by 2025.