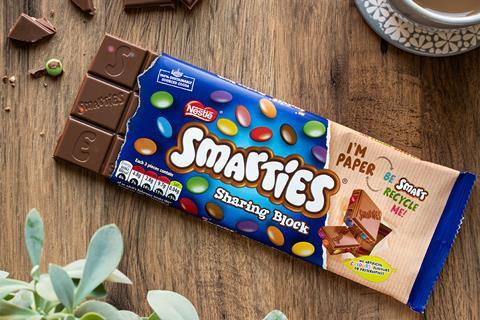 Smarties is moving its chocolate sharing blocks into recyclable paper wrappers.
The Nestlé brand, which plans to sell all of its products in paper by 2021, utilised the same technology used for Yes! fruit and nut bars last year, which allows paper to be used on high-speed production lines previously designed for plastic or laminate.
It is the first time the technology has been used at stuch scale – some 3.5 million Smarties blocks are sold every year.
The packs themselves are paper with a dispersion coating which acts as a barrier to moisture and oxygen to preserve freshness.
"Paper is not like plastic – you cannot treat it exactly like you would on a normal wrapping set-up, you have to adapt the whole process from start to finish to make sure you can handle the product gently," said Nestlé packaging lead Bruce Funnell.
"We are going to work in R&D to improve the perfromance of paper over time and make it even better than it is."
Nestlé had originally planned to transition the entire Smarties brand to paper by the end of this year. "However our suppliers have been impacted where some of the material and machinery are being manufactured," said Funnell.
"It's a small delay – the major deployments we expect will take place in the first part of next year."
Nestlé has pledged to transition all its packaging to recyclable or reusable materials and reduce its use of virgin plastic by one third by 2025.