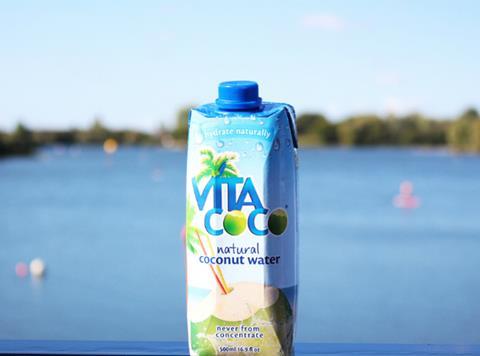 The coconut water boom has hit a snag after years of explosive growth, with sales tumbling as Brits switch to other soft drinks and supermarkets cut down on shelf space.
Sales in the multiples have fallen 12.2% to £37.3m in the past year and volumes are down 12.6% [Kantar Worldpanel, 52 w/e 25 Mar 2018].
Value sales for the top three brands – Vita Coco, Innocent and Naked – are down by a respective 16.1%, 24.3% and 38.9% year on year [IRI 52 w/e 31 Mar 2018].
Industry sources point to three key factors behind the decline: price wars in take-home, growing competition from other 'natural' and 'healthy' soft drinks, and a dramatic loss of secondary feature space as the smoothie category continues to recover.
Vita Coco, Innocent and Naked have invested heavily in promotional activity over the past 12 to 18 months, driving down average prices. Own-label coconut waters from the mults and discounters have further driven down value.
At the same time, retailers have sharply cut back on feature space for coconut water as the smoothie category has recovered, with space down 40% year on year, according to industry sources. This, in turn, has resulted in light buyers not buying into the category as much.
"There is also much more competition from other natural, healthy beverages now than there was two or three years ago," said Giles Brook, EMEA CEO for Vita Coco, which has a 54% value share of the UK coconut water market [IRI]. He stressed the recent decline was just "a blip" and Vita Coco would be back in "high single-digit growth" by the end of this year. The latest 12-week data was already showing improvement, he said.
"What we're seeing is a period of normalisation after some extraordinary growth," Brook added. "Bandwagon brands are falling away. Our frequency and weight of purchase metrics continue to grow, with coconut water continuing to drive a very attractive price per litre for retailers, and we have strong innovation in the pipeline."
The Vita Coco 1 litre natural SKU was the fastest-selling non-orange juice SKU across all of chilled juice in 2017, Brook said, citing IRI data. "This makes it the fifth highest grossing SKU in the entire chilled juice fixture, ahead of any juice blend, apple juice or smoothie."
Coconut water has experienced several years of fantastic growth, driven by growing consumer desire for more natural, less sugar-laden soft drinks. Research by The Grocer in 2016 suggested there were more than 40 different brands available in UK retailers.
However, this number has since come down as the market has started to consolidate and retailers have rationalised their listings.
At the same time, the coconut water market has also suffered from a few bouts of bad publicity in recent years, amid concerns about rogue operators and authenticity standards.
Last October, an FSA crackdown on the coconut water market found widespread problems with sugar being added without being declared on the label.